Gluten-Free Walnut Cinnamon Coffee Cake
Prep Time
15 Minutes
Difficulty
Easy
Cook Time
60 Minutes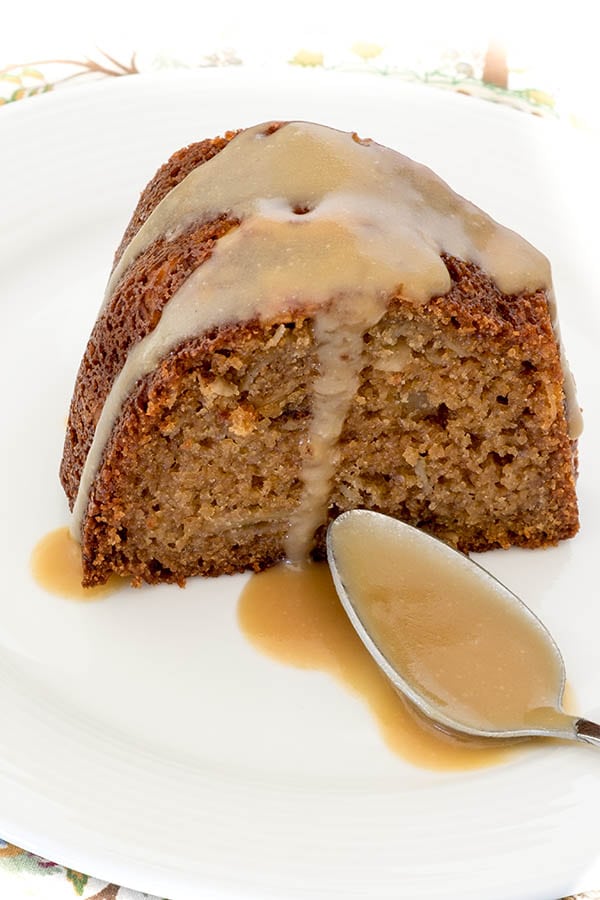 Average Rating: 4.5 | Rated By: 8 users
Extra special Gluten-Free Walnut Cinnamon Coffee Cake for breakfast, brunch or a late afternoon snack. What makes this coffee cake better and more flavourful is the healthy walnuts, cinnamon and the buttermilk.
Replacing buttermilk for butter makes this a lower fat coffee cake. And not only are the calories lower, but the buttermilk adds unexpectedly moist texture to this gluten-free coffee cake.
If you are thinking of serving this as a dessert, drizzle the cake with vanilla sauce, you will love it. By adding the vanilla sauce, a simple coffee cake becomes a delicious dessert. I have included the recipe for simple gluten-free vanilla sauce below.
Gluten-Free Walnut Cinnamon Coffee Cake Recipe Overview
For the recipe, it is straight forward. Mix the sweetener with walnuts, fresh lemon juice and cinnamon. Set aside. The mixture of fresh lemon juice and cinnamon adds extra flavour to the walnuts, making them taste so delicious.
In a separate bowl, combine dry ingredients.
Next, whisk the wet ingredients and mix with the dry until smooth. Swirl in the walnut mixture and transfer into your favourite bundt pan, this is my favourite bundt pan because it is non-stick and makes the cake look pretty. Bake, cool, slice and enjoy as is, or with our delicious, simple vanilla sauce.
Yummy, all the way. If you like this recipe, you will enjoy our healthy gluten-free breakfast muffin.
 Gluten-Free Vanilla Sauce Recipe
2 Tbsp. unsalted butter

1/4 cup coconut sugar or sweetener of choice

 1/4 cup cream

 1 tsp. pure vanilla extract
 While whisking, cook in a small saucepan for 3 – 5 minutes, until slightly thickened. Cool and drizzle over baked cake
Ingredients
1 ½ cups coconut sugar, divided or sweetener of choice
1 cup chopped walnuts
2 Tbsp. fresh lemon juice
1 ½ tsp. ground cinnamon
1 cup white rice flour
1/2 cup almond flour
1/4 cup tapioca starch
1 Tbsp. potato flour
2 tsp. aluminum free baking powder
1 tsp. baking soda
1/2 tsp. sea salt
1/2 tsp. xanthan gum
1 ½ cups buttermilk
1/2 cup extra virgin olive oil
2 large eggs or egg replacer
2 tsp. pure vanilla extract
*As an Amazon Associate and member of other affiliate programs, I earn from qualifying purchases. Please check out my sponsorship and disclosure policy page for more details
Instructions
Preheat oven to 350 F and spray or grease a 12 cup Bundt pan or cake pan with non-stick coconut oil
Mix ¼ cup sugar, walnuts, lemon juice and cinnamon and set aside
In a large bowl whisk together remainder of sugar, rice flour, almond flour, tapioca starch, potato flour, baking powder, baking soda, salt and xanthan gum
In a separate bowl whisk together, buttermilk, olive oil, eggs and vanilla
Add wet ingredients to dry and whisk until batter is smooth. Add walnut mix and stir with a knife creating swirls in the batter
Pour batter into prepared pan and bake for 1 hour or until a toothpick inserted in the middle comes out clean
Cool the cake in the pan for 10 minutes and then turn out onto a wire rack to cool completely
VANILLA SAUCE - In a small saucepan mix 2 tablespoons of butter, 1/4 cup sugar, ¼ cup of cream and 1 teaspoon of vanilla extract. Cook over medium heat while whisking for 3 – 5 minutes, until slightly thickened. Cool and drizzle over baked cake
Similar Recipes
Gluten-Free Almond Swirl Coffee Cake With Chocolate
This Almond Swirl Coffee Cake With Chocolate is super moist, chocolaty and flavoured with maple flavoured almond butter. And the coffee cake is gluten-free.   The gluten-free coffee cake recipe has only eight ingredients and is easy to make. This is why this gluten-free cake is in our blog's top three chocolate snack cake recipes.   […] Read More
Prep Time
15 Minutes
Difficulty
Easy
Cook Time
25 Minutes
Serves
20 squares
Brown Butter Blueberry Snacking Cake – Gluten Free
This is the most spectacular Gluten-Free Brown Butter Blueberry Snacking Cake. Extra moist deep flavoured brown butter cake studded with healthy blueberries, a zing from lemon zest and walnut topping.  This gluten-free recipe is not your typical blueberry coffee cake. Instead, this cake has a tasty brown butter flavour and is healthier than most coffee […] Read More
Prep Time
15 Minutes
Difficulty
Easy
Cook Time
60 Minutes
Serves
8-10
Chocolate Chip Banana Snack Cake – Gluten Free
This Chocolate Chip Banana Snack Cake is the perfect treat to have on hand when those mid-afternoon cravings hit! The gluten free banana cake is extra moist and is topped with the fluffiest light Nutella frosting. I promise you, this is the only chocolate chip banana snack cake recipe you will ever need! Why is […] Read More
Prep Time
10 Minutes
Difficulty
Beginner
Cook Time
50 Minutes
Serves
9 - 16