Gluten-Free Mini Scones With Manchego, Peppers & Onions
Published on Apr 19, 2019
by
Kristina Stosek
Prep Time:

20 minutes
Cook Time:

18 minutes
Serves:

14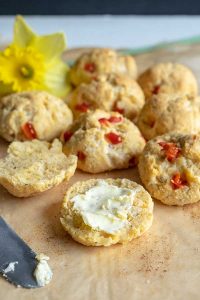 ​This post may contain affiliate links, please see our
privacy policy
for details
Gluten-Free Mini Scones with Manchego Cheese, Red Peppers and Onions – a flaky scone is a thing of beauty, especially when they taste cheesy. These savoury scones are pretty special and sure to please. They are made with Manchego cheese, caramelized onions with red pepper and flavoured with chili pepper. I can say they have a subtle Spanish flavour. When it comes to cheese, and savoury baking Manchego is my favourite. The cheese has a buttery, nutty flavour with slight piquancy and melts beautifully. 
♥

When do you serve mini scones?

The short answer → just about any time with anything 🙂 However, I will serve these gluten-free mini scones as a starter with a salad or as an appetizer because they are small and you can top them with just about anything. Some of my favourite toppings are avocado, smoked salmon, ham, scrambled eggs, marmalade, tomatoes…etc, the list is endless. However, for me, they are especially special when used for burger sliders. The size is perfect and the savoury Manchego cheese flavour adds to the burgers. The texture of these mini scones is light, and they are the best when freshly baked. 

If you happen to have any leftover mini scones, reheat them in an oven at 375 F for five minutes. They come out just as if they were freshly baked. Unfortunately, gluten-free baked scones, muffins and bread don't keep fresh and delicious as the recipes with gluten. 

At this time I would also like to share my favourite picks of the gluten-free cookbooks. I probably have well over a hundred cookbooks in my home. It seems that cookbooks are the most purchased books in an average household. Don't get me wrong, I love surfing the internet for ideas and trends, but I will always buy cookbooks because I love the feel and smell of books, and they look pretty on my coffee table.
Gluten-Free Mini Scones With Manchego, Peppers & Onions
Published on Apr 19, 2019
by
Kristina Stosek
Instructions
1.

In a small skillet heat olive oil over medium heat. Add onions and bell peppers and cook for 3 minutes, stirring as needed. Stir in chilli powder and set aside to cool

2.

In a medium bowl whisk together flour, cornmeal, basil, cream of tartar, baking soda and salt

3.

Using an electric mixer, cream butter and eggs together. Add 1 cup of dry ingredients and milk. Mix until creamy. Remove the electric mixer and add the balance of dry ingredients, onion and pepper mixture and cheese. Using a spatula mix until a dough forms. Do not over mix

4.

Using a heaping tablespoon scoop out dough about the size of a golf ball. Shape into balls and place 1 inch apart on a baking tray lined with parchment paper. Refrigerate for 40 minutes

5.

Bake in a preheated oven at 375 F for 18 - 20 minutes, until golden. Cool for 15 minutes before serving