Gluten-Free Low-Fat Vegan Stuffing
Prep Time
15 Minutes
Difficulty
Easy
Cook Time
70 Minutes
Serves
6-8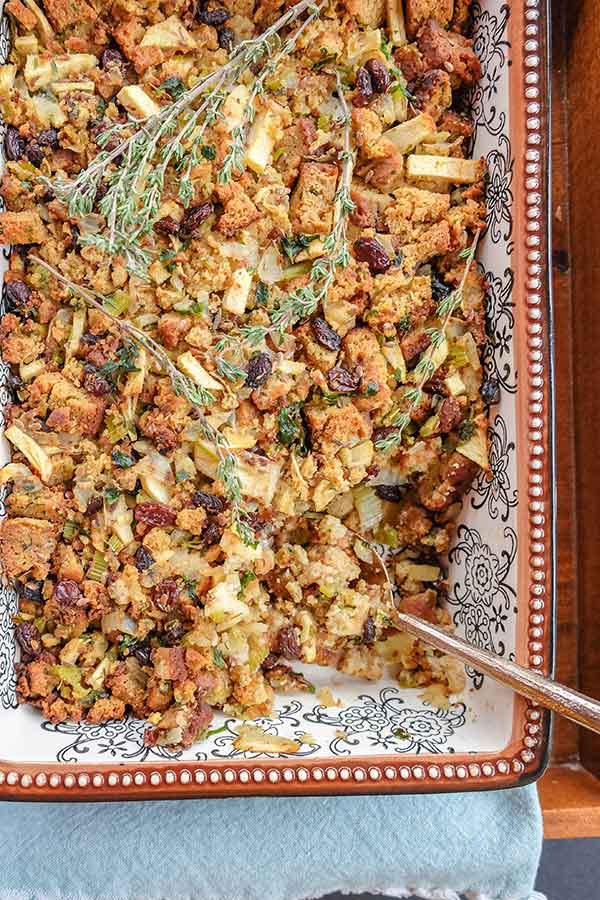 Be the first to rate this recipe.
My most favourite part of turkey dinner is a classic stuffing, one like my grandmother use to make. Because of everyone's dietary needs, it has become challenging during holiday gatherings. This is why I wanted to make a gluten-free, low-fat vegan stuffing that is light and airy and perfectly crisp on the outside. It is not the heavy cake style that you need to cut with a knife. Basic stuffing is a combination of dry bread, butter, onions, celery, broth, eggs, spices and fresh herbs. But gluten-free stuffing is a bit trickier because of the bread texture the stuffing can become dry or soggy and mushy. When you are making gluten-free stuffing, there is more to it than just using gluten-free bread, especially when making gluten-free vegan stuffing.
I know it can be trying to figure out the combination of ingredients that make that perfect stuffing, so I am sharing my favourite gluten-free, low-fat vegan stuffing recipe with you. First, you must start with gluten-free white sandwich bread, do not use heavy seeded bread, it will not work. The second important part is, the bread has to be well toasted. Since gluten-free bread tends to be dry and bland, I have added fresh apples which add moisture and delicious flavour and the apple pairs well with the bread. I have also added a few raisins, adding texture and a little sweetness, trust me it makes the stuffing sensational. The rest is easy, plenty of spices, fresh herbs and just the right amount of broth, oh yes one more important ingredient, flaxseed. I would like to add that when it comes to seasoning feel free to choose any seasoning you like.
Now bake the stuffing in the turkey or outside? In my opinion, gluten-free stuffing should always be cooked outside of the turkey because it needs the air. Otherwise, it WILL become soggy and mushy. Another reason to bake this stuffing outside of the turkey is that it is vegan. The best part about this stuffing is, you can add it to just about anything then smother it with gravy and dig in!
Ingredients
2 Tbsp. Ground flaxseed
3 Tbsp. Extra virgin olive oil
1 cup chopped onion
1 cup diced celery
2 tsp. GF dried thyme
1 tsp. GF ground sage
1/2 tsp. GF ground black pepper
1 cup chopped fresh parsley
1 large apple, peeled, cored and chopped
1/2 cup raisins
Instructions
Preheat oven to 350 F and spray a 9x13-inch baking dish with non-stick cooking oil
Mix vegetable broth with flaxseed and set aside for 20 minutes
Place bread cubes on a large baking sheet and toast in the oven for 15 - 20 minutes, until golden. Remove and cool
While the bread is toasting sauté onions and celery in olive oil for 3 minutes. Then cover and cook for 10 more minutes over low heat. Remove the lid and stir in thyme, sage, black pepper and parsley. Remove from the heat
Place bread cubes in a large bowl and add the onion mixture. Mix until evenly coated
Add apples, raisins and vegetable broth and toss to combine
Transfer stuffing to prepared pan and bake for 45 - 50 minutes until golden brown and crispy. Enjoy!
Similar Recipes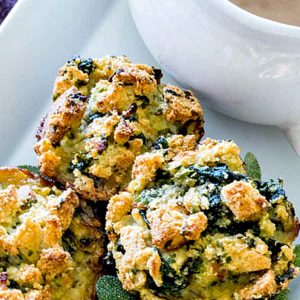 Gluten Free Apple Spinach Stuffing Muffins
Delicious stuffing can be the highlight of a meal. This stuffing is made with apples and spinach and seasoned with sage and thyme. Instead of stuffing the turkey, the stuffing is made into individual portions in a muffin pan. The crispy outside and soft inside are what makes this stuffing a winner. Serve with turkey, […] Read More
Prep Time
15 Minutes
Difficulty
Easy
Cook Time
25 Minutes
Serves
8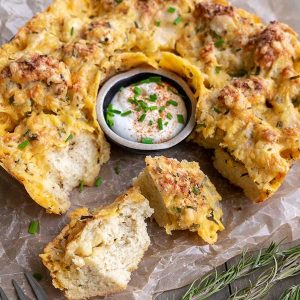 Garlic Cheese Monkey Bread – Gluten Free
Best gluten-free garlic cheese monkey bread and it is made entirely from scratch. The bread is soft with cheese and garlic flavour throughout. You will love it, I promise! The best part is that it is simple to make. For the recipe, mix dry ingredients with wet, blend and transfer to a bundt pan. Brush […] Read More
Prep Time
15 Minutes
Difficulty
Easy
Cook Time
30 Minutes
Serves
8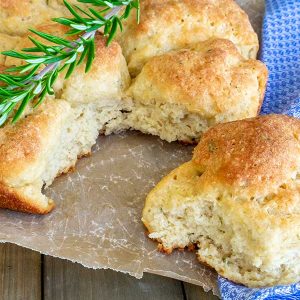 Best Gluten-Free Pull-Apart Soft Rolls
Best Gluten-Free Pull-Apart Soft Rolls – soft, pillowy, and most addictive rolls you will find. They are that good! At my house, when it comes to holidays such as Thanksgiving or Easter, rolls are one thing that is a must-have on our dinner table. In this pull-apart soft rolls recipe, there are no complicated flours, […] Read More
Prep Time
10 Minutes
Difficulty
Easy
Cook Time
25 Minutes
Serves
9 rolls