Gluten-Free Apple Butternut Squash Stuffing
Published on Nov 10, 2021
by
Kristina Stosek
Prep Time:

20 minutes
Cook Time:

60 minutes
Serves:

8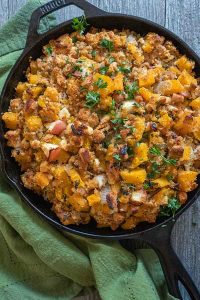 ​This post may contain affiliate links, please see our
privacy policy
for details
Gluten-free stuffing full of flavour not to be missed this holiday season!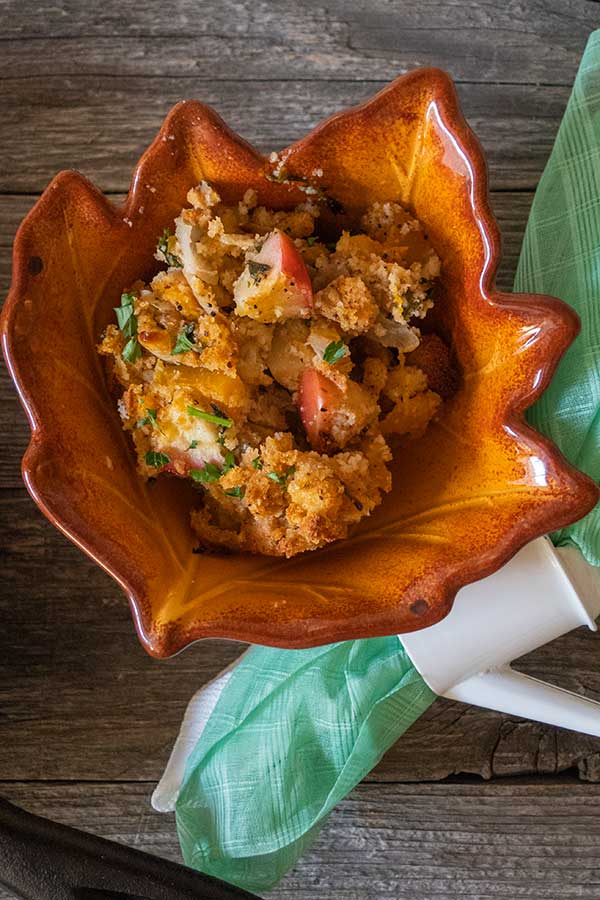 My family loves stuffing. So I made a new healthier gluten-free version, the Apple Butternut Squash Stuffing. This heavenly stuffing is moist on the inside with a crispy, tasty topping. The apples, butternut squash, homemade gluten-free seasoned stuffing croutons, spices, herbs, stock and a little butter, make this stuffing unforgettable.
It's time to upgrade this year's holiday stuffing!
There are many versions of stuffing, and often, the gluten-free low-fat vegan stuffing is popular. However, I wanted to include some healthiness in this gluten-free stuffing. So I added butternut squash and apples. Both are fruit and add flavour and an excellent texture to the stuffing.
You will notice I have not added eggs to this apple butternut squash stuffing. If you want this recipe to be egg-free, you will need to use egg-free gluten-free bread.
the key to good gluten-free stuffing croutons,
I have tried store-bought gluten-free stuffing croutons, but I can honestly say the texture and flavour weren't that good. After all, making fresh homemade stuffing croutons is easy, so why not start from scratch.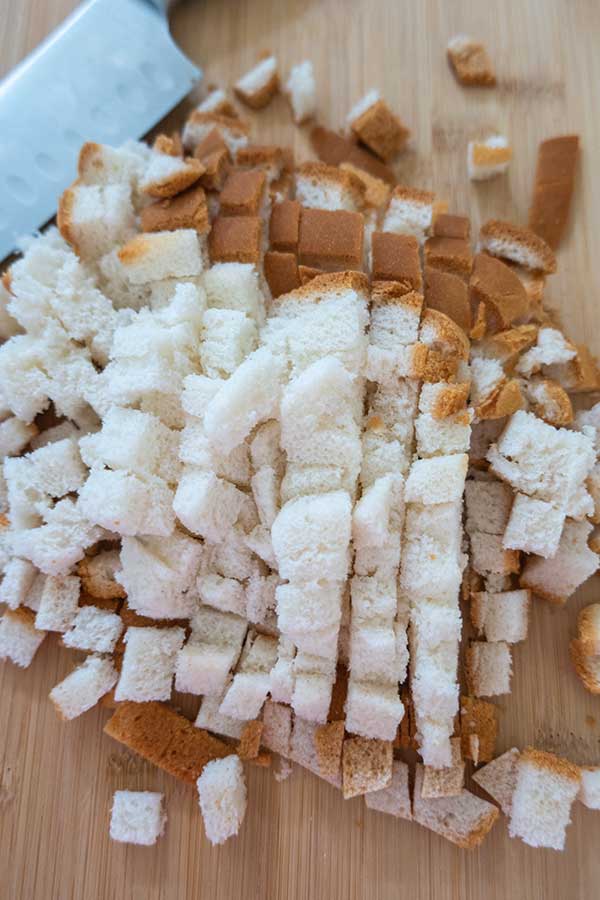 Start with a 12 ounce sliced gluten-free bread. I used white bread. For the next step, you can either use a knife or a food processor. Slice the bread into small cubes or use the pulse function in the food processor and process until you reach small pieces.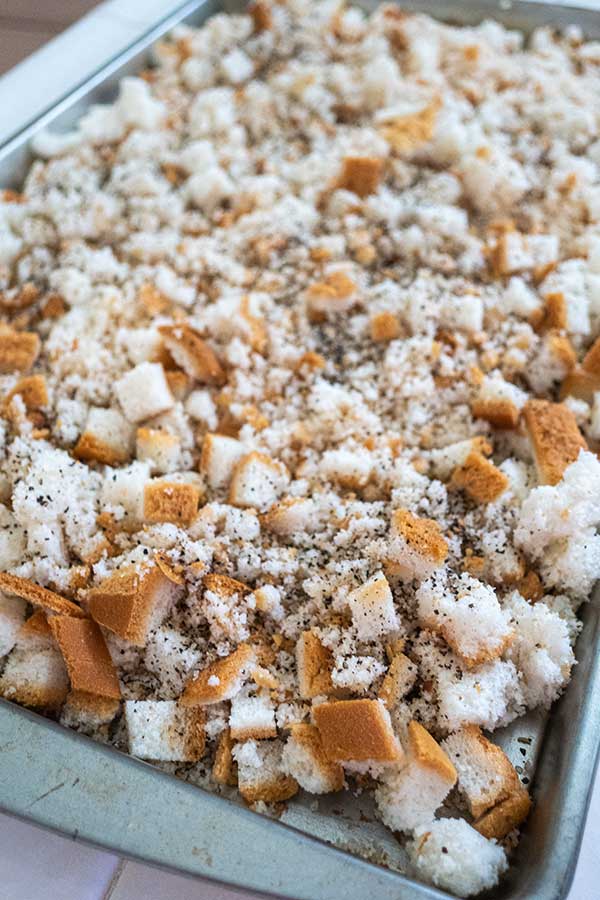 the next step is crucial,
Spread the bread cubes on a large rimmed baking sheet and sprinkle evenly with the seasoning—bake at 375 Fahrenheit for about 25 minutes. The bread should be dry and crispy. This helps the bread hold up while baking and gives the stuffing a nice crispness.
If you decide to use store-bought gluten-free stuffing croutons, you will need six cups. But you can't beat the homemade version.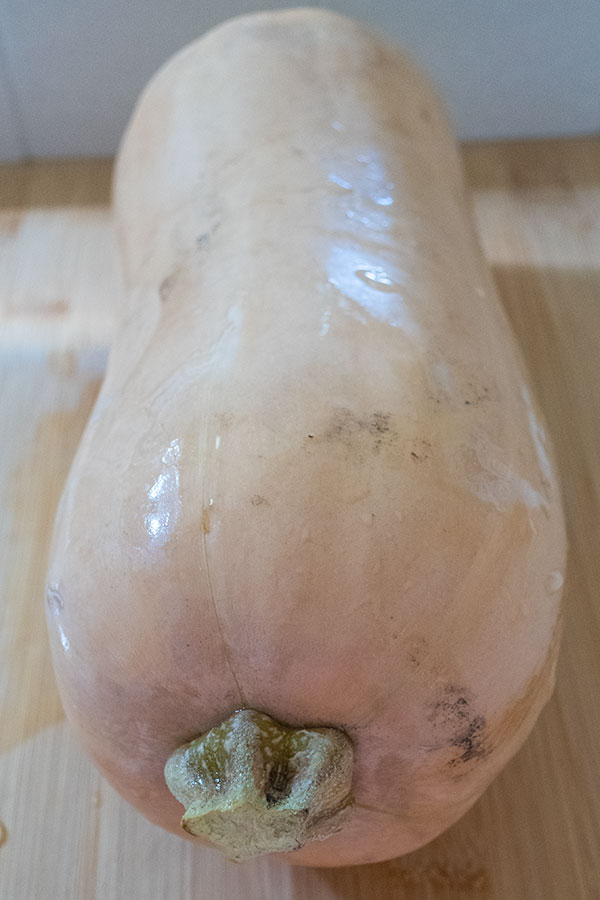 how to prepare butternut squash,
Technically, butternut squash is a winter squash that grows on a vine and is considered a fruit. It is long and oval with a bell-bottom, yellow-orange colour, and has a hard outer skin covering the inner orange flesh and seeds.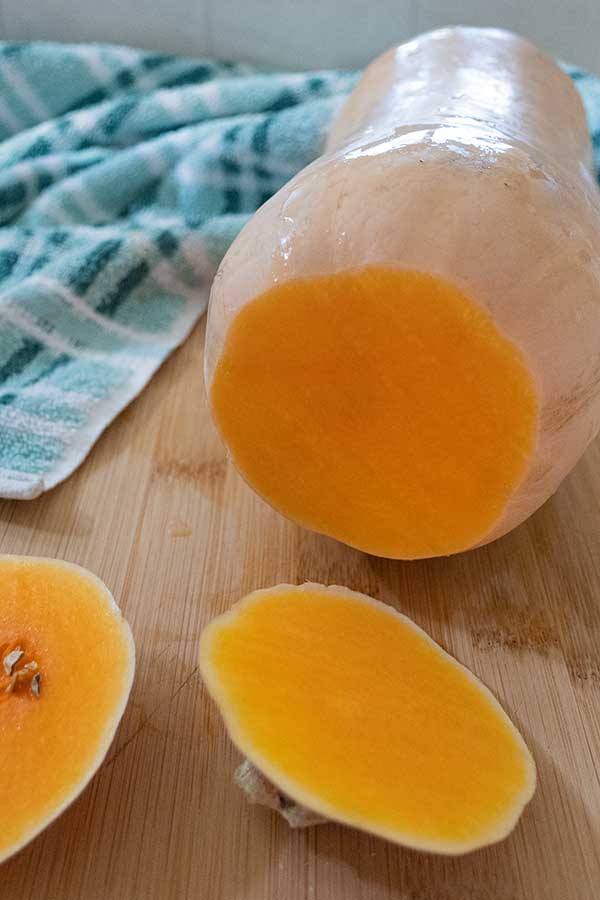 start with softening the skin first,
The hard outer skin is hard to peel. So slice off both ends and microwave the squash for about 4 – 5 minutes to make it easier. Then cool and peel the skin.
next,
Slice the squash into rounds and remove the seeds. The squash has very few seeds. So this is an easy step. The butternut squash is easily sliced into cubes. The cubes don't have to be perfect.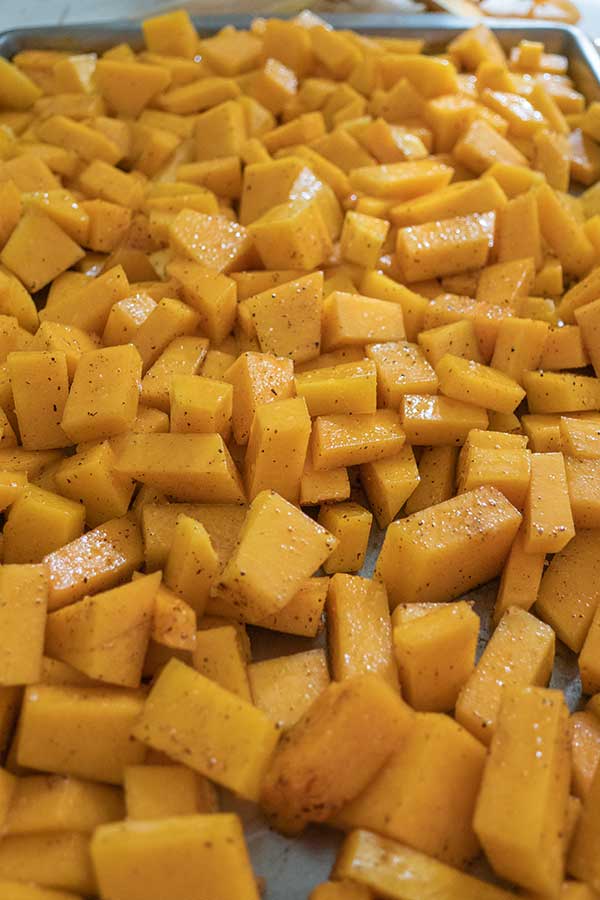 Or, you can cheat and buy pre-cut squash. However, the cubes are usually too large, so you need to cut them to a smaller size. You will need about six cups of sliced squash.
One of the most delicious details in this gluten-free stuffing recipe is the combination of squash, apples and spices. They are mouthwatering and the best part of the dish.
I found that even stuffing haters love this apple butternut squash stuffing dish. It is a delicious holiday side dish with some health benefits.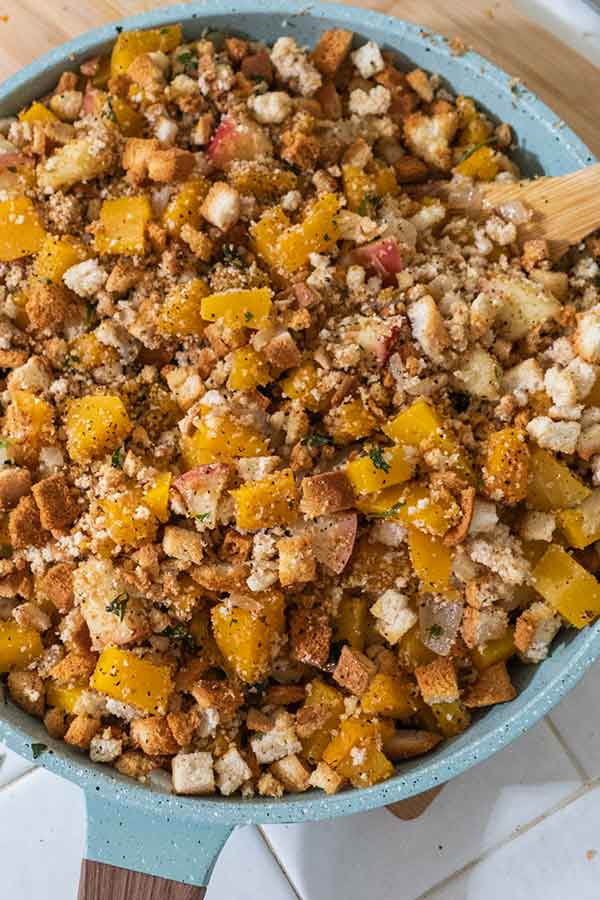 Can the stuffing be prepped in advance?
Holiday cooking is a hectic time of the year. From turkey or ham to sides like the creamy turnip and carrot mash, the acorn squash and sweet potato mash, or the roasted brussel sprouts with shallots, you know that your hands will be full.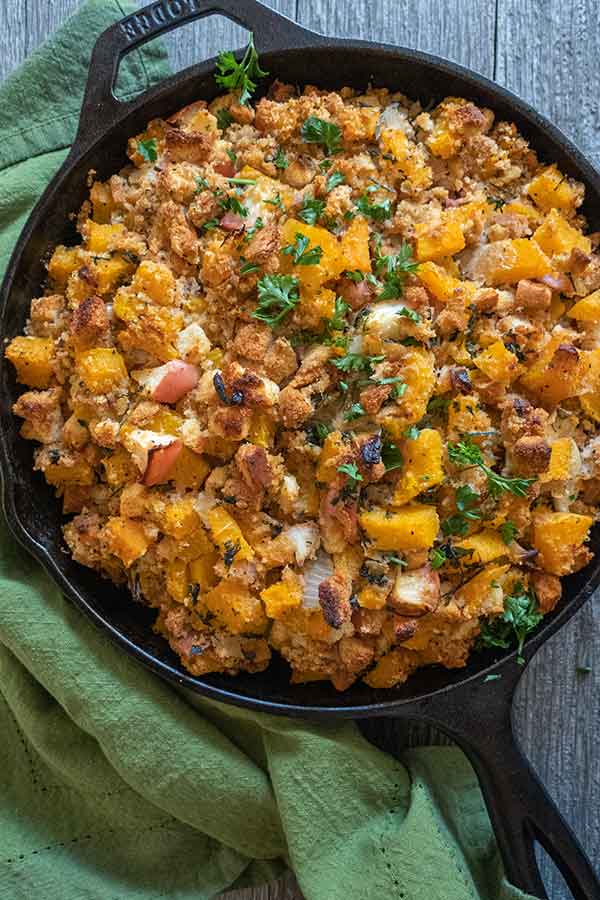 This is why prepping in advance is helpful and makes easy holiday entertaining. The best part about this recipe is, you can prep this stuffing a day before and then bake up just before you are ready for dinner. Enjoy!
Gluten-Free Apple Butternut Squash Stuffing
Published on Nov 10, 2021
by
Kristina Stosek
Instructions
1.

2.

Spread the bread cubes on large rimmed baking sheet. Mix the sage, thyme, marjoram, rosemary, 1/2 teaspoon nutmeg and pepper and evenly sprinkle over the bread cubes. Bake for about 25 minutes, stirring occasionally for the cubes to bake evenly. Transfer to a bowl and set aside

3.

Using the same rimmed baking sheet, mix butternut squash cubes with olive oil, 1/2 teaspoon nutmeg, ginger, cinnamon and season with salt and pepper. Roast until crisp, about 20 minutes

4.

Meanwhile, using a large skillet, saute onions with the bay leaf in butter for 3 minutes, then add apples and herbs and cook for 10 minutes longer. Stirring as needed. 

5.

Add roasted squash, bread cubes and stock to the apple mixture and season with salt and pepper. Stir until just combined, do not over mix.

6.

Generously butter a casserole dish, I used a cast-iron skillet and fill with the stuffing. Roast for 35 - 40 minutes until the top starts to get crispy