Gluten-Free Leek & Potato Crostata
Prep Time
20 Minutes
Difficulty
Intermediate
Cook Time
40 Minutes
Serves
4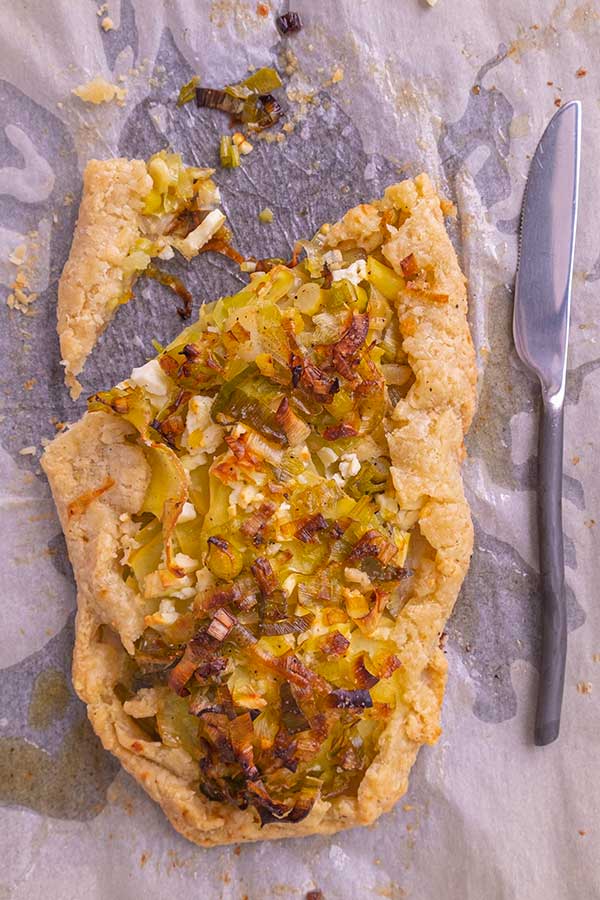 Be the first to rate this recipe.
Crostata, an Italian open-faced pie or tart is made with a butter pastry dough filled with fresh fruit or a savoury filling. This is a savoury gluten-free crostata made with leeks, potatoes and feta cheese. It has so many tasty elements, buttery crust, sautéed leeks, potatoes and the saltiness of feta cheese. For weekend baking, this gluten-free leek and potato crostata is definitely a must try recipe. Whether you are looking for something special for brunch or light casual dinner, this crostata delivers the flavours you will remember. Enjoy!
Ingredients
1/2 tsp. Himalayan salt
1/2 cup (I stick) unsalted butter, cut into cubes, chilled in the freezer for 15 minutes
10 Tbsp. Ice water
FILLING
2 Tbsp. Extra virgin olive oil
1 large leek, white and pale green parts only, halved lengthwise, thinly sliced
1 large Yukon gold potato, thinly sliced (I used a mandolin)
1/3 cup crumbled feta cheese
Himalayan salt and freshly ground GF black pepper to taste
1 small egg, whisked
Instructions
In a food processor, pulse the flour, tapioca starch and salt until mixed. Add the cubed butter, and pulse 8 times. The butter should still be the size of peas in the mixture.
Add the ice water, a tablespoon at a time, pulsing after each addition, until the dough just begins to stick together
Turn out the dough onto a work surface. Using your hands form the dough into a rectangle and wrap with plastic. Do not over knead the dough, only just enough to form the rectangle. Refrigerate for 1 hour
While the dough is chilling, sauté leeks in olive oil until softened, about 5 minutes. Season with salt and pepper, set aside to cool
To assemble, roll out the dough between two sheets of parchment paper to approximately 5 x 10-inch rectangle. Scatter half the leeks over the dough, then potatoes, then feta cheese and finish with remaining leeks. Fold edges of dough over the filling, tucking and overlapping slightly as needed. Brush top of the dough with egg
Bake in a preheated oven at 400 F for 35 - 40 minutes, until the crust is nicely browned. Cool for 15 minutes then serve.
Similar Recipes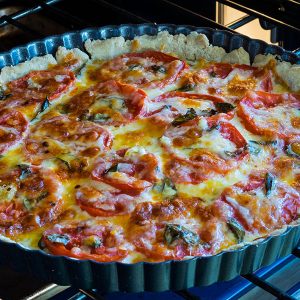 Gluten Free Tart Margherita
A gluten-free tart does not have to be complicated. Topped with fresh tomatoes, basil and buffalo mozzarella and infused with garlic olive oil, this rustic Italian tart Margherita outshines pizza any day Read More
Prep Time
20 Minutes
Difficulty
Easy
Cook Time
20 Minutes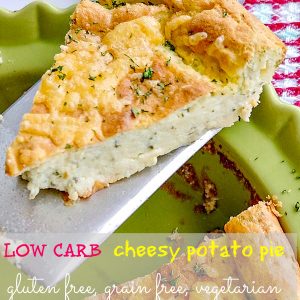 Low Carb Cheesy Potato Pie
Looking for life changing potatoes? You will love this easy cheesy potato pie recipe that has only 23 carbs per serving. This savoury pie is gluten free, grain free, vegetarian and deliciously flavoured with two types of cheeses. Whether entertaining or having a family dinner, this pie will always be a hit. Potatoes are considered […] Read More
Prep Time
15 Minutes
Difficulty
Easy
Cook Time
85 Minutes
Serves
6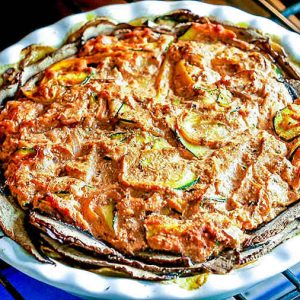 Mediterranean Vegetable Pie In A Potato Crust
There are eight vegetables in this healthy gluten-free vegetable pie. The tasty vegetarian pie has a crust made of a thin layer of potatoes and the vegetables are baked in spiced Italian sauce and creamy ricotta cheese. Because the crust is made with potatoes, this pie is completely grain-free Read More
Prep Time
20 Minutes
Difficulty
Intermediate
Cook Time
50 Minutes
Serves
6