Gluten-Free Ham and Peas Pasta
Prep Time
5 Minutes
Difficulty
Beginner
Cook Time
20 Minutes
Serves
4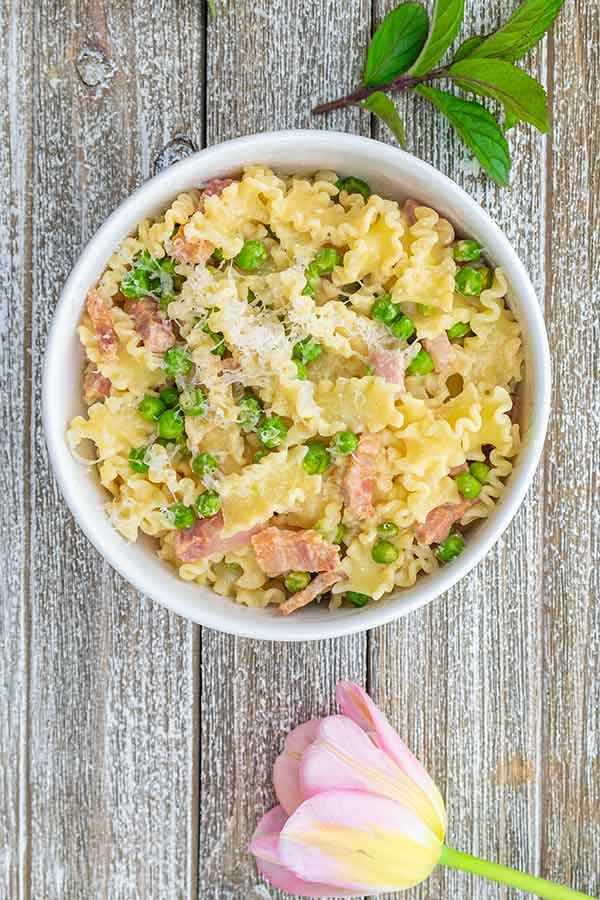 Average Rating: 4.5 | Rated By: 3 users
A family friendly Gluten-Free Ham and Peas Pasta dish for easy weeknight dinner. In this comforting dish, the pasta is made with a simple cream sauce, ham, green peas and parmesan cheese.
This ham and peas pasta is one of those comforting meals that many of us grew up with. The pasta is made simply using only a few ingredients, is budget-friendly and satisfying.
This Italian dish is for one of those nights when you want comfort food, but have very little time to prepare it. And who doesn't love pasta? Especially when there is ham or bacon involved.
When I was growing up, ham and peas pasta was one of my favourite meals. There is something about cream, ham and peas mixed with freshly cooked pasta. The best part, this is one of those meals that kids also love.
What is pancetta?
To make this gluten-free ham and peas pasta dish, I used pancetta. Pancetta is an Italian version of bacon. It is cured and not smoked and very flavourful. But don't worry, if you don't have pancetta. Leftover ham or thickly sliced bacon works just as well in this pasta recipe.
To balance the flavours of pancetta, cream and peas, I added a pinch of nutmeg and fresh lemon juice. Both the fresh lemon juice and nutmeg make the sauce very tasty.
For the finish, a sprinkle of parmesan cheese. This pasta dish does not need too much cheese because the saltiness from the pancetta or ham with the sauce adds plenty of flavours.
What I love about this gluten-free ham and peas pasta recipe, is the simplicity. You can have a wholesome meal on the table in 30 minutes from start to finish. And, you probably already have most of the ingredients in your pantry.
I often add a light green salad or steamed veggies. But this pasta meal is hearty enough without it. So for those busy nights or just too tired to cook nights, skip the take-out and whip up this super easy pasta meal.
Our 3 easiest gluten-free weeknight meals.
One Skillet Gluten-Free Alfredo Basil Pasta Dinner
15 Minute Gluten-Free Pasta with Garlic Ricotta and Tomatoes
Ingredients
2 Tbsp. Butter
1 1/2 cups GF diced ham or pancetta
1 cup frozen or fresh peas
1/2 cup heavy cream
1/4 tsp. GF nutmeg
1/2 cup GF chicken stock or pasta water
Juice of 1 lemon
1/2 cup grated parmesan cheese
*As an Amazon Associate and member of other affiliate programs, I earn from qualifying purchases. Please check out my sponsorship and disclosure policy page for more details
Instructions
Cook the pasta in salted water according to package instructions, then drain saving 1 cup of pasta water
While the pasta is cooking, using a large pan heat the butter over medium heat. Add the ham or pancetta and cook until the ham starts to brown or if using pancetta until it starts to crisp
Stir in peas, cream and nutmeg and cook until the cream starts to thicken. About 3 minutes
Stir in pasta, chicken stock/pasta water and lemon juice. Cook until the sauce starts to bubble.
Remove from the heat and stir in parmesan cheese
Note; if the sauce is too thick add a splash of cream, chicken stock or pasta water
Similar Recipes
20 Minute Gluten-Free Tomato and Feta Pasta
An incredibly flavourful Gluten-Free Tomato and Feta Pasta dish. Using fresh tomatoes, olive oil, garlic, herbs, feta cheese and fresh parsley is what makes this Italian dish exceptional. What I love about this tomato and feta pasta is, all you need is only five fresh ingredients plus herbs and salt. The simplicity of this dish […] Read More
Prep Time
5 Minutes
Difficulty
Easy
Cook Time
15 Minutes
Serves
4
Gluten-Free One Pot Chicken Paprikash Pasta
This Gluten-Free One-Pot Chicken Paprikash Pasta is the most flavourful creamy chicken pasta dish. The chicken is seasoned with spices such as marjoram, paprika and thyme, typical spices used in Hungarian cuisine. And for added creaminess, sour cream! YUM What is chicken paprikash? Classic Hungarian chicken paprikash is cooked in a lightly spiced sauce with […] Read More
Prep Time
15 Minutes
Difficulty
Beginner
Cook Time
25 Minutes
Serves
4