Gluten-Free Crispy Thin Pizza Crust
Prep Time
15 Minutes
Difficulty
Easy
Cook Time
20 Minutes
Serves
14-inch pizza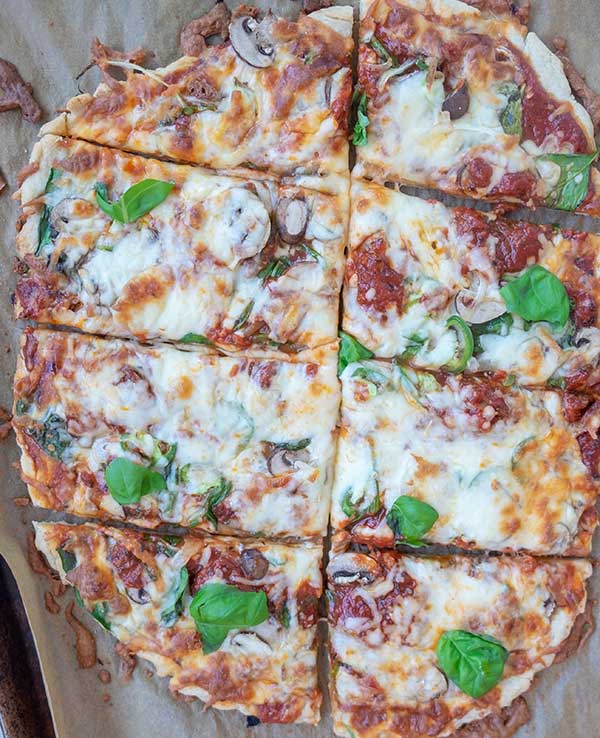 Be the first to rate this recipe.
Today I will share with you my favourite gluten-free crispy thin pizza crust recipe. Since my favourite gluten-free pizza is vegetarian, I made this into a vegetarian pizza, but feel free to add your favourite toppings.  I have also included a delicious pizza sauce recipe that is super simple to make. When making a gluten-free crispy pizza crust, it is essential to par-bake the crust before adding the toppings. To keep the topping flavours harmonized after I added the sauce, I sprinkled it with some of the cheese before adding other toppings. This makes a big difference in the taste and the texture outcome of the pizza. 🍕 And I always finish with cheese. By following these few steps, you will get that perfect crispy thin pizza crust, and the toppings will compliment each other instead of blending into one flavour. Give it a try and let me know what you think in the comments below. I always like to hear from you. 
Ingredients
1 1/2 cup all-purpose gluten-free flour blend (I used cup4cup)
1/4 cup tapioca flour/starch
1/2 tsp. Himalayan salt
1/4 tsp. Xanthan gum
1 cup warm water (110 F)
2 Tbsp. Extra virgin olive oil plus some for brushing
1 tsp. Coconut sugar or sweetener of choice
PIZZA SAUCE
1 Tbsp. Extra virgin olive oil
2 garlic cloves, minced
1 tsp. GF dried basil
1 tsp. GF dried oregano
3/4 cup pure tomato sauce
1/4 tsp. Himalayan salt
Pinch of cayenne pepper flakes (optional)
1 1/2 cup shredded mozzarella cheese, divided (you can also use provolone, gouda, or cheddar cheese)
Optional vegetarian toppings; fresh baby spinach leaves, thinly sliced mushrooms, thinly sliced onions, thinly sliced jalapeños, fresh basil leaves, sliced olives, thinly sliced red bell peppers, sliced artichokes.
Instructions
In a large bowl whisk together flours, yeast and salt
In a separate bowl mix warm water, olive oil and coconut sugar and add to dry ingredients. Using a spatula mix to combine, then using your hands combine everything together until you form a ball of dough. Gluten-free pizza dough does not have to be kneaded
Place the dough onto a large sheet of parchment paper and roll it out into a circle about 14-inch in diameter. I rolled out my dough into an oblong shape. The dough should be about 1/3-inch thick. Brush the crust with olive oil and lightly cover with plastic wrap. Using the parchment paper lift the crust onto a pizza pan or baking sheet. Place the pizza pan in the oven and let it rise for 45 minutes
For the sauce; while the crust is rising, make the pizza sauce. Heat olive oil over medium-low heat and add the garlic, basil and oregano. Cook until fragrant, about 1 minute or less. Add tomato sauce, salt and cayenne pepper flakes. Bring to boil, then remove from the heat to cool
Remove the pizza crust from the oven and preheat the oven to 475 F
Remove the plastic wrap and bake the crust for 10 minutes
Add the toppings starting with pizza sauce, then 1/2 cup of cheese, then toppings of choice ending with 1 cup of cheese. I never use more than 4 toppings plus the sauce and cheese. In this recipe, I used spinach, mushrooms, onions and jalapeno in addition to pizza sauce and the cheese. Bake for 8 - 10 more minutes or until the crust starts to brown and the cheese has melted. Just before serving I scatter fresh basil leaves over the pizza
Similar Recipes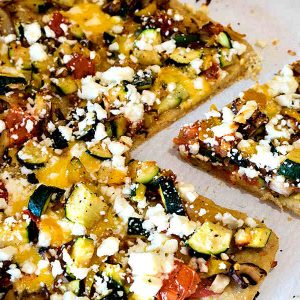 Gluten Free Greek Pizza Recipe
When it comes to a great pizza, it is all about the crust. After trying many different combinations of ingredients, I have finally developed the perfect gluten free pizza crust. The crust is crispy on the outside and soft on the inside. The best part is, there is no yeast and no kneading necessary. I […] Read More
Prep Time
15 Minutes
Difficulty
Easy
Cook Time
22 Minutes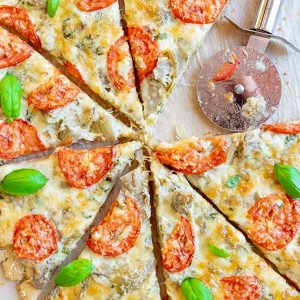 Gluten-Free Artichoke Dip Pizza {Vegetarian}
This gluten-free artichoke dip pizza is precisely that, a pizza topped with delicious creamy artichoke dip, fresh tomatoes and plenty of fresh basil. I used two kinds of cheese, mozzarella for the dip layer and Parmesan for the topping adding a crispy and salty flavour to the tomatoes. Honestly, it is the best combination in […] Read More
Prep Time
15 Minutes
Difficulty
Easy
Cook Time
15 Minutes
Serves
8 pc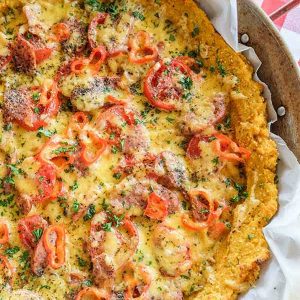 Gluten-Free Butternut Squash Pizza
A gluten-free pizza crust doesn't have to be made with only flour. In today's world, a healthy approach to making pizza is adding vegetables to the crust. In this recipe I used butternut squash, adding valuable nutrients and fibre. My favourite toppings are spicy Italian Sausage, fresh tomatoes, onions, bell pepper, and cheddar cheese, all […] Read More
Prep Time
15 Minutes
Difficulty
Easy
Cook Time
90 Minutes
Serves
12-inch pizza