Gluten-Free Crispy Thin Pizza Crust
Published on May 01, 2019
by
Kristina Stosek
Prep Time:

15 minutes
Cook Time:

20 minutes
Serves:

14-inch pizza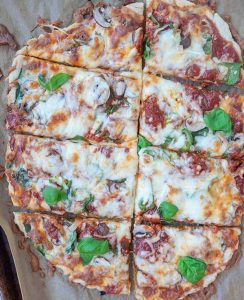 ​This post may contain affiliate links, please see our
privacy policy
for details
Today I will share with you my favourite gluten-free crispy thin pizza crust recipe. This cracker-like pizza crust is very versatile because you can also use it as flatbread or slice it into small squares and use it for appetizers with various toppings. For the pizza sauce, I included a simple recipe below. However, if you are short on time, use a gluten-free ready-made sauce from a jar.
When making a gluten-free crispy pizza crust with yeast, it is essential to par-bake the crust before adding the toppings.
toppings for thin crust pizza…
Today I decided to make a vegetarian pizza. So I used spinach, mushrooms, onions and jalapeno peppers in addition to freshly made pizza sauce and cheese. The toppings are optional; it all depends on what you love on your pizza. So, feel free to add one or up to four toppings in addition to the sauce and cheese.
I find that adding more than four toppings, the flavours start to blend, and you lose the freshness and individual tastes of the toppings.
To layer the toppings and keep all the flavours harmonized, I first spread the crust with the sauce. Then, I scattered some of the cheese over the sauce—about half a cup. Next come the toppings, and always finish with cheese.
By following these few steps, you will get a perfectly crispy thin pizza crust, and the toppings will compliment each other instead of blending into one flavour.
♥ Simple homemade gluten-free pizza sauce (3/4 cup serving)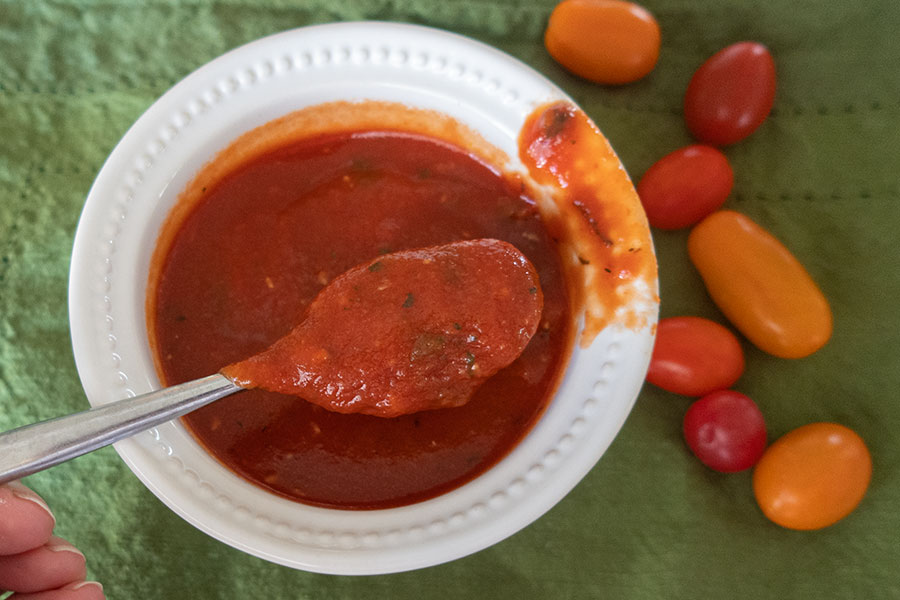 Ingredients:
1 Tbsp. Extra virgin olive oil
2 garlic cloves, minced
1 tsp. GF dried basil
1 tsp. GF dried oregano
3/4 cup pure tomato sauce
1/4 tsp. Himalayan salt
Pinch of cayenne pepper flakes (optional)
Directions: Using a small saucepan heat olive oil over medium-low heat. Add garlic, basil and oregano. Cook until fragrant, about 1 minute or less, careful not to burn the garlic. Add tomato sauce, salt and cayenne pepper flakes. Bring to boil, then remove from the heat to cool
If you like Italian food, we have a large selection of gluten-free Italian recipes for you to enjoy!
Gluten-Free Crispy Thin Pizza Crust
Published on May 01, 2019
by
Kristina Stosek
Instructions
1.

In a large bowl whisk together flours, yeast and salt

2.

In a separate bowl mix warm water, olive oil and coconut sugar and add to dry ingredients. Using a spatula mix to combine, then using your hands combine everything together until you form a ball of dough. Gluten-free pizza dough does not have to be kneaded

3.

Place the dough onto a large sheet of parchment paper and roll it out into a circle about 14-inch in diameter. I rolled out my dough into an oblong shape. The dough should be about 1/3-inch thick. Brush the crust with olive oil and lightly cover with plastic wrap. Using the parchment paper lift the crust onto a pizza pan or baking sheet. Place the pizza pan in the oven and let it rise for 45 minutes. I like to use the oven because there is no draft.

4.

Remove the dough from the oven and preheat the oven to 475 F

5.

Remove the plastic wrap and bake for 10 minutes. Then remove from the oven and immediately start with the toppings

6.

For the toppings; start with pizza sauce, then 1/2 cup of cheese, then toppings of choice ending with 1 cup of cheese. I never use more than 4 toppings plus the sauce and cheese. In this recipe, I used spinach, mushrooms, onions and jalapeno in addition to the pizza sauce and cheese. Bake for 8 - 10 more minutes or until the crust starts to brown and the cheese has melted. Just before serving I scatter fresh basil leaves over the pizza