Gluten-Free Blueberry Cream Cheese Coffee Cake
Published on Mar 02, 2021
by
Kristina Stosek
Prep Time:

20 minutes
Cook Time:

75 minutes
Serves:

8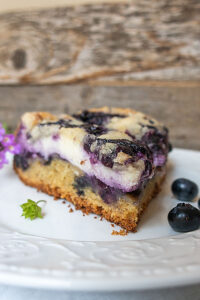 ​This post may contain affiliate links, please see our
privacy policy
for details
This Gluten-Free Blueberry Cream Cheese Coffee Cake is something to talk about…delicious, intense indulgence in one very moist cake with a layer of cheesecake, buttery streusel and packed with fresh blueberries in between! The gluten-free coffee cake is outstanding!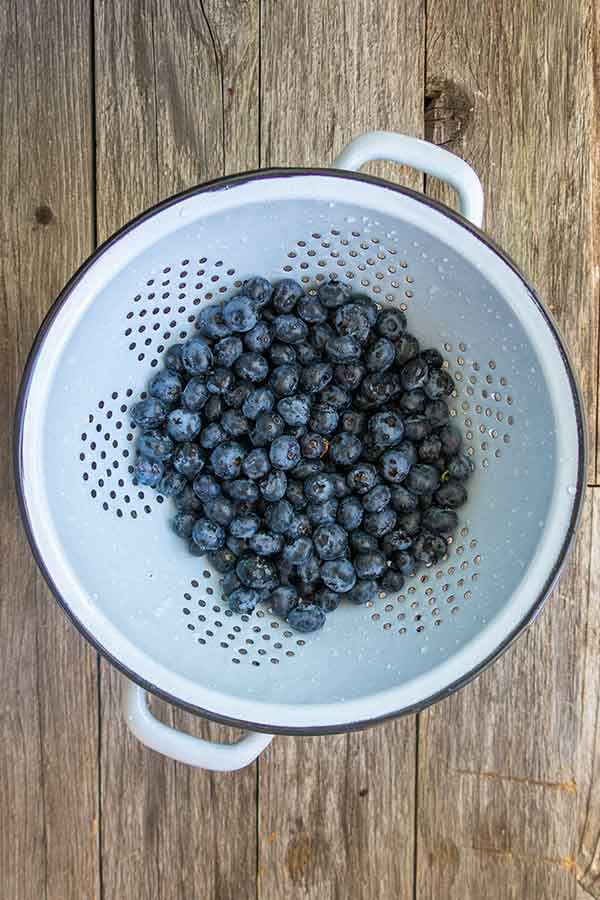 There is nothing like a slice of coffee cake that is a party of flavours and textures. Seriously, starting the day with a slice of the most delicious moist gluten-free blueberry cream cheese coffee cake with your coffee is magical.
Ingredients That Keep This Gluten-Free Blueberry Cream Cheese Coffee Cake Healthier
To keep this gluten-free coffee cake on the healthier side, I used heart-healthy olive oil in the cake layer, light cream cheese with fresh lemon juice to give the coffee cake a spark of freshness and plenty of fresh blueberries packed with antioxidants. As a sweetener, I used coconut sugar in moderation.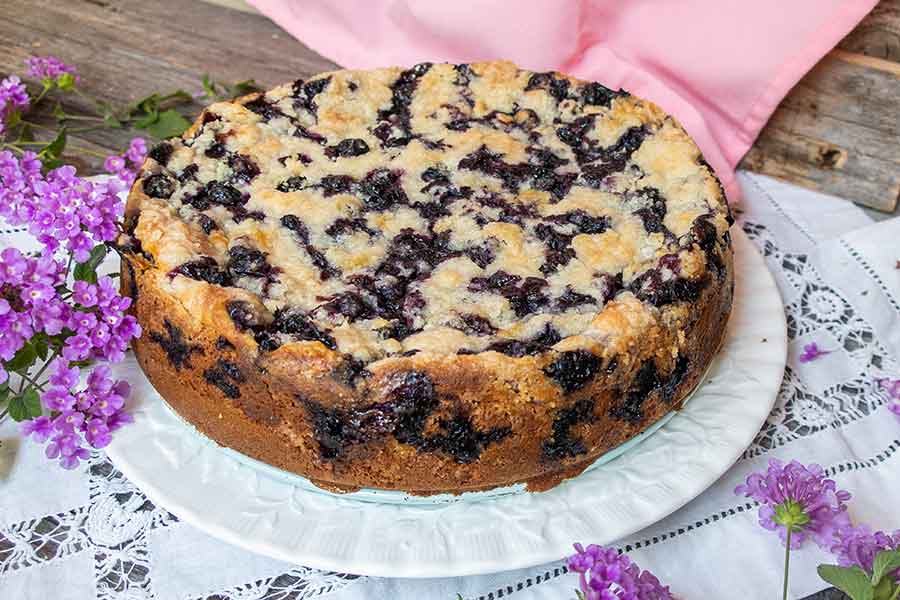 blueberry cream cheese coffee cake recipe details
In this gluten-free coffee cake, the three layers are a moist cake, light lemon cheesecake layer and streusel topping. The fresh blueberries are packed in between, keeping everything moist and tasty.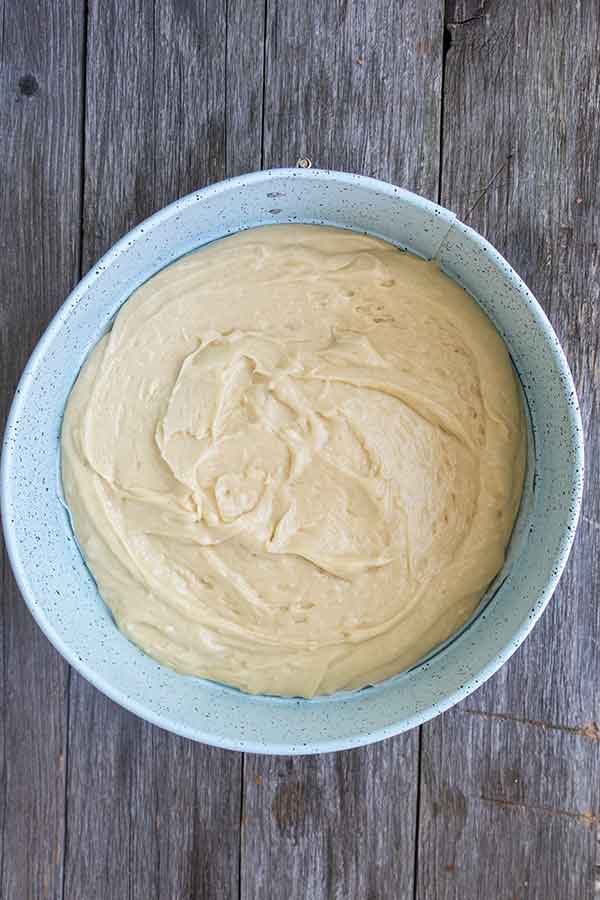 The cake layer is super easy. Cream olive oil with coconut sugar, add eggs, vanilla, gluten-free flour and tapioca starch, baking powder and baking soda. And, keeping the cake extra moist, I added light sour cream.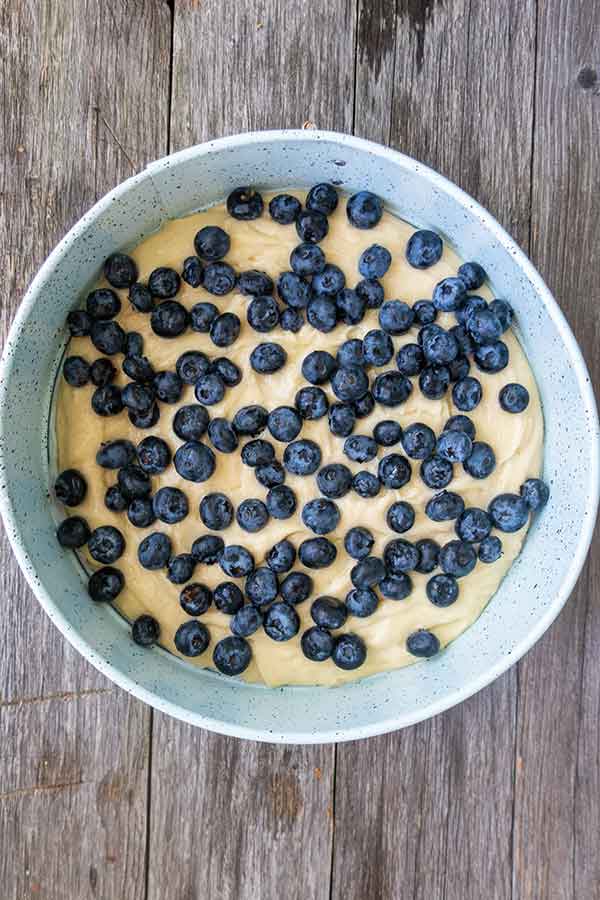 I used softened light cream cheese, a little coconut sugar, fresh lemon juice, and an egg white for the cream cheese layer. Everything is mixed with an electric mixer. This layer takes only about a minute to whip up.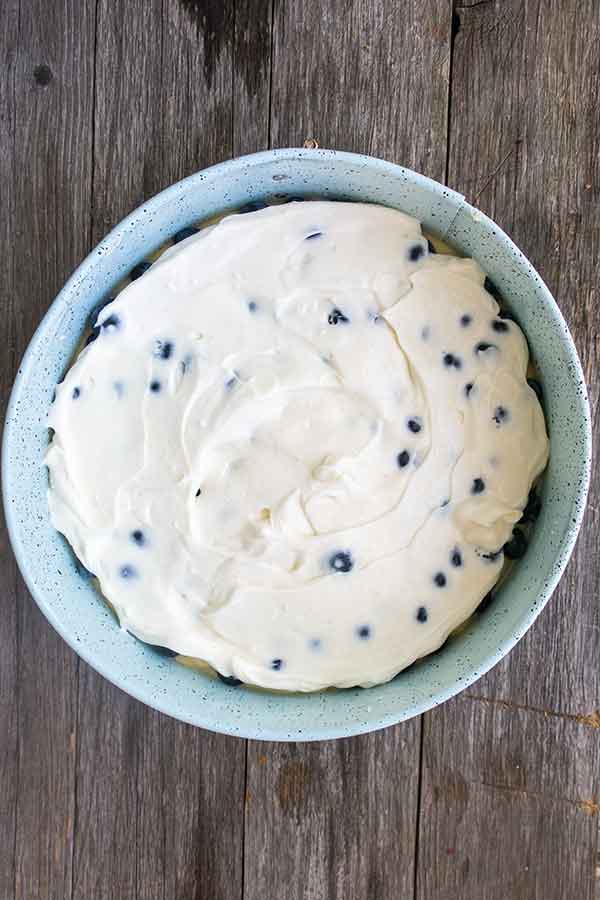 The buttery streusel is just a 1/4 cup of coconut sugar, gluten-free flour or my favourite, certified gluten-free oat flour and a few chunks of salted butter.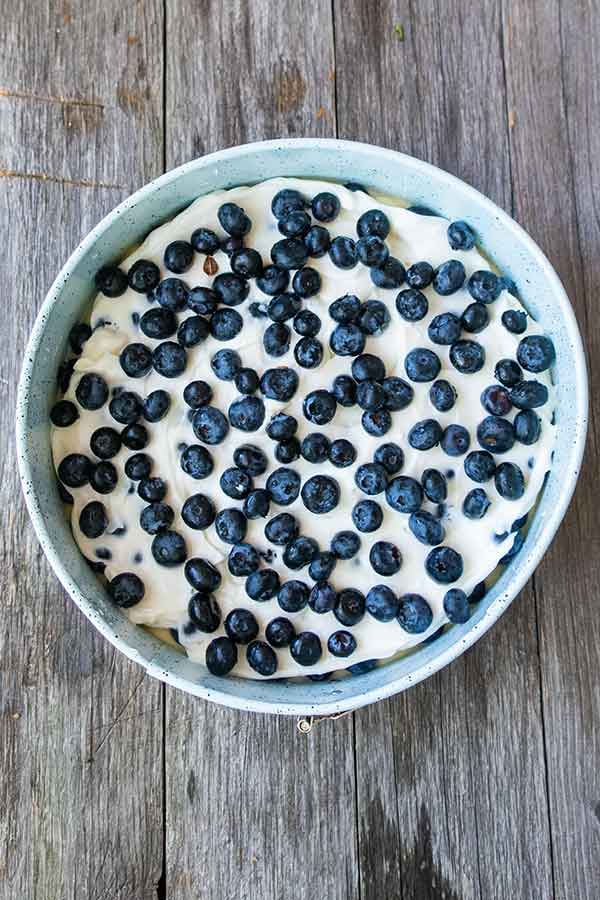 Now that you have the three mixings ready to layer the cake, using a springform pan, start with the cake layer, then half the blueberries, the cheesecake layer, remaining blueberries, and finish with streusel topping. Super easy and fun to make 🙂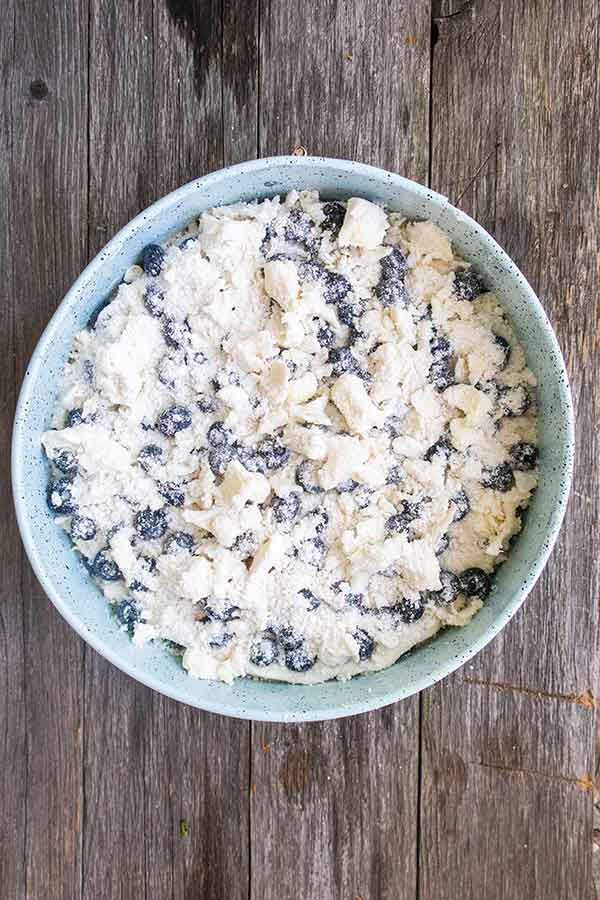 allow extra time for baking
Just to give you heads up, this gluten-free blueberry cream cheese coffee cake takes time to bake. With all the layers and fresh blueberries between the layers, you must give this cake time to bake slowly. But, well worth the wait, trust me on this!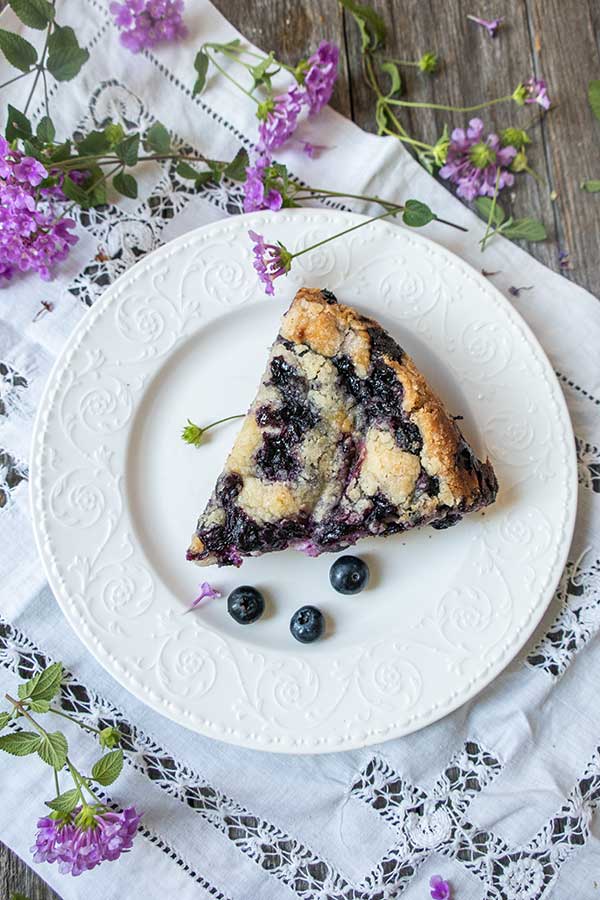 This delicious gluten-free coffee cake has all the flavours we love—moist cake, light cream cheese filling, buttery streusel and sweet blueberries throughout bursting with flavour.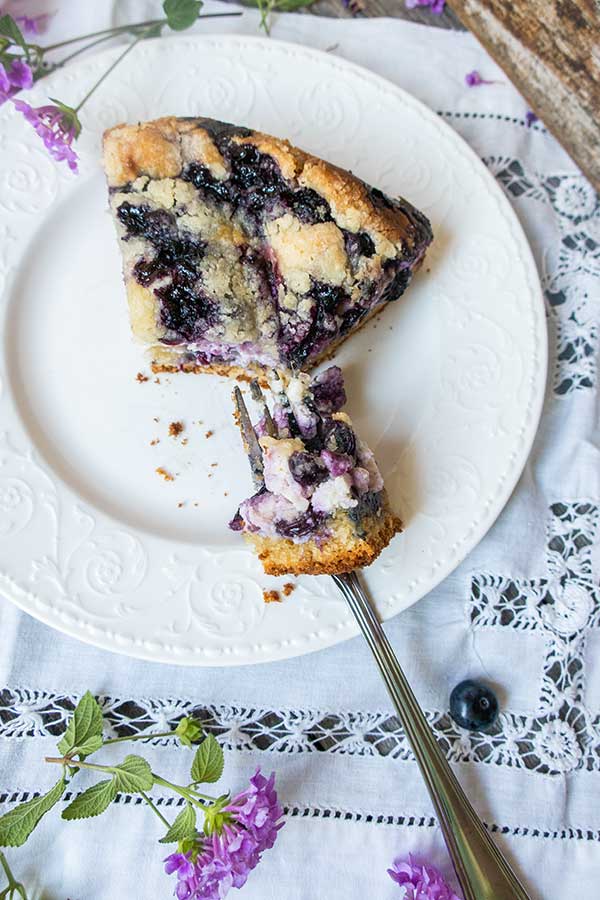 What I love about this blueberry cream cheese coffee cake is, you can serve it for breakfast, as a snack, or chilled as an after dinner dessert. Sometimes I add a dollop of vanilla bean ice cream to make this into an extra special gluten-free dessert. Enjoy!
If you love blueberry coffee cakes you may enjoy the Gluten-Free Blueberry Buckle or the Gluten Free Apple Blueberry Crumb Cake. Or, check out our selection of gluten-free breakfast cake recipes.
For the latest recipes and tips, please like us on Facebook or follow us on Pinterest
Gluten-Free Blueberry Cream Cheese Coffee Cake
Published on Mar 02, 2021
by
Kristina Stosek
Instructions
1.

2.

For the cream cheese layer; Cream together cream cheese, sugar, and lemon juice. Add egg white and mix to combine. Set aside

3.

For the cake layer; In a large bowl, whisk flours, baking soda, baking powder and salt

4.

Using an electric mixer, cream together olive oil and sugar. Add egg, egg yolk and vanilla, and mix until creamy. Fold in sour cream. Add to dry ingredients and mix just to combine. Do not overmix.

5.

Spread the batter evenly into the prepared pan. Scatter 1 cup of blueberries over the batter, then spread the cream cheese mixture over the blueberries and top with remaining blueberries

6.

For the streusel topping; Whisk flour with sugar and cut in butter using a fork or pastry blender. The mixture should resemble small peas. 

7.

Scatter streusel topping over the blueberries and bake for 70 - 75 minutes until a skewer inserted in the center comes out clean

8.

Cool on a rack before removing it from the springform pan. Serve at room temperature or chilled