Gluten Free Apple Blueberry Crumb Cake
Published on Jan 23, 2016
by
Kristina Stosek
Prep Time:

15 minutes
Cook Time:

60 minutes
Serves:

12 pc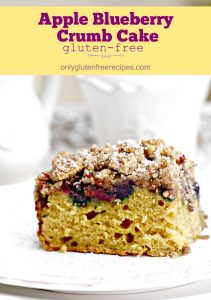 ​This post may contain affiliate links, please see our
privacy policy
for details
Gluten-Free Apple Blueberry Crumb Cake – a moist cake with a delicious layer of spiced apples and blueberries, and a crunchy topping are what makes this stay at home cake exceptional. A crumb cake is one of the easiest desserts to make. Typically the cake is made of two layers. In this recipe, there are three layers. A moist cake, an apple blueberry layer and a crunchy top with a good crumble. How does this sound?
♥

This is a simply made apple blueberry crumb cake with healthier ingredients.

The recipe may sound complicated, but the crumb cake is made simply using three bowls. First, you prepare the crumble topping, by mixing the crumble ingredients in a bowl, can't get any simpler. For the second layer, which is the gluten-free batter, I used an all-purpose gluten-free flour blend, buttermilk, coconut oil, eggs and vanilla. To sweeten it up, I used healthy, pure maple syrup. The middle layer is a combination of fresh apples and blueberries combined with cinnamon and a tad of tapioca starch.

Now that all the layers are ready, to assemble the cake first comes the batter, then the fresh fruit and everything is topped with the crumble. That's it, I know it sounds like a lot of work, but it goes very quickly. It took me fifteen minutes to get it ready for the oven. By using maple syrup, I avoided refined sugar, and for the fats, I combined buttermilk with coconut oil, a healthier option than if I was using only butter. The buttermilk gives the cake a good texture and keeps it beautifully moist.

This blueberry apple crumb cake is truly outstanding! When it comes to crumb cake, I like to serve it slightly warm with a scoop of yogurt. This is one of those cakes that are wonderful for breakfast. The best part, kids love a crumb cake, especially the crumble!

Need some healthy inspirations for breakfast? Check out these gluten-free muffin recipes.
Gluten Free Apple Blueberry Crumb Cake
Published on Jan 23, 2016
by
Kristina Stosek
Instructions
1.

Preheat oven to 330 F and line a 9 x 12-inch baking pan with parchment paper

2.

3.

Mix almond meal, rice flour, cinnamon and 1/8 teaspoon salt in a medium size bowl. Add melted coconut oil and maple syrup and using a spatula mix until small to medium clumps form

4.

5.

Whisk together flour, baking soda and ¼ teaspoon salt

6.

In a separate bowl beat the eggs until fluffy, add buttermilk, maple syrup, coconut oil and vanilla. Continue to beat until creamy

7.

Add wet mixture to dry ingredients and mix until smooth. Spoon batter into prepared pan

8.

Using a fork mix together apples, blueberries, tapioca starch and cinnamon and spread evenly over the batter. Evenly scatter crumb topping on over top

9.

Bake for 1 hour or until golden brown. Cool cake on a wire rack for 15 minutes before serving. Serve warm or at room temperature
Leave a Comment
Kristina
I am so happy that you enjoyed it!
great recipe, the crumb cake was delicious!