Gluten-Free Baked Apple Cider Donuts
Published on Oct 14, 2020
by
Kristina Stosek
Prep Time:

15 minutes
Cook Time:

35 minutes
Serves:

12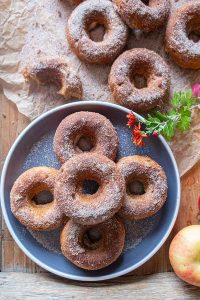 ​This post may contain affiliate links, please see our
privacy policy
for details
Welcoming the apple season with warm Baked Apple Cider Donuts – the best part, they are also gluten-free! The gluten-free sweet donuts are baked, not deep-fried, are made with apple cider, fresh apples, flaxseed, cinnamon, nutmeg and ginger.
After they are baked, then they are coated with brown butter and cinnamon, cardamom sugar.
Everything about these Baked Apple Cider Donuts is delicious. The gluten-free baked donuts are best served slightly warm with a cup of hot coffee or for the kids with hot chocolate—a delightful way to celebrate the beginning of the apple season.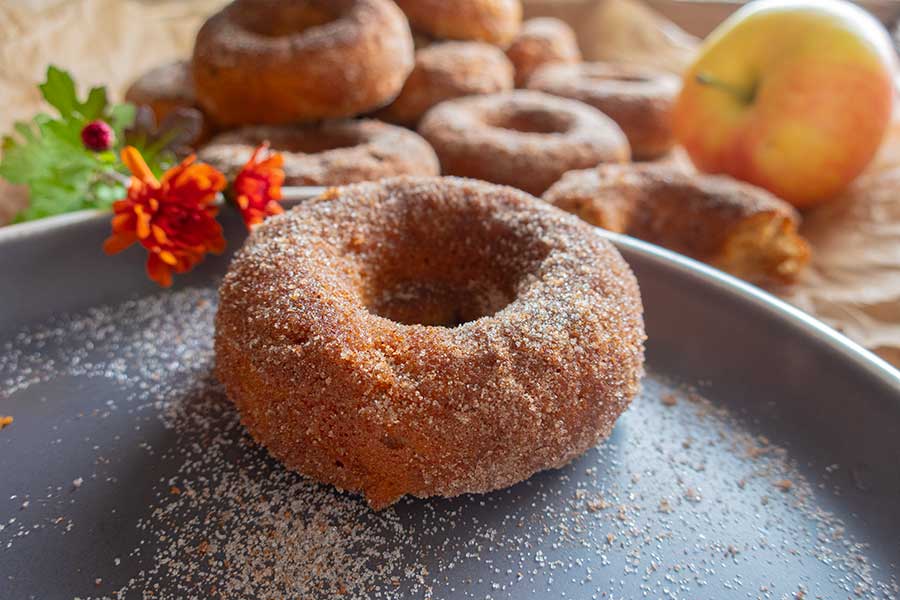 Gluten-Free Baked Apple Cider Donuts – recipe details
The Baked Apple Cider Donuts recipe couldn't be simpler to make. But the secret is the apple cider. You can find a good apple cider at most supermarkets, and try to get one without added sugar.
The apple cider is boiled down for intense apple flavour, which makes the donuts taste extra flavourful.
The donut batter is made with two flours, almond flour and a gluten-free flour blend. I used olive oil for the fats, and to sweeten the donuts, I used coconut sugar. If you don't have coconut sugar, you can use brown sugar.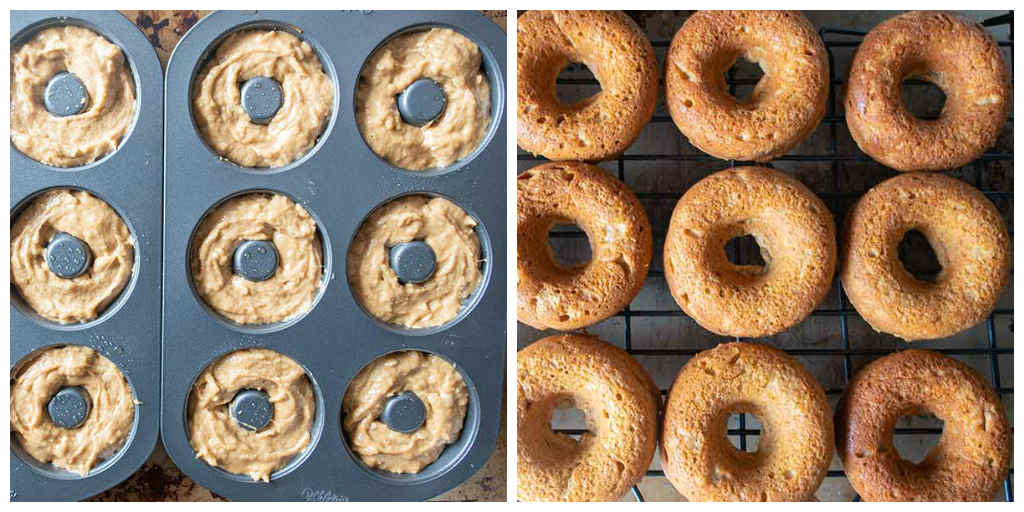 How to fill a donut pan?
Once the batter is made, you can use a disposable piping bag or a ziptop bag and cut a corner off. Pipe the batter into donut pans. I use a large ziptop bag; it takes only about a minute to fill the donut pan, and the donuts take only about twenty minutes to bake.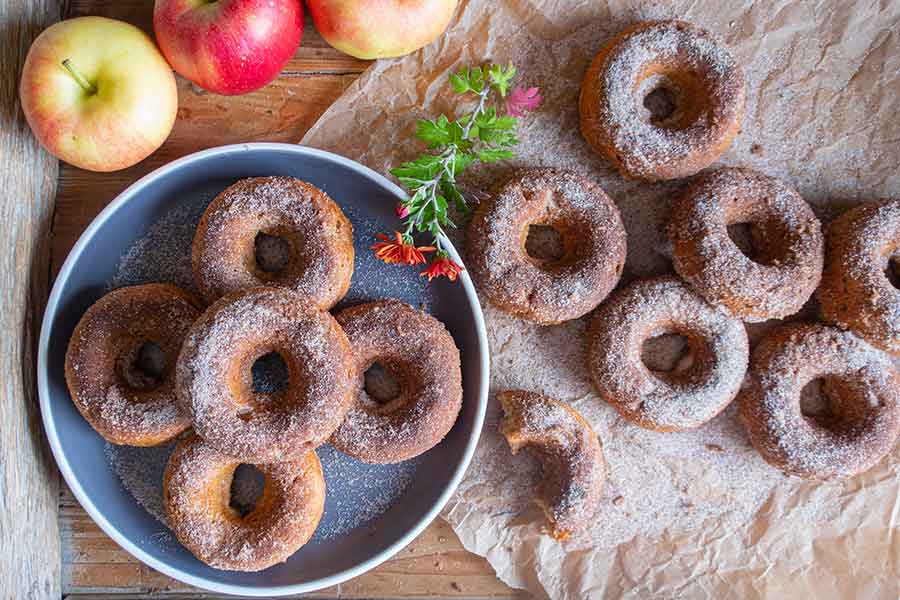 If you don't have a donut pan, I highly recommend getting one. They are so much fun to use, and you will get a perfectly shaped donut every time.
You can also make these donuts into small cakes by using a muffin pan. Fill the muffin cups only half-way full and bake for about 12 – 15 minutes until they pass the toothpick test.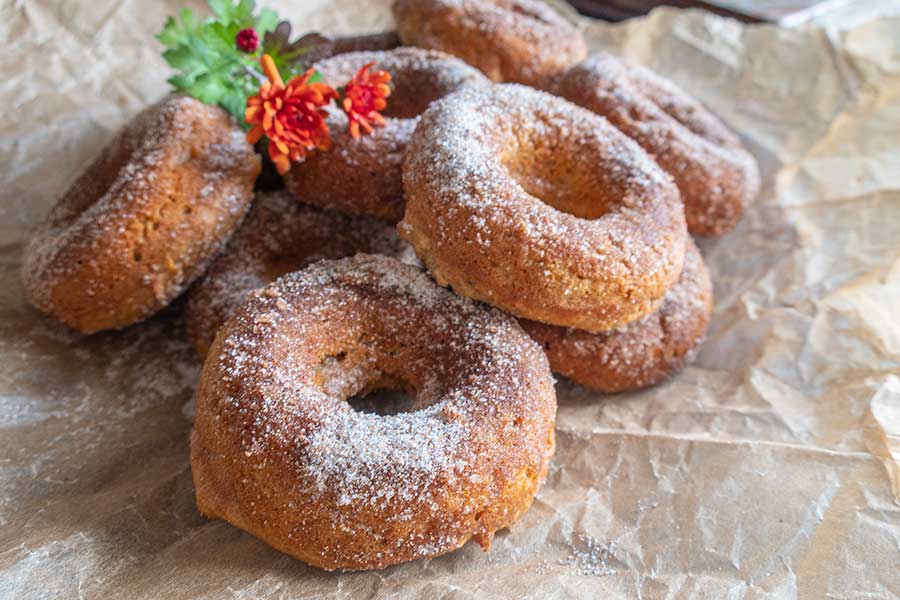 How to add brown butter spiced sugar coating to donuts?
While the donuts are baking, prepare the brown butter and spiced sugar. The butter is first browned, adding a delicious nutty flavour to the butter.
Once the donuts are baked, brush them with the butter and generously roll them in the spiced sugar. All I can say is, these Gluten-Free Baked Apple Cider Donuts are incredibly delicious.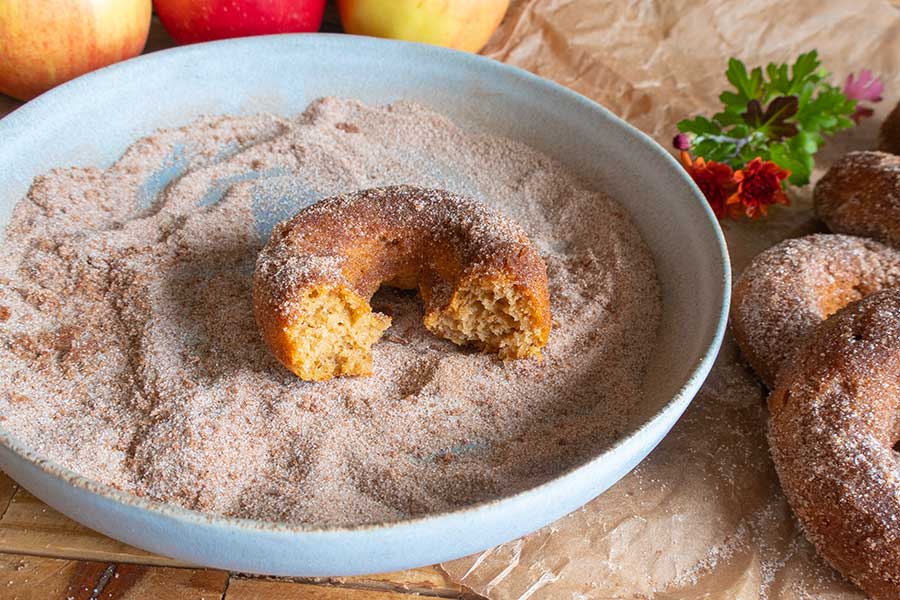 What sets these Apple Cider Donuts apart from the classics is the tasty apple flavour from the boiled down apple cider and fresh apples. You will love them!
The texture is light, the donuts are perfectly sweet, and they bring back memories of warm and cozy autumn feeling. A gluten-free donut that the entire family will love!
Need more apple recipes? Here are our favourites:
Let's connect
Meet Kristina. Passionate about creating delicious, innovative gluten free recipes, and author of two gluten free cookbooks, "Entertaining The Gluten Free Way" and "Small Bites The Gluten Free Way".
Be sure to FOLLOW US on FACEBOOK or, check us out on PINTEREST. And don't forget to sign up for our newsletter. We always have something new and exciting for you!
Many thanks!
Kristina x
Gluten-Free Baked Apple Cider Donuts
Published on Oct 14, 2020
by
Kristina Stosek
Instructions
1.

2.

Using a small saucepan, bring apple cider to a boil. Reduce the heat and simmer until reduced to 2/3 cups. About 10 - 15 minutes. Set aside to cool to room temperature

3.

Meanwhile, whisk together flours, flaxseed, baking powder, cinnamon, nutmeg, ginger and salt.

4.

In a separate bowl, mix eggs with sugar. Add olive oil, vanilla, reduced apple cider, grated apples and whisk to combine. Add dry ingredients and mix until just combined.

5.

6.

Bake for 20 - 22 minutes until the donuts pass the toothpick test

7.

Remove and let cool 5 minutes, then invert the donuts onto a cooling rack.

8.

Prepare the spiced sugar coating; add the butter to a skillet set over medium heat. Allow the butter to brown until it is a deep golden colour, about 3-4 minutes.  Combine sugar, cinnamon and cardamom in a shallow bowl

9.

Brush donuts with butter and generously roll in the spiced sugar. Enjoy slightly warm or at room temperature
Leave a Comment
Kristina
Hi Anna, we can't give you accurate nutritional information since we are qualified to do that, sorry.
Hi, can you create a nutritional breakdown, as I need to know for diet restrictions. Then I can see where need to substitute to stay on track. Thanks.
Kristina
I am so happy your family enjoyed the donuts, thank you for sharing Leanne
I made these apple cider donuts yesterday for my family and they loved them, thank you for this recipe.
Kristina
the almond flour keeps the donuts moist. You can try and use oat flour or cassava flour, but I am not sure how they will work in this recipe. These two flours are probably what I would use if I had to. You can try the GF all purpose flour, but the donuts may be a bit dry. Let us know how it works out please! thank you.
I cannot use almond flour due to allergies. Can I just use only the GF all-purpose flour for this recipe (for a total of 2 cups GF flour)? Or, please make a suggestion of another type of GF, nut-free flour to use as a substitute. Thank you!