Gluten-Free Baked Apple Cider Donuts
Prep Time
15 Minutes
Difficulty
Easy
Cook Time
35 Minutes
Serves
12
Average Rating: 5 | Rated By: 14 users
Welcoming the apple season with warm Baked Apple Cider Donuts – the best part, they are also gluten-free! The gluten-free sweet donuts are baked, not deep-fried, are made with apple cider, fresh apples, flaxseed, cinnamon, nutmeg and ginger.
After they are baked, then they are coated with brown butter and cinnamon, cardamom sugar.
Everything about these Baked Apple Cider Donuts is delicious. The gluten-free baked donuts are best served slightly warm with a cup of hot coffee or for the kids with hot chocolate—a delightful way to celebrate the beginning of the apple season.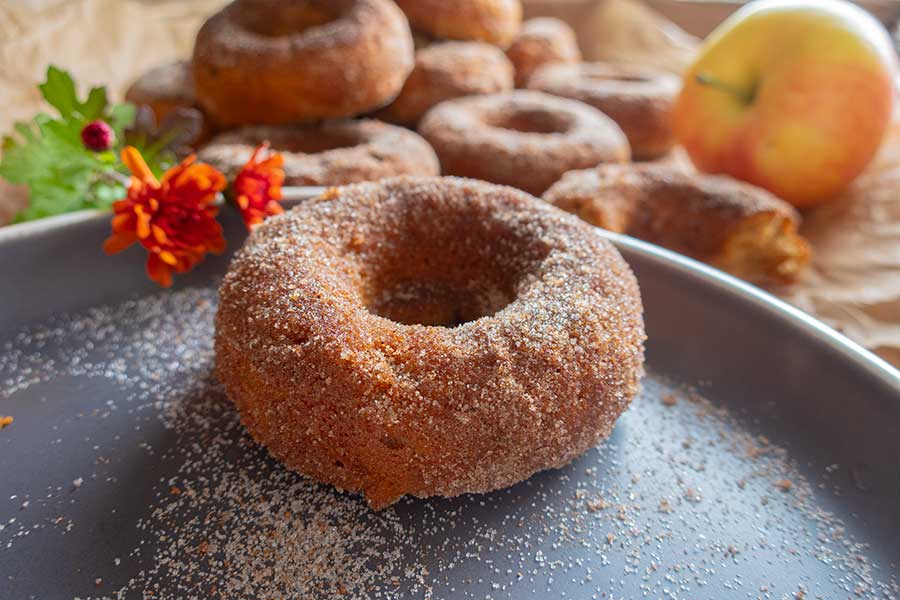 Gluten-Free Baked Apple Cider Donuts – recipe details,
The Baked Apple Cider Donuts recipe couldn't be simpler to make. But the secret is the apple cider. You can find a good apple cider at most supermarkets, and try to get one without added sugar.
The apple cider is boiled down for intense apple flavour, which makes the donuts taste extra flavourful.
The donut batter is made with two flours, almond flour and a gluten-free flour blend. I used olive oil for the fats, and to sweeten the donuts, I used coconut sugar. If you don't have coconut sugar, you can use brown sugar.
How to fill a donut pan? 
Once the batter is made, you can use a disposable piping bag or a ziptop bag and cut a corner off. Pipe the batter into donut pans. I use a large ziptop bag; it takes only about a minute to fill the donut pan, and the donuts take only about twenty minutes to bake.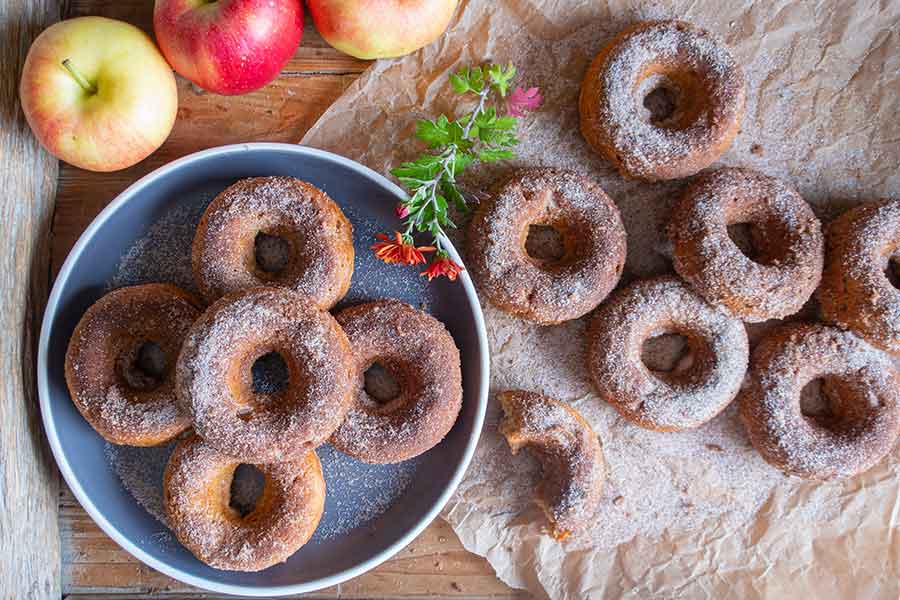 If you don't have a donut pan, I highly recommend getting one. They are so much fun to use, and you will get a perfectly shaped donut every time.
You can also make these donuts into small cakes by using a muffin pan. Fill the muffin cups only half-way full and bake for about 12 – 15 minutes until they pass the toothpick test.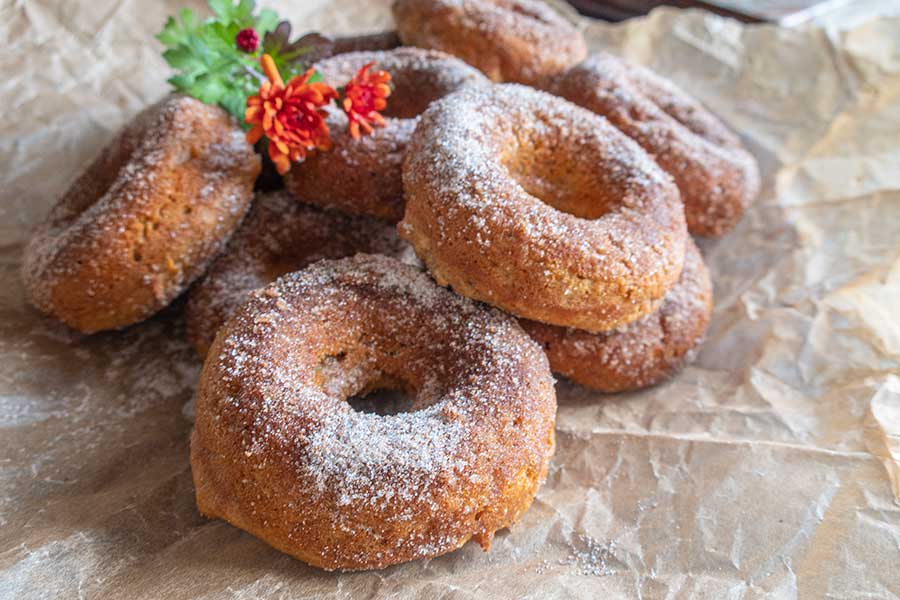 How to add brown butter spiced sugar coating to donuts? 
While the donuts are baking, prepare the brown butter and spiced sugar. The butter is first browned, adding a delicious nutty flavour to the butter.
Once the donuts are baked, brush them with the butter and generously roll them in the spiced sugar.  All I can say is, these Gluten-Free Baked Apple Cider Donuts are incredibly delicious.
What sets these Apple Cider Donuts apart from the classics is the tasty apple flavour from the boiled down apple cider and fresh apples. You will love them!
The texture is light, the donuts are perfectly sweet, and they bring back memories of warm and cozy autumn feeling. A gluten-free donut that the entire family will love!
Need more apple recipes? Here are our favourites:
Let's Connect!
Be sure to FOLLOW US on FACEBOOK and PINTEREST.
Many thanks!
Kristina xx
Ingredients
1 cup unsweetened apple cider
1 cup almond flour
1 cup gluten-free all-purpose flour (I used cup4cup)
1 Tbsp. Ground flaxseed
1 Tbsp. GF aluminum-free baking powder
1 tsp. GF ground cinnamon
1/2 tsp. GF ground nutmeg
1/4 tsp. GF ground ginger
1/4 tsp. Sea salt
2 large eggs
1/2 cup coconut sugar or brown sugar
1/3 cup extra virgin olive oil
1 1/2 tsp. Pure vanilla extract
1/2 cup grated apples
SPICED SUGAR COATING
 4 Tbsp. salted butter
 1/2 cup sugar of choice (coconut, granulated)
 2 tsp. GF ground cinnamon
*As an Amazon Associate and member of other affiliate programs, I earn from qualifying purchases. Please check out my sponsorship and disclosure policy page for more details
Instructions
Using a small saucepan, bring apple cider to a boil. Reduce the heat and simmer until reduced to 2/3 cups. About 10 - 15 minutes. Set aside to cool to room temperature
Meanwhile, whisk together flours, flaxseed, baking powder, cinnamon, nutmeg, ginger and salt.
In a separate bowl, mix eggs with sugar. Add olive oil, vanilla, reduced apple cider, grated apples and whisk to combine. Add dry ingredients and mix until just combined.
Bake for 20 - 22 minutes until the donuts pass the toothpick test
Remove and let cool 5 minutes, then invert the donuts onto a cooling rack.
Prepare the spiced sugar coating; add the butter to a skillet set over medium heat. Allow the butter to brown until it is a deep golden colour, about 3-4 minutes.  Combine sugar, cinnamon and cardamom in a shallow bowl
Brush donuts with butter and generously roll in the spiced sugar. Enjoy slightly warm or at room temperature
Similar Recipes
Low-Carb Grain-Free Ham and Cheese Donuts
Savoury, Low-Carb, Grain-Free Ham and Cheese Donuts everyone is talking about. Traditionally donuts are sweet and deep-fried and naturally not that healthy. These flavourful donuts are baked and pillowy, and they toast beautifully with only about 5 net carbs per donut. I must admit that when I started creating this gluten-free recipe, I was thinking […] Read More
Prep Time
5 Minutes
Difficulty
Beginner
Cook Time
25 Minutes
Serves
12
Gluten-Free Baked Chocolate Donuts
There is so much to be said about these Gluten-Free Baked Chocolate Donuts → chocolaty, moist, old-fashioned, easy to make and incredibly delicious! The old-fashioned baked donuts are a bit nostalgic, great memories, comfort and a lot of goodness. Most of us love donuts because they will satisfy that sweet craving, especially when chocolate is […] Read More
Prep Time
15 Minutes
Difficulty
Easy
Cook Time
22 Minutes
Serves
12
Gluten-Free Baked Jelly Donuts Recipe
This gluten-free baked jelly donut recipe is easy enough for anyone to make! Pillowy soft, filled with your favourite jelly or jam, and irresistibly yummy! The donuts are coated in lightly scented with cinnamon sugar for added deliciousness.  The yeasted dough is easy to work with, and the donuts are baked in a muffin pan. […] Read More
Prep Time
20 Minutes
Difficulty
Easy
Cook Time
15 Minutes
Serves
9 - 12