Ginger Salmon Hot Pot
Published on May 13, 2016
by
Kristina Stosek
Prep Time:

5 minutes
Cook Time:

20 minutes
Serves:

4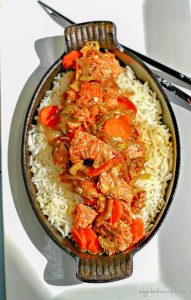 ​This post may contain affiliate links, please see our
privacy policy
for details
This tasty salmon hot pot is made with leeks, celery, carrots and shallots in a light ginger sauce. The best part is that the mystical one-pot ginger salmon dish takes only 20 minutes to make. This healthy salmon dinner recipe is perfect for someone following a low-calorie diet.
When cooking delicate fish such as wild salmon, you do not want to overpower it with spices. In this salmon hot pot recipe, the veggies add heartiness featuring the salmon and keeping it light.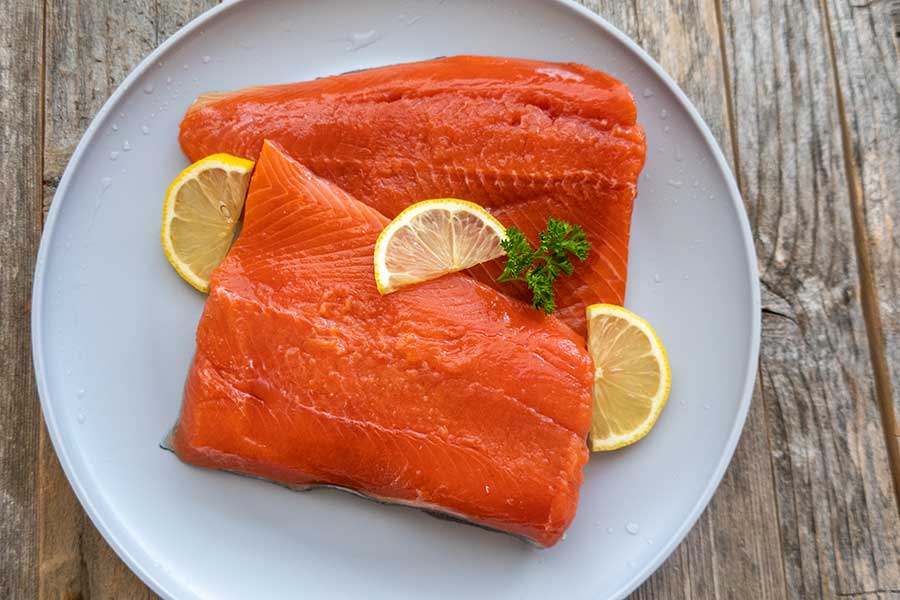 is salmon healthy?
Wild salmon is well known for its many health benefits. Salmon is one of the best sources of Omega-3 fatty acids. Omega-3 fats are essential for optimal health, especially for our brain. And, the only way to get them is from our diet because our bodies can't create Omega-3 fatty acids. Salmon is a protein low in calories and rich in healthy fats.
fresh or frozen salmon?
This may surprise you, but frozen salmon is considered better than fresh unless you catch the salmon yourself and cook it the same day. The reason for this is, the frozen salmon is frozen fresh off the boat and then shipped. The fresh salmon is shipped fresh and starts to deteriorate as soon as it is harvested. By freezing the salmon straight off the boat, the fish bypasses the deterioration. Therefore, frozen salmon is the better choice.
the easy steps for this salmon hot pot recipe…
I am starting with the veggies. Get a large ovenproof skillet and saute the veggies in good olive oil until they begin to soften. Add the ginger, maple syrup, garlic and season with pepper. I do not add salt because the tamari sauce is salty enough. Add the salmon, tamari sauce, a splash of water and cover. Pop the skillet in the oven and bake until the salmon is cooked. Salmon cooks very quickly. The veggies are cooked to perfection, the salmon tender, flakey and moist and the sauce is especially delicious— there is nothing to this tasty salmon hot pot recipe.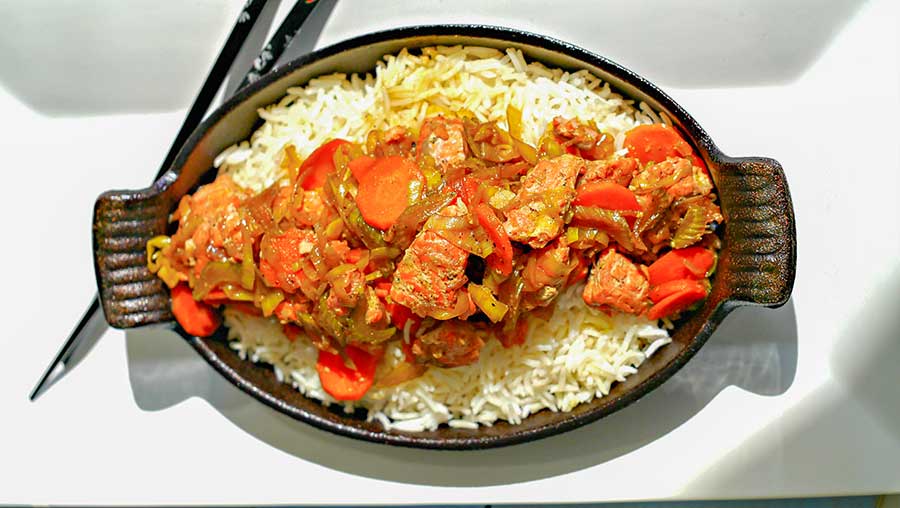 what to serve with a salmon hot pot?
I like to serve this flavourful fish dish saffron rice or hibachi noodles. If you are watching your carbs, serve this delicious ginger salmon hot pot with cabbage and fennel citrus salad. Enjoy!
Ginger Salmon Hot Pot
Published on May 13, 2016
by
Kristina Stosek
Instructions
1.

2.

Heat olive oil over medium heat in an ovenproof skillet. Add leek, celery, carrot and shallots and cook saute for 5 minutes, stirring frequently. The veggies should start to soften

3.

Add ginger, maple syrup, garlic and black pepper and stir to combine. Add salmon and coat with the sauce

4.

Add tamari sauce and 1/3 cup of water and cover. Bake for 15 minutes or until the salmon is cooked through. Enjoy!