Chicken Cacciatore with Roasted Tomatoes
Published on Jan 08, 2017
by
Kristina Stosek
Prep Time:

15 minutes
Cook Time:

60 minutes
Serves:

4 - 6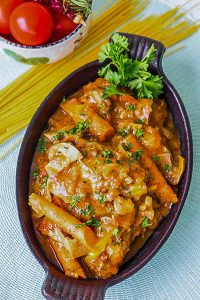 ​This post may contain affiliate links, please see our
privacy policy
for details
This easy chicken cacciatore recipe is a great way to enjoy fall flavors. The dish is made with chicken, roasted tomatoes, herbs, spices, and vegetables, all simmered together, creating the most delicious sauce.
What does cacciatore mean?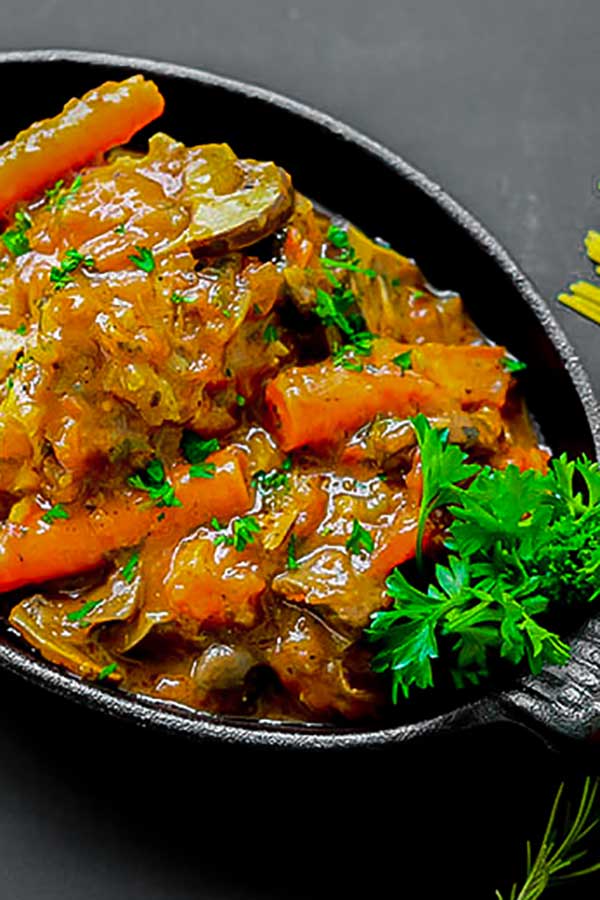 Cacciatore means "hunter" in Italian. It refers to a meal prepared with onions, garlic, mushrooms, herbs, tomatoes, bell peppers, and sometimes wine — the hunter-style.
Is chicken cacciatore gluten-free?
Chicken cacciatore is a classic Italian dish you can make with chicken or pork. Since this dish is made with chicken, vegetables, herbs and spices, it is considered gluten-free.
If you are using canned tomatoes and store-bought broth, be sure to check that they are gluten-free.
Why add roasted tomatoes?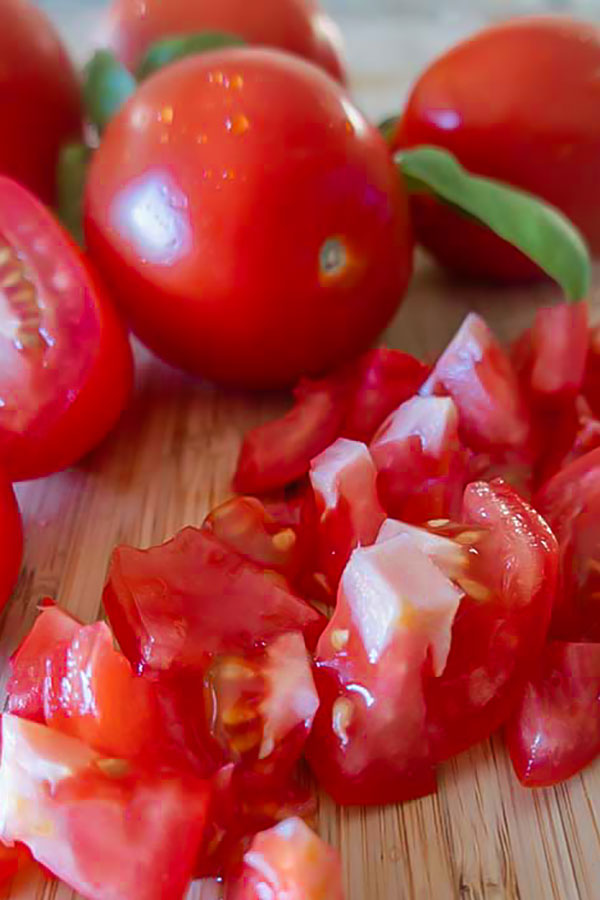 Adding roasted tomatoes to your chicken cacciatore recipe gives it a depth of flavor that can't be beat. The sweetness of the tomatoes counteracts the savory spices, which are a great way to jazz up a tomato-based sauce.
make ahead chicken dinner
The best part about chicken cacciatore is that you can make it in a short amount of time, which means you can enjoy a delicious dinner in no time without spending hours in the kitchen.
Or make it a day in advance. The chicken dinner tastes even better the next day as the flavors develop.
If you love Italian food, check out my three favourites; 30 Minute Tuscan Pasta With Zucchini, Gluten-Free Skillet Cheese Lasagna Roll Ups, or this amazing Italian dessert, the Gluten-Free Amaretto Cannoli Cake.
freezing and storing chicken cacciatore
This dish will keep up to three days when refrigerated. And you can freeze it in a glass container for up to three months.
Can you use canned tomatoes?
Canned tomatoes are a great way to save time and make chicken cacciatore even easier. Simply replace the roasted tomatoes, and you're good to go.
sides to chicken cacciatore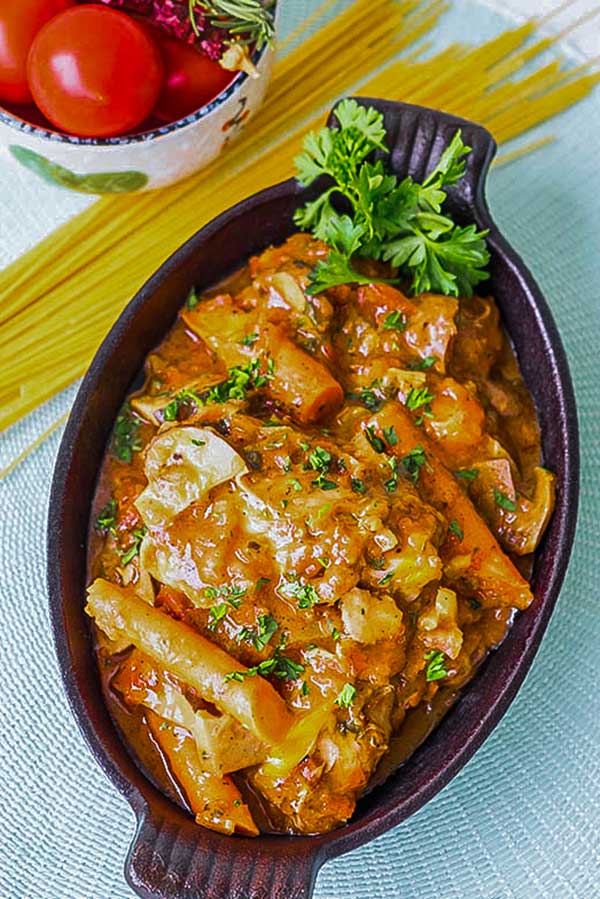 There are several ways you can serve this hunter-style Italian chicken dish. The simplest way would be over a bed of rice, plain gluten-free pasta, or egg noodles.
The traditional way to serve this meal in Italy is with risotto. However, roasted or boiled potatoes with butter and fresh herbs are also a delicious way to serve chicken cacciatore.
This Chicken Cacciatore with Roasted Tomatoes recipe is a classic hearty Italian dish with tomato-based sauce and vegetables. This recipe is perfect for a quick and easy weeknight chicken dinner or an impressive gluten-free dinner for your guests.
Let's Connect!
Be sure to FOLLOW US on FACEBOOK and PINTEREST.
Many thanks!
Kristina xx
Chicken Cacciatore with Roasted Tomatoes
Published on Jan 08, 2017
by
Kristina Stosek
Instructions
1.

Preheat oven to 450 F and line a baking tray with parchment paper

2.

In a large bowl combine tomatoes, 2 tablespoons of olive oil, 1 teaspoon of basil, oregano, minced garlic and sea salt. Place tomatoes on prepared baking tray cut side up and roast for 30 minutes. Transfer to a food processor or blender and process until tomatoes are finely chopped not creamy. Set aside

3.

While the tomatoes are roasting, add oil to a large saucepan and heat until hot but not smoking. Season chicken pieces with black pepper and sear on both sides. Transfer to a plate

4.

Reduce heat to medium-low and to the same pan add onions, celery and garlic. Cook until the onions are soft, about 5 minutes. You may need to add extra oil

5.

Add paprika, the remainder of basil, bay leaf, rosemary, cayenne pepper, mushrooms and bell pepper. Stir-fry for 3 minutes

6.

Add chicken stock, roasted tomatoes, carrots, zucchini and season with salt to taste. Cover and simmer the sauce over low heat for 10 minutes. Return reserved chicken to the saucepan and cook partially covered over medium-low heat for 20 - 25 minutes or until the chicken is tender

7.

Remove the bay leaf and rosemary sprig and garnish with fresh parsley or basil

8.

Note: For the best flavour make this dish a day in advance