Beef Bourguignonne Recipe
Published on Mar 25, 2015
by
Kristina Stosek
Prep Time:

15 minutes
Cook Time:

240 minutes
Serves:

6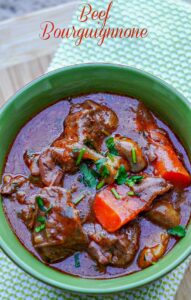 ​This post may contain affiliate links, please see our
privacy policy
for details
If you've never had Beef Bourguignonne, you're in for a treat! This classic French dish is made by slowly simmering beef stew in red wine, onions, garlic, mushrooms, carrots and herbs. It's rich and hearty, and perfect for a cold winter day.
FAQs about beef Bourguignonne
1. What is beef Bourguignonne?
Beef bourguignonne is a French dish with beef, red wine, mushrooms, and onions cooked in a slow cooker or Dutch oven. It is typically served over egg noodles or mashed or boiled potatoes.
2. How long does it take to make Bourguignonne?
This dish takes about 3 hours to prepare, including the time it takes to simmer the stew. However, most of that time is hands-off cooking time, so you won't be stuck in the kitchen for hours on end.
3. Can I make it ahead of time?
Yes! This dish tastes even better when made a day or two in advance. Just slowly reheat before serving.
4. What should I serve with Bourguignonne?
Mashed potatoes, boiled potatoes or egg noodles are traditional accompaniments for this dish. But get creative – roasted vegetables, steamed broccoli, creamy turnip and carrot mash or keep it low carb with faux potatoes would also be delicious alongside this rich and hearty stew.
Or, bake a fresh batch of Gluten-Free Butter Rolls, the recipe is super easy!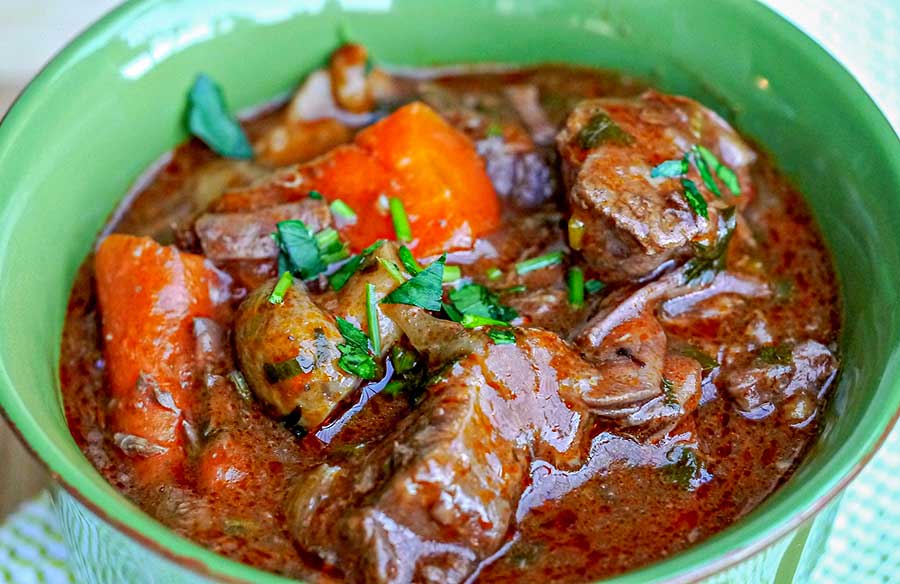 Is beef bourguignonne gluten free?
All the ingredients used in this French dish are naturally gluten free. So unless you add a thickener like wheat flour for the sauce or spices that are not gluten free, this stew is safe for those following a gluten free diet.
One of our most popular stews you should give a try is the African beef stew.
best cut of beef for Bourguignonne
Different cuts of beef can be used for bourguignonne, but the best cut of beef for this recipe is chuck steak. This cut of meat is well-marbled and has a good amount of fat, which will help flavor the dish. Chuck steak is also a relatively tough cut of beef, so it will benefit from being cooked slowly in the wine sauce.
key to best Bourguignonne
The key to making a rich and flavorful Bourguignonne is to brown the meat well. This will give the meat lots of flavor and add richness to the sauce.
This French classic is a must-try for any beef lover. Beef bourguignonne is a rich stew and is the perfect comfort food for a cold winter night.
Beef Bourguignonne Recipe
Published on Mar 25, 2015
by
Kristina Stosek
Instructions
1.

Using a large Dutch oven or a stew pot heat oil over high heat. Season the beef with pepper and sear on all sides

2.

Add onions and while stirring cook for about a minute. Stir in thyme, bay leaves and garlic

3.

Add beef stock, red wine, salt and tomato paste, bring to a boil. Cover and reduce heat to low and simmer for 3 hours

4.

Stir in carrots and mushrooms and continue cooking for 30 minutes longer

5.

Remove from the heat and add parsley

6.