Best Gluten-Free Sauces for Summer Barbecues
A good gluten-free sauce can elevate a simple dish beyond expectations! Since we have officially started grilling season, it is time to heat up the barbecues. Making your gluten-free sauces from scratch is healthier, tastier and you don't have to worry about gluten.
The best part about sauces, they are incredibly versatile. They can be used for marinating, grilling or enhancing simple dishes, even soups. There is no right or wrong way to use sauces because you can add them at any point.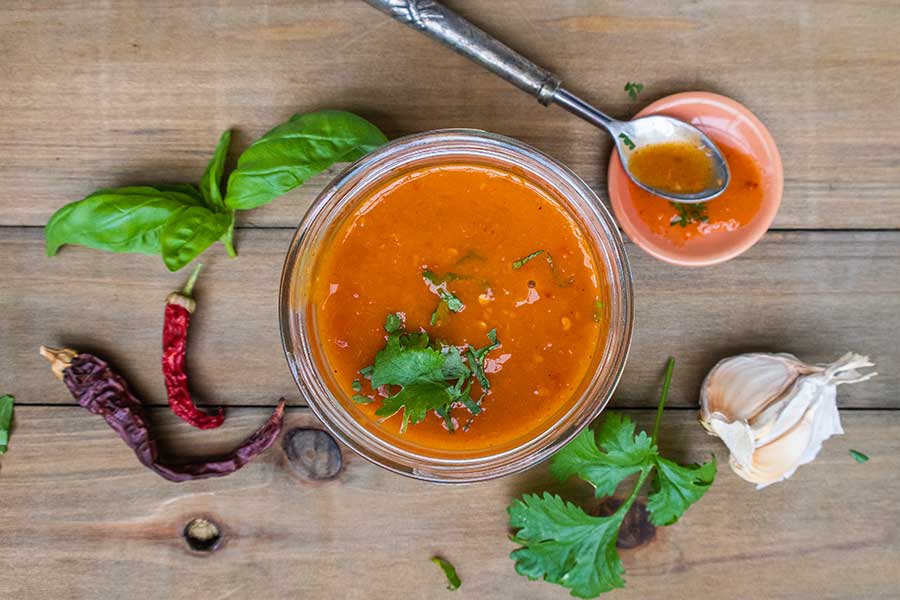 Today I will share my three favourite essential gluten-free sauces for summer that you may enjoy beyond the barbecues. Adding gluten-free sauces to your everyday meals can easily convert a simple meal to an adventure of textures and flavours. Here are some of my favourite ways!
For Barbecues: Just about any sauce can be used for marinating your favourite meat, veggies and even tofu. For tougher cuts like beef sirloin or pork roasts, I recommend marinating between 24 – 48 hours. When you are cooking tender meats like chicken, pork tenderloin, veggies and tofu, all you need is thirty minutes to an hour. And for fish, only a few minutes.
Once you finished marinating, pop the meat, veggies or tofu onto a well-heated barbecue and grill according to your recipe directions. Just before you are finished cooking the meats or whatever you are using, brush with extra sauce.
Over Noodle Bowls: You can turn a simple bowl of noodles into something super flavourful. Drizzle your favourite chilli or teriyaki sauce over the noodles, giving it a stunning flavour. One dish that comes to mind is the vegetable hibachi noodles.
In Soups and Broths: Turning simple soups or broths into something creamy and delicious add a couple of tablespoons of peanut sauce or curry sauce, and you will instantly turn a simple soup into an Asian inspired recipe.
On Fries and Eggs: A typical sauce would be Ketchup or mayo. But why not kick it up a notch and bring some freshness to the two basics. A mustard sauce or our delicious 5 minute vegan kale pesto will do the trick! Especially with healthy baked crispy sweet potato fries, or baked zucchini fries. The sauces are excellent for dipping!
Best Gluten-Free Sauce Recipes To Kick Off Summer!
Gluten-Free Smoky Barbecue Sauce (2 1/2 cups)
1/4 cup extra virgin oil
1 medium yellow onion, finely chopped
4 garlic cloves, minced or grated
1 Tbsp. GF chilli powder
1 Tbsp. GF ground mustard powder
1 cup GF ketchup
¼ cup apple cider vinegar
¼ cup honey
1 Tbsp. pure tomato paste
1 Tbsp. GF tamari sauce
½ cup water
GF ground black pepper and sea salt to taste
In a saucepan, heat olive oil over medium heat. Add onions and cook until translucent, about 5 minutes. Stir in garlic, chilli powder, and mustard powder until combined. Add balance of ingredients and whisk to combine. Simmer for 20 minutes, stirring occasionally. Season with salt and pepper to taste. If the sauce is too thick, add some water if it is too thin, cook it longer until it thickens. Store in glass jars, the sauce will keep up to 4 weeks when refrigerated
Gluten-Free Teriyaki Sauce (2 1/4 cups)
1/3 cup GF sodium-reduced tamari sauce
1 1/4 cup water, divided
1 Tbsp. Minced ginger
2 garlic cloves, minced
1/3 cup honey
1 tsp. Sesame oil
1 tsp. Mirin or rice wine
2 Tbsp. Arrowroot starch
Using a small saucepan, add tamari sauce, 1 cup water, ginger, garlic, honey, sesame oil and Mirin. Bring to a boil. Whisk together 1/4 cup of water with arrowroot starch and add to the sauce. Reduce heat to low and cook until the sauce thickens. If the sauce is too thick, add extra water until you reach the desired thickness. Store in glass jars, the sauce will keep up to 2 weeks when refrigerated
Gluten-Free Peri Peri Sauce (2 cups)
1/2 red onion, chopped
1/2 red bell pepper, seeds removed and roughly chopped
1 cup red chillies chopped (African bird's eye chillies are best), stems removed
5 garlic cloves, chopped
2 tsp. smoked paprika or chilli powder
1/4 cup chopped cilantro
1/4 cup chopped basil
1 cup extra virgin olive oil
1/4 cup Apple cider vinegar or red wine vinegar
1 Tbsp. Coconut sugar or sweetener of choice
Juice from 1 large lemon and zest
1 tsp. GF ground black pepper
1 tsp. Sea salt, or to taste
Add all ingredients to a food processor or blender and blend until finely chopped and saucy. Store in glass jars, the sauce will keep up to 2 weeks when refrigerated.
However, if you are not in the mood to make that special gluten-free sauce from scratch, here is a list of some of my favourite gluten-free sauces.
Stevia Sweet BBQ Sauce (excellent for keto diet)
San J International, Teriyaki Sauce
Stubb's Original Legendary BBQ Sauce
Sweet Baby Ray's New Sweet Golden Mustard BBQ Sauce
Fat Cat Caribbean Curry Hot Sauce
Affiliate Disclosure: Only Gluten-Free Recipes is a participant in the Amazon Services LLC Associates Program, an affiliate advertising program designed to provide a means for sites to earn advertising fees by advertising and linking to amazon.com. Please check out my sponsorship and disclosure policy page for more details