Vegan White Bean Soup with Kale
Prep Time
15 Minutes
Difficulty
Easy
Cook Time
100 Minutes
Serves
6 family style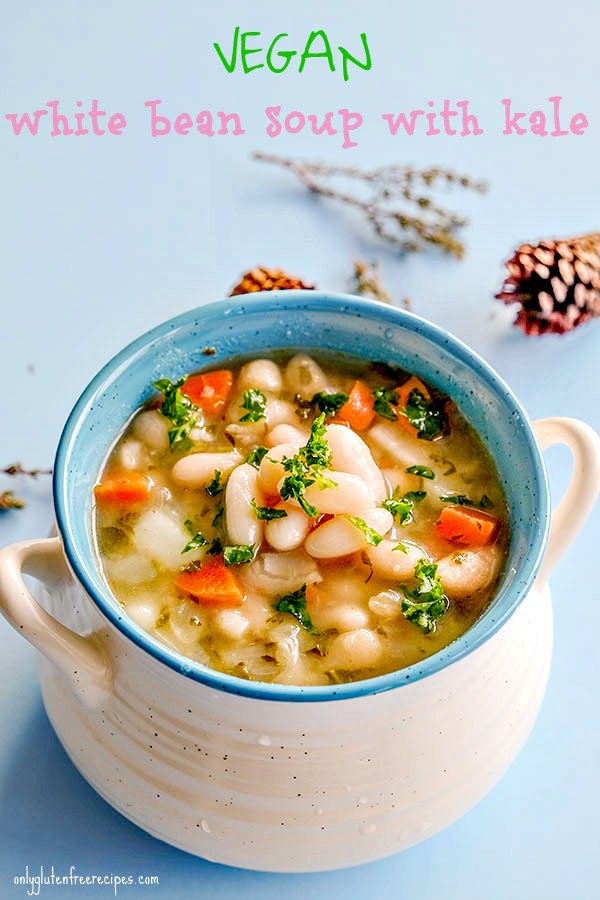 This old-fashioned bean soup is nourishing and comforting winter soup for the soul. The soup is everything it should be, healthy, hearty and simple to make
White beans are packed with nutrients such as protein, dietary Fiber, Folate, Iron, Magnesium, Potassium and Copper, and a very good source of Manganese. And kale is well-known superfood. It is known to be good source of Protein, Vitamin E (Alpha Tocopherol), Thiamin, Riboflavin, Folate, Iron and Magnesium, and a very good source of Dietary Fiber, Vitamin A, Vitamin C, Vitamin K, Vitamin B6, Calcium, Potassium, Copper and Manganese. To get the full benefit of vegan diet including B12 supplements is important
Ingredients
2 Tbsp. extra virgin olive oil or coconut oil
1 medium size leek, white part only, wash well and thinly slice
1 tsp. GF dried thyme
2 garlic cloves, crushed
1 large tomato, roughly chopped
1 GF bay leaf
3 cups dry cannellini beans, soaked overnight in water
1 large potato, peel and cut into small cubes
2 carrots, diced
1 bunch of kale, remove the stem and thinly slice
1 tbsp. raw apple cider vinegar
Sea salt and freshly ground GF black pepper to taste
Water as needed
Note: I used dry beans because they provide a lot of flavour to the soup. If using canned beans use 6 cups. Drain and rinse well and instead of water for cooking use vegetable stock
Instructions
In a large pot over medium heat saute leeks in olive oil until soft. About 5 minutes.
Stir in thyme and garlic. Add bay leaf, tomato, drained beans and cover with water 2 inches above the beans. Add 1 teaspoon of salt. Cover and cook over low heat until beans are tender, about 75 minutes
Remove bay leaf, taste and season with salt and pepper as needed
Tip: partially pureeing the soup is optional but doing so provides a wonderful creamy texture
Similar Recipes
Classic Vegetarian Lentil Soup
This is a super flavourful yet light and vegetarian soup. Lentils are very high in folate and fiber so you can have healthy without giving up the delicious taste. Serves 4 Read More
Prep Time
20 Minutes
Difficulty
Easy
Cook Time
65 Minutes
Serves
4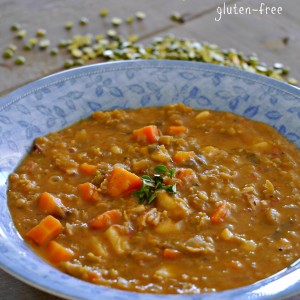 Country Split Pea Soup Recipe
This lip-smacking hearty split pea soup will warm your soul every time. This is a vegetarian gluten free split pea soup that commands a lot of flavour. The peas are slowly simmered with vegetables and spices creating that perfect texture and flavour. Split peas are high in fiber, protein, magnesium and iron making them a healthy […] Read More
Prep Time
10 Minutes
Difficulty
Beginner
Cook Time
60 Minutes
Serves
4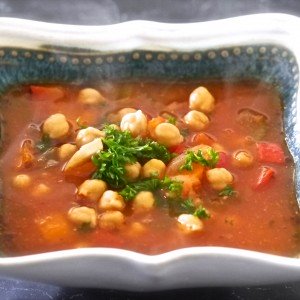 Cuban Vegetarian Garbanzo Bean Soup
A little spice from Cuba in this hearty vegetarian garbanzo bean soup. Delicious! Serves 4 family style portions Read More
Prep Time
15 Minutes
Difficulty
Easy
Cook Time
45 Minutes
Serves
4
© Copyright 2017 Only Gluten Free Recipes. All Rights Reserved.