Salmon Pops With Piquant Dill Sauce
Prep Time
15 Minutes
Difficulty
Easy
Cook Time
12 Minutes
Serves
16 skewers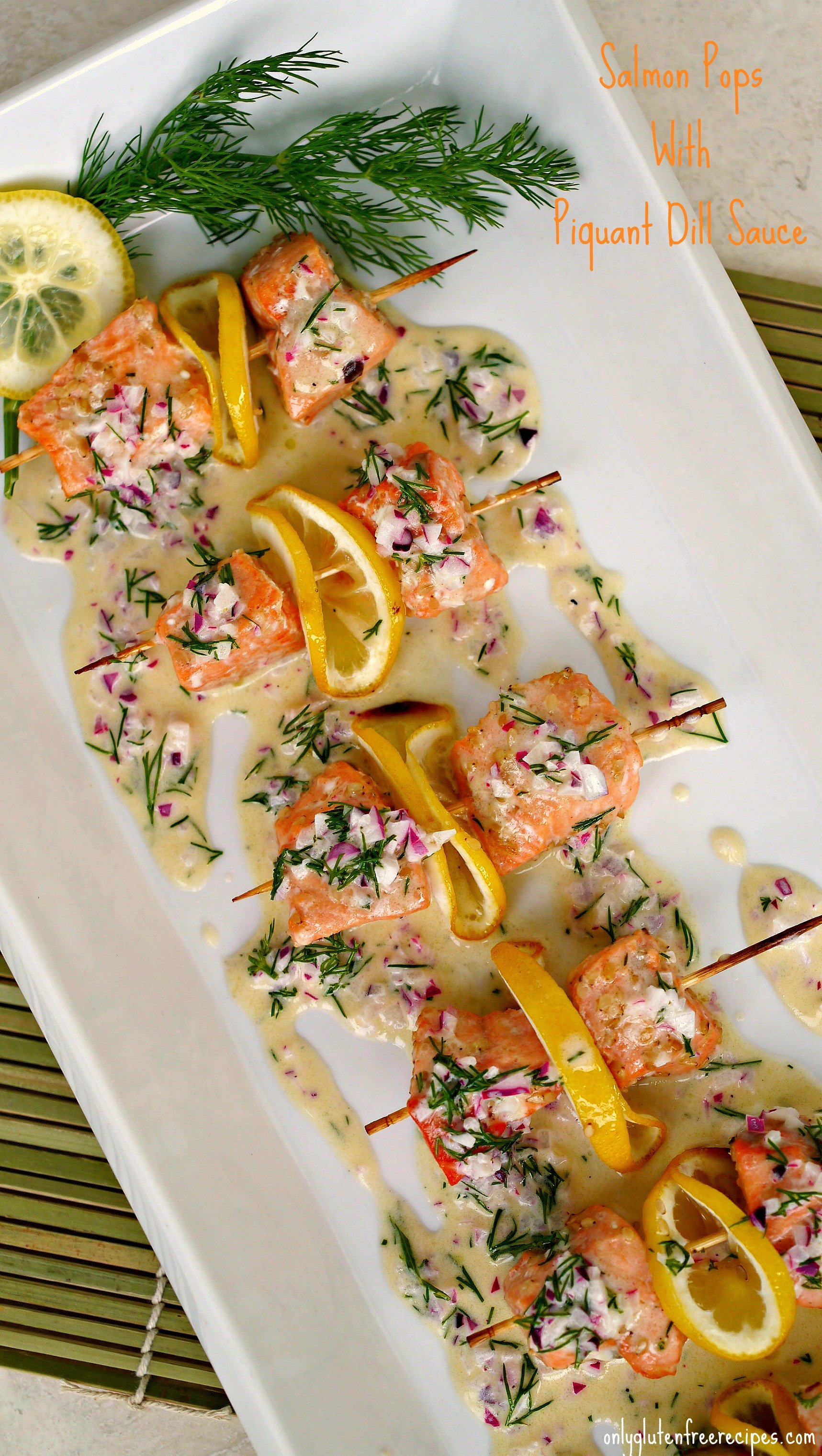 Average Rating: 5 | Rated By: 1 users
This salmon dish couldn't be simpler or quicker to prepare, yet it is deceptively impressive in flavour and appearance. This versatile salmon recipe, can be served as an appetizer or added to your favourite salad.
Ingredients
1 ½ pound skinless wild salmon fillet cut into 1-inch cubes
1 tsp. extra virgin olive oil
1 tsp. toasted sesame oil
1 tbsp. sesame seeds
½ tsp. sea salt
1 organic lemon, thinly sliced
FOR THE PIQUANT DILL SAUCE
2 tbsp. fresh dill
2 tbsp. finely chopped organic red onion
1 tbsp. freshly squeezed organic lemon juice
1 tbsp. extra virgin olive oil
1 tbsp. gluten-free mayonnaise
Sea salt and freshly ground organic black pepper to taste
16 appetizer bamboo skewers, soaked in water 20 minutes
Instructions
Preheat oven to 400 F
In a medium size bowl toss together salmon, olive oil, sesame oil, sesame seeds and salt
Thread salmon then folded lemon slice and salmon again on each skewer and place on a baking sheet lined with parchment paper. Continue until you use up all the salmon.
Bake for 8 minutes, then turn over and bake 4 more minutes. For barbecue option, place skewers on hot grills and grill 4 minutes on each side, or until salmon is fully cooked.
Whisk together piquant dill sauce ingredients and pour evenly over the salmon
Garnish with fresh dill and lemon slices.
Serve warm or cold