Gluten Free Greek Pizza Recipe
Prep Time
15 Minutes
Difficulty
Easy
Cook Time
22 Minutes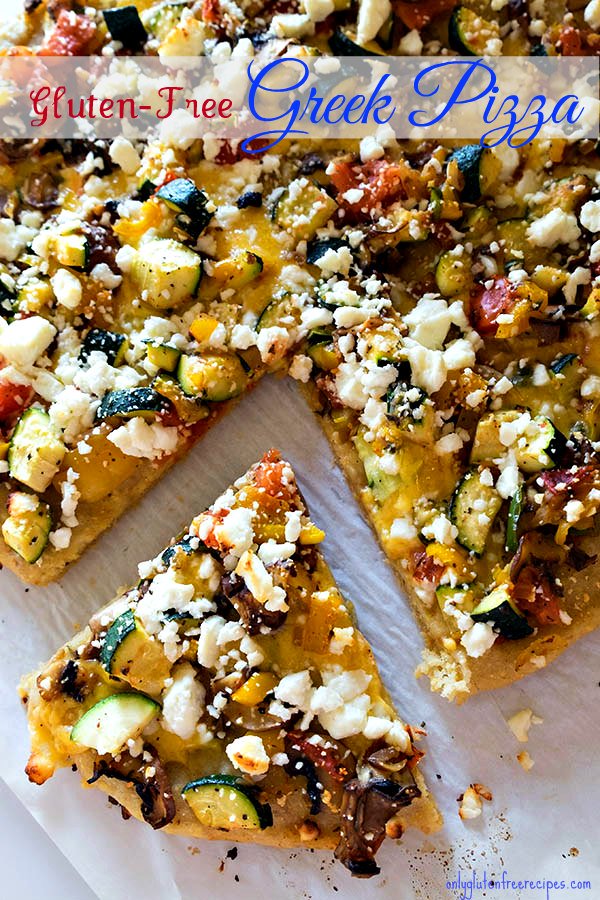 When it comes to a great pizza, it is all about the crust. After trying many different combinations of ingredients, I have finally developed the perfect gluten free pizza crust. The crust is crispy on the outside and soft on the inside. The best part is, there is no yeast and no kneading necessary
I have added a Greek twist to this pizza, but you can top the pizza with your choice of toppings. Let me know what you think of the crust? In my test kitchen, it was a winner!
Ingredients
½ cup rice flour, white or brown
½ cup sweet sorghum flour
½ cup tapioca flour/starch
1/3 cup cornmeal
1 Tbsp. ground flax seed
2 tsp. baking powder (preferably aluminum-free)
1 cup water
¼ cup extra virgin olive oil
TOPPING
1 Tbsp. extra virgin olive oil
1 small onion thinly sliced
1 yellow or red bell pepper thinly sliced
½ cup sliced mushrooms
1 small zucchini, diced
1 large tomato, coarsely chopped
1 tsp. basil
¼ cup pitted diced black olives (optional)
½ cup shredded cheddar or mozzarella cheese
1 cup crumbled feta cheese
Instructions
Preheat oven to 450 F and line a pizza pan with parchment paper
In a large mixing bowl combine dry ingredients
In a separate bowl mix water and olive oil. Add to dry ingredients and using a spatula mix the ingredients together forming wet dough
Spread the dough to desired thickness onto the prepared pizza pan and bake for 10 minutes
While the pizza is baking, in a medium size bowl combine olive oil, onion, bell pepper, mushrooms, zucchini, tomato, basil and olives. Set aside
After 10 minutes of baking the pizza crust, evenly spread a layer of the vegetables, top with cheddar/mozzarella and feta cheese. Bake for 12 more minutes, or until the crust is golden
Similar Recipes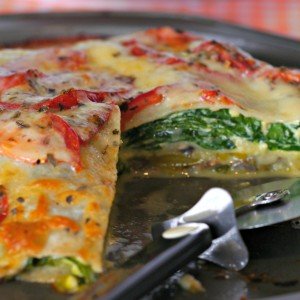 Gluten Free Layered Pizza
This is a variation on the classic pizza. The rainbow of colours in three delicious layers, not toppings are what make this gluten-free pizza a winner. The leftovers are especially delicious the next day. Read More
Prep Time
20 Minutes
Difficulty
Moderate
Cook Time
30 Minutes
Serves
6
Gluten Free Pizza with Cauliflower Crust
This is a wonderful gluten free pizza recipe for those who are following paleo and low-carb diet. The cauliflower crust is nice and crispy, and the exotic toppings make the pizza especially delicious. Now you can have your pizza without the guilt of carbs. The thing about pizza you can let your own toppings shine. […] Read More
Prep Time
25 Minutes
Difficulty
Moderate
Cook Time
35 Minutes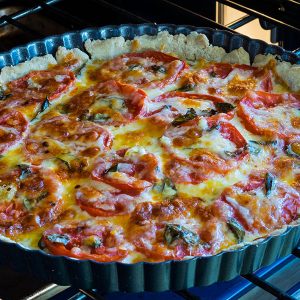 Gluten Free Tart Margherita
The choices of filling for savoury tarts are endless. A gluten free tart does not have to be complicated. This easy to make tart is made with melt in your mouth crust. Topped with fresh tomatoes, basil and buffalo mozzarella and infused with garlic olive oil. Try this rustic Italian tart Margherita, it outshines pizza […] Read More
Prep Time
20 Minutes
Difficulty
Easy
Cook Time
20 Minutes
© Copyright 2017 Only Gluten Free Recipes. All Rights Reserved.