Gluten Free Classic Shepherd's Pie Recipe
Prep Time
15 Minutes
Difficulty
Easy
Cook Time
75 Minutes
Serves
6 - 8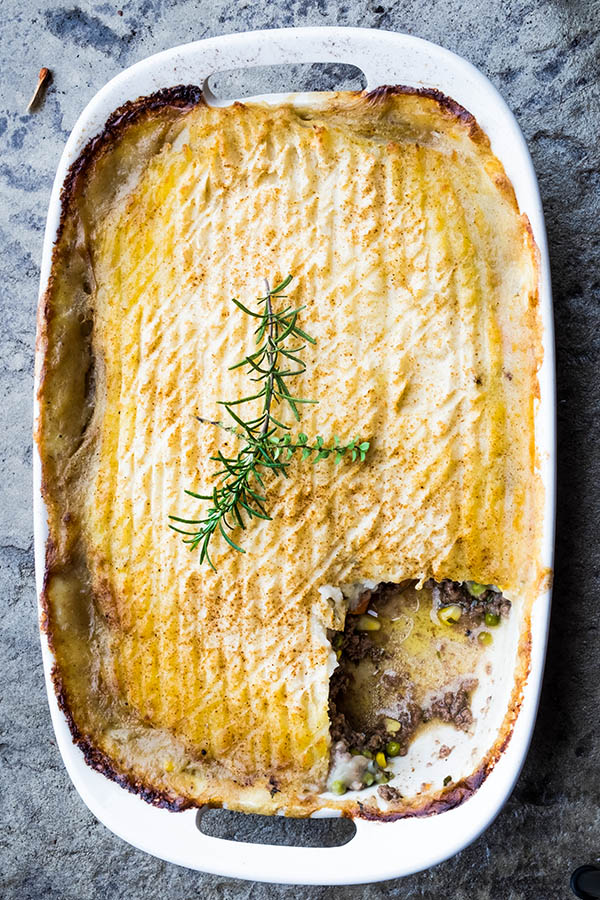 When it comes to comfort food shepherd's pie is on top of everyone's list. Classic shepherd's pie is an easy recipe to make and a wonderful weeknight meal. The lamb is simmered in deliciously seasoned sauce with added veggies and topped with creamy mashed potatoes. It doesn't get any better than this.
To change things up a bit you can use different veggies and add garlic or cheese to the potato topping. If you don't want to use lamb, you can substitute it for beef, pork or chicken. Any combination of veggies and meat will work in this simple recipe
Ingredients
2 Tbsp. extra virgin olive oil
1 large onion, chopped
1 ½ pounds ground lamb
2 tsp. rosemary
2 tsp. thyme
1 tsp. sea salt
½ tsp. freshly ground black pepper
2 medium size carrots, diced
1 cup frozen peas
1 cup frozen corn
½ cup chopped fresh parsley
1 Tbsp. raw apple cider vinegar
1 Tbsp. arrowroot powder
POTATO TOPPING
1 ½ lb. russet potatoes, peeled and quartered
1 tsp. sea salt
¼ cup salted butter
½ cup milk
1 tsp. paprika
Instructions
In a large saucepan over medium heat sauté onions in olive oil
Add lamb, rosemary and thyme and cook until no longer pink. Add ½ cup water, salt and black pepper cover and simmer for 30 minutes
Add carrots, peas, corn, parsley and apple cider vinegar and simmer on low heat for 10 more minutes
Whisk ½ cup of water with 1 tablespoon of arrowroot powder and add to the meat mixture. Cook until the sauce thickens about 5 minutes. Set aside
While the meat is cooking, boil the potatoes in water with 1 teaspoon of salt until tender. Drain the potatoes, add butter and milk and whip until creamy. Taste and adjust salt if needed
Preheat oven to 400 F
Spread the meat mixture in an 8-x 12-inch casserole dish and top with mashed potatoes. Sprinkle with paprika. Place the dish on a baking tray and bake for 30 minutes
Cool for 20 minutes before serving
Similar Recipes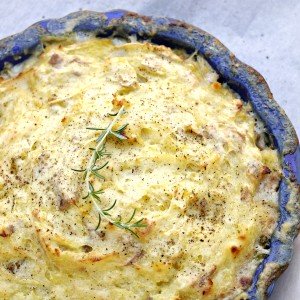 Gluten Free Chicken Pot Pie
Relish the flavours of tender chicken and vegetables immersed in rich gravy and topped with potato crust in this warming chicken pot pie Read More
Prep Time
20 Minutes
Difficulty
Easy
Cook Time
45 Minutes
Serves
4 - 6
Gluten Free Cottage Pie
Cottage pie also known as shepherd's pie, what is the difference? The difference is the meat. Shepherds pie is made with lamb and cottage pie is made with beef. This deliciously flavoured cottage pie has fluffy cheesy potato topping and can be made in less than an hour. In this gluten free recipe, I used […] Read More
Prep Time
15 Minutes
Difficulty
Easy
Cook Time
40 Minutes
Serves
4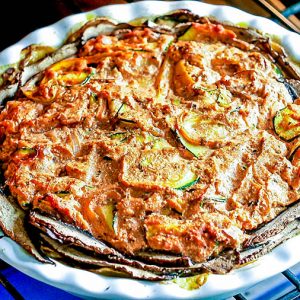 Mediterranean Vegetable Pie In A Potato Crust Recipe
This wonderfully delicious gluten free vegetable pie is made with eight healthy vegetables and is also grain-free.  This healthy vegetable pie is flavoured with Italian spiced sauce and ricotta cheese. The vegetables are baked in a thin layer potato crust adding crispy texture without using flour. This is an easy dinner recipe with many health […] Read More
Prep Time
20 Minutes
Difficulty
Intermediate
Cook Time
50 Minutes
Serves
6
© Copyright 2017 Only Gluten Free Recipes. All Rights Reserved.