Gluten Free Cauliflower Fritters
Prep Time
10 Minutes
Difficulty
Easy
Cook Time
15 Minutes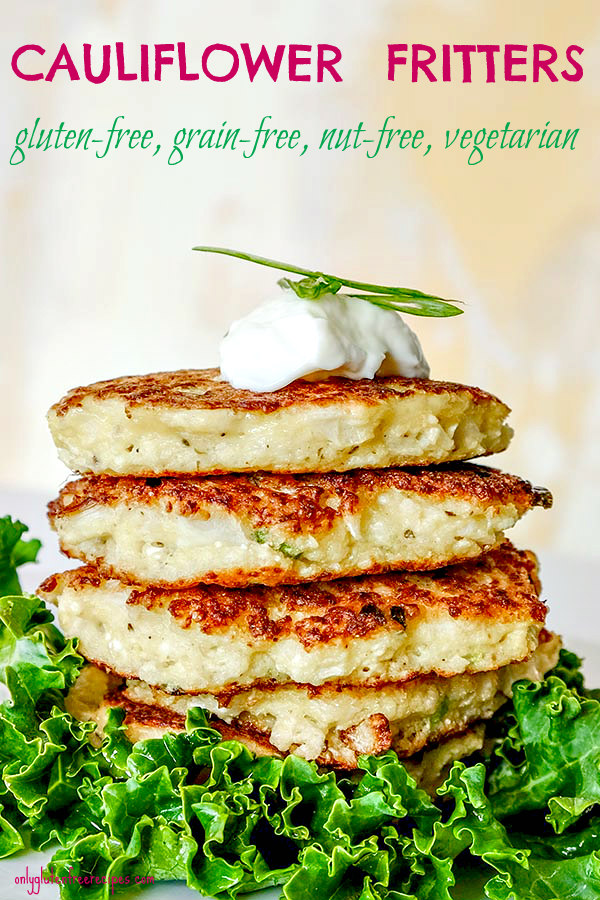 Mild, slightly savoury and with a little cheesy flavour these cauliflower fritters make a wonderfully healthy snack or a light meal. Serve with a dollop of yogurt or with a light green salad. These grain-free mini pancakes go especially well with bacon and eggs. They are so easy to make and take just minutes to cook.
Cauliflower is considered healthy food, and it is antioxidant-rich and anti-inflammatory. Eating cauliflower will provide your body with plenty of Vitamin C, Vitamin K, B6, folate and beta-carotene while supporting healthy digestion and detoxification. For those that follow a low-calorie diet, cauliflower is low in calories and high in fiber
Ingredients
1 small head cauliflower, cut into small florets
2 large eggs, whisked
3 green onions, thinly sliced (green and white parts)
1/3 cup GF garbanzo flour
¼ cup grated Parmesan cheese
1 tsp. GF baking powder
¾ tsp. sea salt
½ tsp. thyme
Pinch of freshly ground black pepper
2 Tbsp. coconut or grapeseed oil
Note: for paleo option, you can substitute almond flour for garbanzo flour
Instructions
Steam cauliflower florets for 3 minutes. Transfer to a food processor and chop to the size of rice. The cauliflower should make 3 cups or rice. This can be done a day in advance. If you have any cauliflower rice left over, add it to soups, stews or salads
Combine cauliflower rice with egg and green onions
In a separate bowl stir together garbanzo flour, Parmesan cheese, baking powder, sea salt, thyme and black pepper
Add cauliflower mixture to dry ingredients and mix until combined
Heat oil over medium heat in a large non-stick frying pan and drop spoonfuls of cauliflower mixture onto frying pan. Leave some room between each fritter. Slightly press down each fritter with a spatula. Cook until golden brown about 3 minutes on each side. Drain briefly on a paper towel. Keep warm in the oven until ready to serve
Similar Recipes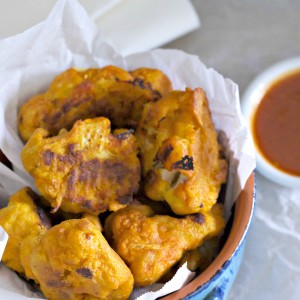 Baked Cauliflower Buffalo Tidbits
This is a perfect snack when you're craving something savoury and spicy. These gluten-free tidbits are crispy on the outside and tender on the inside with plenty of heat making them a perfect choice for sports events. These small morsels are heavenly Read More
Prep Time
20 Minutes
Difficulty
Easy
Cook Time
35 Minutes
Serves
6
Gluten Free Cauliflower Quinoa Tidbits
These melt in your mouth savoury morsels go especially well with hot sauce. High in protein and rich in fiber they make a perfect choice for a nutritious snack Read More
Prep Time
15 Minutes
Difficulty
Easy
Gluten Free Pizza with Cauliflower Crust
This is a wonderful gluten free pizza recipe for those who are following paleo and low-carb diet. The cauliflower crust is nice and crispy, and the exotic toppings make the pizza especially delicious. Now you can have your pizza without the guilt of carbs. The thing about pizza you can let your own toppings shine. […] Read More
Prep Time
25 Minutes
Difficulty
Moderate
Cook Time
35 Minutes
© Copyright 2017 Only Gluten Free Recipes. All Rights Reserved.