Tuscan White Bean Soup with Meatballs
Published on Sep 19, 2017
by
Kristina Stosek
Prep Time:

15 minutes
Cook Time:

40 minutes
Serves:

6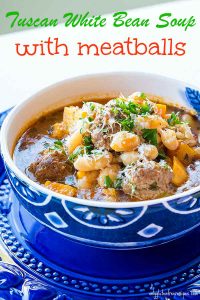 ​This post may contain affiliate links, please see our
privacy policy
for details
This Tuscan White Bean Soup is packed with veggies and most flavourful meatballs. The veggies I used are white beans, tomatoes, carrots, potatoes and celery. This soup is a classic rustic soup often served in Tuscany, especially during cold winter months. In this soup recipe, I used a blend of Italian spices such as paprika, marjoram, rosemary, thyme, and bay leaf. The meatballs are light and tasty making, this soup hearty and delicious. When serving this soup In Italy, they often add freshly grated Parmesan cheese to the soup, adding creaminess and cheesy flavour. But, this soup is not complete without a crusty baguette. Check out this easy to make gluten-free crusty baguette recipe. There is nothing more satisfying than finishing a busy day with a comforting Tuscan white bean soup. Serve as a main or as a starter. This soup will not disappoint. Enjoy!
Tuscan White Bean Soup with Meatballs
Published on Sep 19, 2017
by
Kristina Stosek
Instructions
1.

In a medium-size bowl combine ground beef, rosemary, garlic powder, thyme and ½ tsp. sea salt. Using your hands roll the beef mixture into small meatballs

2.

Heat olive oil over medium heat and add onions. Cook for 3 minutes

3.

Increase heat to medium-high and add meatballs. Brown the meatballs on all sides, about 5 minutes. Add garlic, paprika, marjoram, bay leaf and stir to combine

4.

Add remaining ingredients. Cover and simmer for 30 minutes

5.

To serve, ladle hot soup into bowls and top with fresh parsley and Parmesan cheese
Leave a Comment
Kristina
that sounds delicious Rebecca, thank you
This was great! I had some squash so I substituted 1/2 an acorn squash for the carrots but otherwise stuck to the recipe. Thanks!