Tamari and Honey Salmon Suckers
Published on Feb 26, 2015
by
Kristina Stosek
Prep Time:

5 min + 1 hour to marinate minutes
Cook Time:

8-10 minutes
Serves:

4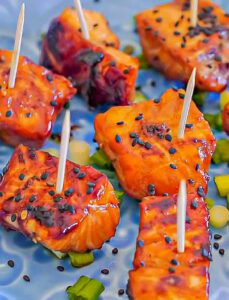 ​This post may contain affiliate links, please see our
privacy policy
for details
This salmon recipe is a striking dish, as the salmon suckers are glazed with tamari and honey sauce and finished with black sesame seeds. This salmon recipe is healthy, and each bite is irresistibly delicious, with the perfect balance of savory and sweet flavors that will leave you wanting more.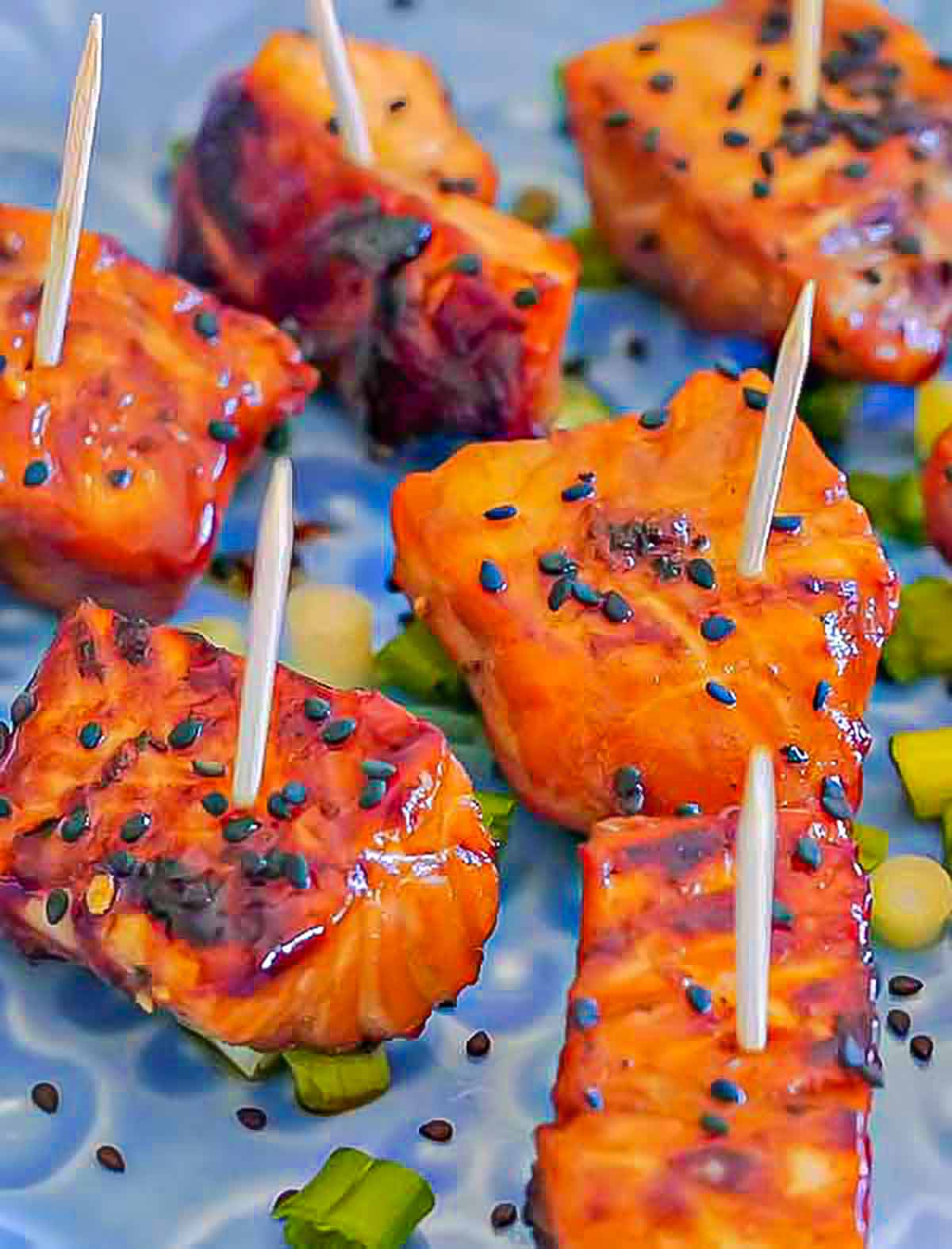 Are you tired of the same old salmon recipes?
Why not try something new such as the Tamari and Honey Salmon Suckers! The recipe is super easy, so there is no reason why even novice cooks can't prepare this flavorful salmon dish.
What are Tamari and Honey Salmon Suckers?
Tamari and honey salmon suckers are an easy-to-make dish perfect for a quick weeknight meal or serve as an appetizer at your next dinner party.
This fish dish is hearty and satisfying but light enough even for the diet savvy!
Is salmon healthy?
Salmon is one of the most healthful and delicious fish you can eat. It is packed with nutrients that are essential for good health, including omega-3 fatty acids, protein, vitamin D, and selenium. Salmon is also a good source of B vitamins, potassium, and magnesium.
While all fish contain some mercury, salmon has very low levels of mercury compared to other fish. This makes it a safer choice for someone concerned about mercury exposure.
The health benefits of salmon make it a great addition to any diet. So if you want a healthy and delicious way to enjoy this fish, try this Tamari and Honey Salmon Suckers recipe.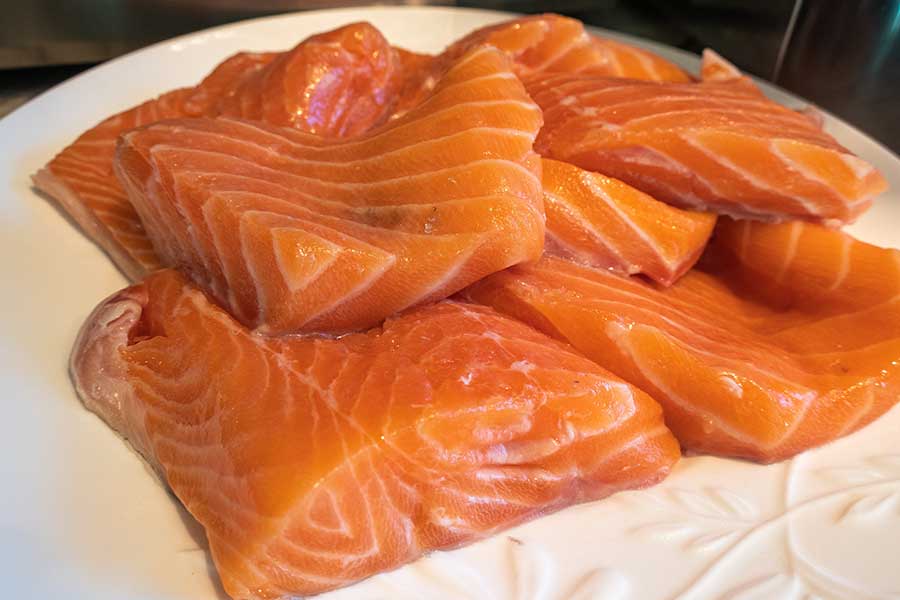 farmed vs wild salmon
When it comes to salmon, there are two main types: farmed and wild. Both have their distinct benefits and drawbacks. Here's a closer look at the key differences between the two:
Farmed Salmon:
-Generally speaking, farmed salmon is less expensive than wild salmon.
-Farmed salmon is typically more widely available than wild salmon.
-Farmed salmon is often considered to be lower quality than wild salmon in terms of taste and texture.
-The farming process can sometimes result in lower levels of omega-3 fatty acids in the fish.
Wild Salmon:
-Wild salmon is typically seen as being of higher quality than farmed salmon in terms of taste and texture.
-Wild salmon is less available than farmed salmon, making it more expensive.
-Because they are free from human intervention, wild salmon generally have higher levels of omega-3 fatty acids."
salmon varieties
There are several different types of salmon, each with its unique flavor and texture. The most common type of salmon is the Pacific salmon, which you'll find in most grocery stores.
Other popular types of salmon include sockeye, coho, pink, and chum salmon. Each type of salmon has its distinct flavor, so choose the one you enjoy the most.
Sides to Tamari and Honey Salmon Suckers
You don't need to add anything else if you choose to serve this salmon dish as an appetizer. Or, you can serve it with a side of gluten free crackers and thinly sliced green onions.
For a light meal, serve the tamari and honey salmon suckers with a green salad.
For a heartier meal, serve the salmon in a bowl over Spanish rice or Simple Rice With Parsley. Or serve the the salmon with your favorite gluten free noodle dish.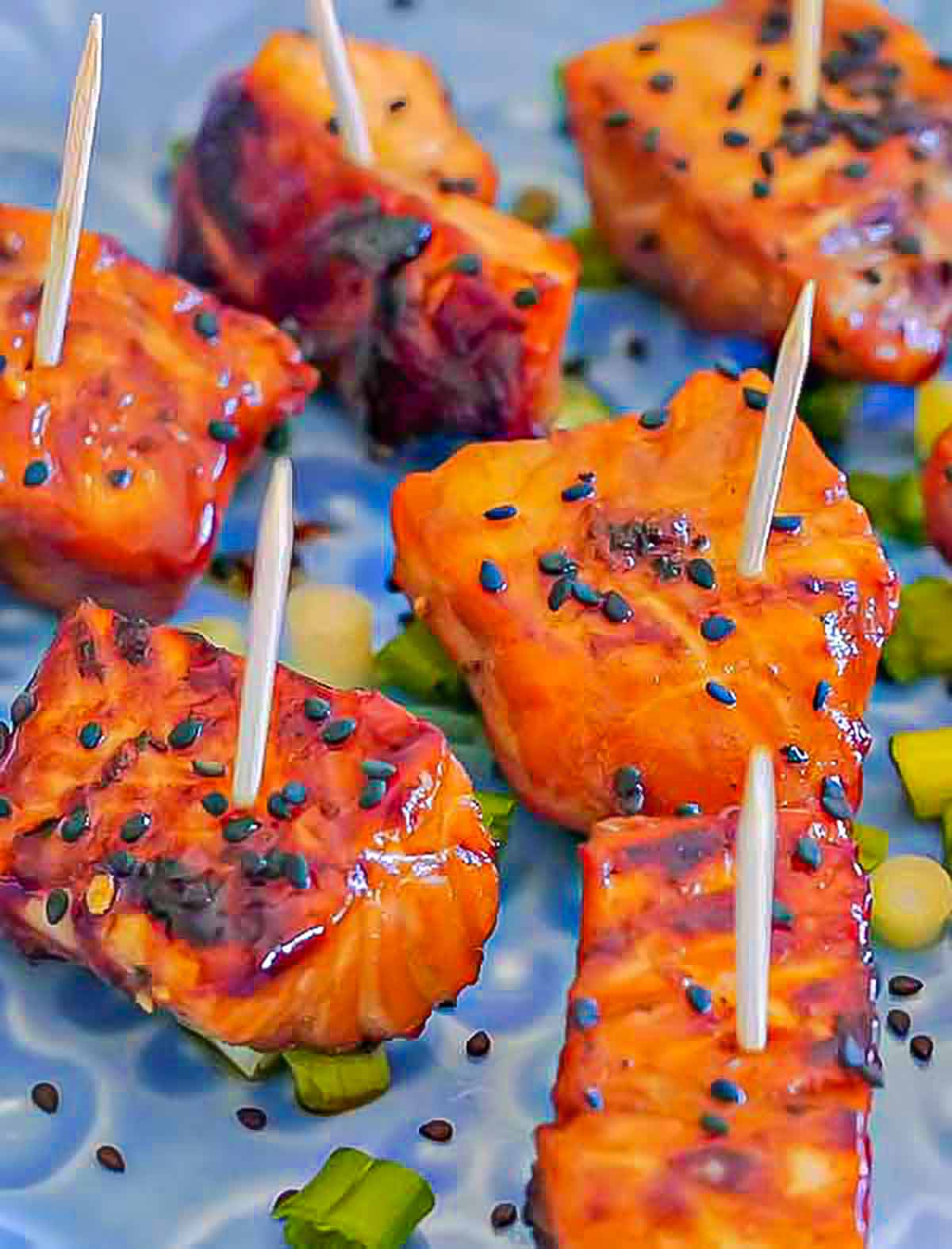 storing cooked salmon suckers
The best way to store cooked salmon is in a closed container in the fridge. This will keep the salmon moist and fresh tasting. The salmon will keep for up to 2 days when refrigerated.
conclusion
There are many different ways to cook salmon, but this Tamari and Honey Salmon recipe is a great way to add extra flavor to the fish. The Tamari sauce helps keep the salmon moist and adds saltiness, while the honey adds a touch of sweetness. This dish is perfect for a quick and easy weeknight meal or served as an appetizer.
Next time salmon is in season, try this recipe if you're looking for an impressive dish to impress your dinner guests or want a delicious and healthy meal to feed your family. You won't be disappointed!
Let's Connect!
Be sure to FOLLOW US on FACEBOOK and PINTEREST.
Many thanks!
Kristina xx
Tamari and Honey Salmon Suckers
Published on Feb 26, 2015
by
Kristina Stosek
Instructions
1.

2.

Cut salmon into approximately 1 ½ inch cubes and place them in a medium-size bowl.

3.

Mix tamari, honey, sesame oil, ginger and black pepper, then add to salmon and toss until salmon is well coated. Refrigerate for 1 hour or until ready to cook up to 24 hours.

4.

Place salmon on a baking sheet lined with parchment paper and bake for 8 – 10 min, or until salmon is cooked

5.

Transfer salmon to a serving platter and sprinkle with sesame seeds