Tamari and Honey Salmon Suckers
Prep Time
5 min + 1 hour to marinate Minutes
Difficulty
Easy
Cook Time
8 - 10 Minutes
Serves
4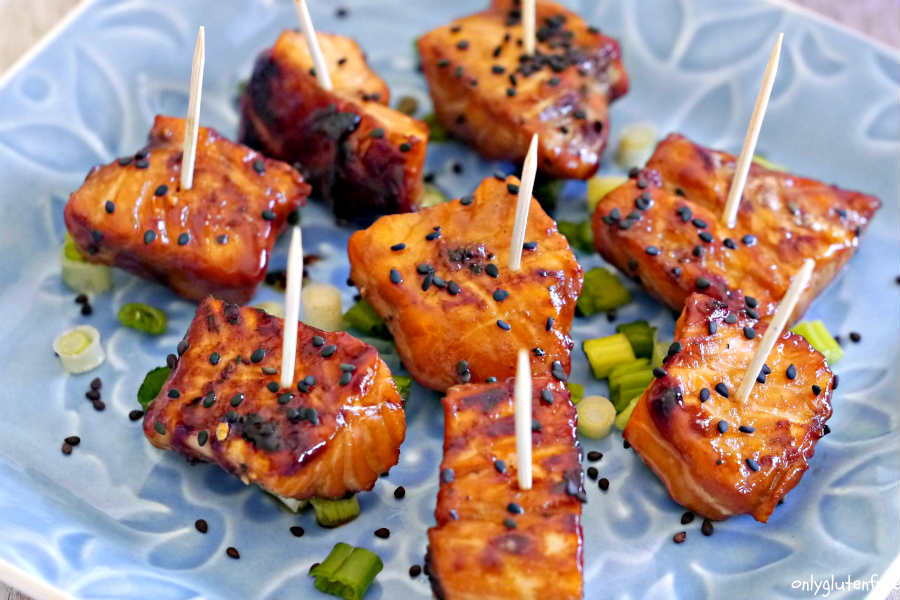 Average Rating: 5 | Rated By: 3 users
This is a very striking dish, as the salmon suckers are glazed with tamari and honey sauce and finished with black sesame seeds. Your diet savvy friends will be impressed when you serve this tamari and honey salmon suckers appetizer
Ingredients
1 lb. skinless wild salmon, about 1 ½-inch thick
2 Tbsp. gluten-free tamari sauce
2 Tbsp. liquid honey
1 tsp. sesame oil
1 tsp. fresh minced ginger
1 tsp. GF cracked black pepper
1 Tbsp. black sesame seeds or as needed
Garnish: sliced green onions, butter lettuce or cilantro
*As an Amazon Associate and member of other affiliate programs, I earn from qualifying purchases. Please check out my sponsorship and disclosure policy page for more details
Instructions
Preheat oven to 425 F
Cut salmon into approximately 1 ½ inch cubes and place in a medium-size bowl.
Mix tamari, honey, sesame oil, ginger and black pepper, then add to salmon and toss until salmon is well coated. Refrigerate for 1 hour or until ready to cook
Place salmon on a baking sheet lined with parchment paper and bake for 8 – 10 min, or until salmon is cooked
Transfer salmon to a serving platter and sprinkle with sesame seeds.
Similar Recipes
Easy Baked Herbed Salmon Recipe
This salmon recipe is one of the easiest fish recipes to make. The fresh herbs add plenty of delicious flavours, so you don't have to make a sauce. When cooking beautiful fish such as wild salmon, you do not want to over power it with herbs and spices. In this recipe, the herbs are mild […] Read More
Prep Time
10 Minutes
Difficulty
Beginner
Cook Time
15 Minutes
Serves
4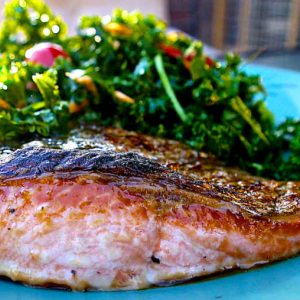 Maple Glazed Baked Salmon Steaks
When it comes to cooking fish, you don't want the seasoning to overpower the delicate flavour of the fish. In this recipe, the salmon steaks are coated in a light maple tamari and black pepper marinade and then broiled to perfection. Serve with a light kale salad with ginger dressing or a side of simply roasted […] Read More
Prep Time
10 Minutes
Difficulty
Beginner
Cook Time
10 Minutes
Serves
4
Poached Wild Salmon Recipe
The tender moist salmon is deliciously flavoured with herbs and lemon juice. Your diet savvy friends and family will especially love this healthy dish. Serve with a light green salad or with rice Read More
Prep Time
10 Minutes
Difficulty
Easy
Serves
4