Spiced Vegetable Quinoa
Prep Time
15 Minutes
Difficulty
Easy
Cook Time
20 Minutes
Serves
4
Average Rating: 5 | Rated By: 1 users
One of the wonderful things about this vegetarian dish is its versatility. It can be served as a main or as a side with chicken or lamb. The sauce provides both richness and a lot of flavours.
Ingredients
1 Tbsp. coconut oil
1 large onion, finely chopped
3 garlic cloves, crushed
1 tsp. GF ground coriander
1 tsp. GF ground cumin
½ tsp. GF ground turmeric
¼ tsp. GF cayenne pepper or to taste
1 (14 oz.) can organic chickpeas, drained and rinsed
2 large tomatoes, diced
3 medium size carrots, diced
1 yellow bell pepper, sliced
½ head of medium size Savoy cabbage, sliced
¼ cup chopped fresh cilantro
Sea salt to taste
FOR THE QUINOA
1 cup uncooked quinoa
1 cup chopped fresh parsley
1 Tbsp. extra virgin olive oil
½ tsp. sea salt
*As an Amazon Associate and member of other affiliate programs, I earn from qualifying purchases. Please check out my sponsorship and disclosure policy page for more details
Instructions
Heat coconut oil over medium-heat in a large pan. Add onions and garlic and cook until soft.
Add coriander, cumin, turmeric, cayenne pepper and chickpeas and stir to combine
Add tomatoes, carrots, pepper, cabbage and 1 1/2 cups of water. Cover and cook over low heat for 20 minutes. Stir in cilantro and season with salt
To cook the quinoa, add quinoa, parsley, olive oil, salt and 1 1/2 cups of water into a medium saucepan. Bring to boil, reduce heat to low and cover. Cook for 15 minutes, and then fluff the quinoa with a fork and cover
To serve, spoon vegetables over quinoa.
Similar Recipes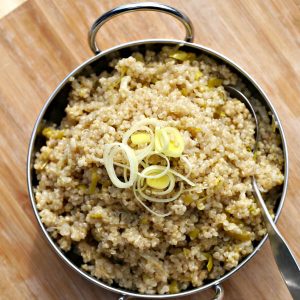 Coconut and Leek Quinoa Recipe
The inherent creaminess of coconut milk and the mild onion-like leek works wonders for flavour in this delicious gluten-free vegetarian quinoa dish. Quinoa is a complete protein, has a good amount of fiber and is rich in folate and minerals. Including this superfood in your diet will promote good health. Serve with steamed veggies, in […] Read More
Prep Time
5 Minutes
Difficulty
Easy
Cook Time
25 Minutes
Serves
4
Gluten Free Broccoli Quinoa Cheese Casserole
This easy to make gluten free casserole is ideal for cool windy nights. Comfort food is the word when making this delicious recipe. The combination of broccoli quinoa, corn and cheese, topped with lean bacon makes this into an outstanding weeknight meal Quinoa and broccoli are well known for their health benefits making this delicious […] Read More
Prep Time
10 Minutes
Difficulty
Easy
Cook Time
45 Minutes
Serves
4
Gluten Free Easy Quinoa and Grapes Pilaf Recipe
This is a simple quinoa recipe with added grapes, herbs and spices. If you are not a fan of quinoa you must try this recipe and you may change your mind. You can serve it cold, warm or hot. Enjoy! Read More
Prep Time
10 Minutes
Difficulty
Easy
Serves
4