Spinach and Carrot Soba Noodle Salad
Published on Sep 16, 2016
by
Kristina Stosek
Prep Time:

10 minutes
Cook Time:

10 minutes
Serves:

4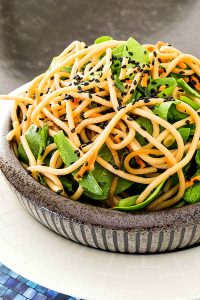 ​This post may contain affiliate links, please see our
privacy policy
for details
Healthy and delicious Spinach and Carrot Gluten Free Soba Noodle Salad – This refreshing noodle salad is delicately flavoured with sesame oil, tamari sauce, fresh lime juice, ginger, garlic and is lightly sweetened with maple syrup.
The carrots and spinach add freshness and textures, making this soba noodle dish hearty and satisfying.
What is soba?
In Japan, the name for buckwheat is soba. Soba is a well known noodle in Japan made from buckwheat flour and is typically very thin. The noodles have a slightly nutty taste and are often used in salads or in a hot broth, which is served as a soup.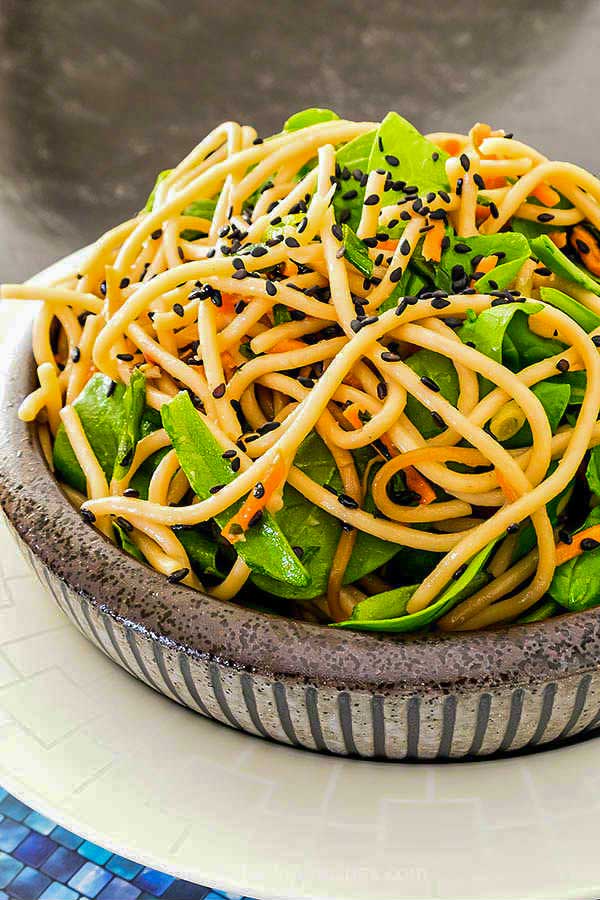 Are buckwheat noodles gluten-free?
Despite the misleading name, buckwheat, it is not wheat, but a fruit seed. This seed has a rich nutty flavour and is easier to digest than grain. The tasty noodles are prevalent in a gluten-free diet because the soba is naturally gluten-free.
However, soba noodles are not always gluten-free because they are often made with wheat. So please check the label to make sure the noodles are made with only buckwheat.
These traditional Japanese noodles are packed with fiber and protein, making the noodles an excellent choice for someone who is following a plant-based diet.
The noodles cook very quickly, and you want to keep them al-dente. It is best to give them a quick cold water rinse immediately after they finish cooking to rinse off the starch and keep them slightly chewy.
These Japanese noodles do not need complicated seasoning because they taste delicious served simply. One of the things we love about soba noodles you can serve them cold, and that's why they are excellent in salads.
If you have tried the Monday night spicy soba noodles dish or the vegetable hibachi noodles, you know how delicious these gluten free noodles can be.
So if you are looking for a healthy meal on a lighter note, a fresh spinach and carrot soba noodle salad is the gluten-free noodle dish to try.
Spinach and Carrot Soba Noodle Salad
Published on Sep 16, 2016
by
Kristina Stosek
Instructions
1.

Cook the noodles according to package directions, and then rinse with cold water until the noodles are cold. Drain and set aside

2.

Whisk the lime juice, olive oil, tamari sauce, maple syrup, sesame oil, ginger and garlic

3.

In a large bowl toss noodles, onions, and carrots with the dressing and refrigerate for one hour or overnight

4.

Just before serving, toss the noodles with spinach and sesame seeds