Simple Chicken & Spinach Parmesan Linguini (Gluten-Free)
Prep Time
10 Minutes
Difficulty
Easy
Cook Time
15 Minutes
Serves
4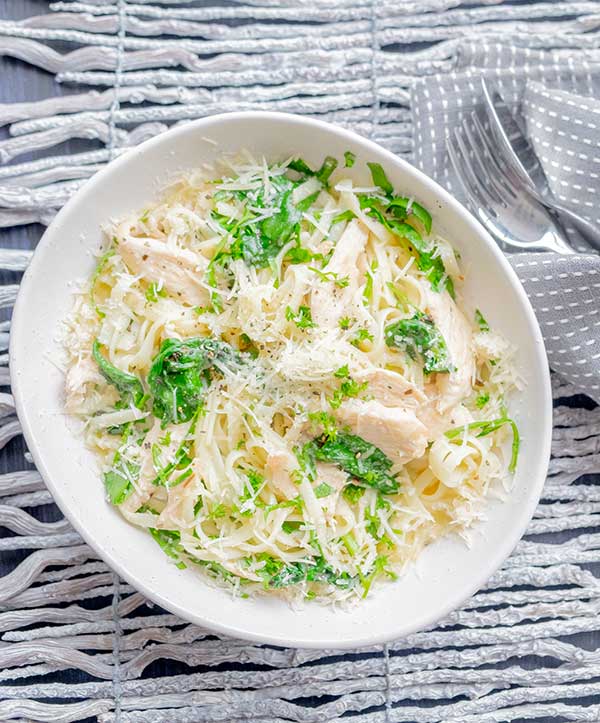 Average Rating: 4.5 | Rated By: 5 users
Simple Chicken & Spinach Parmesan Linguini…welcome to another simple gluten-free pasta meal. This gluten-free pasta dish is made with chicken, fresh baby spinach, fresh basil, a hint of garlic and plenty of Parmesan cheese. 
Nothing fancy, but the flavour is outstanding. The entire meal is made with less than ten ingredients and in less than 30 minutes from the start to the table. Can you believe it? Pretty simple right?
Most of my pasta recipes are made with olive oil, but butter is a must in this case. It adds creamy, buttery flavour and ties everything together beautifully. You will love it.
This gluten-free healthy Italian meal is perfect for an easy mid-week dinner, or a casual get together with friends. It is that good!!
If you are looking for outstanding gluten-free pasta dishes, check out our Gluten-Free Italian Pasta Recipes
Ingredients
1/4 cup butter
4 skinless, boneless chicken thighs, cut into strips
2 garlic cloves, chopped
2 tsp. GF dried basil
5 oz. fresh baby spinach
1/2 cup chopped fresh basil
1 to 1 1/2 cups grated parmesan cheese (if you like it cheesy use 1 1/2 cups)
Pure sea salt and GF ground black pepper to taste
*As an Amazon Associate and member of other affiliate programs, I earn from qualifying purchases. Please check out my sponsorship and disclosure policy page for more details
Instructions
Bring a large pot of salted water to a boil. Cook the pasta until al dente. Drain the pasta, saving half a cup of the pasta water
Meanwhile, heat a large skillet over medium-low heat. Add butter, chicken, garlic and season with salt, pepper and dried basil. Cook until the chicken is cooked through, about 8 - 10 minutes. Careful not to burn the butter
Stir in spinach and basil and cook for about a minute, just long enough for the spinach to wilt
Add hot pasta, pasta water and parmesan cheese and gently toss to combine
Serve immediately with extra parmesan cheese
Similar Recipes
Chorizo With Basil Cream Sauce Penne – Gluten-Free
This Chorizo With Basil Cream Sauce Penne is an easy gluten-free pasta dish made in 30 minutes. The flavourful chorizo balls add spice and warmth, and the bell peppers and fresh tomatoes add freshness. But, it is the basil cream sauce that ties everything together.  the basil cream sauce, The sauce is made with chicken […] Read More
Prep Time
10 Minutes
Difficulty
Easy
Cook Time
20 Minutes
Serves
4
Gluten-Free One Pot Chicken Paprikash Penne
This Gluten-Free One-Pot Chicken Paprikash Penne is the most flavourful creamy chicken pasta dish. The chicken is seasoned with spices such as marjoram, paprika and thyme, typical spices used in Hungarian cuisine. And for added creaminess, sour cream! YUM Classic Hungarian chicken paprikash is cooked in a lightly spiced sauce with added creaminess of sour […] Read More
Prep Time
15 Minutes
Difficulty
Beginner
Cook Time
25 Minutes
Serves
4
Gluten Free Simple Herb and Garlic Pasta (Vegan)
Are you stuck for a dinner idea? With a handful of ingredients, this gluten-free vegan pasta recipe comes together fast and easy.  Using fresh herbs, garlic, fresh tomatoes and olive oil, give this simple gluten-free pasta dish amazing flavour. This Italian vegan meal is also another dinner with less than 10 ingredients under 30 minutes. […] Read More
Prep Time
10 Minutes
Difficulty
Easy
Cook Time
15 Minutes
Serves
4