Sautéed Collard Greens with Tomato and Garlic
Prep Time
10 Minutes
Difficulty
Easy
Cook Time
15 Minutes
Serves
4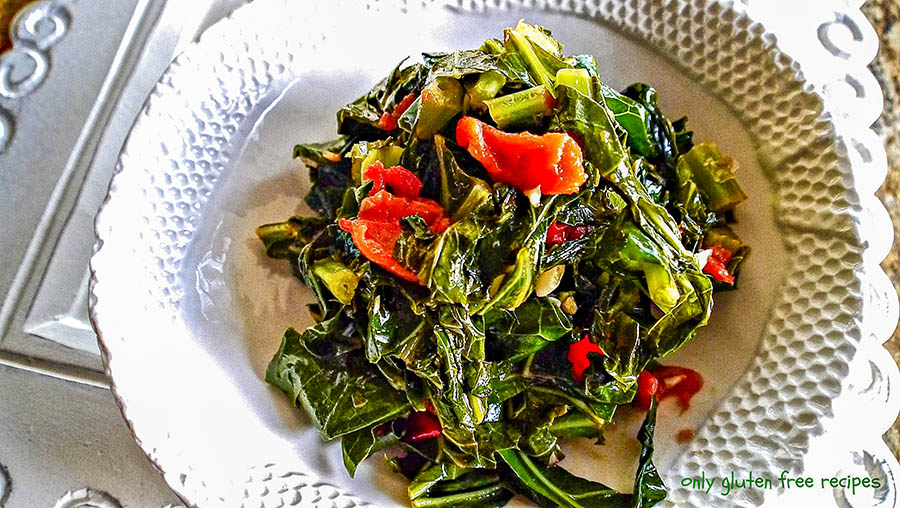 Average Rating: 4.5 | Rated By: 3 users
Collard greens with tomato and garlic recipe is simple to make delicious and naturally gluten-free. Collard greens are nutrient-rich containing vitamin A, C, K, B, especially niacin. Also, collard greens are rich in magnesium and calcium making this healthy dish the powerhouse of nutrients. Enjoy this easy to make healthy leafy green side with your favourite main.
Ingredients
2 tbsp. extra virgin olive oil
3 garlic cloves, chopped
2 large organic tomatoes, sliced
2 bunches organic collard greens cut into 2 inch strips
Sea salt to taste
Instructions
Add olive oil to a heated non-stick pan, and then add garlic and sauté until fragrant about a minute.
Stir in tomatoes and cook for three minutes while stirring
Then add in collard greens and stir-fry for ten minutes, or until wilted and tender
Season with sea salt to taste
Similar Recipes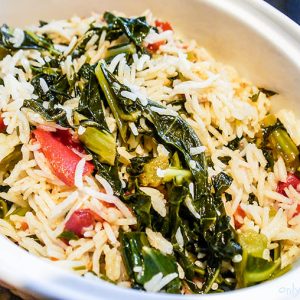 Collard Greens Tomato and Garlic Rice
Stay on top of tasty rice delights with healthy collard greens, tomatoes, and garlic. This vegetarian side is loaded with super nutrients such as vitamin A, K, C, Calcium and is also high in fiber. Collard greens make a nice change to kale or cabbage Read More
Prep Time
10 Minutes
Difficulty
Easy
Cook Time
25 Minutes
Serves
4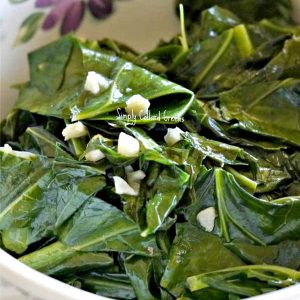 Simply Collard Greens with Garlic
This simple and healthy side dish takes only minutes to prepare. Collard greens are easy to digest and are high in vitamin A, C and calcium. Adding this delicious superfood to your diet will promote good health. This delicious simple collard greens side is a wonderful addition to a weight loss diet Read More
Prep Time
10 Minutes
Difficulty
Easy
Cook Time
10 Minutes
Serves
4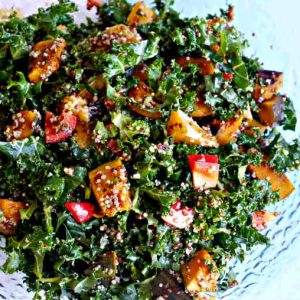 Kale and Kabocha Power Bowl
The robust flavour of kale and the earthy taste of kabocha squash combine especially well with ginger curry vinaigrette. This salad is jam-packed with flavour and nutrition. Serve this healthy salad as a main, starter or as a side dish Read More
Prep Time
15 Minutes
Difficulty
Easy
Cook Time
15-20 Minutes
Serves
4