One Bowl Gluten-Free Banana and Carrot Muffins
Published on Dec 21, 2020
by
Kristina Stosek
Prep Time:

15 minutes
Cook Time:

23 minutes
Serves:

12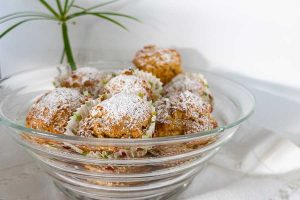 ​This post may contain affiliate links, please see our
privacy policy
for details
Simplest One Bowl Gluten-Free Banana and Carrot Muffin recipe. These gluten-free muffins are egg-free, xanthan gum free, and a dairy-free option is included. If you have overripe bananas and a couple of carrots, you most likely have all the other ingredients in your gluten-free pantry to make these moist and delicious banana and carrot muffins.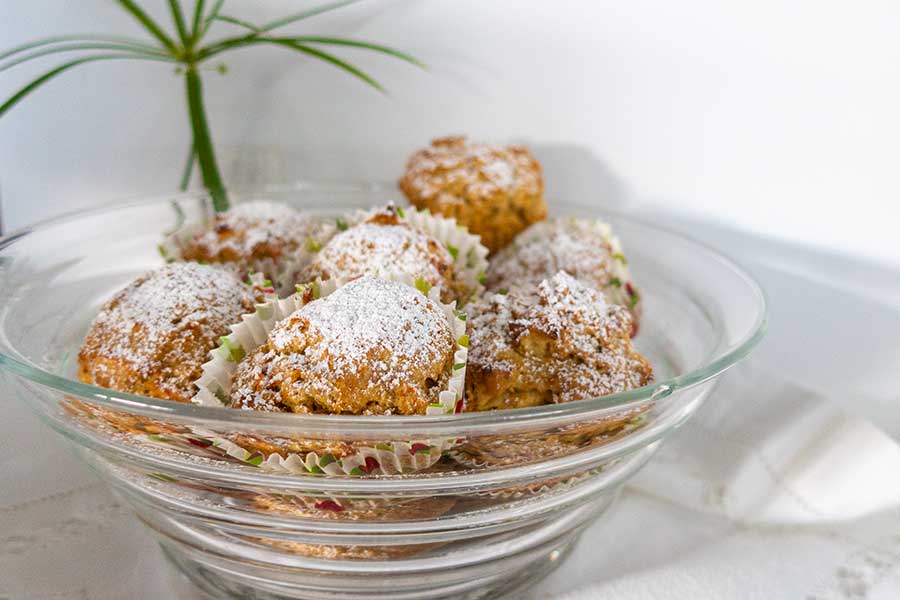 How is this Gluten-Free Banana and Carrot Muffin recipe different?
You may already have a gluten-free banana and carrot muffin recipe. However, this recipe is different. First, the muffin is super moist. There are no eggs, or xanthan gum added. The dairy ingredients are easily substituted for a non-dairy version.
This muffin has psyllium husks – a soluble fiber that promotes a healthy weight and has been known to lower a person's risk of heart disease. And, the only sweetener added is a small splash of pure maple syrup.
The best part about making the muffins is, you will need only one large bowl. So, super easy cleanup, and you don't even need an electric mixer. You will love this gluten-free muffin recipe!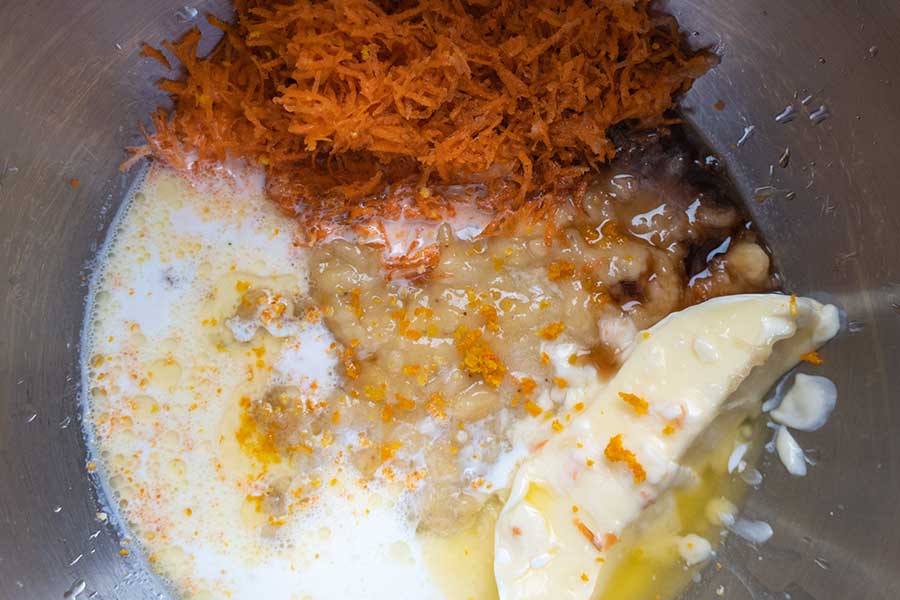 the recipe,
I made these one-bowl gluten-free muffins because I have all these overripe bananas on my counter, making them an excellent sweetener for baking. I also added healthy carrots for flavour, moisture and healthiness.
Many of my muffin recipes include eggs and xanthan gum. Because some of you are sensitive to eggs and xanthan gum, I wanted to create a muffin without these two ingredients. A good and healthy replacement for xanthan gum and eggs is psyllium husks. If you don't already have psyllium husks in your pantry, I recommend getting some.
The psyllium husks is wonderful in bread or vegan baking, especially if you want to avoid eggs and add fiber. Check out our healthy Gluten-Free High Fiber Bread Recipe, or the Cassava Bread that is grain-free and nut free.
One bowl muffin details,
Start with one large bowl. Add the bananas and mash them up with a fork. To the same bowl, grate some carrots, and add all the wet ingredients. The wet ingredients are butter, milk, maple syrup, lemon juice, lemon zest and vanilla.
Give the mixture good whisking until everything is well combined. It is important that all the ingredients are at room temperature, and the butter is softened.
Now that all the wet ingredients are mixed, add flour, psyllium husks, baking powder, baking soda and salt. Give it a good stir, and you are ready to fill the muffin pan.
The batter will be thick but don't worry, the muffins are moist and flavourful. I like to use an ice cream scoop to fill my muffin pan. When using the ice cream scoop, the batter is evenly measured, making all the muffins the same.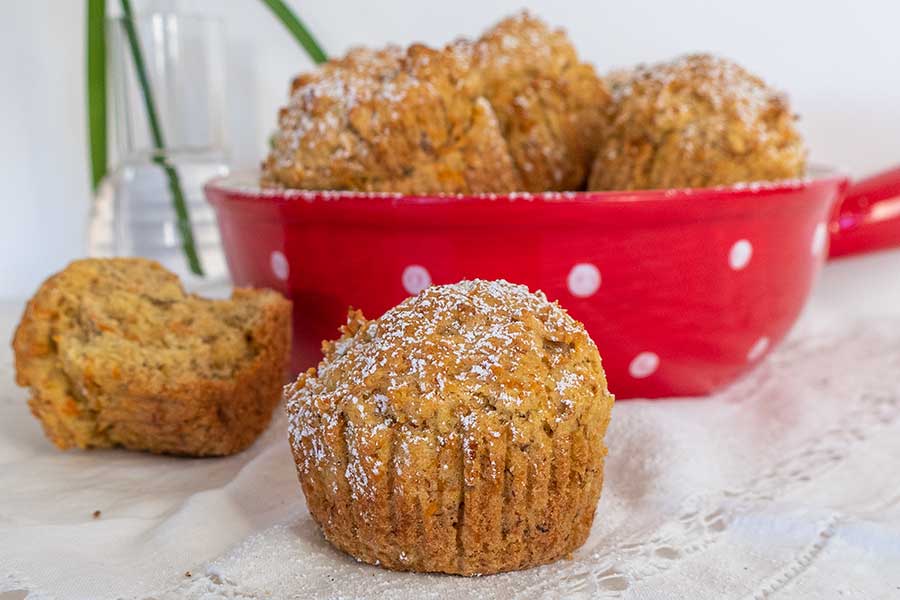 The Gluten-Free Banana and Carrot Muffins took 23 minutes to bake in my gas oven. Oven temperatures vary, so do the toothpick test to make sure the muffins are done.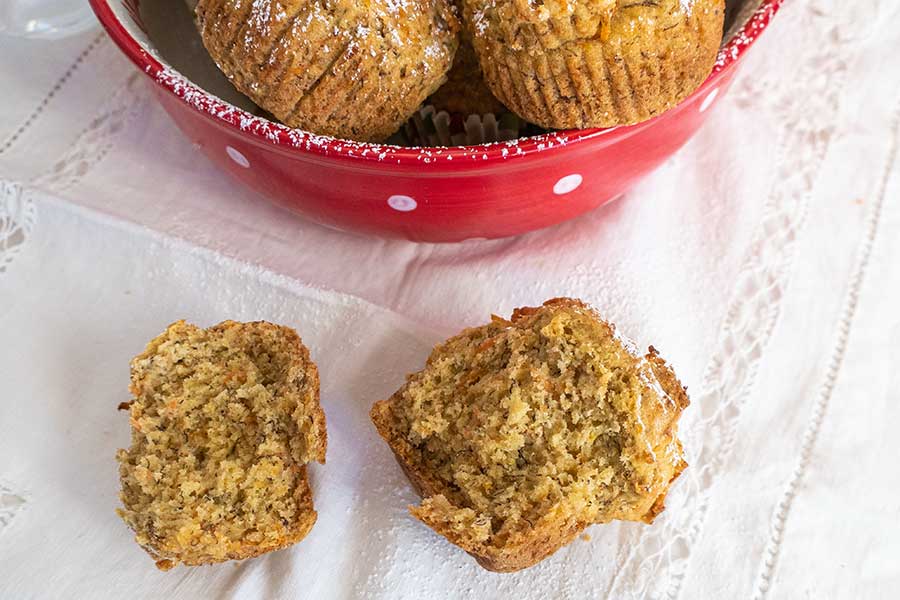 To add extra sweetness and a hint of cinnamon, I mixed two tablespoons of powdered sugar with 1/4 teaspoon of cinnamon. Then I generously dusted the muffins. This is optional, but the cinnamon sugar adds a bit of extra deliciousness. Enjoy!
For the latest recipes and tips, please like us on Facebook or follow us on Pinterest and Instagram.
One Bowl Gluten-Free Banana and Carrot Muffins
Published on Dec 21, 2020
by
Kristina Stosek
Instructions
1.

2.

In a large bowl, whisk together bananas, carrots, butter, milk, maple syrup, lemon juice, lemon zest and vanilla

3.

Add flour, psyllium husks, baking powder, baking soda and salt. Mix until combined

4.

Using a cookie scoop or a large spoon, scoop batter into muffin pan lined with paper liners, preferrably parchment paper

5.

Bake for 23 - 25 minutes, until a toothpick inserted in the middle of the muffin comes out clean

6.

Cool in the pan for 10 minutes, then transfer onto a cooling rack to cool. Dust with cinnamon sugar if you desire
Leave a Comment
Kristina
Star, here is are some great egg-free recipes https://onlyglutenfreerecipes.com/blog/15-gluten-free-and-egg-free-desserts/
Thank you so much for this recipe it is AMAZING I have a small request though... I need more gf egg-free recipes if you wouldn't mind making some
If you don't have psyllium husks you can use ground flaxseed