Lamb Keema Curry With Gluten-Free Chapati {Low-Carb, Grain-Free}
Published on Feb 20, 2019
by
Kristina Stosek
Prep Time:

20 minutes
Cook Time:

30 minutes
Serves:

4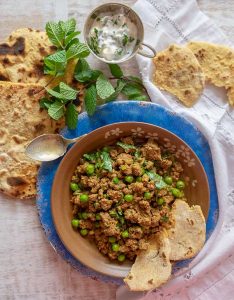 ​This post may contain affiliate links, please see our
privacy policy
for details
Every culture has its "family" dish, and this Lamb Keema Curry With Gluten-Free Chapati is a classic dish in India. Typically keema is made with lamb and peas, sometimes potatoes and is served with chapati or naan.
However, you can use keema as a filling in samosas. Samosa is typically fried, sometimes baked pastry filled with savoury filling made with meat or veggies or both. Check out our gluten-free spicy beef samosa recipe!
What is chapati?
The chapati is a thin bread, almost like a pancake cooked on a cast iron griddle or skillet. I made this gluten-free chapati using chickpea flour and arrowroot flour, making the chapati grain-free and rich in protein. I often serve the chapati with hearty soups because they are so tasty!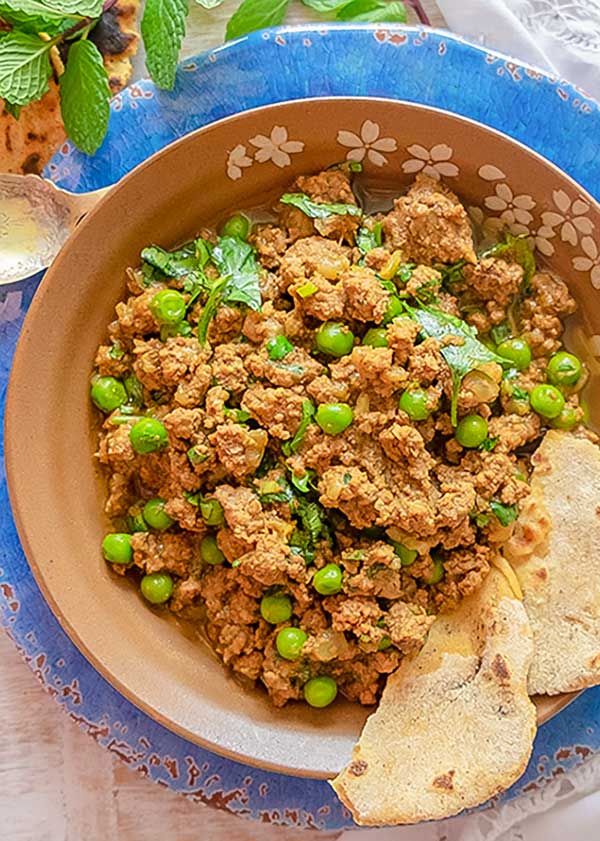 What is in keema?
Don't let the long list of ingredients scare you, because it is mostly spices. Keema is a simple dish to make, and it is the spices that turn ground meat into an aromatic Indian dish.
If you don't care for lamb, you can make the keema with beef, because both versions are just as delicious. The stunning flavours will tempt you to make this Indian dish again and again.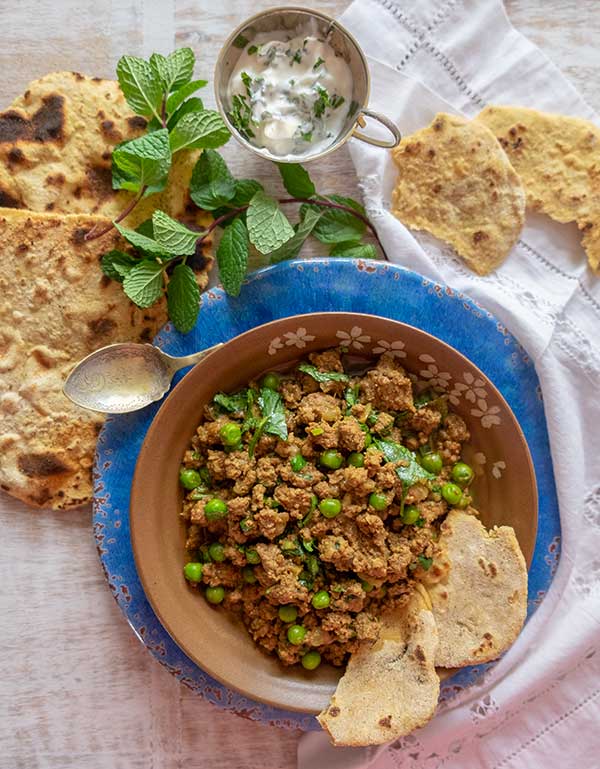 Keema is probably one of my favourite Indian dishes, not only because it is so easy to make, but it has so much flavour and is economical. Another favourite Indian dish of mine is the Indian low-fat butter chicken…YUM!
If you are tired of making the same old meals with ground meat, try this Indian keema curry and add some gluten-free chapati. However, if you don't like Indian spices skip the keema and serve the gluten-free chapati with hearty soups or stews
Lamb Keema Curry With Gluten-Free Chapati {Low-Carb, Grain-Free}
Published on Feb 20, 2019
by
Kristina Stosek
Instructions
1.

For the keema, in a large skillet heat oil over medium heat. Add onion and cook until translucent. About 4 minutes. Stir in garlic and ginger until combined

2.

Add the meat, breaking up lumps with a wooden spoon, and sauté until the meat is no longer pink. About 5 minutes

3.

Stir in the spices until combined. Add water and cook over low heat partially covered for 15 - 20 minutes. Most of the water should evaporate. Add frozen peas and cook 2 more minutes. If using fresh peas cook until peas are tender.

4.

Stir in cilantro, mint leaves and lime juice.

5.

For the chapati, while the keema is cooking, In a small bowl whisk together chickpea flour, arrowroot, cumin and salt. Add water and oil and using a spatula combine until you form a ball of dough. Divide dough into 6 disks

6.

Heat a cast iron griddle or skillet to medium heat, it must be hot. I find that cast iron works best because the heat is evenly distributed.

7.

Dust your work surface generously with chickpea flour. Place a disk of dough on the work surface and dust the top of the disk with a little more flour. Gently roll out each disk into a circle about 6 inches in diameter. Place chapati onto preheated skillet and cook for about 1 minute, until the top of the chapati starts to bubble. Flip the chapati over and cook for 45 more seconds. Remove from the pan, place on a plate and cover to keep warm. Continue with the other disks