Gluten-Free Stuffed Potato Cakes
Published on Jul 18, 2020
by
Kristina Stosek
Prep Time:

20 minutes
Cook Time:

30 minutes
Serves:

8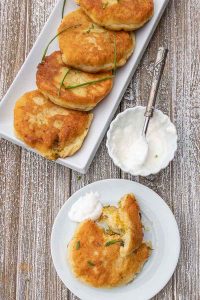 ​This post may contain affiliate links, please see our
privacy policy
for details
Breakfast, lunch or dinner? These Gluten-Free Stuffed Potato Cakes will work for any meal. Crispy on the outside, soft on the inside, filled with warming cheesy broccoli or lightly spiced delicious meat filling.
Both fillings are equally delicious, depending on how hungry you are? Or are you looking for a gluten-free, vegetarian meal?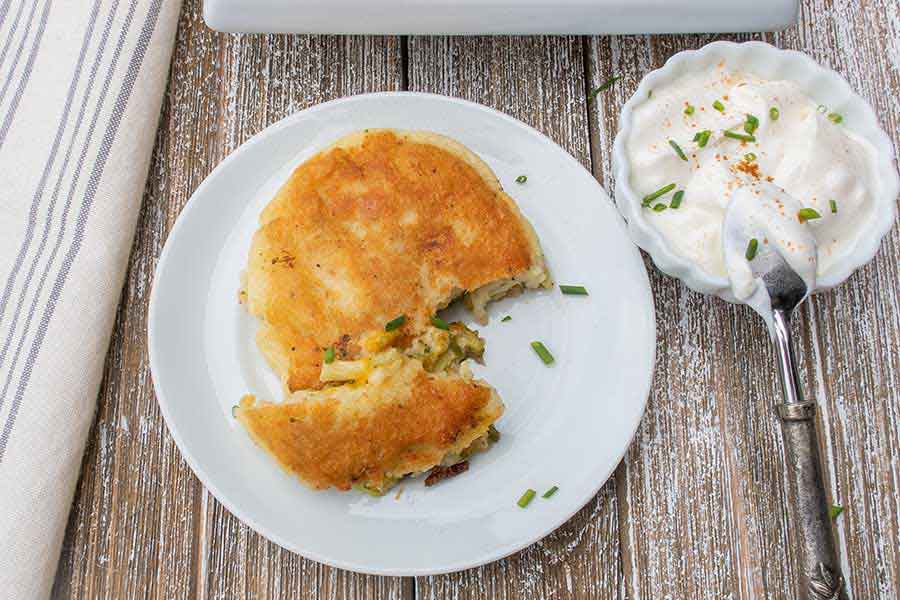 How are gluten-free stuffed potato cakes made?
This gluten-free recipe may sound complicated, but it is super simple to put together. First, you cook the potatoes in salted water, then mash them.
The potatoes must be tender. Otherwise, you will have chunks of potatoes in the cakes. To mash them, use a potato masher or an immersion blender.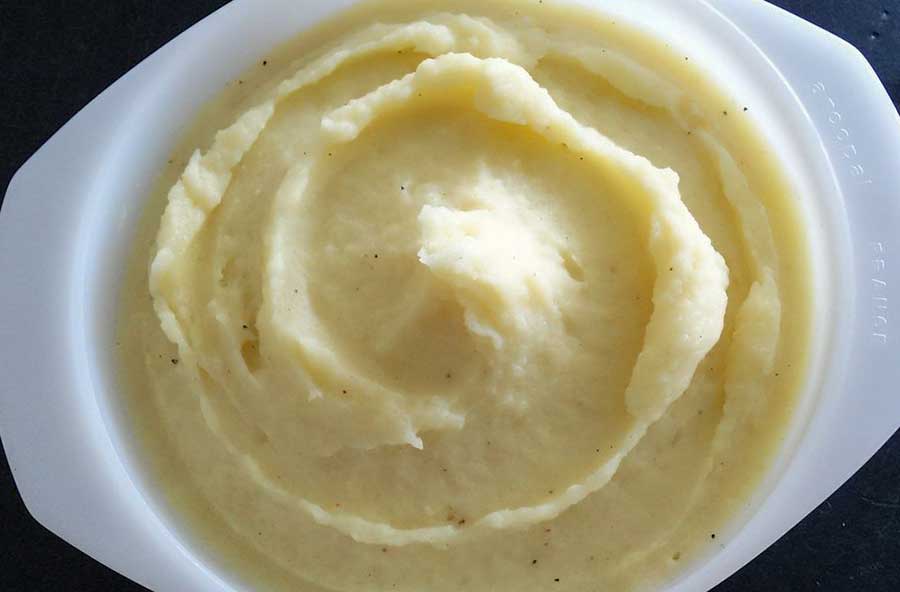 Do not use a food processor, or the potatoes will become sticky-like glue consistency.
Once the potatoes are mashed, cool them. Then, add flours, seasoning and the egg. Mix to combine, and the dough is ready to be filled with your favourite filling.
Some days I crave only vegetarian meals, so I make the potato cakes with the cheesy broccoli filling. On the days I need more protein, I make the meaty filling.
In this stuffed potato cake recipe, I used vegetarian broccoli filling. Broccoli is my choice; however, you can use any vegetable as long as the veggies are chopped into small pieces and steamed until tender.
The best way to cook the veggies for the filling is to steam them. This avoids extra moisture in the veggies.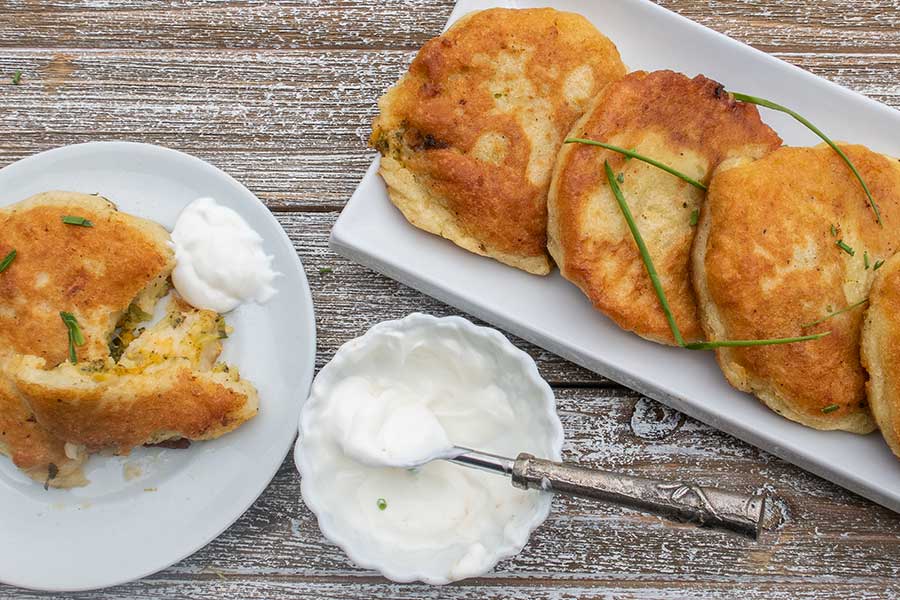 How to shape stuffed potato cakes?
Now the dough and the filling are ready. Divide the dough into small mounds and roll them into balls. Create a well in the middle and fill with the filling.
Seal the balls by wrapping the dough around the filling. Flatten them slightly so that they look like thick pancakes. See, nothing to it!
I love this recipe because the potato dough is easy to work with.
Next, cook the potato cakes.
The potato cakes are fried in a splash of vegetable oil. They should be golden brown and crispy on the outside. You don't need a lot of oil, enough so that the potato cakes don't stick to the pan.
Once they are cooked, place them on a baking sheet and keep them warm in the oven until you serve them.
What goes well with stuffed potato cakes?
Good questions. It depends on when you serve them—breakfast, brunch, lunch or dinner. Or just a snack with a dollop of sour cream. Or, you can serve them with a a creamy lemon dipping sauce (recipe below).
I serve them with a dollop of plain Greek yogurt for breakfast. Then, when making brunch, I like to add a freshly made apple compote. Or, top them with poached eggs.
Some diced tomatoes, fresh cucumbers, and a lemon dipping sauce if you serve the stuffed potato cakes for lunch, keeping this a vegetarian meal.
And for dinner, I like to serve a healthy salad, with these delicious gluten-free potato cakes.
The best part about these stuffed potato cakes is that the kids love them. After all, who doesn't like mashed potatoes? If they aren't excited about broccoli, change the filling for corn, peas, or extra cheese.
I found that the meaty stuffed potato cakes are super popular with kids. If you like stuffed potato cakes, you may also enjoy the Gluten-free Beef and Potato Calzones.
Recipe For Creamy Lemon Dipping Sauce (1/4 cup)
1/4 cup sour cream

1 Tbsp. Fresh lemon juice

1/2 tsp. Lemon zest

1 tsp. Chopped chives or fresh dill
In a small bowl stir everything together and chill until ready to serve
I hope you give this gluten-free stuffed potato recipe a try. It will surprise you how easy this recipe is to make. And you can use up leftover mashed potatoes from the night before.
Gluten-Free Stuffed Potato Cakes
Published on Jul 18, 2020
by
Kristina Stosek
Instructions
1.

Peel and cut potatoes into small cubes and cook in salted water until tender. About 10 - 15 minutes. Drain and mash. Set aside to cool

2.

Once the potatoes have cooled, add flours, salt, black pepper and egg. Mix until combined

3.

4.

Steam broccoli until tender, about 2 minutes. If the florets are too big, mash them using a potato masher into small pieces. Add remaining ingredients and mix to combine

5.

6.

Saute onion in olive oil until soft, about 3 minutes. Stir in meat and garlic and cook until no longer pink, and the meat starts to brown. Add remaining ingredients and stir to combine

7.

8.

Divide the dough into 8 pieces, about 1/2 cup each. Form into balls, make a well in the middle and add about 1 1/2 tablespoons of filling. Seal the balls wrapping the dough around the filling. Flatten them slightly so that they look like thick pancakes

9.

Heat oil in a pan and fry the potato cakes over medium heat until golden brown. About 5 minutes per side. Keep potato cakes warm in a hot oven until ready to serve
Leave a Comment
Thanks for sharing this amazing recipe.my family loved it.will be sharing this recipe with my friends.they will like it.