Gluten-Free Strawberry Oatmeal Bars with Chocolate
Published on May 03, 2020
by
Kristina Stosek
Prep Time:

10 minutes
Cook Time:

40 minutes
Serves:

12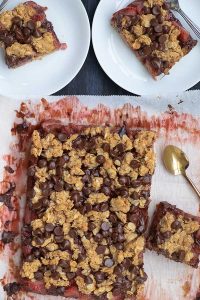 ​This post may contain affiliate links, please see our
privacy policy
for details
The easiest recipe for Gluten-Free Strawberry Oatmeal Bars with Chocolate. The bars are made with fresh strawberries making them wholesome and giving them a fresh strawberry flavour. The addition of chocolate is a game changer in this recipe, because it changes a simple oat bar to a delicious dessert.
This strawberry oatmeal bar recipe is for one of those times when I am craving a dessert but don't feel like fussing in the kitchen. This is why this recipe is perfect. The recipe couldn't be easier, and it has the two ingredients that we love, strawberries and chocolate. When you combine strawberries with chocolate, magic happens, well, at least it does for me. I know I am talking about a dessert, but this is truly a breakfast bar or a snack on the go. The oats add plenty of protein and fiber, making this a satisfying, hearty bar. When I serve the oatmeal bar for a dessert, I add vanilla bean ice cream…YUM!
I know you already love the gluten-free oatmeal squares with pineapple and coconut and the gluten-free oatmeal cookies, so I thought I would add an oatmeal bar to my list of recipes that uses oats as the primary ingredient.
♥

Few notes about gluten-free oatmeal bars.

When following a gluten-free diet, you must use certified gluten-free oats. Oats are naturally gluten-free, but they are often grown in fields next to wheat and are easily contaminated with gluten. Certified gluten-free oats are grown on dedicated fields; and are harvested, stored, transported and processed in dedicated gluten-free facilities and you can be certain that they are gluten-free. For me, I always buy certified gluten-free products whenever available.

Leftovers can be stored up to seven days when refrigerated.

The gluten-free strawberry oatmeal bars freeze beautifully, but they must be tightly wrapped with plastic wrap before you freeze them.

Using frozen strawberries does not work in this recipe. They are too watery and soggy and take away from the fresh strawberry flavour that this oatmeal bar should have.

For the chocolate topping, make sure the chocolate is gluten-free. For the best chocolate flavour, use a good quality gluten-free chocolate bar and chop it into small chunks. However, the chocolate chips are good too.

If you want to double the recipe, use a 9×13-inch baking pan and add an extra tablespoon of butter to the recipe.
Gluten-Free Strawberry Oatmeal Bars with Chocolate
Published on May 03, 2020
by
Kristina Stosek
Instructions
1.

Preheat oven to 375 F and line an 8x8-inch baking pan including the sides with parchment paper

2.

In a large bowl whisk together oats, flour, coconut sugar, baking powder and salt

3.

In a separate bowl mix melted butter, lemon juice and vanilla

4.

Add butter mixture to dry ingredients and using a spatula mix well.The mixture will be dry

5.

Press half the mixture to the bottom of the pan. Add a layer of fresh strawberries and sprinkle with 1 tablespoon of coconut sugar and tapioca/arrowroot powder

6.

Crumble remaining mixture over the top and scatter with chocolate pieces or chips

7.

Bake for 35 - 40 minutes until topping looks golden. Place the pan on a wire rack to cool completely. Once cooled, using the parchment paper lift the bars from the pan