Gluten Free Strawberry Apple Cake
Published on Jul 19, 2020
by
Kristina Stosek
Prep Time:

15 minutes
Cook Time:

65 minutes
Serves:

8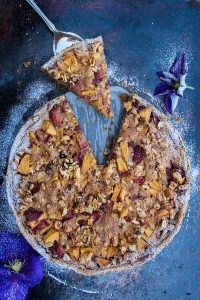 ​This post may contain affiliate links, please see our
privacy policy
for details
I am super excited to share this Gluten-Free Strawberry Apple Cake recipe with you today. The base has a buttery crust filled with strawberries and apples in a light sponge-like cake flavoured with cinnamon, lemon and vanilla. This strawberry apple dessert turned out better than I expected.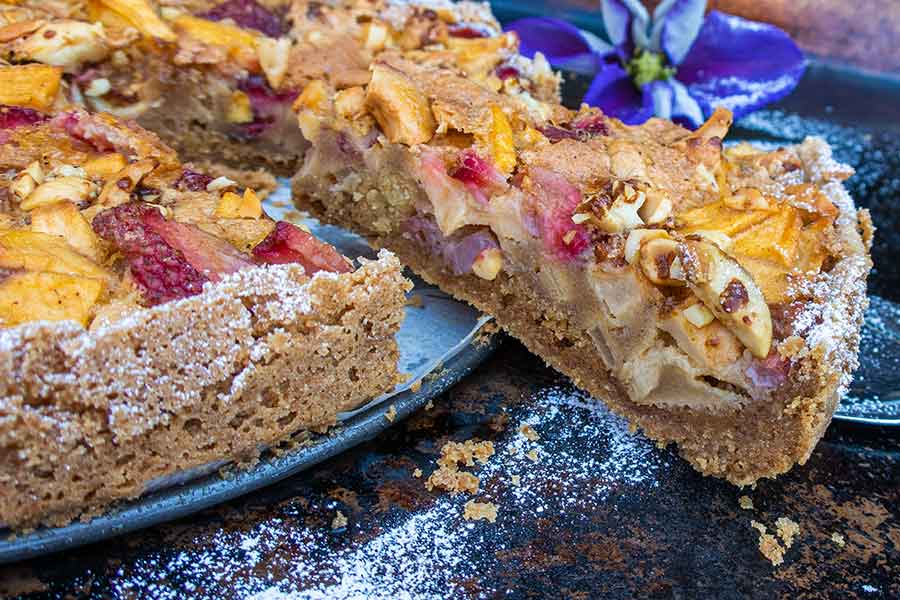 If you love strawberry desserts, you may also try the Easy Paleo Strawberry Pie Recipe or the Gluten-Free Strawberry Shortcake recipe.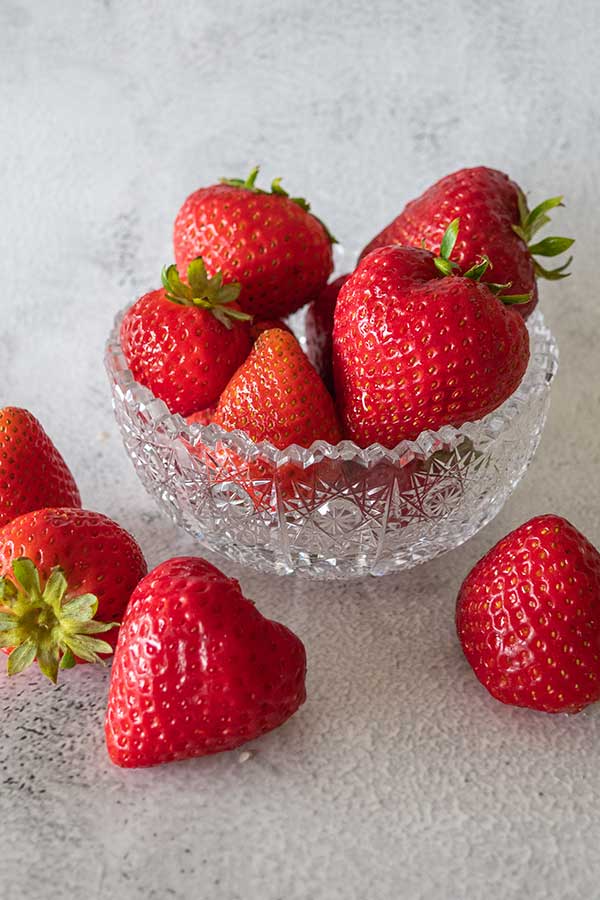 The best candied topping!
I added a light layer of candied nuts to finish this strawberry apple cake, giving this dessert a crunchy topping texture!
How to make a gluten-free strawberry apple cake.
You will love the recipe…why? The recipe is super easy, even though you are working with three layers. First, the base is a mixture of butter, coconut sugar, two flours and baking soda. The dough is pressed to the bottom of your springform pan and baked for fifteen minutes.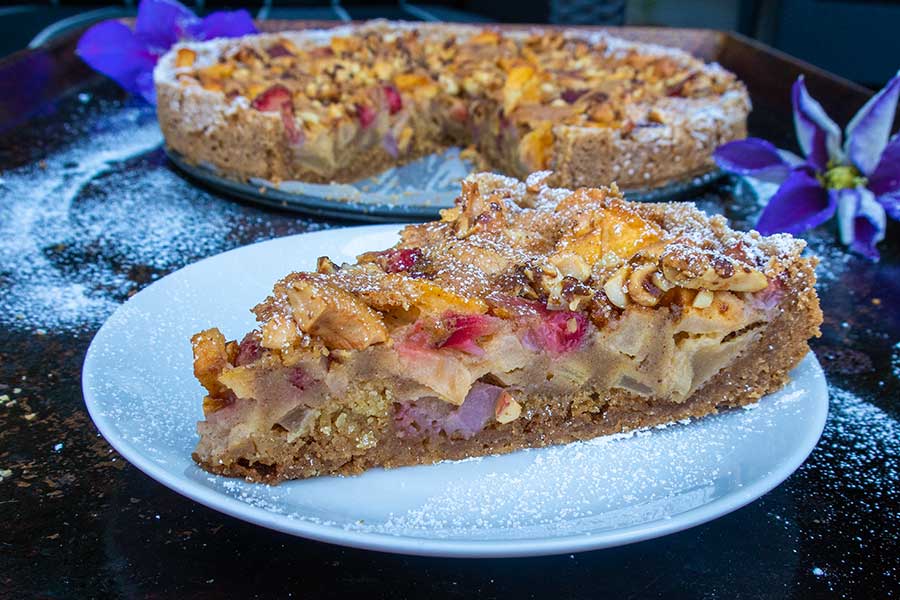 While the crust is baking, make the second layer. This layer is even easier 🙂 First, you whip the eggs with coconut sugar, lemon juice, vanilla, cinnamon and salt.
Stir in flour and then fold in the fruit. This mixture is poured over the hot crust and then topped with a mix of nuts, butter and coconut sugar. Bake and done!
This strawberry apple cake recipe is super easy to make and with exceptional results. I often serve this gluten-free cake for brunch. For dessert, I sometimes add vanilla ice cream or whipped cream.
However, in my home, this strawberry apple cake is often snacked on. After all, it is filled with fresh fruit so there are some health benefits 🙂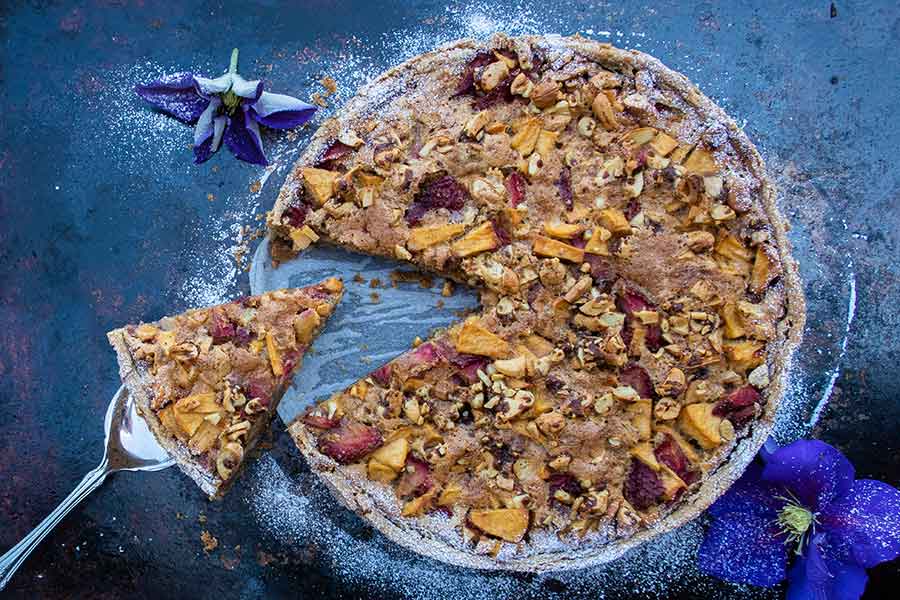 Do you have to use a springform pan for gluten free strawberry apple sake recipe?
The quick answer is no! You can use any cake pan or pie plate of a similar size. Line the pan with parchment paper making it easier to lift the cake out when it's done. I like to leave some paper hanging out of the pan to make it easier to lift.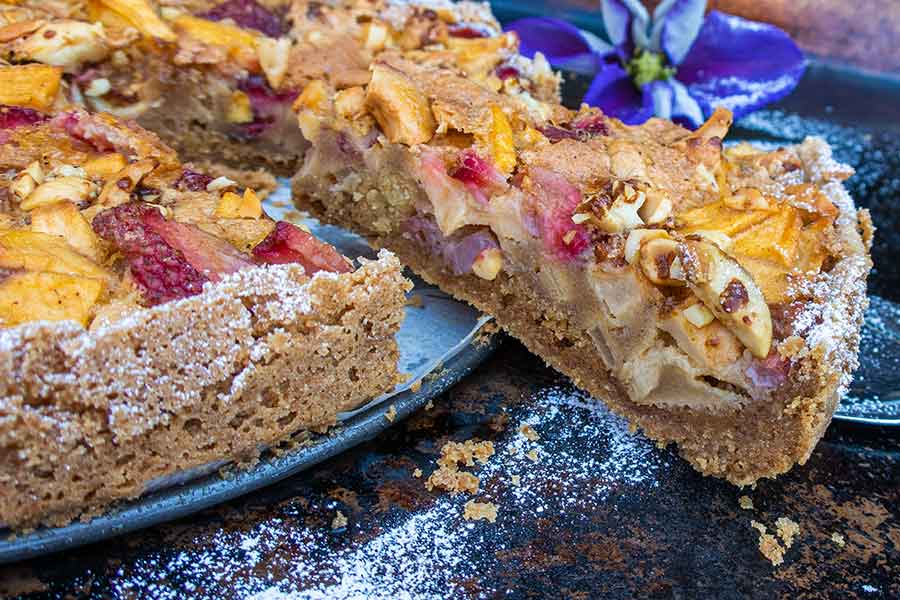 Which gluten-free flour blend to you use?
In this recipe, you can use almost any gluten-free flour blend with xanthan gum. The only exception I would say would be flours that contain beans in the blend. I never use a gluten-free flour blend that includes bean flour.
This is for two reasons. First, the cakes tend to be heavier, and the other is I'm not too fond of the taste. But if this is the only gluten-free flour blend you have, you can still use it.
I wanted to make this gluten-free strawberry apple cake recipe with simple pantry ingredients, making this recipe easy for anyone to make. Using basic ingredients like butter, sugar, eggs, baking soda, vanilla, and fresh fruit most of us have in our pantry.
I used a good basic gluten-free flour blend for the flour, and I added 1/2 cup of almond flour. The almond flour gives the crust a buttery good crust texture. If you don't have almond flour, you can use certified gluten-free oat flour. Both will work.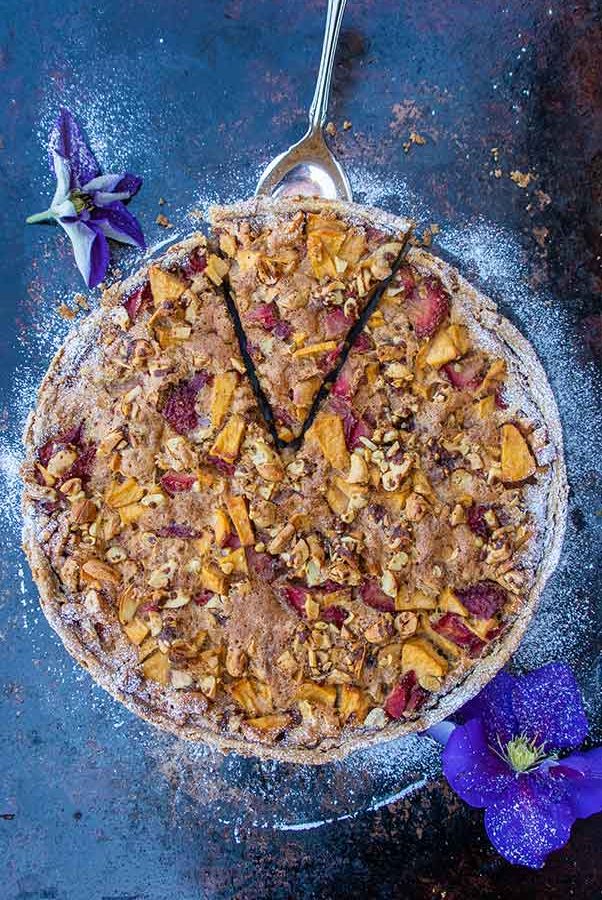 If you make this Gluten-Free Strawberry Apple Cake, please give it a rating or a comment.
Let's Connect!
Be sure to FOLLOW US on FACEBOOK and PINTEREST.
Many thanks!
Kristina xx
Gluten Free Strawberry Apple Cake
Published on Jul 19, 2020
by
Kristina Stosek
Instructions
1.

2.

Mix the crust ingredients and press into the prepared pan. Place the pan on a baking tray and bake for 15 minutes

3.

While the crust is baking, whisk the eggs with coconut sugar, lemon juice, vanilla, cinnamon and salt. Add flour and mix to combine. Fold in strawberries and apples and pour onto the hot crust

4.

Mix the topping ingredients and sprinkle over top

5.

Bake for another 50 minutes. The cake should be golden brown.

6.

Allow the cake cool in the pan. Enjoy!
Leave a Comment
Looks and smells amazing! Can't wait to try it!
absolutely delicious, thank you!!