Spaghetti Squash Pie – Gluten Free
Published on Feb 24, 2017
by
Kristina Stosek
Prep Time:

10 minutes
Cook Time:

40 minutes
Serves:

6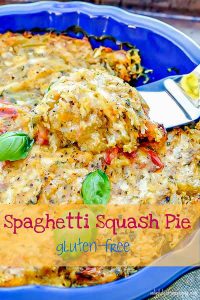 ​This post may contain affiliate links, please see our
privacy policy
for details
Spaghetti squash pie is a healthy and gluten-free way to enjoy spaghetti squash? Why not try a delicious and gluten-free alternative to sweet potato pie for the holidays? This unique take on spaghetti squash will bring an extra tasty side to your festive table.
This healthy pie recipe is a tasty savoury vegetarian dish made with spaghetti squash, Italian herbs, fresh tomatoes and mozzarella cheese. Another insanely delicious stuffed squash recipe is the 4-Ingredient Double Stuffed Butternut Squash.
Best of all, it's easy to make and can be enjoyed any time of year. Serve as lunch with a green salad or a side with your main.
What is spaghetti squash?
Spaghetti squash is a type of winter squash with a long, cylindrical shape. Its flesh is light yellow or orange and has a stringy texture that resembles spaghetti noodles.
This squash is a good source of vitamins A and C and fiber. It can be cooked in various ways, including baking, roasting, and steaming. Here are step-by-step instructions on how to cook spaghetti squash!
When is spaghetti squash in season?
Spaghetti squash is in season from late summer through early fall, so now is the perfect time to try this recipe. However, you can find spaghetti squash in most supermarkets at any time of year.
Why is this squash so popular?
There are many reasons why spaghetti squash is popular. One reason is that it is a healthy alternative to other types of pasta.
Spaghetti squash is also naturally gluten-free, which makes it a good option for people with celiac disease or gluten sensitivity.
Additionally, spaghetti squash is low in carbs and calories and has high fiber content, making it a good choice for those who follow a low-carb diet.
Spaghetti squash is the only squash that you can enjoy on the keto diet! Because the net carbs in spaghetti squash are much lower than in other winter squashes.
health benefits of spaghetti squash
Although typically used in savoury dishes, this unique fruit is packed with nutrients and has various health benefits.
In addition to being a healthy option for pasta, spaghetti squash is also packed with vitamins and minerals. For example, it's a good source of vitamin C, potassium, and vital beta-carotene.
What does spaghetti squash taste like?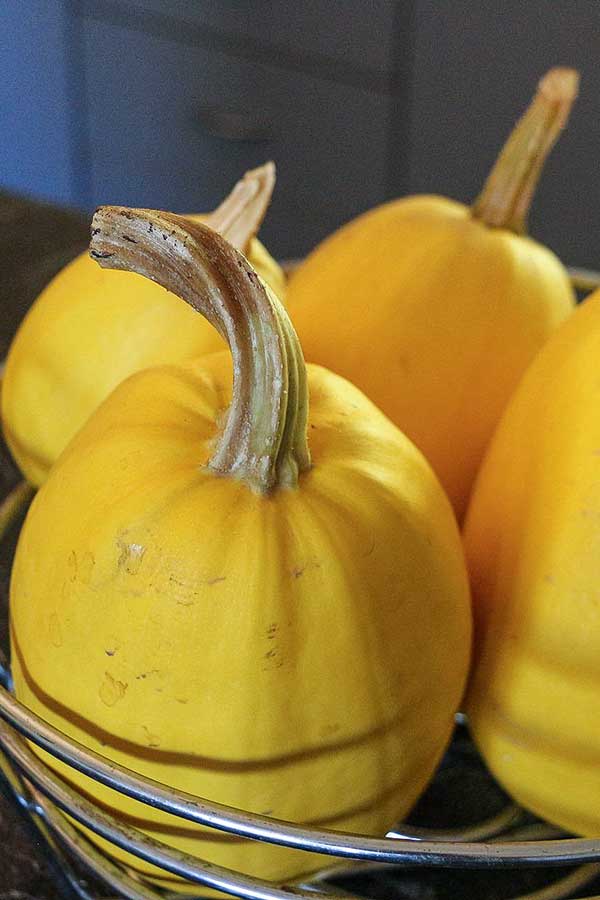 If you've never had spaghetti squash, you might wonder what it tastes like. Spaghetti squash is a bit of a chameleon when it comes to flavour.
When cooked, it takes on a mild, slightly sweet flavour similar to other winter squash varieties. However, it also has a slight crunch that makes it unique.
When combined with other ingredients in a dish, like our spaghetti squash pie, the flavour of the squash takes a backseat to the other flavours in the dish.
Can you eat the squash raw?
You can eat raw spaghetti squash, but it's not as tasty as when cooked. Cooking the squash helps to bring out its natural sweetness.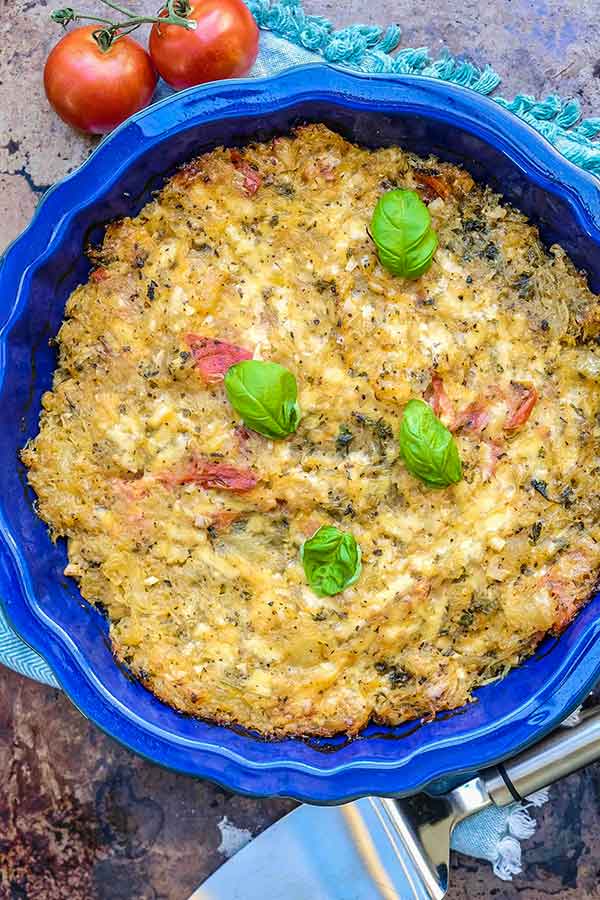 best uses for spaghetti squash
This versatile squash can be used in various dishes, from savoury pies to sweet desserts. One of the best things about spaghetti squash is that it is so easy to prepare.
There are endless possibilities when it comes to what you can do with spaghetti squash. Here are just a few ideas to get you started:
– Make a spaghetti squash pie
– Use it as a healthy replacement for noodles in soups and stews.
– Get creative with dessert and try making a spaghetti squash cake
Have you ever tried cooking with spaghetti squash? Share your favourite recipe in the comments below.
Let's Connect!
Be sure to FOLLOW US on FACEBOOK and PINTEREST.
Many thanks!
Kristina xx
Spaghetti Squash Pie – Gluten Free
Published on Feb 24, 2017
by
Kristina Stosek
Instructions
1.

Preheat oven to 375 F. Lightly oil a 9-inch pie dish

2.

In a large pan over low heat sauté garlic and oregano in olive oil until fragrant, about 30 seconds

3.

Increase heat to medium-high, add tomatoes and parsley and stir-fry for 3 - 4 minutes

4.

In a large bowl mix spaghetti squash, salt, cayenne pepper and tomato mixture. Add mozzarella cheese and stir to combine

5.

Transfer spaghetti squash mixture into prepared pie dish and bake for 40 minutes. Rest for 15 minutes before serving. Garnish with fresh basil leaves