Gluten Free Savory Breakfast Bread
Published on Mar 17, 2023
by
Kristina Stosek
Prep Time:

10 minutes
Cook Time:

60 minutes
Serves:

1 loaf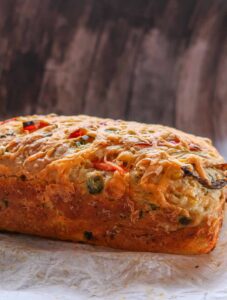 ​This post may contain affiliate links, please see our
privacy policy
for details
This gluten free savory breakfast bread is the perfect way to start your day or for a leisurely weekend brunch. The veggies and cheddar cheese make this savory bread flavorful with a tender crumb. In addition, the bread is protein and fiber rich, and the recipe is quick and easy to prepare.
What is gluten free savory breakfast bread?
There are many types of savory bread, but breakfast bread typically has a tender, moist crumb with a soft crust. The bread is not sweet, meaning there is generally no sugar added.
Why is too much sugar bad for us?
We all know that sugar is in so many foods and drinks and too much sugar is bad for our health. So cutting back on sweeteners whenever possible is one step to a healthier diet.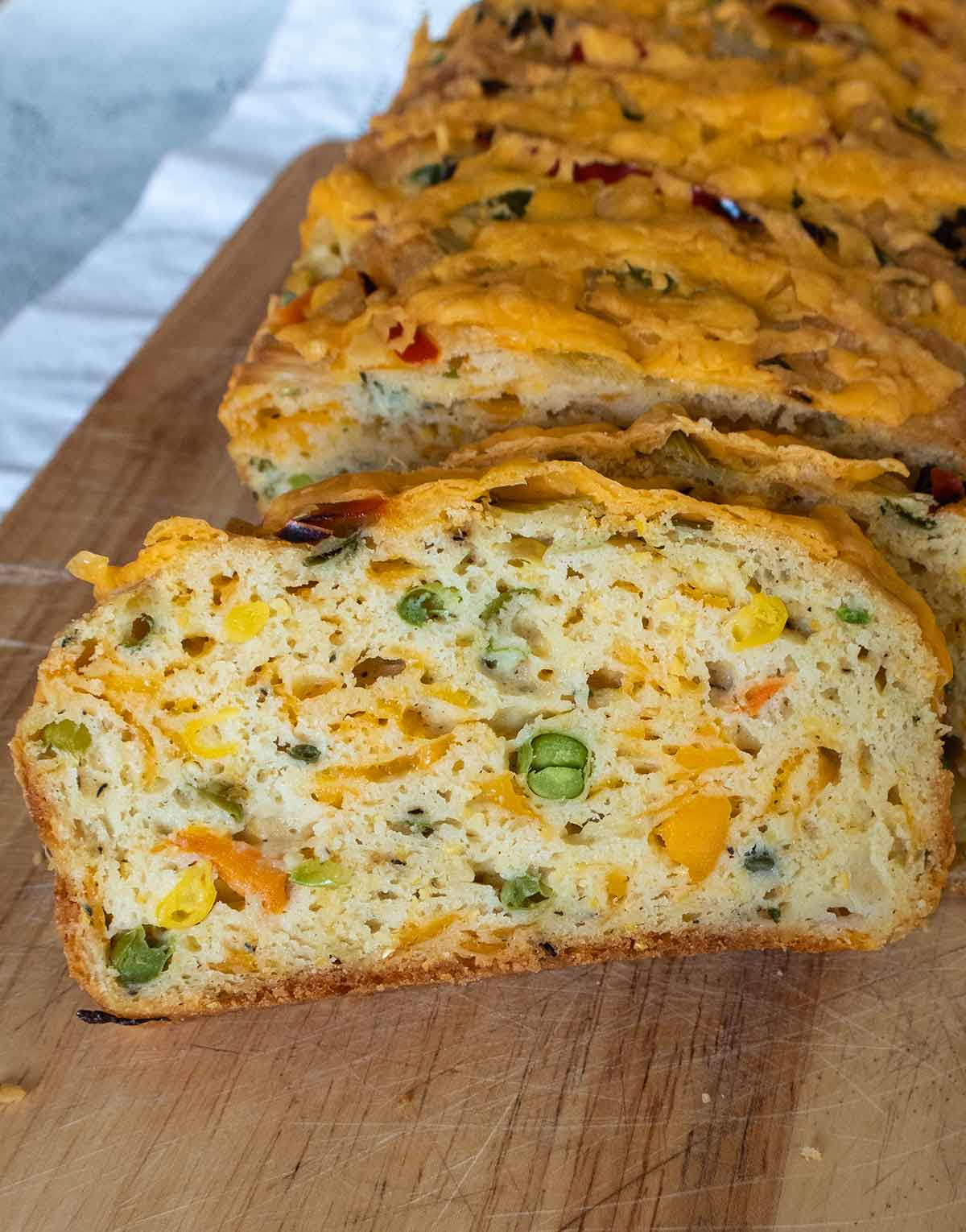 Why do we love savory breakfast?
Savory breakfast foods tend to have more flavor than sweet foods. For example, think of a Gluten Free Savory Dutch Baby or a Gluten-Free Potato Crusted Quiche. There's no denying that these dishes are packed with flavor. However, both these breakfast foods take time to make, and the recipes can be a little more complicated.
This gluten free savory breakfast bread is made with quickbread dough. This means you don't need a mixer, blender or food processor, making this easy clean up bread recipe.
mix-ins for gluten free savory breakfast bread
You can add various mix-ins to gluten free savory breakfast bread recipe! We love to add shredded cheese and veggies. But you could also add cooked bacon, ham, sausage, olives or sundried tomatoes to add flavor and heartiness. So why not get creative and have fun with it!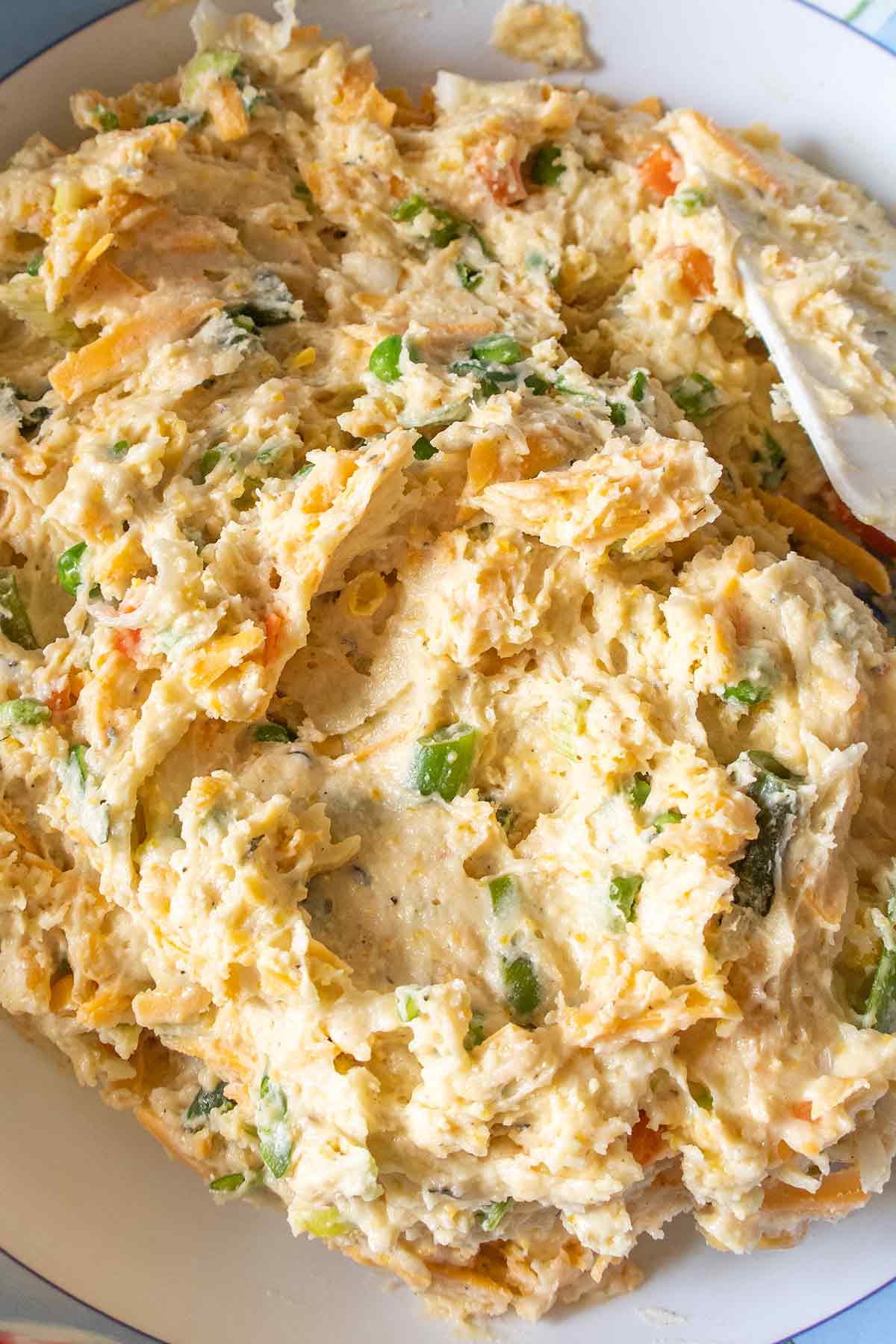 recipe substitutions
This gluten free savory bread recipe is very forgiving. Here is our list of substitutions.
dried thyme – herbs of choice. If you are using fresh herbs, use 2 tablespoons.
butter – you can use coconut oil, extra virgin olive oil or vegan butter
milk – non-dairy milk of choice
apple cider vinegar – fresh lemon juice
green onions – 1/2 cup chopped chives
frozen vegetables – chopped sauteed kale, chopped sauteed collards, sliced olives, roughly chopped sundried tomatoes, sauteed sliced bell peppers
jalapeno peppers – poblano peppers
cheddar cheese – any good melting cheese (smoked gouda, havarti, muenster, provolone, Monterey jack)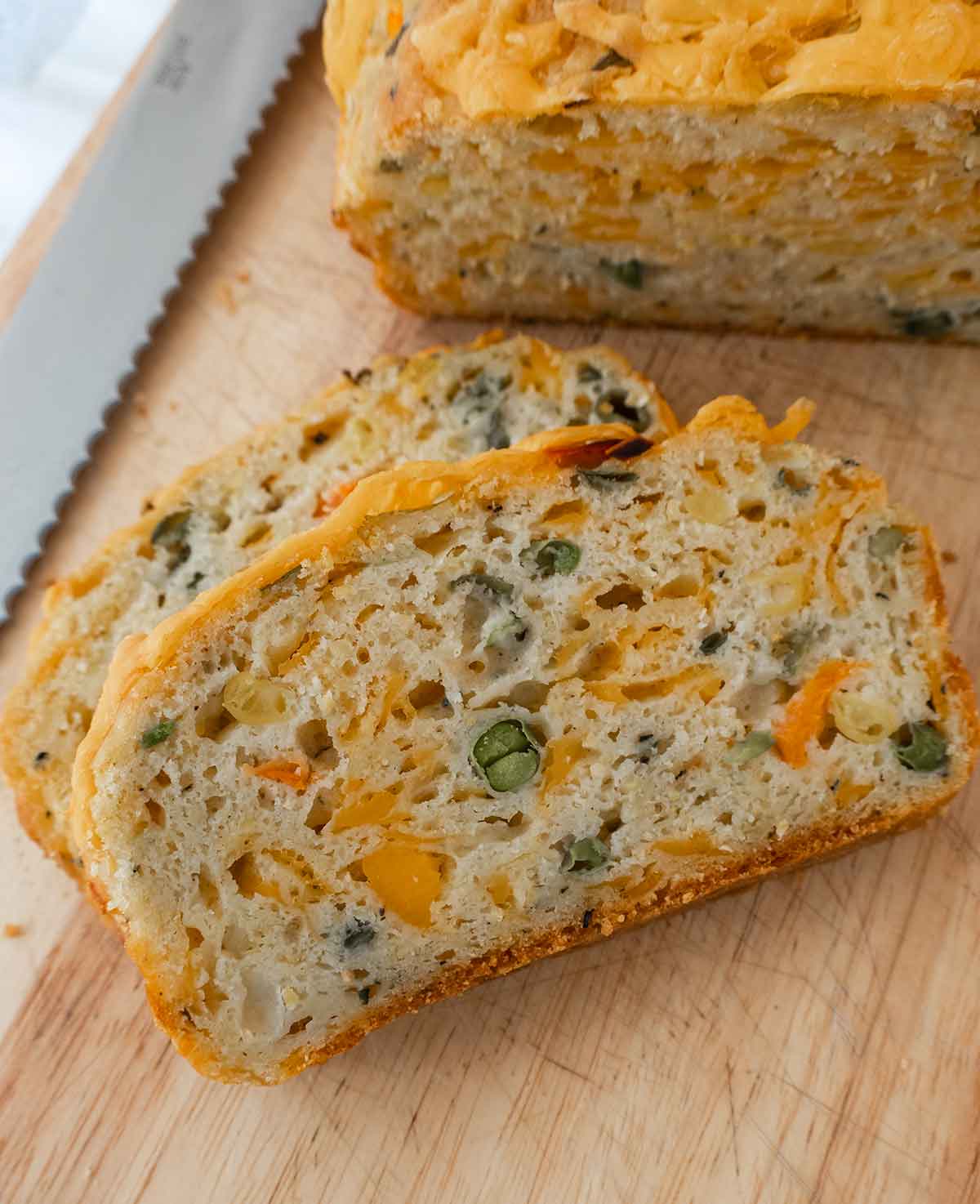 What to serve with gluten free savory bread for breakfast?
You can serve a slice with an egg, avocado or slices of tomato for a healthy, satisfying breakfast.
Or make a savory French toast. To make the gluten free French toast dip a slice of bread in whisked egg mixture seasoned with salt and pepper, and then fry in olive oil, coconut oil or butter. YUM!
Or the savory bread is also great for making sandwiches – stuff it with your favorite fillings for a quick and easy snack or meal on the go.
How to store gluten free breakfast bread?
First, store your bread in a cool, dry place. The bread will become stale quickly if it's too warm. A closed container will prevent the bread from drying out and will keep the bread fresh tasting for up to two days.
If you need to store this gluten free savory breakfast bread longer than two days, store it in the refrigerator for up to five days.
Or, you can freeze it for up to three months. Just be sure to wrap it tightly in freezer-safe packaging. When you're ready to eat it, thaw the bread overnight in the refrigerator before slicing and serving.
To add freshness to a slice of bread, place it in the toaster for 1 minute. This is not to toast it but to give it that fresh-tasting flavor it had the day it was baked. Or in the microwave for 30 seconds.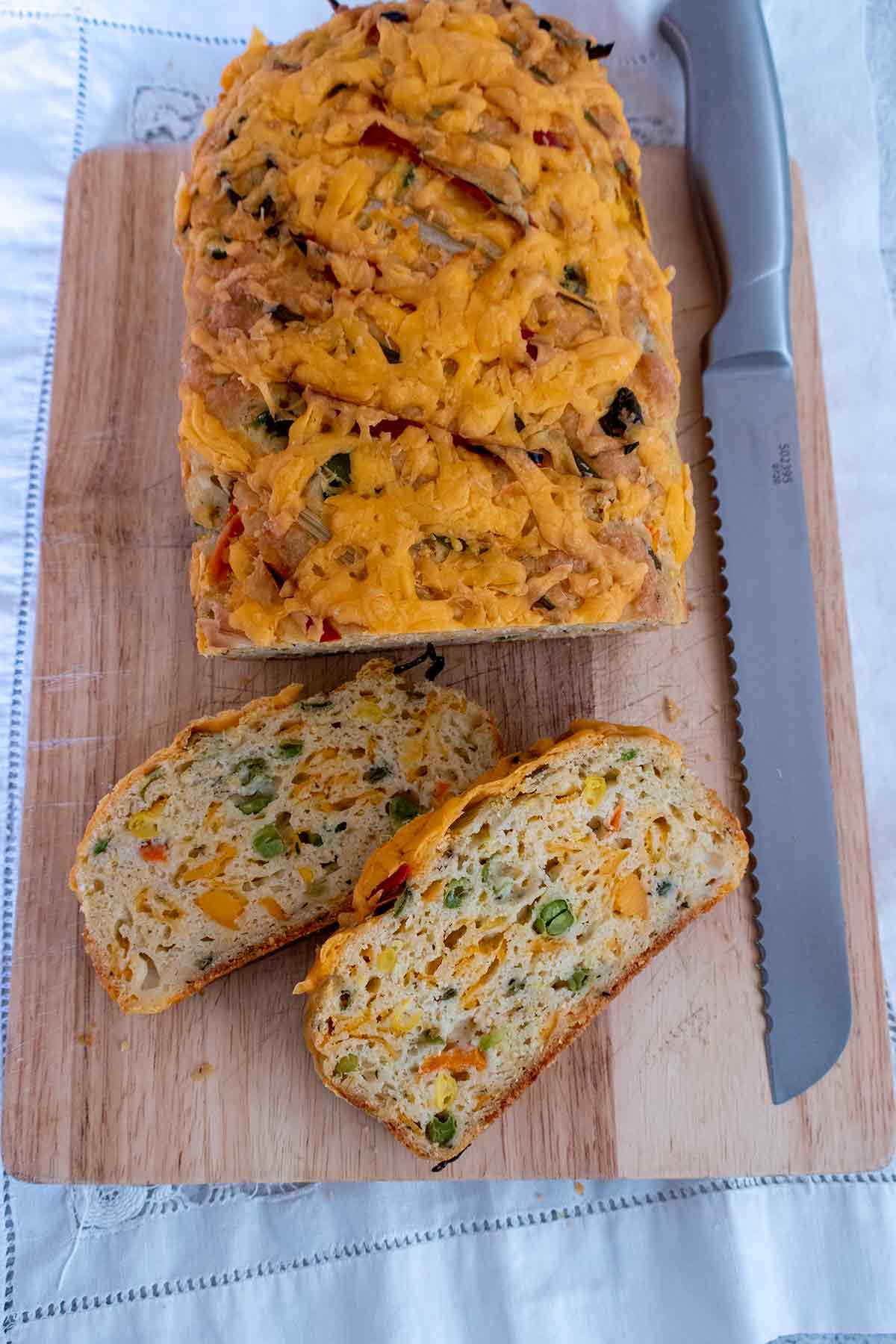 Why is savory breakfast bread healthier than fruit loaf?
There are a few reasons why savory loaf is healthier than fruit loaf. For one, savory loaf generally doesn't contain sugar. Additionally, savory loaf often includes herbs which are packed with antioxidants.
Finally, adding veggies to savory bread adds fibre and makes the bread more nutritious, and a great way to include veggies to your meal in the morning,
The takeaways
When it comes to gluten free savory breakfast bread, there are a few key takeaways to keep in mind. First and foremost, make sure to use a gluten free flour blend as your base.
Measure the flour correctly. This means, fill your measuring cup using a spoon, then level it off with a knife. If you dip the measuring cup into the flour, you will have too much flour and the bread will be dense and dry.
Secondly, don't be afraid to experiment with different flavorings and mix-ins. From herbs and spices to vegetables, cheese, and proteins, the possibilities are endless to make your perfect gluten free savory breakfast loaf.
You can make the bread in advance. Having a hearty, nutritious slice of bread on hand when needed stops you from reaching for something processed or fried and ladened with salt and unhealthy fats.
And lastly, remember to have fun in the kitchen! Baking should be enjoyable, so don't stress if things turn out differently. The beauty of baking is that even imperfections can often taste good.
I hope you try this gluten-free savory bread because it is nutritious and tasty, and the recipe is easy to make. Plus, all you need is one slice to provide you with lasting energy.
Let's Connect!
Be sure to FOLLOW US on FACEBOOK and PINTEREST.
Many thanks!
Kristina xx
Gluten Free Savory Breakfast Bread
Published on Mar 17, 2023
by
Kristina Stosek
Instructions
1.

2.

In a large bowl, whisk flour, cornmeal, baking powder, salt, herbs, black pepper and xanthan gum

3.

In a separate medium bowl, whisk butter, milk, apple cider vinegar and eggs

4.

Make a well in the center of the dry ingredients and pour in the wet mixture. Briefly combine, leaving some flour exposed. Add frozen vegetables or mix-ins of choice, green onions, jalapeno peppers and 1 and 2/3 cups of cheddar cheese. Mix to combine, do not overmix the dough

5.

Transfer dough into prepared loaf pan and shape to have a round top. Bake for 20 minutes

6.

Sprinkle the remaining 1/3 cup of cheddar cheese over top of the loaf and continue baking for 40 minutes, or until the cheese has melted and the bread passes the toothpick test

7.

Using the parchment paper to lift the bread, transfer it onto a cooling rack to cool
Leave a Comment
Looking forward to making this when it cools down enough to turn the oven on!
Oh my deliciousness! Such a colorful and exciting bread to look at – I can't wait to make this! Thank you thank you thank you