Gluten-Free Puff Pastry Spinach Cheese Cups
Prep Time
30 Minutes
Difficulty
Intermediate
Cook Time
40 Minutes
Serves
12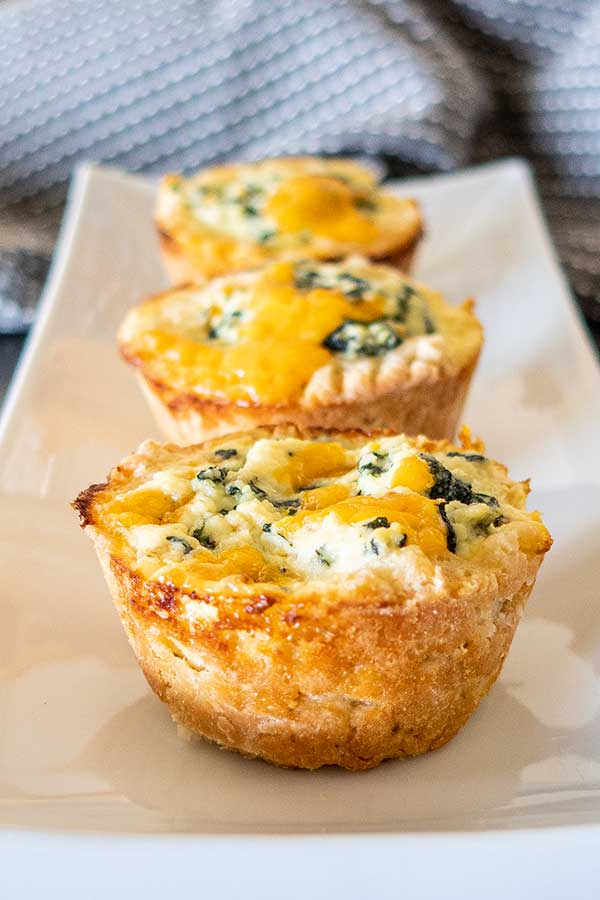 Average Rating: 4.5 | Rated By: 7 users
This Gluten-Free Puff Pastry Spinach Cheese Cups is a winner of a recipe. Buttery puff pastry, ricotta and cheddar cheese, spinach and a hint of garlic with nutmeg filling. The pastry is flaky and golden, and the filling is cheesy filled with spinach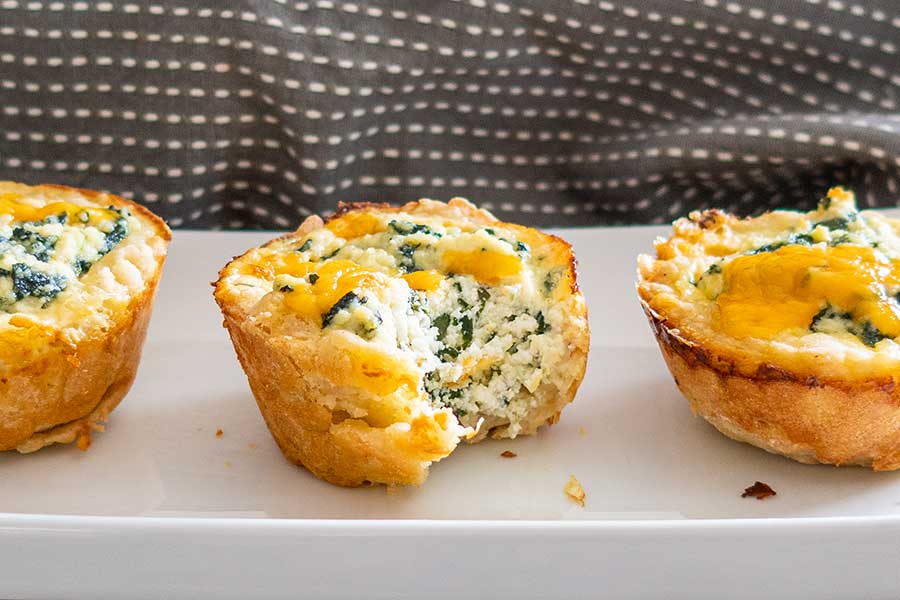 These puff pastry spinach cheese cups are the perfect summertime appetizer or add a salad and make it into a light dinner. You can't beat the buttery pastry…it melts in your mouth! Gluten-free puff pastry is especially delicious when served fresh from the oven and slightly warm.
Make the gluten-free pastry
To get that flaky buttery crust, you have to be patient. The dough is made with yeast meaning it has to rise. And being it puff pastry, it also has to be chilled. So, this recipe calls for extra time for the dough to become perfect.
But, once the puff pastry dough is ready, it's easy going.
To form the pastry cups, you roll the dough to about 1/2-inch thickness. Then using a cookie cutter or a glass, cut the dough into circles. Place the circle into a muffin cup and press against the bottom and sides. Now the puff pastry cups are ready to be filled.
Easy spinach and cheese filling.
The filling is super easy to make. First, you steam fresh spinach for about a minute. Remove any excess moisture, chop it and mix it with cheese, eggs and seasoning. See… super easy! Fill the prepared pastry cups and bake until golden.
At the end of baking, sprinkle the tops with extra cheddar cheese and bake few more minutes until the cheese has melted. YUM!
How to make perfect gluten-free puff pastry.
~ YEAST.
First, because we are using yeast, make sure that the yeast is fresh. It should foam after 10 minutes after it's mixed with warm milk and a sweetener. If it doesn't, the yeast is old and will not work in this recipe. Always keep dry yeast in the refrigerator to keep it fresh.
~ BUTTER

.

The secret to puff pastry is the butter! The butter must be super cold. I always place my butter in the freezer fifteen minutes before I need it. The butter needs to be cut into small cubes, so you want it to be well chilled
~ PATIENCE.
Now, you have to be patient. The dough has to rise, and then it has to be chilled before you can start shaping the pastry cups. 
Making gluten-free puff pastry can be intimidating, and it takes extra time. However, if you follow these three simple steps, you will get great results. The best part…there is nothing better than flaky, buttery puff pastry filled with a savoury, cheesy spinach filling.
If you have any leftovers for the next day, pop them in a hot oven for a few minutes until they are warm to touch or heat them in a microwave for about 20 seconds. 
Ingredients
PUFF PASTRY
2/3 cup warm milk (115 F)
1 tsp. sweetener (I used coconut sugar)
1/2 tsp. sea salt
2 Tbsp. melted unsalted butter, cooled to room temperature
2 large eggs, at room temperature
1 stick (1/2 cup) cold unsalted butter, cut into small cubes
SPINACH CHEESE FILLING
5 oz. fresh baby spinach (I small container, 142 g)
1 3/4 cups good quality ricotta cheese
1 cup shredded cheddar cheese, divided
2 large eggs, whisked
1 garlic clove, minced
1/2 tsp. Sea salt
1/8 tsp. GF ground nutmeg
*As an Amazon Associate and member of other affiliate programs, I earn from qualifying purchases. Please check out my sponsorship and disclosure policy page for more details
Instructions
PUFF PASTRY
In a small bowl, add 1 tablespoon of sugar and warm milk. Stir until the sugar has dissolved, then add the yeast and stir. Set aside until foamy, about 10 minutes
In a large bowl, whisk together flour, baking powder and salt.
Add melted butter and eggs to yeast mixture and mix. Add to dry ingredients and mix until you form a ball of dough. Cover the dough loosely with plastic wrap and allow to rise in a draft-free place for 1 hour
Place dough onto a lightly floured work surface and sprinkle with flour. Roll out into a rectangle that is about 1/2 inch thick. Scatter half the cold butter cubes over half of the dough. Fold the dough over the butter. Roll again and repeat one more time with remaining butter. Loosely wrap the dough in plastic wrap and refrigerate for 1 hour.
Preheat oven to 350 F and spray a muffin pan with cooking spray
Place dough onto a lightly floured work surface and sprinkle with flour. Roll to about 1/2 inch thickness. Using a cookie cutter, or a glass cut dough into circles about 3 1/4-inch in diameter. Place each circle in a muffin cup and press against bottom and sides to form a crust. Set aside
Prepare the filling; Steam the spinach for about 1 minute, until wilted. Squeeze any excess moisture and chop into small pieces. Add ricotta cheese, 3/4 cups cheddar cheese, eggs, garlic, nutmeg, salt, and mix. Spoon the filling into crusts
Bake for 35 minutes, then top with remaining cheddar cheese and bake for 5 more minutes until the cheese has melted.
Remove from the oven and allow to cool in the muffin pan for 10 minutes before serving.
Similar Recipes
Keto Ham And Cheese Egg Cups
Discover the easiest way to make a high protein breakfast with these Keto Ham And Cheese Egg Cups. Using only three ingredients plus seasoning, these ham and cheese egg cups are simple enough for anyone to make. They remind me a bit of an eggs benedict but without the muffin. The best part they are […] Read More
Prep Time
5 Minutes
Difficulty
Beginner
Cook Time
15 Minutes
Serves
4
Gluten Free Mini Quiche Muffins
The beauty of these Mini Quiche Muffins is its versatility – not only are they great at breakfast, but it's one of those foods that are delicious at any time of the day. After a long day in the kitchen creating recipes, I consider a quiche muffin a go-to dinner, especially after a long, tiring […] Read More
Prep Time
10 Minutes
Difficulty
Beginner
Cook Time
15 Minutes
Serves
2
Grain-Free Vegetarian Pizza Muffins
  If you are tired of basic gluten-free muffin recipes, this savoury, Grain-Free Vegetarian Pizza Muffin will become a hit! This delicious 10-ingredient muffin recipe is made using two types of cheese and without grains. And if you are watching your carbs, this muffin is also low-carb. Grain-Free Vegetarian Pizza Muffins – the ingredients This […] Read More
Prep Time
10 Minutes
Difficulty
Easy
Cook Time
25 -30 Minutes
Serves
6