Gluten-Free Potato, Bacon, Onion Perogies
Published on Aug 11, 2019
by
Kristina Stosek
Prep Time:

25 minutes
Cook Time:

35 minutes
Serves:

18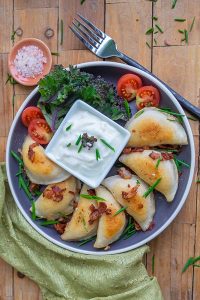 ​This post may contain affiliate links, please see our
privacy policy
for details
These freshly made gluten-free potato, bacon & parmesan cheese perogies are unapologetically the best.
This gluten-free recipe requires a little more hands-on work than my usual 15 minutes, but it is so worth it.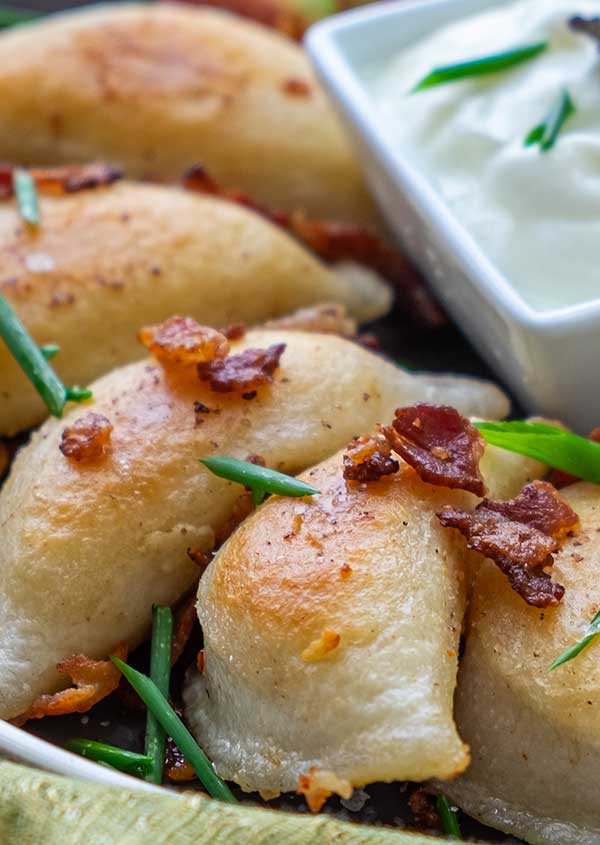 The perogies are filled with the most delicious combination of potato, bacon, onion and parmesan cheese and lightly browned in butter with bacon.
The bacon becomes crispy and adds a lot of flavour, making this dish anything but humble. Doesn't this sound soooo good!
This dish is on my list of favourite casual comfort foods. I love this recipe because you can make it ahead and freeze it for future use.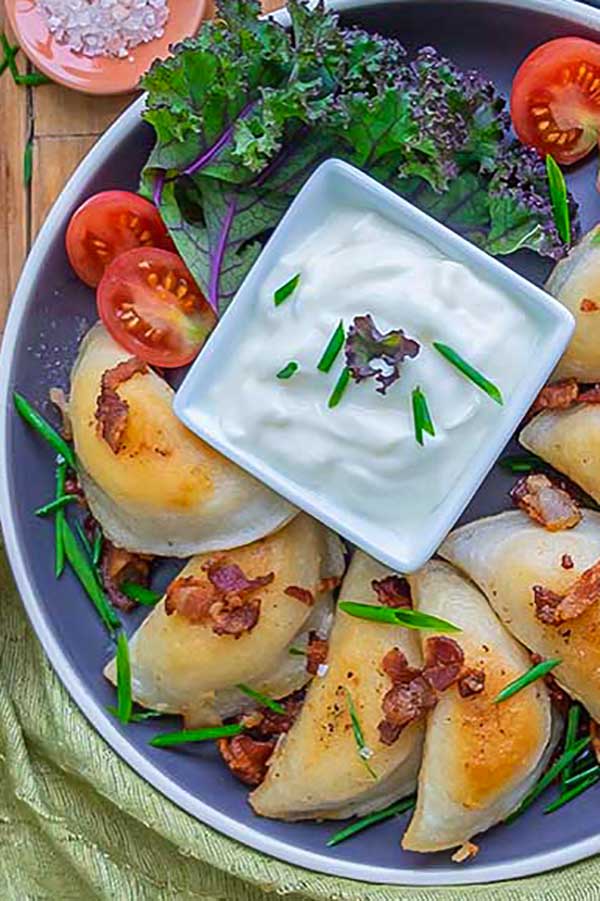 With back-to-school just around the corner, it is nice to have tasty perogies in the freezer ready to go.
For serving, I like to add sour cream or plain Greek yogurt with fresh chives or a hearty salad.
But I must warn you! These gluten-free perogies are super addictive, so make sure you make plenty. Enjoy!
Gluten-Free Potato, Bacon, Onion Perogies
Published on Aug 11, 2019
by
Kristina Stosek
Instructions
1.

FOR THE FILLING; boil potatoes in salted water until tender. About 15 - 20 minutes, then drain. Once potatoes are cool enough to handle, peel and mash them until smooth.

2.

While the potatoes are cooking, place bacon, butter and onions in a pan and cook over medium heat for 5 minutes. Add to potatoes with parmesan cheese and season with salt and pepper to taste. Stir until well combined. Set aside

3.

FOR THE DOUGH; Using a large bowl whisk together milk, sour cream, egg and salt. Add the flour half at a time and mix until well combined. Turn the dough onto a floured surface and lightly sprinkle with flour. Using your hands knead the dough until relatively smooth. Cover with plastic wrap and set aside for 15 minutes to rest

4.

ASSEMBLE; Roll the dough out on a floured surface to about 1/4-inch thickness. Add flour as needed to prevent sticking. Cut out circles about 4 inches in diameter and roll out to an oval shape about 1/8-inch in thick

5.

Place a bowl of cold water next to your work area. Spoon the filling in the center of each piece Use just enough filling that you can barely close the perogy without stretching the dough. I used 1 tablespoon. Using your fingers or pastry brush wet the edges. Pinch the edges tightly together to seal the perogies. 

6.

Bring a large pot of salted water to boil. Place perogies in the water without crowding them. Cook in batches until they surface to the water about 4 - 5 minutes. Drain on a paper towels

7.

TO FINISH; Heat butter and bacon in a large skillet over medium heat. Add perogies and sauté for about 3 minutes per side, until browned. Serve hot

8.

Note; for make ahead option, boil the perogies, drain and towel dry, then freeze. To serve, defrost for 20 minutes and sauté in butter and bacon