Gluten Free Oatmeal Coconut Squares
Published on Aug 13, 2017
by
Kristina Stosek
Prep Time:

10 minutes
Cook Time:

45 minutes
Serves:

16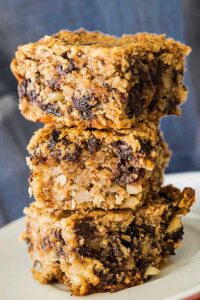 ​This post may contain affiliate links, please see our
privacy policy
for details
Your favorite breakfast is now more than just oatmeal – gluten free oatmeal coconut squares are an easy, healthy, and delicious way to start your day!
These squares offer a complexity of taste, texture, and, more importantly, healthiness. The oatmeal coconut squares are primarily made with certified gluten free oats, almonds, coconut, and raisins.
easiest recipes for oatmeal coconut squares
You will love this recipe because all you need is a food processor. No other bowls, easy cleanup and keeps the work time to a minimum. Another breakfast recipe made with oats you may enjoy is the Cranberry Walnut Overnight Oats, or the Gluten-Free Maple Oat Nut Scones.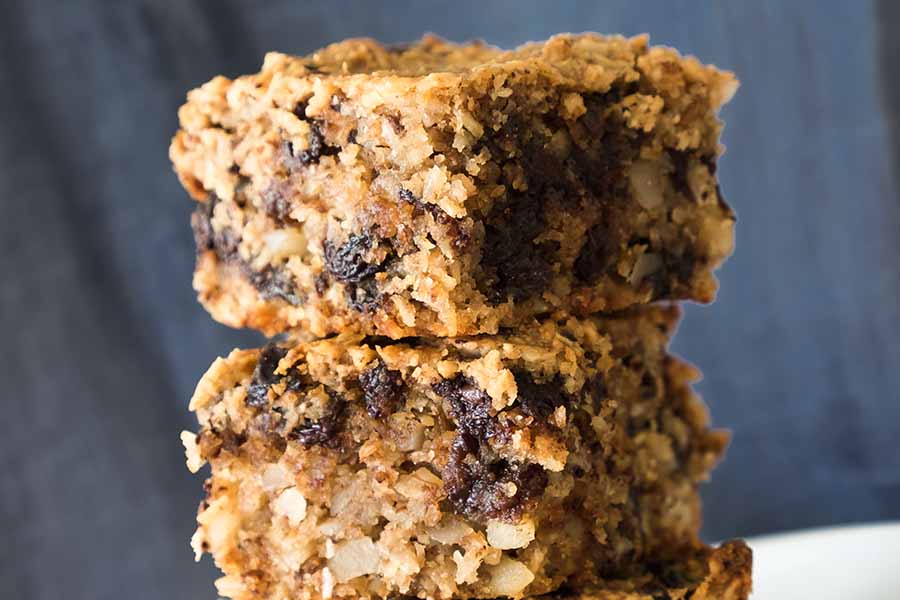 Gluten Free Oatmeal Coconut Squares Overview.
There are many reasons why we love gluten free oatmeal coconut squares.
One is avoiding gluten because of celiac disease or gluten sensitivity. Or perhaps we want to eat a healthier breakfast that is also filling and satisfying and will provide lasting energy.
Or, we LOVE oatmeal coconut squares! Whatever the reason, these vegan squares are a great choice!
Each square is made primarily with whole grain certified gluten free oats. The recipe includes other ingredients like coconut, dried fruit, nuts, and seeds to create delicious and nutritious squares for breakfast or snacks.
These squares are also high in fiber and protein, making them perfect for an on-the-go meal or snack. Plus, they're easy to make ahead of time, so they are ready when you need them!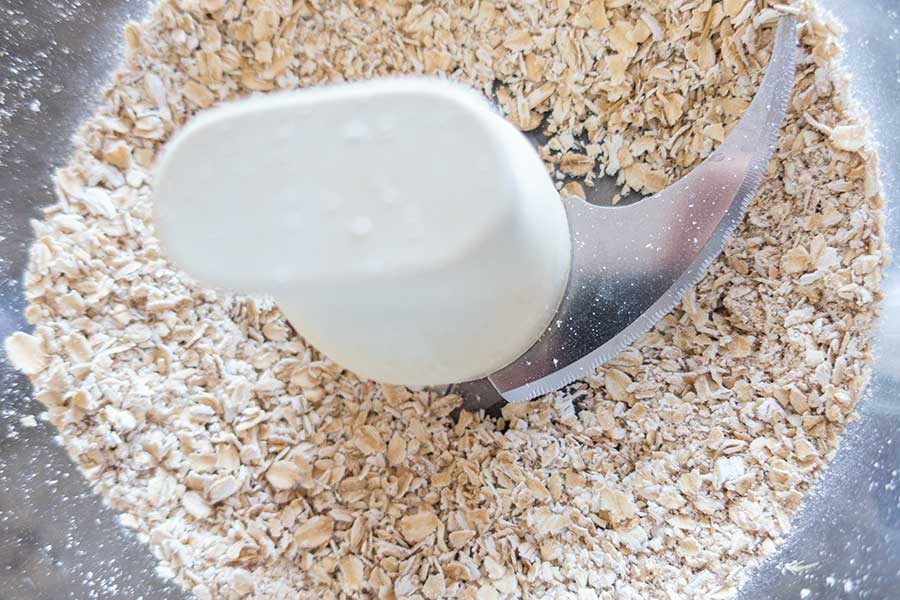 Why must celiacs eat only certified gluten free oats?
Oats are often processed on the same equipment as other gluten-containing grains. This creates a risk of cross-contamination with gluten.
Oats without a label stating that they are certified gluten free are not considered safe for those who have celiac disease.
How to Prepare and Store oatmeal squares
Preparing these gluten free oatmeal squares is pretty straightforward.
If you have a food processor, you only need about ten minutes to prepare the dough for baking. The entire recipe is made in the food processor.
If you don't have a food processor use a magic bullet or a blender to prepare the oats. The oats are partially processed to create a smaller flake, then mixed with the remaining ingredients to create a dough.
The dough is spread in a square baking pan and baked before cutting into squares.
the flavor,
For flavor, the squares are made with raisins and unsweetened coconut. You can also add good-quality chocolate chips for extra deliciousness.
The fat used in this vegan recipe is coconut oil. The shredded coconut and coconut oil create a good balance of oats and coconut flavor in these healthy gluten free squares.
The squares are also made with almonds for extra protein, texture, and heartiness. The entire gluten free recipe is made with ten nutrient-rich ingredients keeping the squares healthy.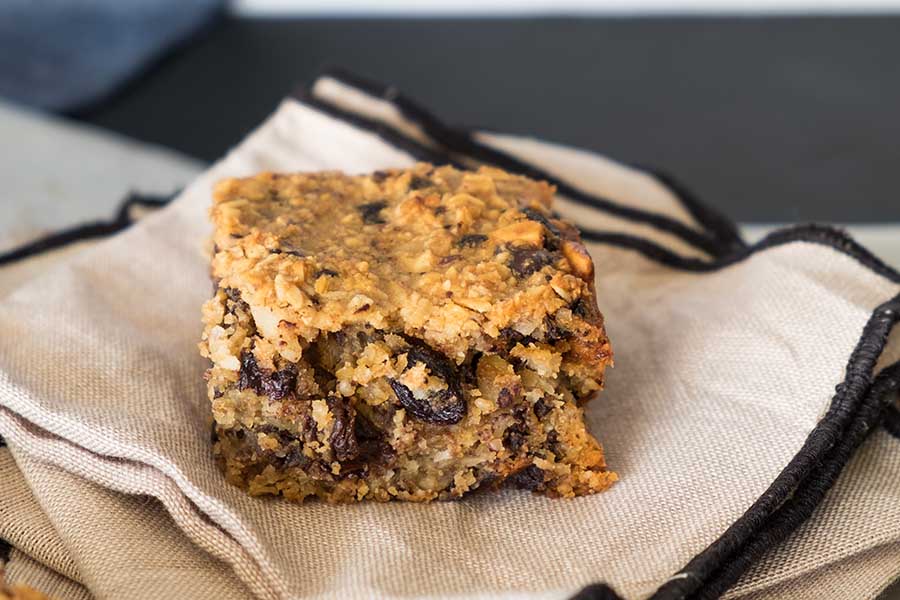 storing oatmeal coconut squares
To store these gluten free squares, wrap them tightly in cling wrap or place them in an airtight container. They will stay fresh at room temperature for up to 5 days or in the fridge for up to 2 weeks.
the texture of squares
The squares are chewy and moist, with a little crunch from the oats, almonds and coconut.
The raisins add a touch of sweetness, making these plant-based squares irresistibly tasty.
These oatmeal squares are also great for on-the-go snacks or enjoying them after a workout because you can take them with you wherever you go!
summary,
These protein-packed gluten free oatmeal coconut squares are packed with protein and fiber, and they have a deliciously chewy texture that will keep you satisfied all morning long.
Best of all, these plant-based oatmeal coconut squares are easy to make and are very tasty!
Let's Connect!
Be sure to FOLLOW US on FACEBOOK and PINTEREST.
Many thanks!
Kristina xx
Gluten Free Oatmeal Coconut Squares
Published on Aug 13, 2017
by
Kristina Stosek
Instructions
1.

Preheat oven to 375 F and line an 8 x 8-inch baking pan with parchment paper

2.

Place oats into a food processor bowl and pulse until the oats resemble thin flakes, not flour

3.

Add almonds, raisins, almond flour, flaxseed, and coconut and pulse to combine, about 5 times

4.

Add coconut milk, coconut oil, maple syrup and if using chocolate chips. Pulse until everything is just combined and a dough forms. Do not over process

5.

Transfer the dough into the prepared baking pan and bake for 45 minutes

6.

Allow to cool completely in the pan before cutting