Cranberry Walnut Overnight Oats
Published on May 20, 2021
by
Kristina Stosek
Prep Time:

5 minutes
Cook Time:

minutes
Serves:

4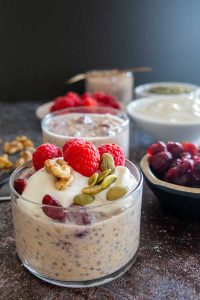 ​This post may contain affiliate links, please see our
privacy policy
for details
Gluten-Free Cranberry Walnut Overnight Oats…creamy oats filled with earthy walnuts, zesty cranberries, healthy chia and flax with a hint of cinnamon, vanilla, and sweetened with a splash of pure maple syrup. Doesn't this sound so delicious!
If you are unfamiliar with what overnight oats are, think of it as oatmeal, except there is no cooking involved. But wait, there is more! Since we don't cook the oats, we can add many healthy, delicious ingredients without compromising nutrients and textures. And, did I mention overnight oats take about two minutes of prep time.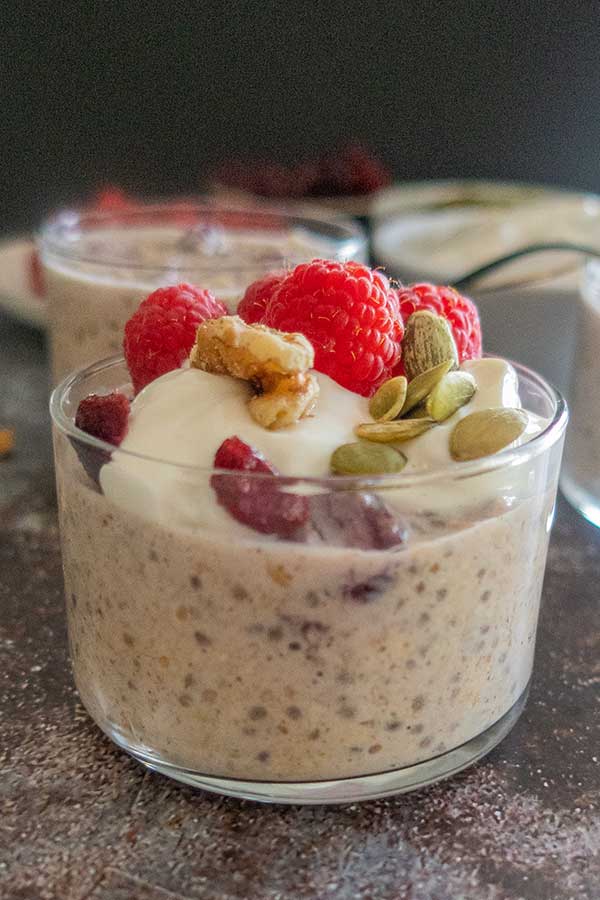 So, overnight oats are a combination of milk, fruit, seeds, nuts, flavours like vanilla and cinnamon and a sweetener. In this recipe I have also added yogurt. Everything is mixed together and chilled overnight. In the morning, the oats are ready to enjoy.
For breakfast, a snack, protein-packed light lunch and even a dessert if you so desire. The recipe is super easy and super healthy. The best part the cranberry walnut overnight oats are insanely delicious. The oats remind me of a walnut loaf, except it is oatmeal.
the details…
The overnight oats recipe is as easy as throwing everything in a bowl and chill overnight. The oats soften, become thick and creamy, and everything else is fresh, tasting and delicious.
overnight oats – the ingredients…
In this cranberry walnut overnight oat recipe, I added chia and flax seeds. Both are considered superfoods. Flaxseeds are high in omega-3 fatty acids, improve digestion, lower cholesterol and help lower blood pressure. Chia seeds are loaded with nutrients, and they are high in quality protein. Both flax and chia are rich in dietary fiber.
In America, oats have been served for breakfast as oatmeal since the early 19th century. Oats are hearty, rich in antioxidants, soluble fiber, and protein. Although oats are naturally gluten-free, I recommend buying certified gluten-free oats when following a gluten-free diet. Certified gluten-free oats are grown, harvested and processed in dedicated gluten-free areas to avoid cross-contamination from other crops like wheat or barley.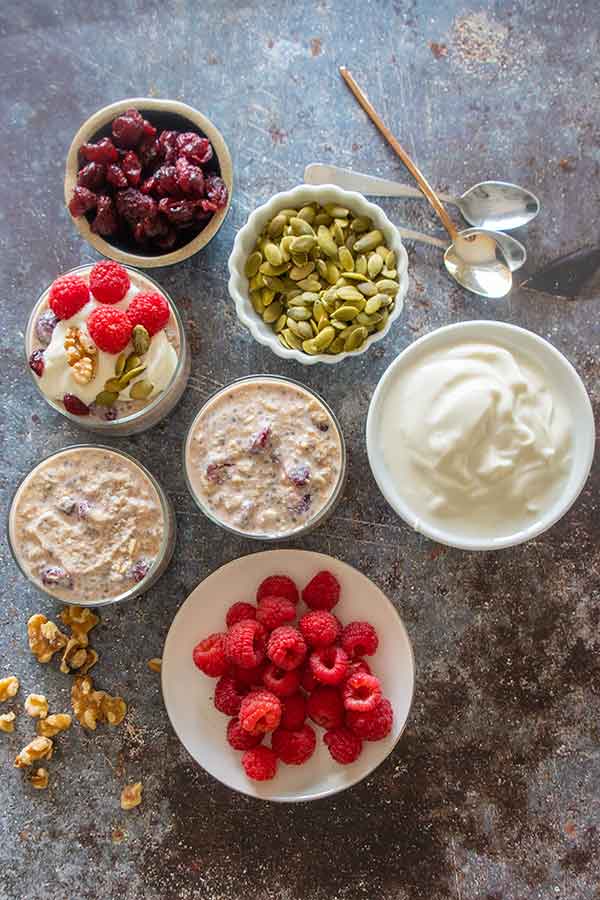 the toppings…
Here is where we can be creative and personalize each bowl of oats. Once we have the base of cranberry walnut oats, the toppings add more healthiness, flavours and textures. And we choose what we like. You don't have to add anything, but try some berries, seeds or yogurt, and the oats become even more yummy!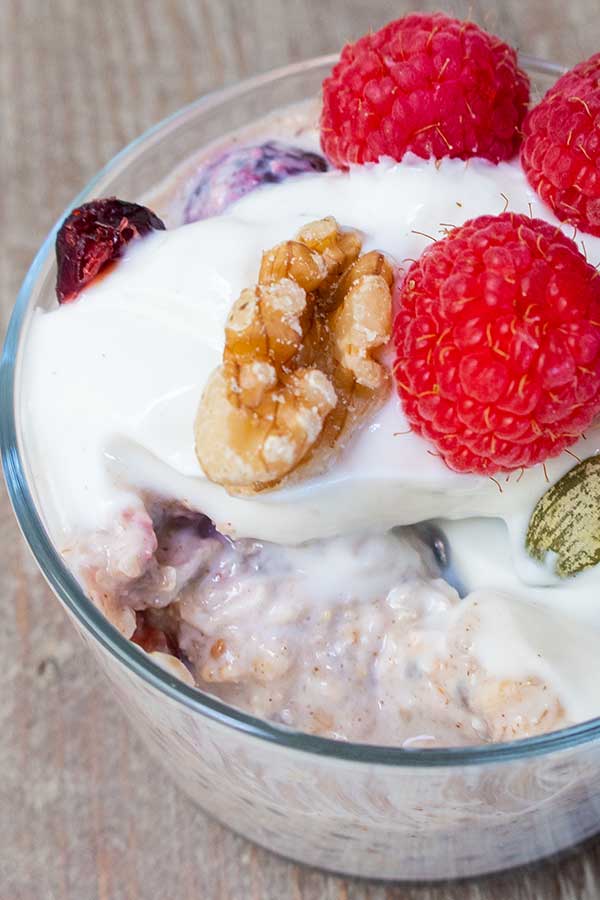 So, here is the deal. I love serving overnight oats for brunch. I prepare small bowls of various toppings to go with the overnight oats. It is so much fun to have multiple add-ons, and everyone is having fun with making their creations. This way, you can have more oats and fewer toppings or have just a spoonful of oats and lots of toppings. Either way, it is a win-win and a fun way to serve a healthy gluten-free breakfast or brunch.
If you ask me, the cranberry walnut overnight oats are the best of both worlds. Healthy and delicious! Enjoy!
Cranberry Walnut Overnight Oats
Published on May 20, 2021
by
Kristina Stosek
Instructions
1.

In a large glass bowl, mix oats, cranberries, walnuts, chia seeds, flax seeds and cinnamon

2.

Whisk together milk, yogurt, vanilla and sweetener and add to the oats. Mix to combine, cover and refrigerate overnight. Or, you can portion them into jars about 3/4 full and cover them with lids or plastic wrap

3.

The oats are even better on the second or third day, and they will keep for up to five days when refrigerated.