Gluten Free Marbled Banana Bread
Published on Feb 09, 2023
by
Kristina Stosek
Prep Time:

15 minutes
Cook Time:

60 minutes
Serves:

1 loaf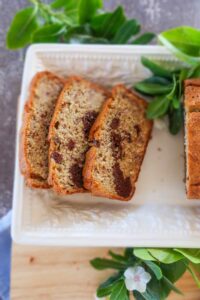 ​This post may contain affiliate links, please see our
privacy policy
for details
This Gluten Free Marbled Banana Bread is by far the best recipe. The extra light tender crumb has a hint of fresh banana flavor, vanilla and swirls of chocolate cake throughout. You will find that this dairy-free banana bread will melt in your mouth.
Just imagine a bite of the perfect banana bread combined with chocolate cake!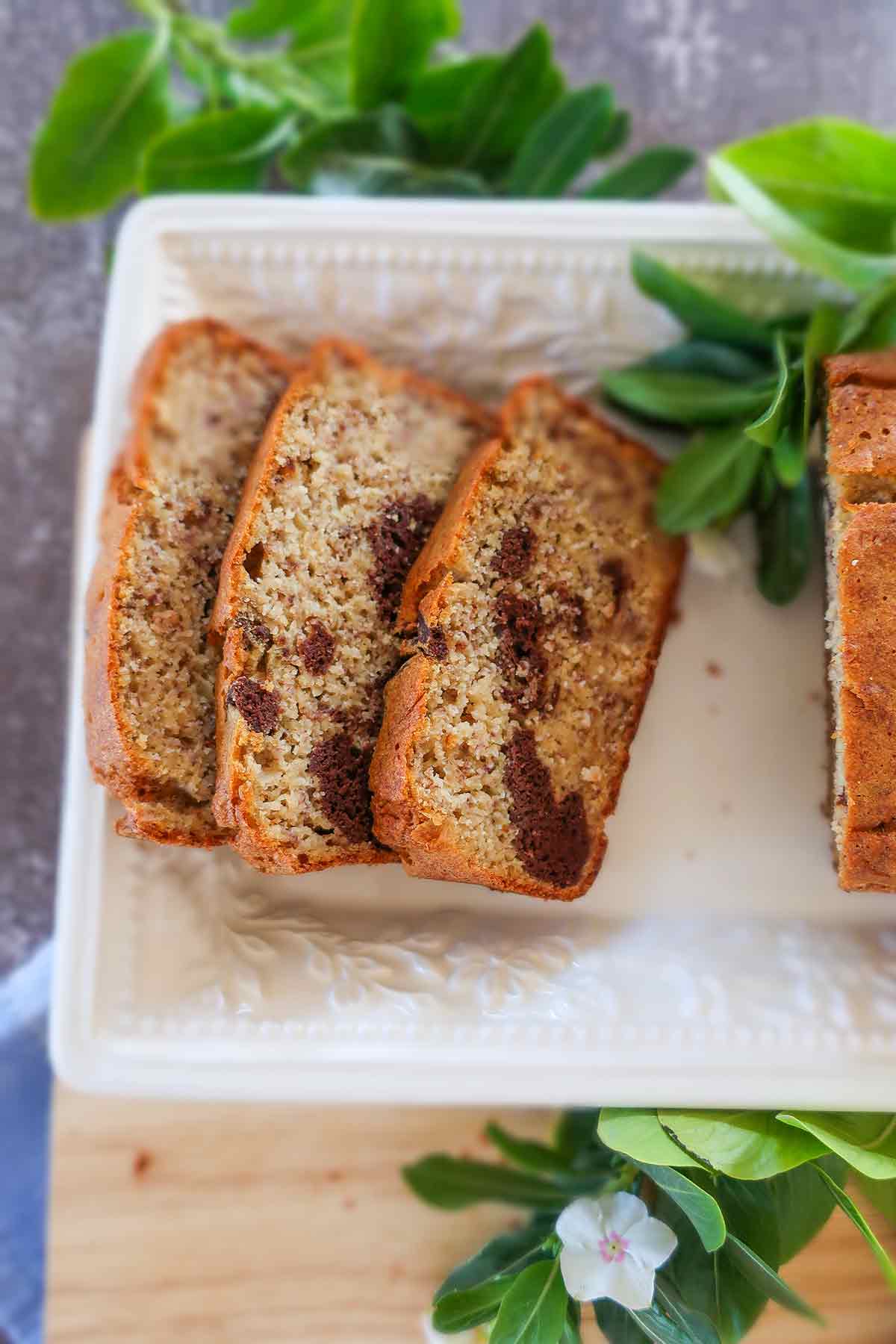 The nostalgia of banana bread.
Banana bread is a staple in most households. Everyone can appreciate the flavours of freshly baked banana bread – with warm aromas of chocolate, nutmeg, vanilla and bananas throughout the home.
This gluten free recipe incorporates the classic flavours of banana bread into a delicious and unique marbled loaf, and without the overpowering flavor of just bananas. In addition, it is not dense as most banana bread is.
Why add chocolate to banana bread?
The answer is simple, chocolate and bananas are meant to be together. The combination of bananas and chocolate is insanely delicious!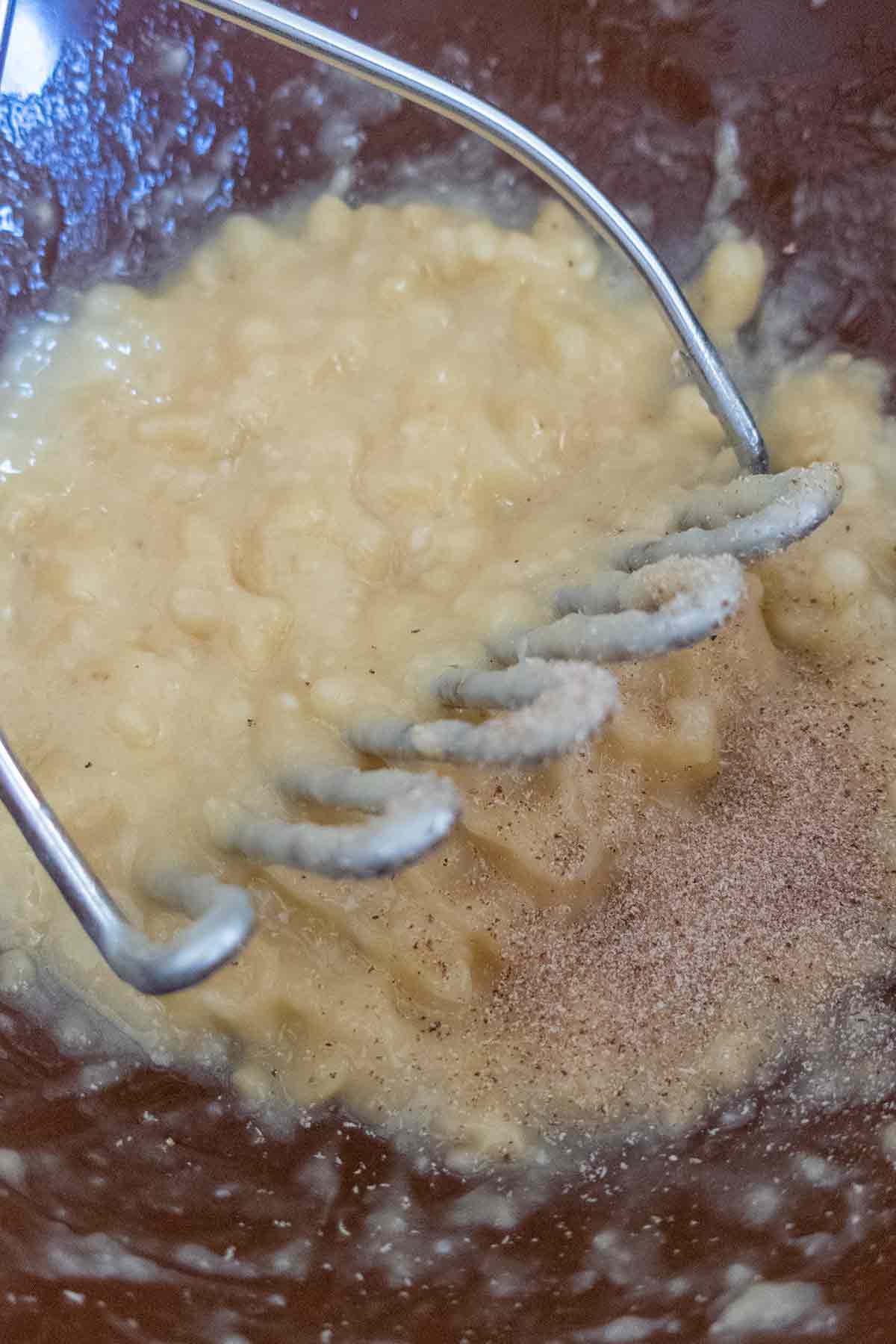 How do you keep mashed bananas from browning?
To keep this gluten free banana loaf a light golden color, mash the bananas with fresh lemon juice. The lemon juice will prevent the bananas from oxidation and keep the bread a beautiful golden color. In addition, the banana flavor will stay exceptionally fresh tasting.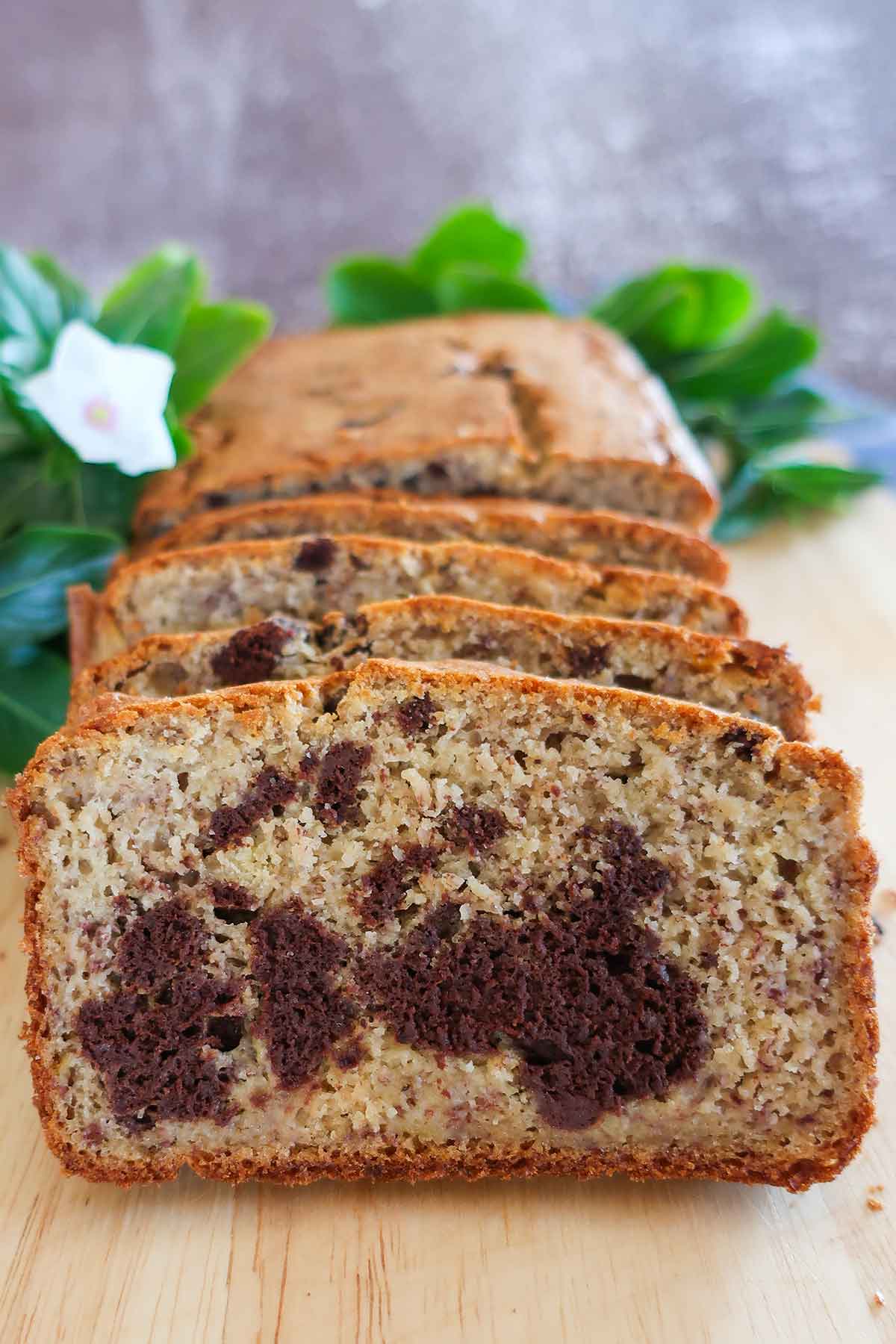 How ripe should a banana be for marbled banana bread?
You want your bananas to be pretty ripe with lots of brown spots for traditional banana bread. This will give your bread a more intense banana flavor and extra sweetness.
If you are looking for a hint of fresh banana flavor, go for less ripe bananas with more yellow than brown on the skin and with a bit of firmness. You will use the same amount of bananas, just not as ripe.
Why are bananas an excellent fruit to add to gluten free baked goods?
Bananas add moisture and keep gluten free baked goods moist for days. Gluten free bread, cake or loaf tend to be dry after the first day. However, adding mashed bananas to the batter will keep baked goods moist and fresh tasting for days.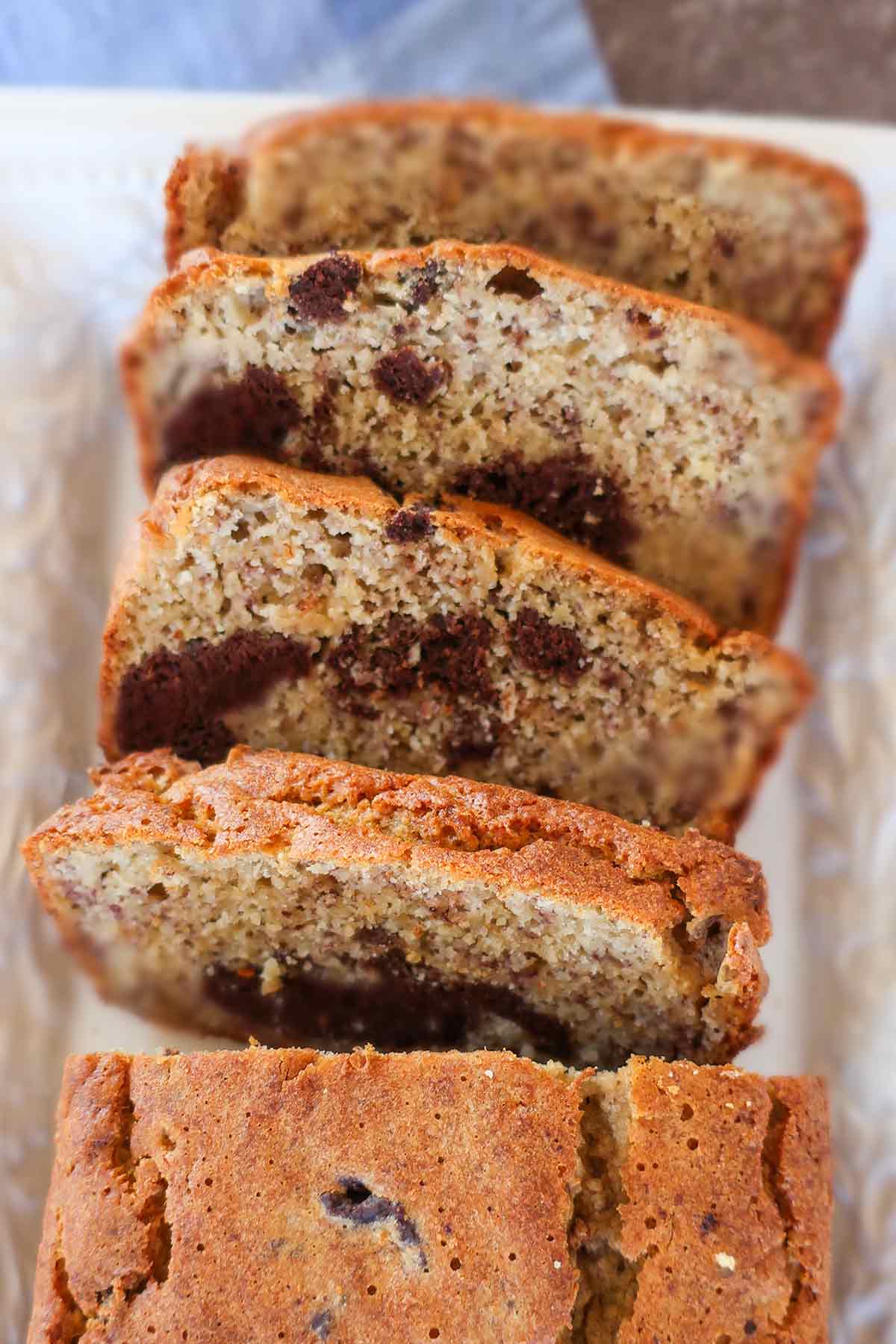 Why is this gluten free marbled banana bread extra light?
Most banana bread recipes are made with eggs. The whole eggs are typically incorporated into the batter. In this recipe, the eggs are separated, and the egg whites are whipped first before they are added to the batter, thus giving the loaf an extra light crumb.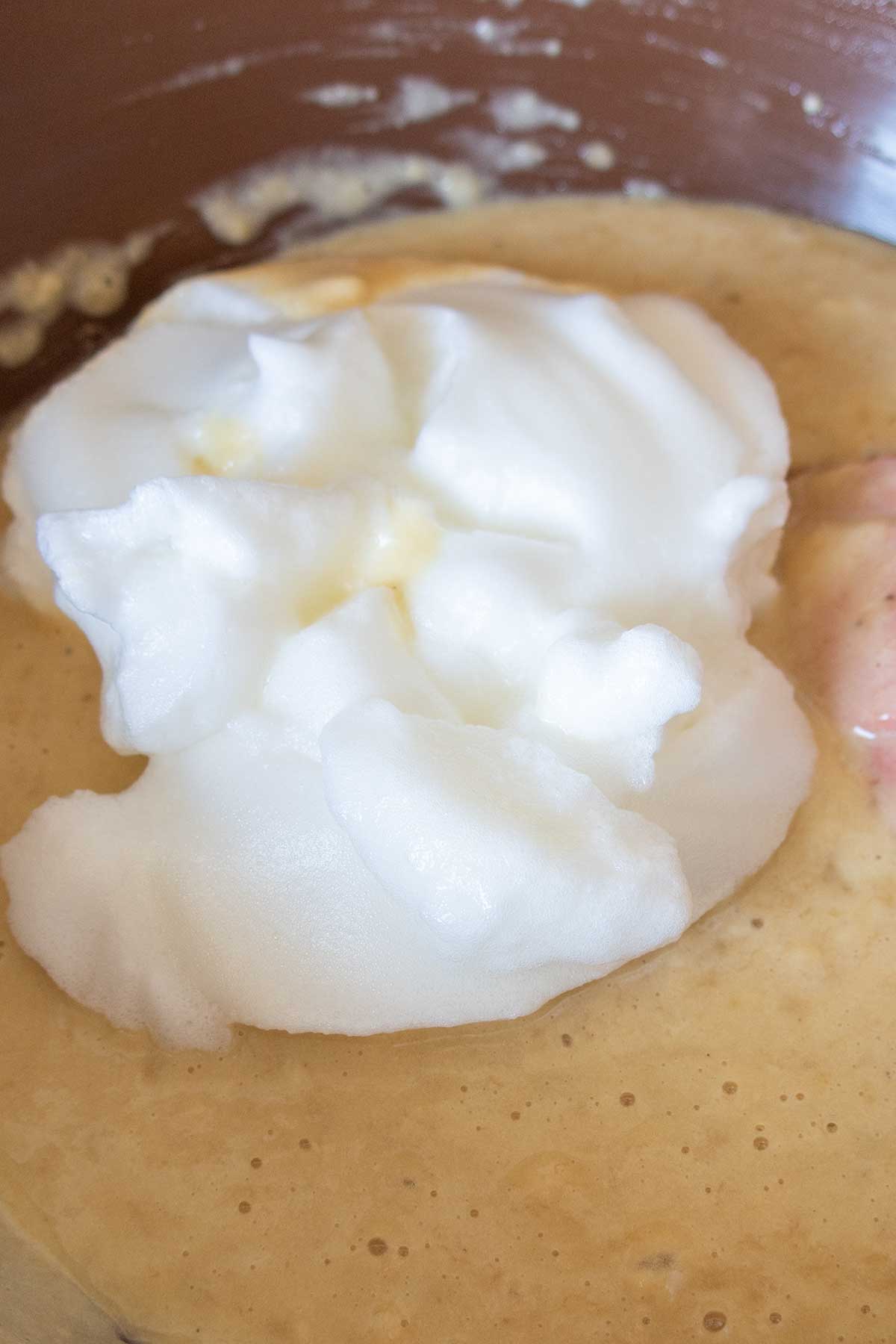 Ingredient substitutions:
Whether you don't have the right ingredients or prefer a different flavor and texture here are some substitutions you can use.
Millet flour: Sweet sorghum flour.
Almond flour: Certified gluten free oat flour. The bread will be a little dryer.
Lemon juice: Orange juice or apple juice
Brown sugar: Granulated sugar, honey, pure maple syrup or agave
Non-dairy milk: you can use any milk of choice
Olive oil: avocado oil or any vegetable oil. I would not use coconut oil because it alters the fresh banana flavor and will solidify when cooled, making the loaf dense.
Pure cocoa powder: 1/2 cup of gluten free mini chocolate chips. Do not mix them in the batter. Instead, scatter them over the top and, using a knife, briefly swirl through the cake batter.
And you can add 1 cup of chopped walnuts if you wish.
Special equipment you will need
Electric mixer
9 x 5-inch loaf pan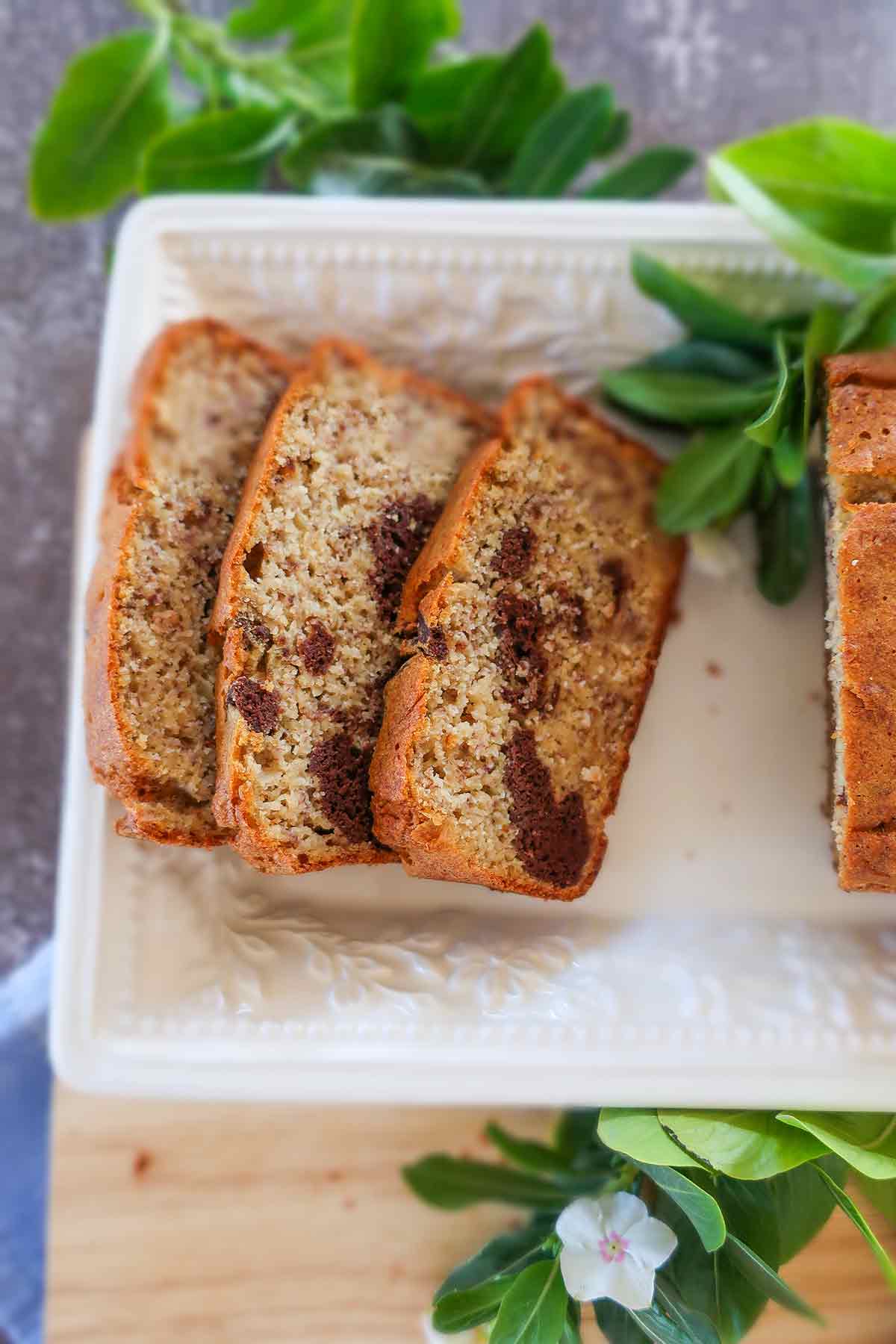 Why are some banana breads a dark colour?
The ingredients define the color of the banana bread. However, when the mashed banana oxidizes, it becomes dark brown, thus giving the loaf a dark color. Another reason a dark type of flour, such as buckwheat, will affect the color of the bread.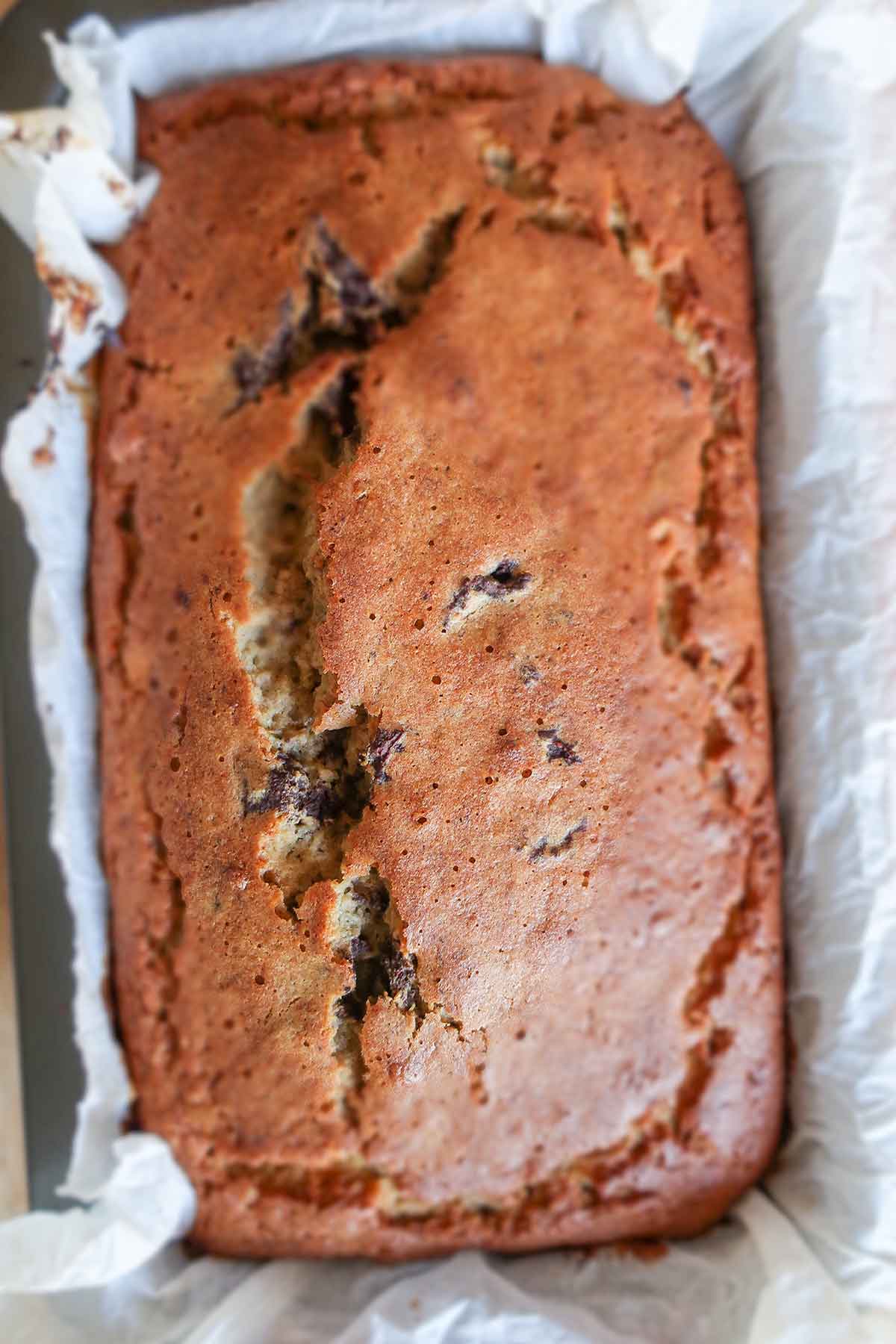 How to keep marbled banana bread texture smooth?
All the ingredients should be at room temperature before baking. Room temperature ingredients mix more easily and produce a more consistent batter. This is especially important when making gluten free banana bread because you want to avoid lumps in the batter. Room temperature ingredients also bake more evenly, making your final product more consistent in texture.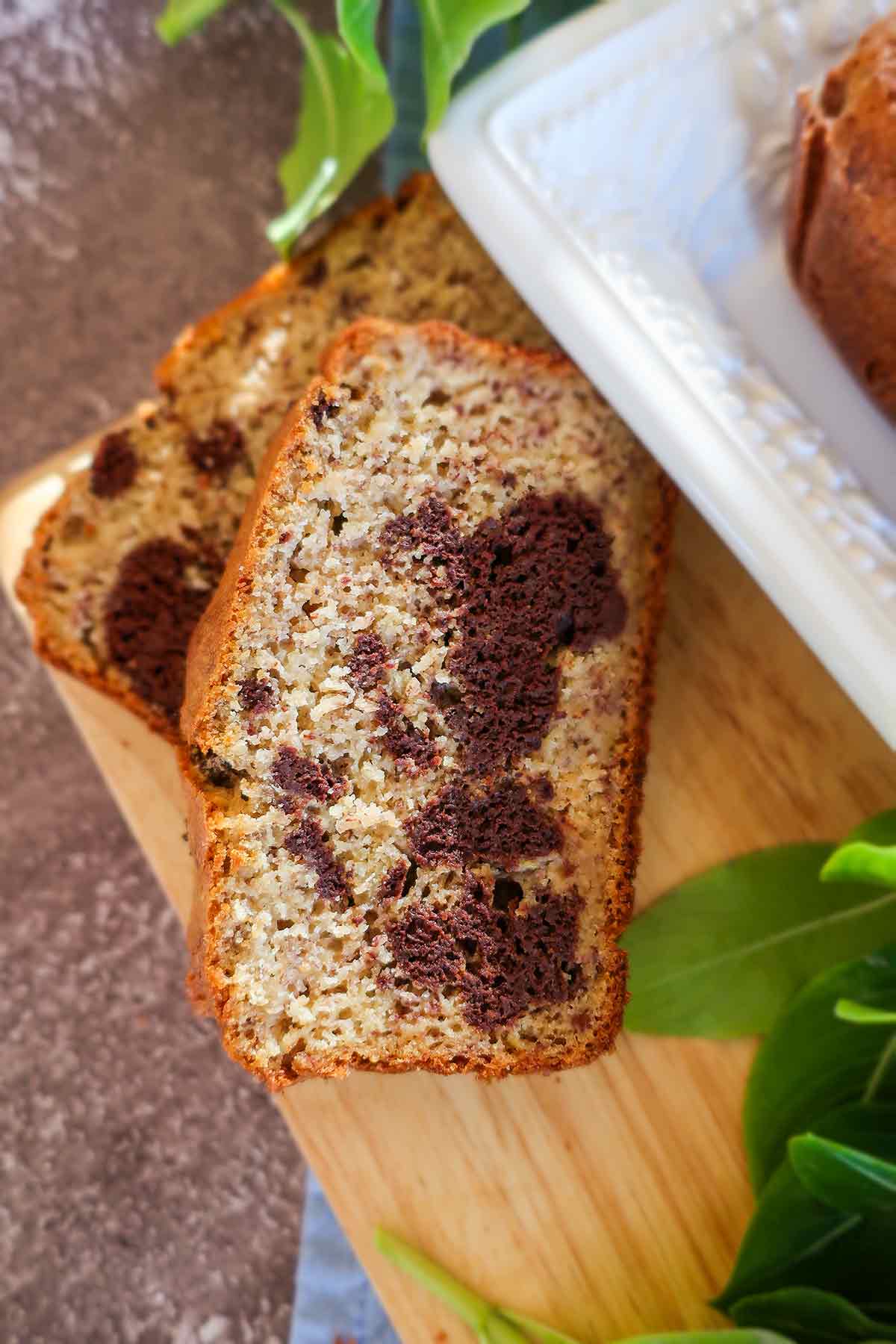 How long will banana bread keep?
Gluten free marbled banana bread should last about 2-3 days on the counter. If you want it to last a week, store it in the fridge in an airtight container. Or you can slice the bread and wrap each slice individually with plastic wrap or foil paper and place them in a freezer bag. They will keep up to 2 months in the freezer.
3 of our favorite gluten free banana recipes
the takeaways
There are a few key takeaways from this gluten-free banana bread recipe:
— It's important to use ripe bananas. The riper the bananas, the sweeter the bread will be. However, the bananas don't have to be super ripe.
— This recipe uses a combination of rice flour, millet flour, almond flour and tapioca flour, which helps to create a light and airy texture.
— Be sure to whip the egg whites separately.
— This banana bread is dairy-free, so it's perfect for those with lactose intolerance.
There are many banana bread recipes out there. So why choose this gluten free marbled banana bread? If you love a banana loaf that is light and airy, with a hint of fresh banana and vanilla flavor with chocolate cake throughout, then this is the recipe to try. You will NOT be disappointed, so why not give this recipe a try?
Gluten Free Marbled Banana Bread
Published on Feb 09, 2023
by
Kristina Stosek
Instructions
1.

Preheat oven to 350 F and line a 9 x 5-inch loaf pan with parchment paper or spray generously with cooking oil.

2.

Mash ripe bananas using a fork or potato masher with lemon juice, vanilla, salt and nutmeg

3.

In a small bowl, beat 2 egg whites with an electric mixer until stiff peaks form. Set aside

4.

Add 2 egg yolks to mashed bananas and beat with an electric mixer until smooth. Add sugar and beat to combine. Add milk and olive oil and beat until smooth

5.

In a separate bowl, whisk together flours, baking powder, baking soda and xanthan gum. Create a little well in the middle and add the banana mixture. Using a spatula, mix all the ingredients. Fold in the egg whites and gently mix until smooth. 

6.

Remove 2 cups of the batter and place in the bowl where your dry ingredients were. Add cocoa powder to the 2 cups of batter and mix until smooth

7.

Pour white batter into the prepared loaf pan. Dollop the top with the chocolate batter, then create swirls throughout the white batter by using a knife 

8.

Bake for 60 minutes until golden brown color. Remove the bread from the loaf pan and cool on a cooling rack