Gluten-Free Italian Crackers
Published on Dec 02, 2019
by
Kristina Stosek
Prep Time:

5 minutes
Cook Time:

20 minutes
Serves:

4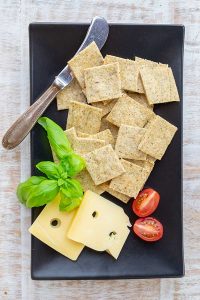 ​This post may contain affiliate links, please see our
privacy policy
for details
Savoury, crispy Gluten-Free Italian Crackers made from scratch. The best part, all you need is five minutes of prep time. How wonderful is that?
Store bought gluten-free crackers tend to be costly, so making the gluten-free crackers at home not only they are fresh tasting, but you can make them at a fraction of the cost.
One of the reasons I am super excited about this recipe is because I discovered a gluten-free Italian coating mix by Namaste.
This mix is made with herbs and spices, flours and flax, adding Italian flavour and perfect texture to these gluten-free crackers. In addition, I cut down on additional ingredients by using this mix, simplifying this cracker recipe.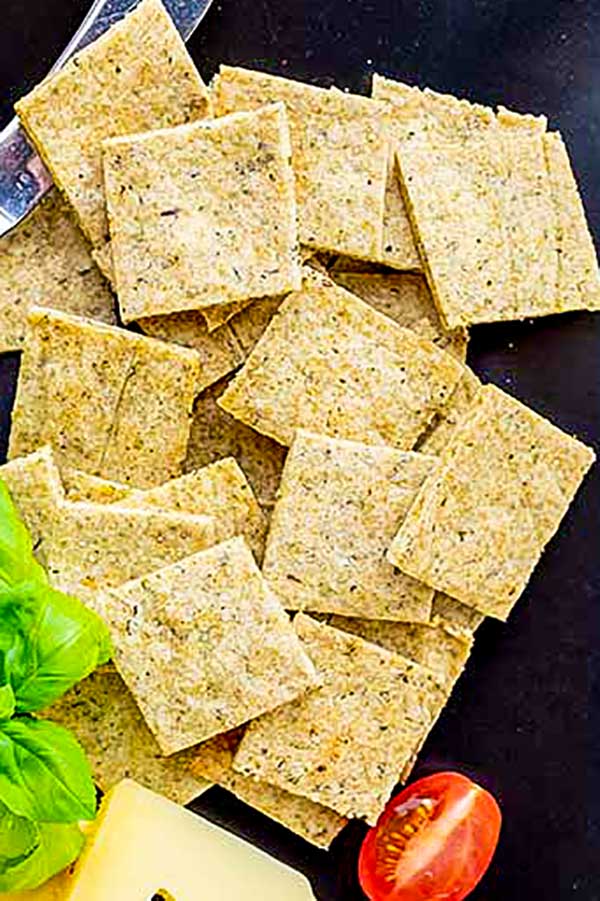 The entire recipe has only five ingredients plus water. What I love about these gluten-free Italian crackers, they make an excellent addition to antipasto, cheese platters or serve with a hot pizza dip.
Making gluten-free crackers is easy!
First, you whisk the dry ingredients together. Then add water, extra virgin olive oil and apple cider vinegar and mix briefly.
It is important not to over mix the dough, or the crackers will not be as crispy, but they will still be flavourful and fun to eat.
Once you have the dough made, which takes about two minutes, roll the dough between two sheets of parchment paper as thin as possible.
Then, using a pizza cutter, cut into desired shapes. Now bake, and you are done! How easy is that? Enjoy 🙂
Gluten-Free Italian Crackers
Published on Dec 02, 2019
by
Kristina Stosek
Instructions
1.

2.

In a medium bowl whisk together dry ingredients

3.

Add water, olive oil and apple cider vinegar and mix until just combined. Depending on the flour blend, you may need to add a little more water or a little extra flour. The dough should stick together but not be sticky to touch. Do not over mix or the crackers will not be as crispy

4.

Create a flat disc and place between two sheets of parchment paper. Roll out into a very thin oblong shape. About 1/8-inch thick or less, the thinner, the crispier crackers. Make sure the dough has even thickness, or the edges will burn

5.

Place on a baking sheet and carefully peel off the top sheet of parchment paper. Using a pizza cutter cut the dough into 2-inch squares

6.

Bake for 17 - 20 minutes until golden and crisp, depending on the thickness of the crackers. Leave on a baking sheet to cool fully. Store in an airtight container