Gluten-Free Fruit And Nut Honey Bread
Published on Feb 23, 2021
by
Kristina Stosek
Prep Time:

5 minutes
Cook Time:

35 minutes
Serves:

1 loaf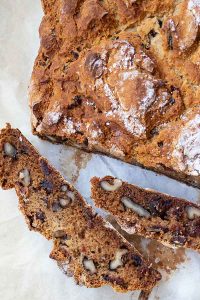 ​This post may contain affiliate links, please see our
privacy policy
for details
This gluten-free bread is a classic honey bread made with walnuts and cranberries. The earthy, rich bread is made without yeast, only seven ingredients, and takes about five minutes to whip up.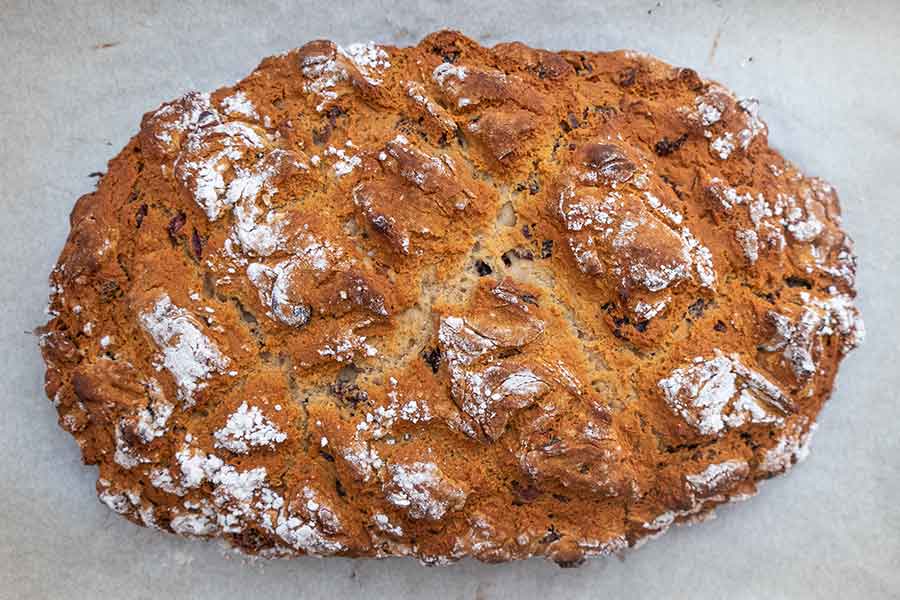 Call me old-fashioned, but I find baking therapeutic. The aroma of freshly baked bread spreading out through the house makes everything better, especially when the honey bread tastes this good!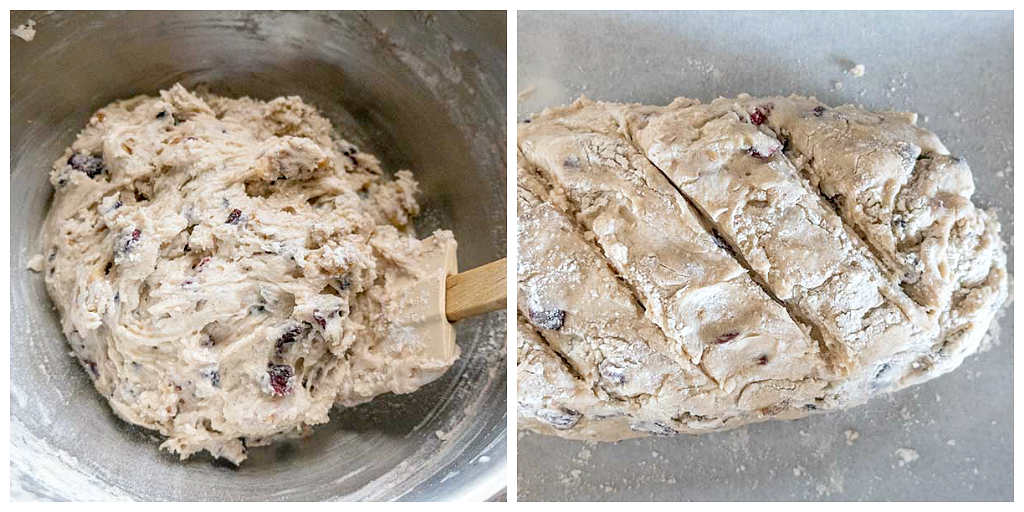 WHAT IS GLUTEN FREE FRUIT AND NUT HONEY BREAD?
This is a hearty, festive soda breakfast bread rich in flavour from zesty dried cranberries and earthy walnuts and is lightly sweetened with honey. Just slice, lightly butter and enjoy. Or, add a slice of your favourite cheese. YUM!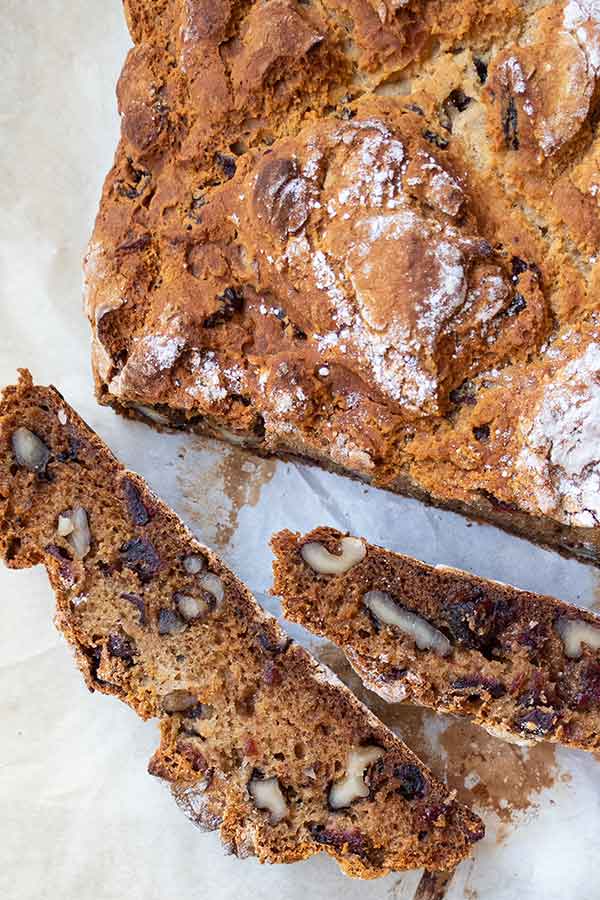 CHANGE UP THE MIX-INS
Having gluten-free fruit and nut honey bread makes for a nice change from muffins for breakfast. The bread is packed with nutritious walnuts and zesty cranberries. And it has plenty of protein and fiber.
Feel free to add to your mixings if you want to use something other than cranberries and walnuts. Add up to two cups of your favourite nuts and dried fruit, such as pecans, almonds, dried apricots, and raisins. The options are limitless.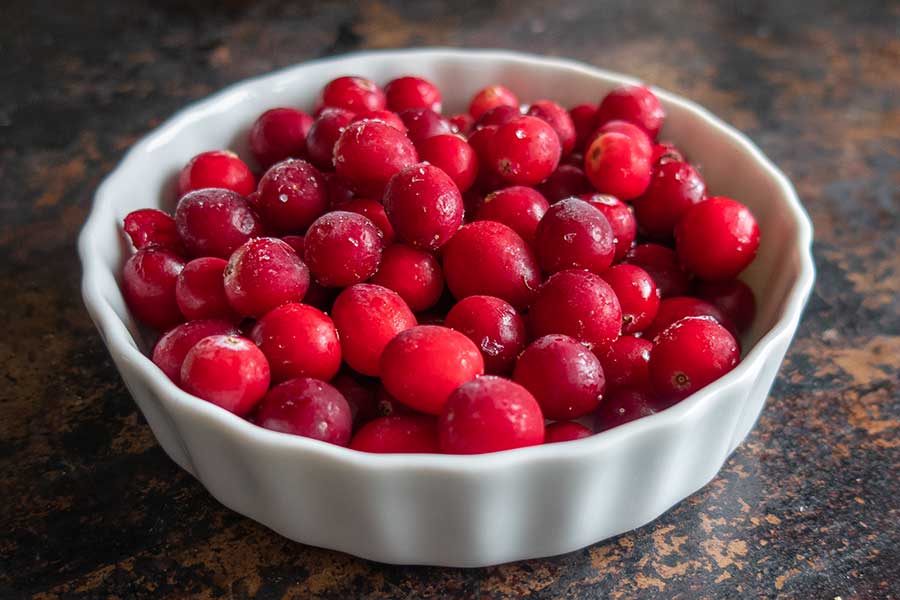 Are dried cranberries nutritious?
Dried cranberries are packed with antioxidants and vitamins as per NDTV. Always try to get organic dried cranberries, they can provide you fiber, Vitamins B, C, E and K." Commercially packed cranberries are often ladened with sugar, and unwanted additives.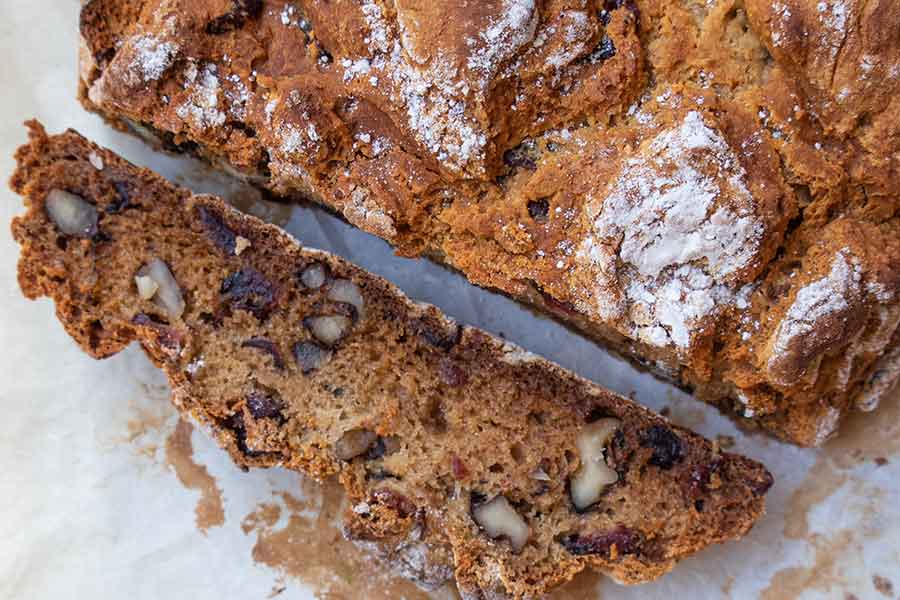 gluten free honey bread for breakfast
Starting your day with an earthy, delicious slice of honey bread will keep you energized and satisfied for hours. The protein and fiber that this bread contains are a good way to keep our bodies healthy. Using only honey as a sweetener, this gluten-free bread is more nutritious than traditional sweet muffins.
However, don't think that this fruit and nut honey bread is only for breakfast. This bread is super tasty when used for dipping in balsamic vinegar and olive oil. YUM!
I also like to serve it with cheese or as a side to green salads, especially our Shredded Brussel Sprouts and Cranberries Salad.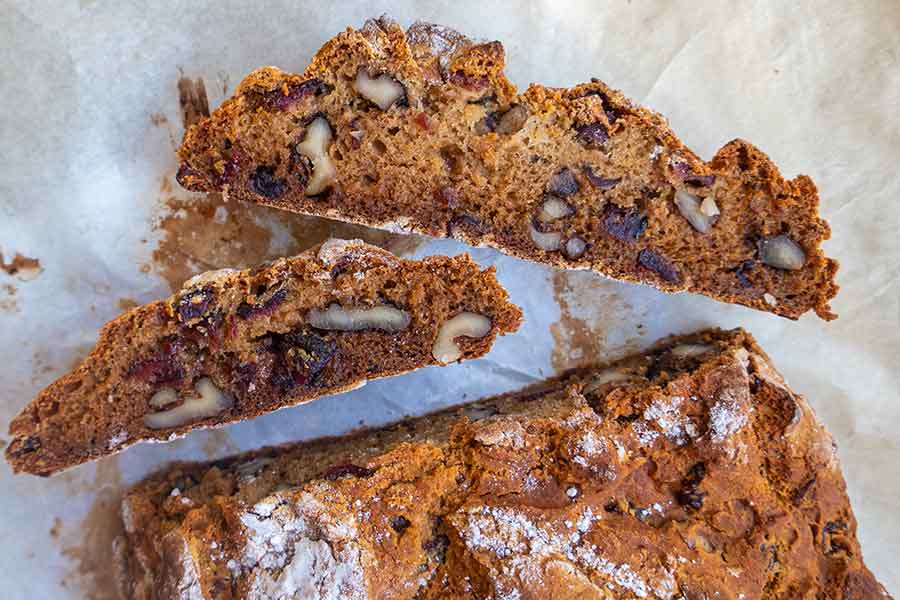 I hope you will try this honey bread recipe. It is super tasty and easy to make with added health benefits. The bread is not too sweet and has an excellent texture.
Most gluten-free bread is best when eaten fresh on the same day. This gluten-free honey bread will be just as delicious the next day. Enjoy!
If you like this bread, you will enjoy our gluten-free blue cheese pistachio soda bread.
Let's connect
Meet Kristina. Passionate about creating delicious, innovative gluten free recipes, and author of two gluten free cookbooks, "Entertaining The Gluten Free Way" and "Small Bites The Gluten Free Way".
Be sure to FOLLOW US on FACEBOOK or, check us out on PINTEREST. And don't forget to sign up for our newsletter. We always have something new and exciting for you!
Many thanks!
Kristina x
Gluten-Free Fruit And Nut Honey Bread
Published on Feb 23, 2021
by
Kristina Stosek
Instructions
1.

2.

Using a large bowl, whisk together flour, baking soda and salt

3.

Stir in buttermilk and honey, and mix until just combined. Do not over mix, or the bread will become dense. Fold in walnuts and cranberries

4.

Line your working surface with parchment paper and lightly dust it with flour. Transfer the dough onto the paper and dust with more flour. The dough will be sticky. Using your hands, form the dough into a loaf and, using parchment paper, transfer the loaf onto a baking sheet. Using a sharp knife, slice the top 3 to 4 times

5.

Bake for 32 - 35 minutes, until a toothpick inserted in the center, comes out clean