Gluten-Free Blue Cheese Pistachio Soda Bread
Published on Feb 17, 2021
by
Kristina Stosek
Prep Time:

10 minutes
Cook Time:

35 minutes
Serves:

1 loaf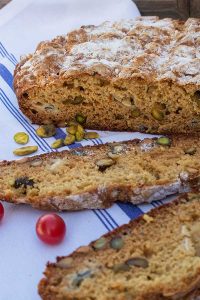 ​This post may contain affiliate links, please see our
privacy policy
for details
The picture says it all! This delicious gluten-free blue cheese soda bread is lightly sweetened with honey, flavoured with blue cheese's saltiness and has crunchy pistachios throughout. The gluten-free soda bread is sooo good! The texture is perfectly soft with a firm crust. You will love it!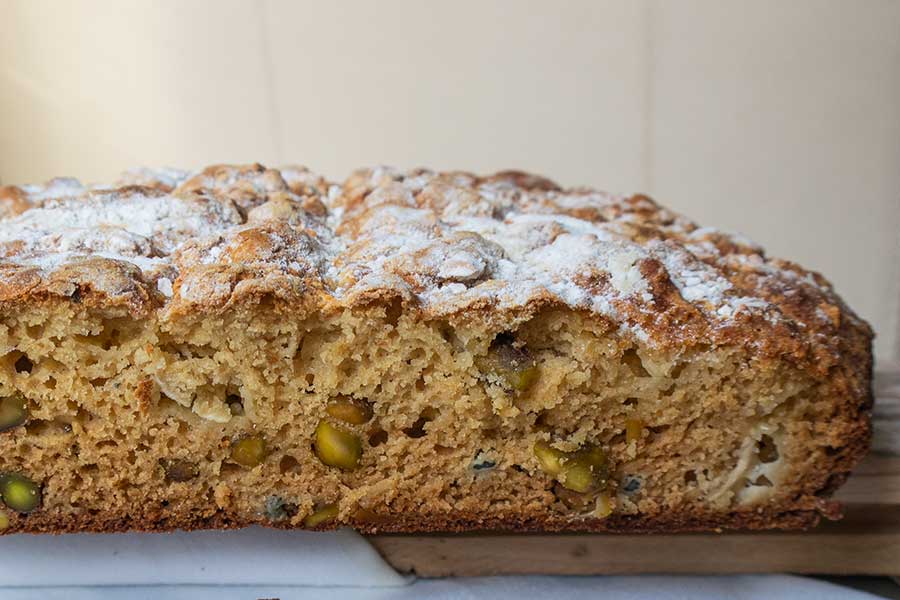 Easiest gluten-free soda bread recipe!
What I love about this blue cheese pistachio soda bread is the super easy recipe. First, you mix the three dry ingredients. Then crumble the cheese in and add the liquids.
At the very end, fold in the pistachios and form a ball of dough. No kneading, no waiting, just baking 🙂 The easiest gluten-free soda bread recipe ever!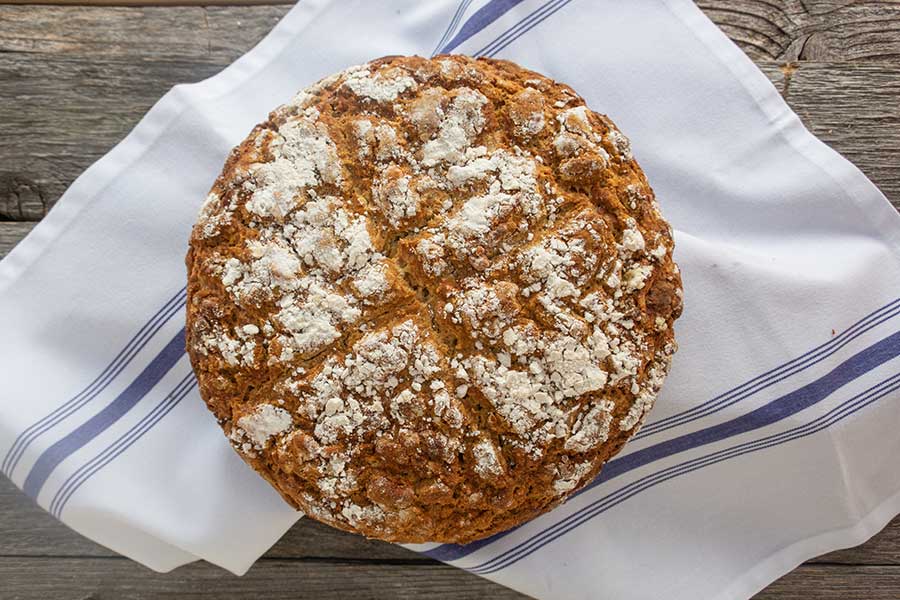 This gluten-free soda bread recipe is made with buttermilk and honey. Both add richness and keep the bread moist. The blue cheese is something I always wanted to try in a gluten-free bread recipe.
Soda bread is a mild-tasting bread, and the saltiness of blue cheese adds more flavour, making this bread so delicious!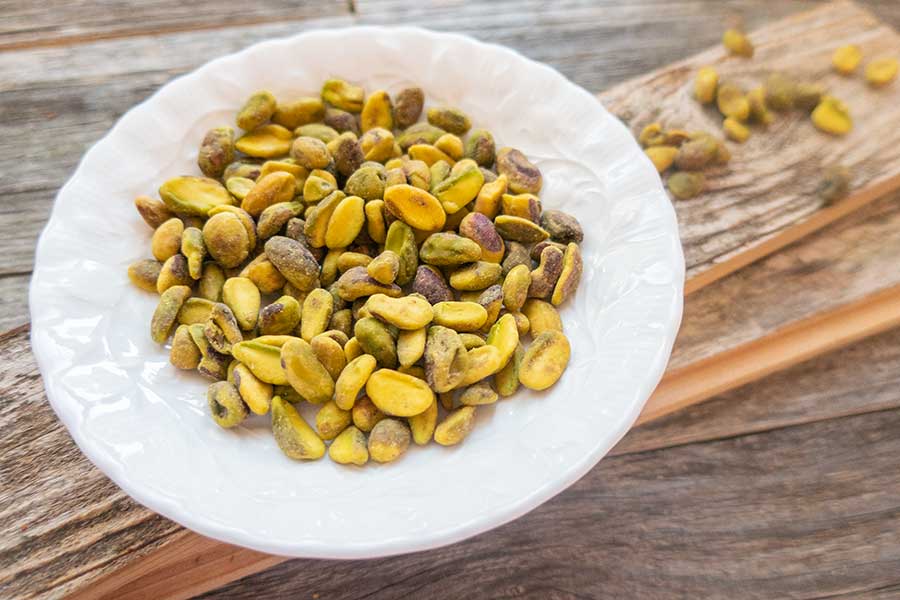 Why add pistachio nuts to gluten-free soda bread?
I wanted to add healthiness to this bread. Why not pistachios? These flavourful nuts added texture and flavour. They are amazing! These small green nuts are loaded with nutrients and are low in calories.
Pistachios have only about 159 calories for 49 pistachios, 6 grams of protein, more than most other nuts, 3 grams of fiber, and rich in copper, vitamin B6 and phosphorus.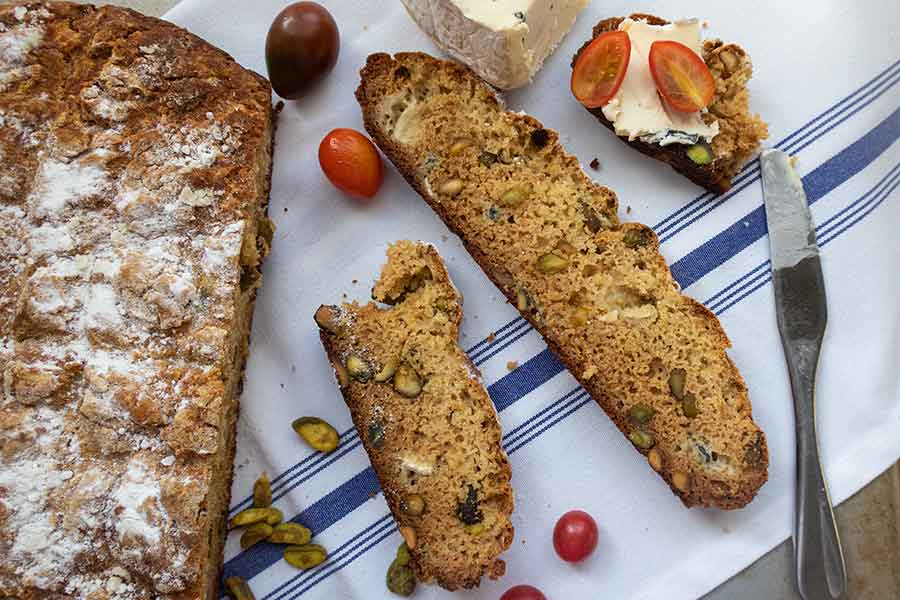 Ways to serve blue cheese pistachio soda bread.
Since this gluten-free blue cheese pistachio soda bread is mildly flavoured and has the crunchy texture of pistachios, you can serve it with just a smear of butter. This bread makes for a delicious snack any time of the day.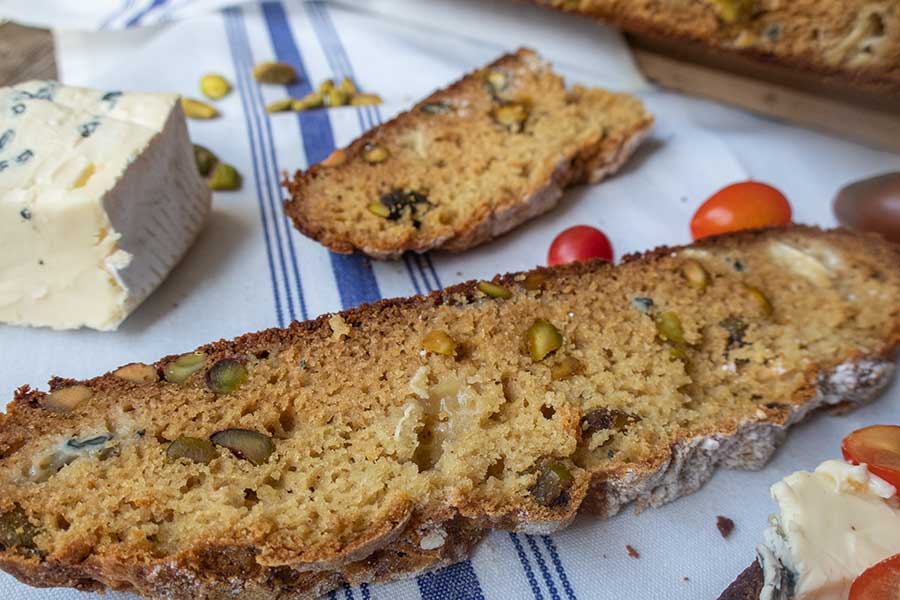 However, I like to serve it with extra cambozola cheese and cherry tomatoes as an appetizer. This bread goes exceptionally well alongside light soups and salads. I hope you give this gluten-free soda bread a try. You will not be disappointed. Enjoy!
Gluten-Free Blue Cheese Pistachio Soda Bread
Published on Feb 17, 2021
by
Kristina Stosek
Instructions
1.

2.

Using a large bowl, whisk together flour, baking soda and salt

3.

Add roughly chopped or crumbled blue cheese, and using your fingers, work into the flour until the cheese is well coated with the flour

4.

Stir in honey and buttermilk, and mix until just combined. Do not over mix, or the bread will become dense. Fold in the pistachios

5.

Line your working surface with parchment paper and lightly dust it with flour. Transfer the dough onto the paper and dust with more flour. The dough will be sticky. Using your hands, form the dough into a ball and place it in a 9-inch springform pan. Slice a cross on the top and bake for 35 - 40 minutes until a toothpick inserted in the center comes out clean