Gluten-Free French Toast Apple Strata
Prep Time
10 Minutes
Difficulty
Easy
Cook Time
50 Minutes
Serves
4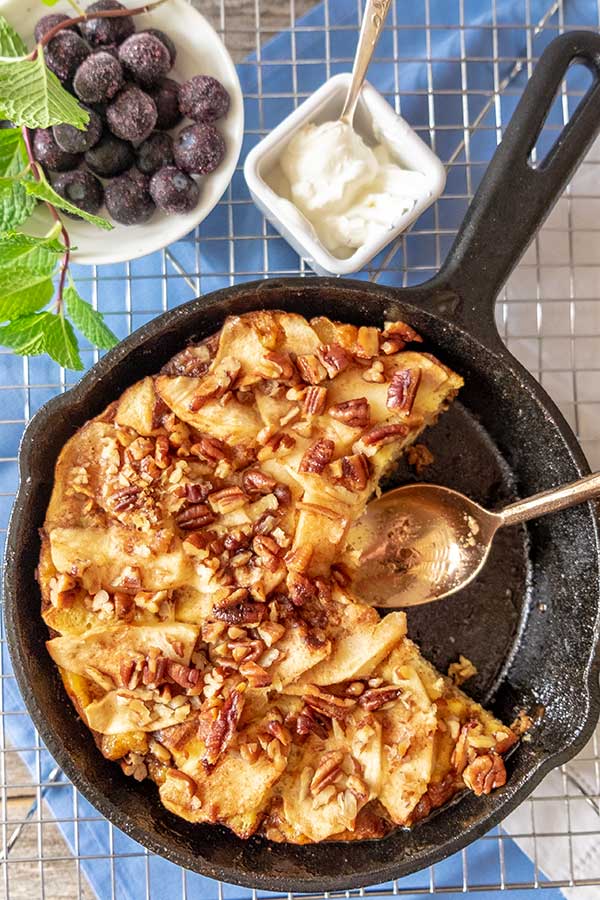 Be the first to rate this recipe.
Strata, a layered breakfast casserole dish can consist of bread, eggs and layers of sweet or savoury ingredients. In this recipe, I layered the casserole with gluten-free bread, apples, spices and pecans. This stunning dish tastes like a buttery French toast with layers of delicious cinnamon apples baked in a light custard and topped with candied pecans. Doesn't this sound amazing? This simple to make dish is lovely for breakfast, brunch, or a late afternoon snack. What I love about this recipe most, is it takes only minutes to prepare, and then all you have to do is pop it in the oven, done. I made this recipe for 4, but If you are feeding a crowd, double the recipe, use a 10-inch cast iron skillet and allow about 5 – 8 more minutes of cooking time. Serve with maple syrup, berries or yogurt or all three. YUM! I promise you this gluten-free French toast apple strata is a keeper! Dairy-free option included
Ingredients
1/4 cup unsalted butter, melted (you can use non-dairy butter like earth balance)
1/4 cup pure maple syrup
1 tsp. GF ground cinnamon
1/8 tsp. GF ground nutmeg
1/8 tsp. GF ground ginger
1 large apple, peeled, cored and sliced into thin wedges
1 tsp. fresh lemon juice
4 large eggs
1/2 cup milk or non-dairy milk of choice
1 tsp. pure vanilla extract
Pinch of Himalayan salt
1/4 cup chopped pecans
Instructions
Preheat oven to 350 F
In a small bowl mix melted butter, maple syrup, cinnamon, nutmeg and ginger, set aside.
Toss apples in lemon juice, set aside
Add a layer of 1/2 the bread cubes, drizzle with 1/3 of the butter mixture, a layer of 1/2 the apples, remaining bread cubes and 1/3 of the butter mixture.
Whisk together eggs, milk, vanilla and a pinch of salt. Pour egg mixture evenly over strata, top with remaining apples and sprinkle with pecans. Drizzle with remaining butter mixture
Bake for 30 minutes, then lightly cover with foil reduce heat to 325 F and bake 20 more minutes.
Similar Recipes
Gluten-Free French Toast Apple Casserole
This gluten-free French toast casserole is made with buttermilk, apples and cinnamon. But it is the crispy pecan topping that makes this French toast casserole extra special. Enjoy this delicious casserole for breakfast or as a sweet snack Read More
Prep Time
15 Minutes
Difficulty
Easy
Cook Time
45 Minutes
Serves
6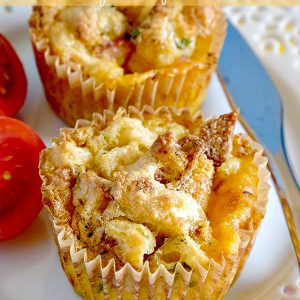 Gluten Free Savoury French Toast Muffins
A great way to start your day is with these high protein savoury French toast muffins. The smoky flavour of ham with a little cheese adds plenty of flavour to these muffins. Ordinarily, muffins are made with flour, but in this recipe I used gluten free bread, making this a super easy breakfast recipe. But […] Read More
Prep Time
15 Minutes
Difficulty
Easy
Cook Time
35 Minutes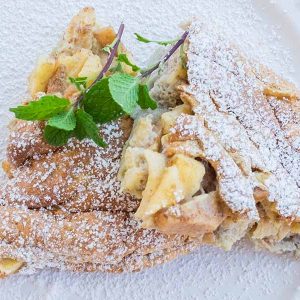 Gluten-Free Apple Cinnamon Frittata
Frittata is a simple dish prepared in just minutes. In this recipe, I used apples and cinnamon making this frittata taste like an apple pie, without the added fats and grains. Serve for breakfast, brunch, snack or as a dessert with some ice cream. This is another wonderful gluten-free recipe that is low in carbs […] Read More
Prep Time
10 Minutes
Difficulty
Easy
Cook Time
35 Minutes
Serves
4