Gluten-Free French Toast Apple Strata
Published on Feb 19, 2019
by
Kristina Stosek
Prep Time:

10 minutes
Cook Time:

50 minutes
Serves:

4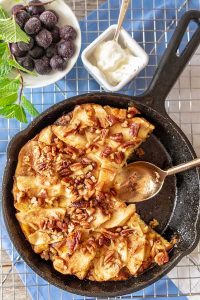 ​This post may contain affiliate links, please see our
privacy policy
for details
Gluten-Free French Toast Apple Strata is a layered breakfast casserole dish made with gluten-free bread, eggs and layers of sweet apples flavoured with cinnamon, nutmeg and ginger. I have also included candied pecans in this strata recipe, giving this casserole a sweet and nutty crunchy topping.
This stunning dish tastes like a buttery French toast with layers of delicious cinnamon apples baked in a light custard and topped with candied pecans. Doesn't this sound amazing? And, this gluten-free breakfast casserole can be made a day in advance. Special occasions like Mother's Day or Father's Day are perfect for serving this tasty French dish.
This simple to make Gluten-Free French Toast Apple Strata makes a delicious breakfast, brunch, or a late afternoon snack. What I love about this recipe the most, the preparation takes only minutes. Once the casserole is ready, you can keep it in the refrigerator until you are ready to bake it.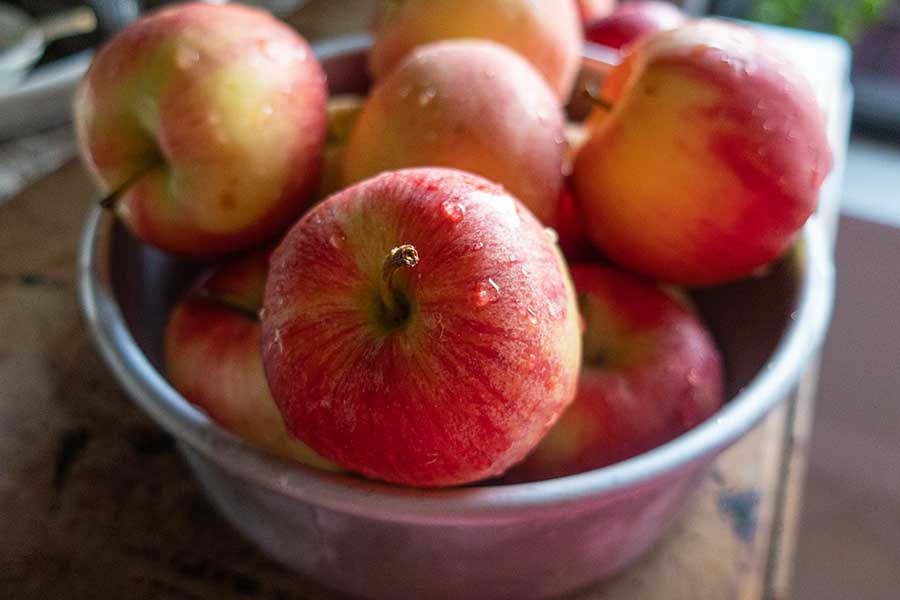 Now, all you have to do is pop it in the oven, and brunch is ready. I made this recipe for four, but if you are feeding a crowd, double the recipe and use a 10-inch cast-iron skillet. And, allow about 5 – 8 more minutes of cooking time. The apple strata should have a golden brown colour.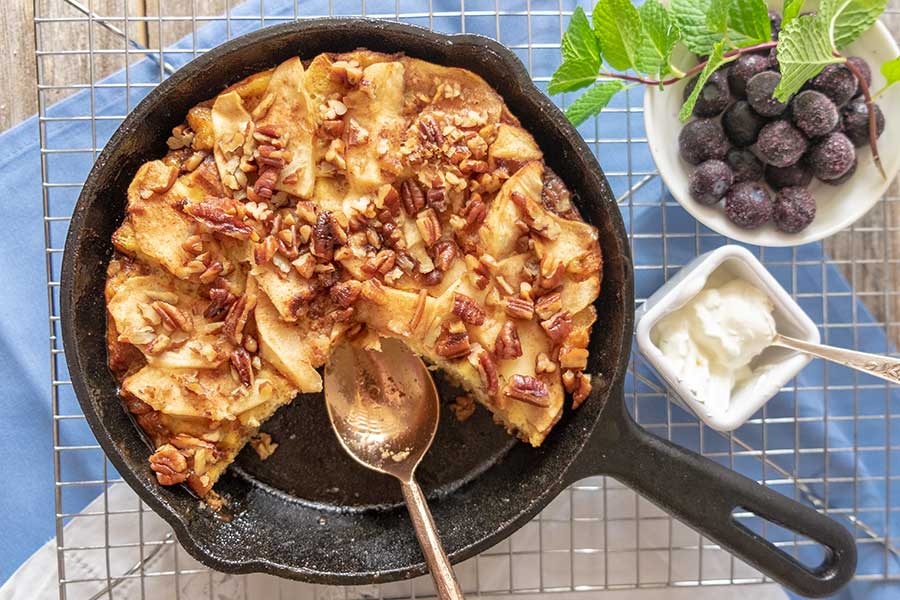 How to serve French toast apple strata?
This Gluten-Free French Toast Apple Strata goes well with maple syrup, berries, cream or yogurt. If you need to make the brunch extra special, add all three. Maybe even add slices of crispy, smoky bacon on the side. YUM!
I promise you, this gluten-free brunch recipe is a keeper! Dairy-free option included. If you need more breakfast or brunch ideas, check out these tasty gluten-free muffin recipes. Another option would be easy one pan breakfast for six or gluten-free healthy breakfast sheet cake.
Need more apple recipes? Check out our list of gluten-free recipes made with apples.
Gluten-Free French Toast Apple Strata
Published on Feb 19, 2019
by
Kristina Stosek
Instructions
1.

2.

In a small bowl mix melted butter, maple syrup, cinnamon, nutmeg and ginger, set aside.

3.

Toss apples in lemon juice, set aside

4.

5.

Add a layer of 1/2 the bread cubes, drizzle with 1/3 of the butter mixture, a layer of 1/2 the apples, remaining bread cubes and 1/3 of the butter mixture.

6.

Whisk together eggs, milk, vanilla and a pinch of salt. Pour egg mixture evenly over strata, top with remaining apples and sprinkle with pecans. Drizzle with remaining butter mixture

7.

Bake for 30 minutes, then lightly cover with foil reduce heat to 325 F and bake 20 more minutes.
Leave a Comment
Kristina
Yes Donna, you can freeze it. When ready, thaw the apple strata in the fridge overnight, then cover it with foil and reheat in the oven.
Once baked could this be frozen? Thanks.