Easy One-Pan Breakfast For A Crowd – Gluten Free
Published on Sep 23, 2018
by
Kristina Stosek
Prep Time:

10 minutes
Cook Time:

35 minutes
Serves:

6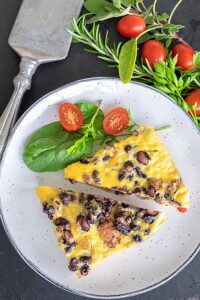 ​This post may contain affiliate links, please see our
privacy policy
for details
Easy, delicious One-Pan Breakfast For A Crowd. This hearty gluten-free breakfast takes minutes to prep, making this an easy dish to prepare for a crowd.
In this gluten-free breakfast recipe, I included everything a hearty breakfast has. Gluten-free sausage, eggs, potatoes, extra veggies and cheese, YUM!
snapshot of the breakfast recipe,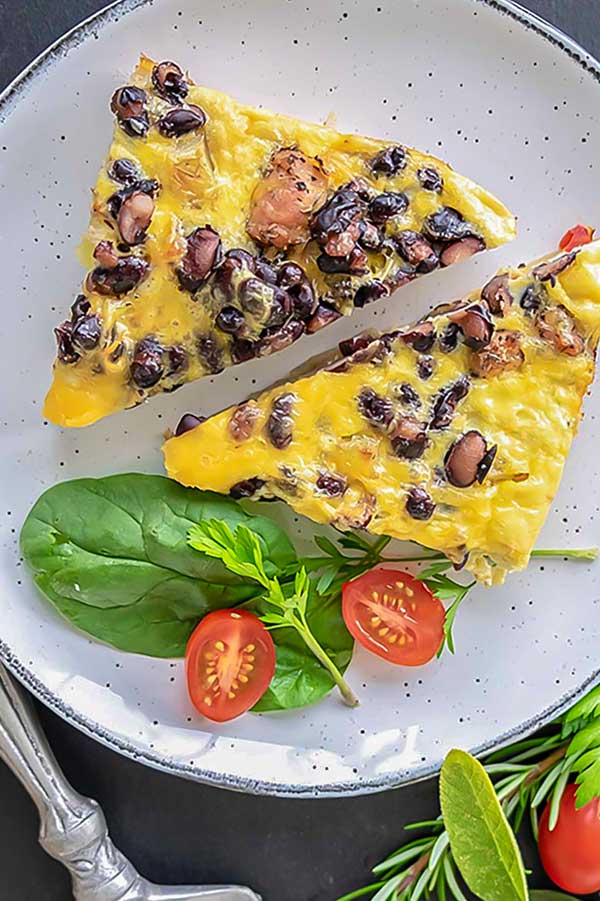 Start with roasting the veggies. Then, to the same pan, add beans and cheese. I like to use black beans. However, you can use whatever you have in your pantry, like kidney beans or cannoli beans.
next,
Whisk the egg mixture, which is poured over the veggies and cheese. The bowl is the only dish you will need for a clean-up. Great right?
to finish,
Continue baking until the eggs are set, then turn on the broil and bake until the top is golden brown. Done! As you can see, this one-pan breakfast is super simple to make. You will love it!
Nothing beats one pan breakfast when you need to feed a crowd—very little work and almost no clean-up.
This means less time fussing in the kitchen, allowing you to relax with your family with a good cup of coffee or your favourite tea.
That's why one-pan breakfast is so popular for brunch, a special occasion like Mother's Day or Father's Day, or for one of those lazy mornings.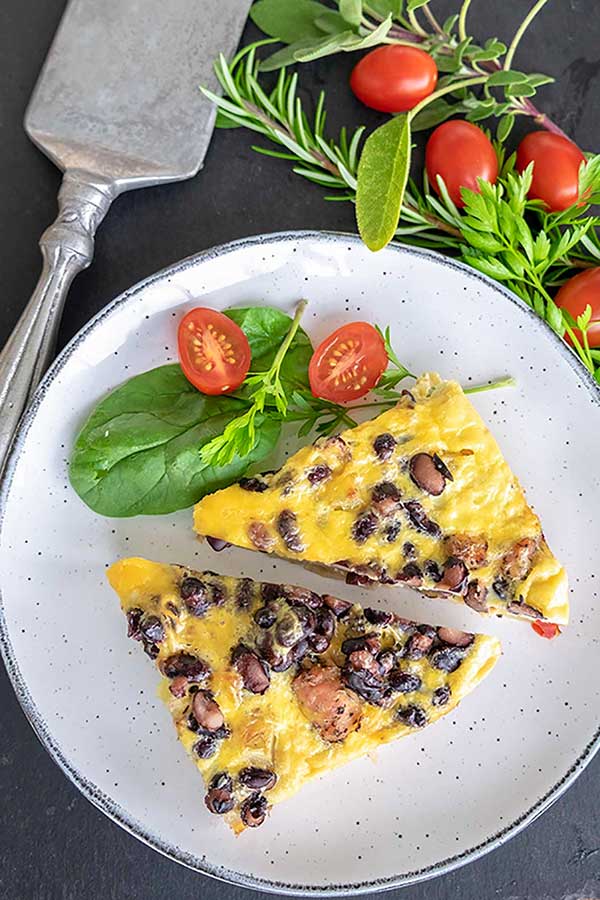 serving,
To serve, I love to add some greens, sliced tomatoes or a delicious gluten-free crusty bread. If you like to add some sweetness to your breakfast, check out our selection of gluten-free muffin recipes. One that comes to mind is the Gluten-Free Chocolate Chip Zucchini Muffins.
leftovers,
If you have any leftovers, chop everything into large chunks and add them to your favourite salad—an excellent way to add protein and veggies for lunch or a light summer dinner. Enjoy!
Easy One-Pan Breakfast For A Crowd – Gluten Free
Published on Sep 23, 2018
by
Kristina Stosek
Instructions
1.

2.

Add butter to a 9 x 13-inch baking pan and place in the oven. Once the butter has melted and started to bubble, about 1 minute, remove the pan from the oven

3.

In a large bowl combine sausages, potatoes, bell pepper, onion and thyme. Generously season with salt and pepper. Transfer into the baking pan and coat everything with butter. It is best when the butter is hot when you add the veggies. Roast for 20 minutes, or until the potatoes are tender, stirring halfway through

4.

Whisk the eggs with milk and season with salt and pepper. Once the potatoes are tender, scatter with the beans, sprinkle with cheese and pour the egg mixture evenly over top

5.

Reduce heat to 350 F and bake for 15 minutes

6.

At the end, turn the broiler on and broil for about 1 - 2 minutes until the cheese is golden. Keep a close eye on this because it can burn very quickly.

7.

Slice into squares or rectangles and serve hot. Enjoy!