Easy One-Pan Breakfast For Six (Gluten-Free)
Prep Time
10 Minutes
Difficulty
Easy
Cook Time
35 Minutes
Serves
6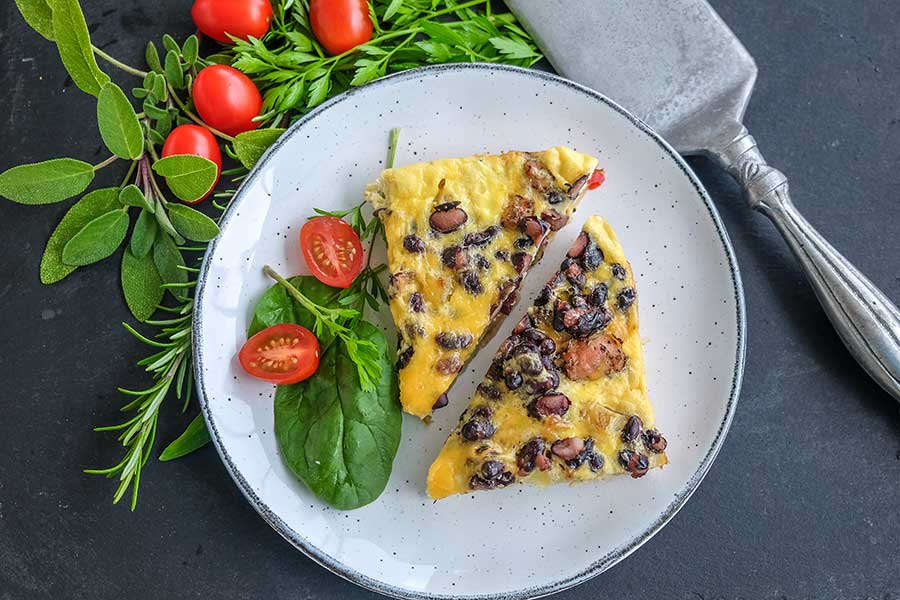 Average Rating: 4.5 | Rated By: 2 users
Easy, delicious One-Pan Breakfast For Six. I love a hearty breakfast or brunch recipe that needs only one pan. This means easy cooking and minimal clean-up, leaving you time for more important things, like relaxing with your family with a good cup of coffee.
In this gluten-free breakfast recipe, I included all the things that a hearty breakfast has. Sausages, eggs, potatoes, onions, peppers, beans and cheese, YUM! Just imagine 🙂 The veggies are first roasted, then you add the beans, cheese and egg mixture over the top and bake a little longer — a very simple to put together one-pan breakfast. What I love is, you can serve up to six people with very little work and almost no clean up. This is why this one-pan breakfast is ideal for a special brunch, Mother's day or one of those lazy mornings. Because there is so little work and the results are deliciously outstanding!
To serve, I love to add some greens or fresh tomatoes or a delicious gluten-free crusty bread. If you have any leftovers, they make an excellent addition to hearty salads. Just chop them up and add to your favourite salad mixings. Enjoy!
Ingredients
1/4 cup butter
6 GF breakfast sausages, cut into 1-inch long pieces
2 medium potatoes, cut into 1/2-inch cubes
1 red or yellow bell pepper, cut into small pieces
1 small onion, chopped
1 tsp. GF dried thyme
1 1/2 cups cooked black or kidney beans (398 ml can rinse and drain)
1 cup grated cheddar cheese
8 large eggs
1/2 cup milk
Pure sea salt and GF ground black pepper to taste
*As an Amazon Associate and member of other affiliate programs, I earn from qualifying purchases. Please check out my sponsorship and disclosure policy page for more details
Instructions
Preheat oven to 425 F
Add butter to a 9 x 13-inch baking pan and place in the oven. Once the butter has melted and started to bubble, about 1 minute, remove the pan from the oven
In a large bowl combine sausages, potatoes, bell pepper, onion and thyme. Generously season with salt and pepper. Transfer into the baking pan and coat everything with butter. It is best when the butter is hot when you add the veggies. Roast for 20 minutes, or until the potatoes are tender, stirring halfway through
Whisk the eggs with milk and season with salt and pepper. Once the potatoes are tender, scatter with the beans, sprinkle with cheese and pour the egg mixture evenly over top
Reduce heat to 350 F and bake for 15 minutes
At the end, turn the broiler on and broil for about 1 - 2 minutes until the cheese is golden. Keep a close eye on this because it can burn very quickly.
Slice into squares or rectangles and serve hot. Enjoy!
Similar Recipes
Gluten Free Mini Quiche Muffins
The beauty of these Mini Quiche Muffins is its versatility – not only are they great at breakfast, but it's one of those foods that are delicious at any time of the day. After a long day in the kitchen creating recipes, I consider a quiche muffin a go-to dinner, especially after a long, tiring […] Read More
Prep Time
10 Minutes
Difficulty
Beginner
Cook Time
15 Minutes
Serves
2
Grain-Free Salsa Muffin Recipe
Thinking of having eggs for breakfast? Try these delicious salsa muffins, they are super easy to make. This is my go-to mini Mexican breakfast recipe.These scrumptious gluten-free muffins have it all, eggs and veggies with melted cheese topping. Making brunch? Serve them up with a light green salad or fresh fruit Read More
Prep Time
15 Minutes
Difficulty
Easy
Cook Time
25 Minutes
Serves
6
Stuffed Breakfast Peppers – Low Carb
These High Protein Stuffed Breakfast Peppers are best for breakfast when you're craving something hearty and satisfying and want to keep things low carb.  Perfect stuffed bell peppers with leftover meat such as chicken, ham, beef or sausages, healthy broccoli, cheese, herbs and eggs, keeping this low-carb breakfast recipe simple and delicious. This is a […] Read More
Prep Time
10 Minutes
Difficulty
Beginner
Cook Time
35 Minutes
Serves
4