Gluten Free Easy Quinoa and Grapes Pilaf Recipe
Prep Time
10 Minutes
Difficulty
Easy
Serves
4
Average Rating: 4.5 | Rated By: 3 users
This is a simple quinoa recipe with added grapes, herbs and spices. If you are not a fan of quinoa you must try this recipe and you may change your mind. You can serve it cold, warm or hot. Enjoy!
Ingredients
2 cups cooked quinoa
1 cup chopped fresh parsley
2 cups grapes, halved
¼ cup apple cider vinegar
1 Tbsp. extra virgin olive oil
1 garlic clove, minced
1 Tbsp. agave nectar
½ tsp. GF ground cumin
Sea salt and GF freshly ground black pepper to taste
*As an Amazon Associate and member of other affiliate programs, I earn from qualifying purchases. Please check out my sponsorship and disclosure policy page for more details
Instructions
Add quinoa, parsley and grapes into a bowl
In a separate bowl whisk apple cider vinegar, olive oil, garlic, agave and cumin. Add to quinoa and season with salt and pepper. Stir well
Set aside to marinate for 2 hours at room temperature. Stir just before serving.
Similar Recipes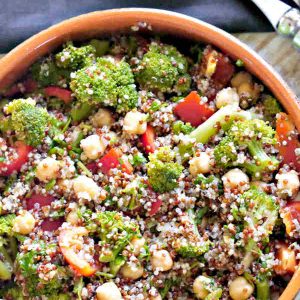 Broccoli and Chickpea Quinoa Salad
This hearty broccoli and chickpea quinoa salad is deliciously flavoured with a light vinaigrette and fresh herbs. Serve as a side with your favourite main, or as a vegetarian entree. This is a delicious light vegan salad Read More
Prep Time
15 Minutes
Difficulty
Easy
Cook Time
10 Minutes
Serves
4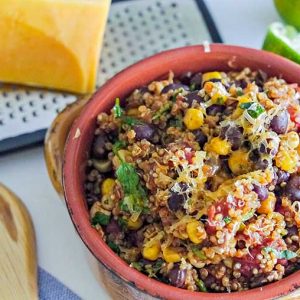 Gluten-Free Mexican Inspired Quinoa
In this delicious gluten free quinoa dish, discover the flavours of Mexico. This budget friendly quinoa recipe is packed with healthy nutrients, is rich in fiber and also protein. Quinoa never tasted this good before! Serve as a side or as a main with a light green salad Read More
Prep Time
15 Minutes
Difficulty
Easy
Cook Time
20 Minutes
Serves
6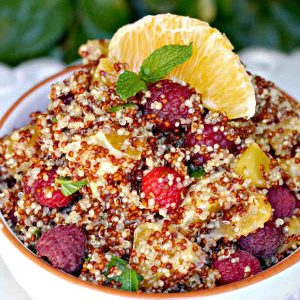 Vegan Orange and Raspberry Quinoa Salad
This orange and raspberry vegan quinoa salad is packed with protein and flavoured with refreshing citrus and mint. Serve as a side with chicken or fish or enjoy this tasty salad as a snack Read More
Prep Time
15 Minutes
Difficulty
Easy
Serves
4