Gluten-Free Crème Brûlée French Toast with Apples
Published on May 17, 2020
by
Kristina Stosek
Prep Time:

10 minutes
Cook Time:

25 minutes
Serves:

4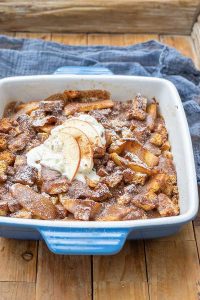 ​This post may contain affiliate links, please see our
privacy policy
for details
This baked Gluten-Free Crème Brûlée French Toast with Apples is on my list of brunch favourites. The French toast is custard infused, filled with buttery cinnamon apples and topped with a maple cinnamon sauce. It's a perfect brunch recipe for family gatherings.
To be clear, this French toast is beyond delicious and probably nothing you have had before. Every bite is filled with buttery cinnamon apples nestled in a light custard with a crunchy topping.
The maple cinnamon sauce is added at the end and is what makes this into the best French toast dish. Over the years, I always serve such classics as Gluten-Free Apple Cinnamon Buckwheat Pancakes,or Dutch Baby with Blueberry Compote, so I wanted something fresh on my list of gluten-free brunch recipes. So why not baked French toast?
gluten-free French toast…the recipe!
You will love this baked French toast recipe because it is super easy, and you don't have to wait overnight to bake it. First, the apples are briefly cooked in butter, cinnamon and maple syrup. Then you add toasted cubed gluten-free bread and mix everything. This flavours the bread with the buttery cinnamon apples.
Place the mixture into a baking dish and cover with the custard mixture, then bake. The French toast is then drizzled with the maple cinnamon sauce. The sauce takes only one minute to make, so nothing complicated there.
The French toast is pretty delicious as is right out of the oven, but I love toppings. For me, I had to add some whipped cream sprinkled with cinnamon. So, if you are planning weekend brunch, I recommend this gluten-free crème brûlée French toast with apples.
the ingredients…
You will love this → If you have gluten-free bread and a couple of apples, you will probably have everything else in your pantry. So what else do you need to make this stunning French toast?
You will need basic ingredients like milk, eggs, cinnamon, butter, some vanilla and a sweetener. I used pure maple syrup, but you can use any sweetener you like. For example, honey is excellent, coconut sugar or brown sugar. These will all work beautifully.
in summary…
Not only this baked French toast is super easy, but it is also better than most. There is nothing not to love. So for your next brunch gathering, try this crème brûlée French toast. I promise you, it will be loved by all 🙂
Gluten-Free Crème Brûlée French Toast with Apples
Published on May 17, 2020
by
Kristina Stosek
Instructions
1.

Preheat oven to 400 F and grease an 8 x 8-inch baking pan with butter

2.

Heat butter with 2 tablespoons of maple syrup and cinnamon over medium-high heat. Add apple slices and cook until the apples start to soften. Stirring as needed. This takes about 2 - 3 minutes

3.

To the apple mixture add toasted bread cubes and mix to coat the bread Transfer bread mixture in an even layer to the baking pan

4.

Whisk the milk with eggs, 2 tablespoons of maple syrup and a pinch of salt. Evenly pour over the bread mixture. Bake for 22 minutes until the topping is deeply golden

5.

For the apple cinnamon sauce, place everything in a small saucepan and bring to a boil. Then evenly pour over the baked French toast. Serve warm or at room temperature