Gluten-Free Cream Puffs Recipe
Published on Aug 21, 2021
by
Kristina Stosek
Prep Time:

15 minutes
Cook Time:

25 minutes
Serves:

6 - 8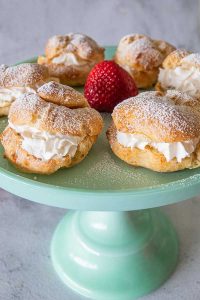 ​This post may contain affiliate links, please see our
privacy policy
for details
Gluten-Free Cream Puffs filled with your favourite filling. Cream puffs may look intimidating to make, but this five ingredient recipe is easy enough to make even for novice bakers.
The gluten-free cream puffs are light, crispy on the outside and pillowy and hollow on the inside…a perfect shell to fill with your favourite pastry filling.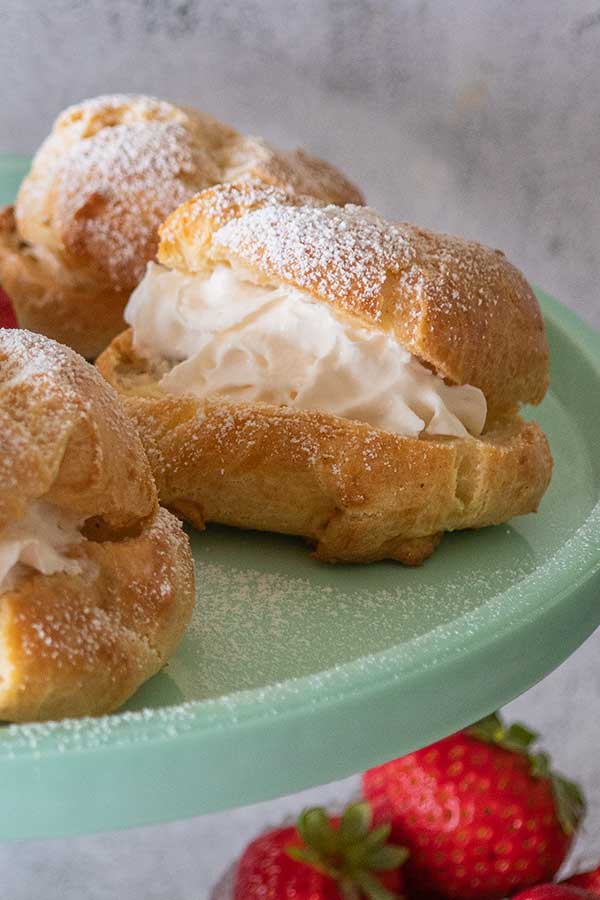 homemade gluten-free cream puff recipe
Cream puffs, also known as profiterole or choux à la crème, originated in France. To make the French pastry dough, called Pate a Choux (pastry shell), first, you cook the flour in water and butter to form a thick paste.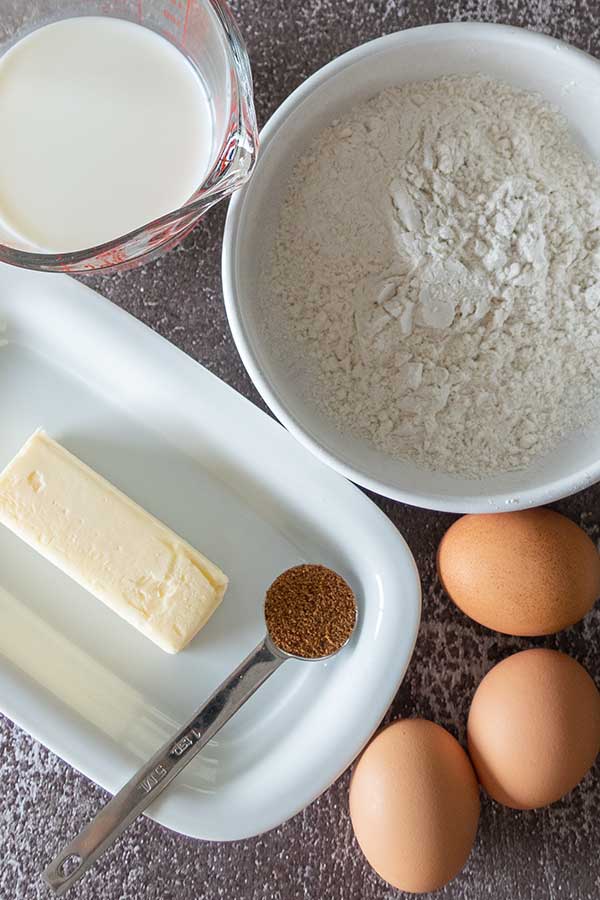 Then you beat in the eggs creating a soft dough that you can pipe using a piping bag or cookie scoop into small mounds. When baked, the dough expands, creating a light hollow shell, perfect for delicious fillings.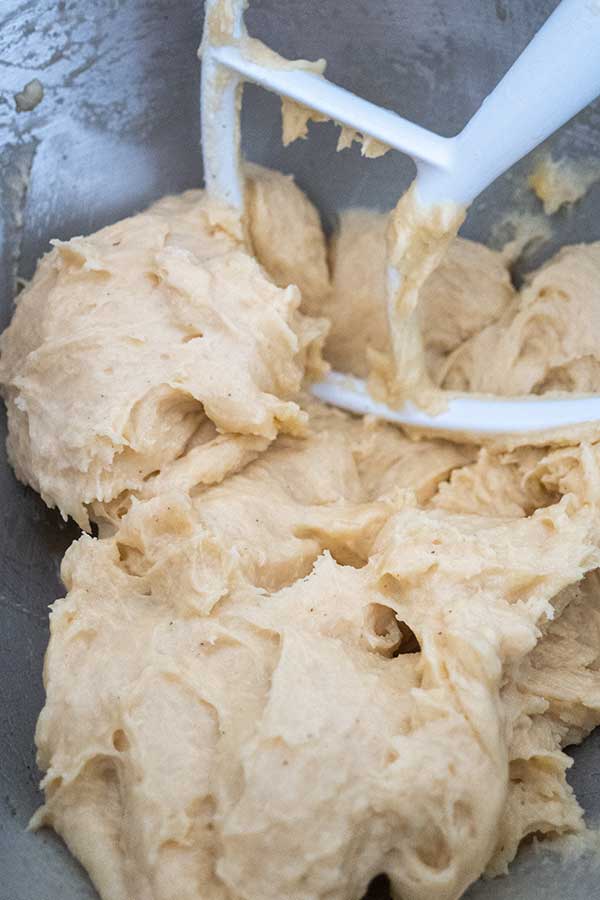 The choux pastry is traditionally made with water; however, I wanted extra richness in this recipe, so I used milk. Both the water and milk work well in this cream puff pastry recipe.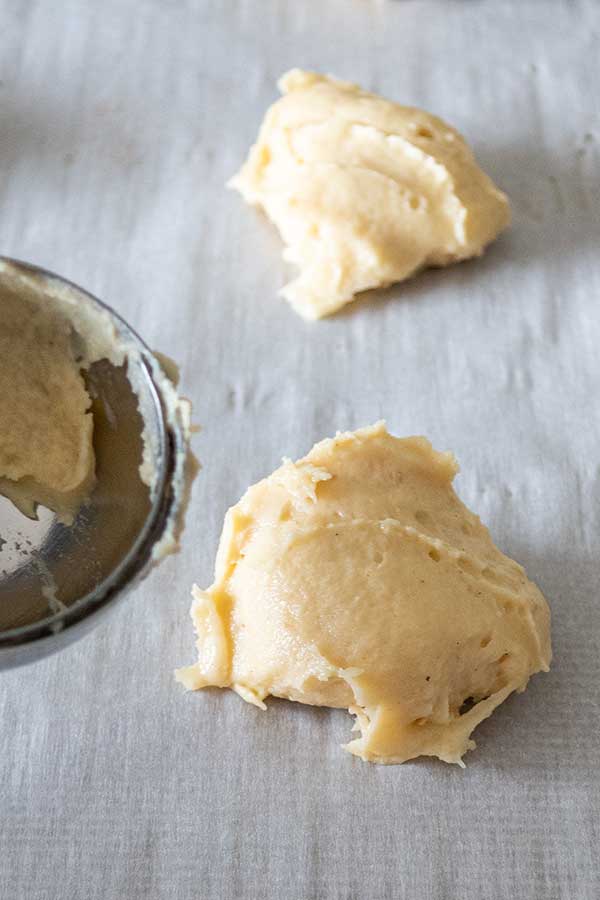 Cream puffs became a tradition in our home during family gatherings because everyone loves them, even the pickiest eaters. There is nothing like a fresh homemade cream puff and always a crowd favourite.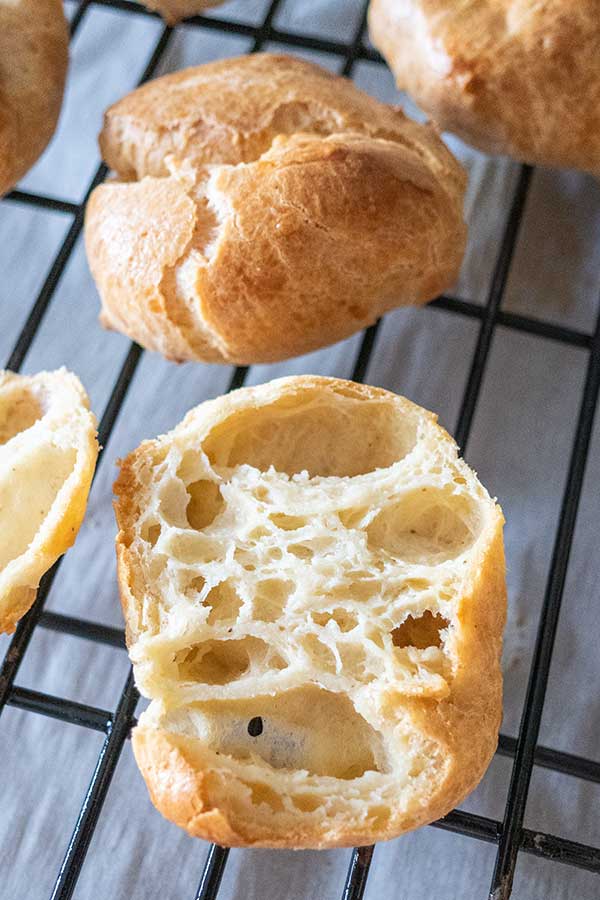 cream puff gluten-free fillings
You can fill the light puffy shells with so many unique fillings. The whipped cream and sometimes fresh strawberry slices are my favourite. However, there are so many unique variations.
If you are a chocolate lover, try the chocolate whipped cream filling or the Nutella cream filling. If you want the traditional filling, make the pastry cream.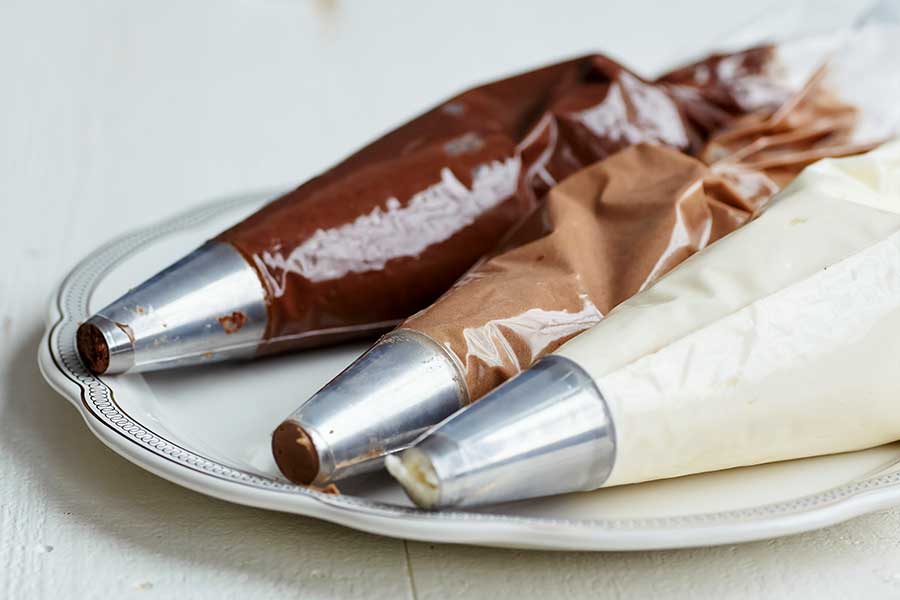 3 popular gluten free cream puff fillings!
chocolate whipped cream filling (3 cups)
7 oz. GF semi-sweet chocolate chips
3 cups whipping cream
6 Tbsp. sugar
Place the chocolate chips into a bowl and set them aside. Pour 1 ½ cups of the heavy cream into a small pot, and add the sugar in; place the pot over medium heat, and bring the cream mixture to the simmer. Pour the hot cream over the chocolate chips, and whisk to combine until the chocolate has melted. Set the melted chocolate mixture into the fridge for about 20 – 30 minutes to cool.
Once completely cooled, add the melted chocolate mixture to the bowl of an electric mixer fitted with a whip attachment. Add the remaining 1 ½ cups of cold whipping cream, and whip together on medium-high until the mixture becomes a fluffy whipped cream. Store in the fridge covered with plastic wrap until ready to use
Nutella cream filling (1 1/2 cups)
1 cup whipping cream
2 Tbsp. confectioners sugar
1/2 cup Nutella
Whip the cream using an electric mixer until the cream forms stiff peaks. Beat in the powdered sugar until combined. Add the Nutella and beat until light and fluffy. Store in the fridge covered with plastic wrap until ready to use
Classic pastry cream for cream puffs ( 2 1/4 cups)
2 cups whole milk
1/2 cup sugar
1 tsp. Pure vanilla extract
Pinch of salt
4 large egg yolks
1/4 cup tapioca starch
2 tablespoons unsalted butter, cut into 1/2-inch pieces
– Bring milk, 1/4 cup sugar, vanilla, and salt to a simmer in a medium saucepan over medium heat.
– Whisk egg yolks, cornstarch, and the remaining 1/4 cup sugar in a medium bowl. Whisking, slowly pour about 1/2 cup of the hot milk mixture into the yolk mixture. Gradually add the remaining milk mixture until incorporated. Pour mixture back into the saucepan, and cook over medium-high heat, whisking, until it begins to bubble in center and registers 160 degrees on an instant-read thermometer, about 2 minutes. Remove from heat
– Transfer to the bowl of an electric mixer fitted with the paddle attachment. Add butter; beat on medium speed until the butter has melted and mixture has cooled about 5 minutes. Cover with plastic wrap, pressing it directly onto the surface to prevent skin from forming. Refrigerate until cold. Just before using, whisk by hand until smooth.
What to do with leftover pastry filling?
You can top fresh berries with any leftover fillings. Or, top your favourite pancakes such as these Gluten-Free Apple Cinnamon Buckwheat Pancakes, or cupcakes such as these Grain-Free Tiramisu Cupcakes. You can never have too much pastry filling 🙂
Tips for making perfect gluten-free cream puff pastry
The eggs should be at room temperature. The cream puffs will rise better. If you need to bring the eggs to room temperature and are short on time, place the eggs in a bowl of tap warm water for 5 minutes
Let the dough rest and cool before adding the eggs. You don't want to cook the egg into the batter.
Add the eggs one at a time and mix each egg until fully incorporated. The dough will separate to start but will come together once you add the last egg.
Start with the oven temperature at 400 F. This will give the dough a quick rise creating hollowness in the shells. Then reduce the heat to 375 F and continue baking.
Do not open the oven during baking, or the shells will deflate.
Use parchment paper to line the baking sheet. This will prevent them from burning on the bottom.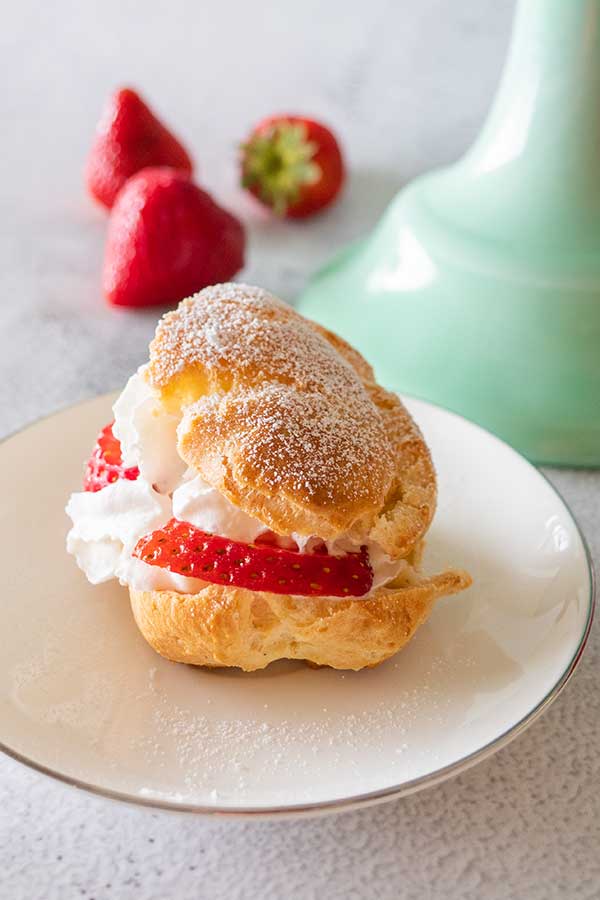 Storing gluten-free cream puffs
As with all gluten-free baking, they are best served fresh. But you can store filled cream puffs in an airtight container in the refrigerator for 2 days. You can serve them cold or bring them to room temperature.
To store cream puff shells without filling, you can freeze them for up to 2 weeks. Then, thaw the shells before adding filling or toast them in the oven for about 5 minutes at 300 F. The shells will keep at room temperature for 2 days.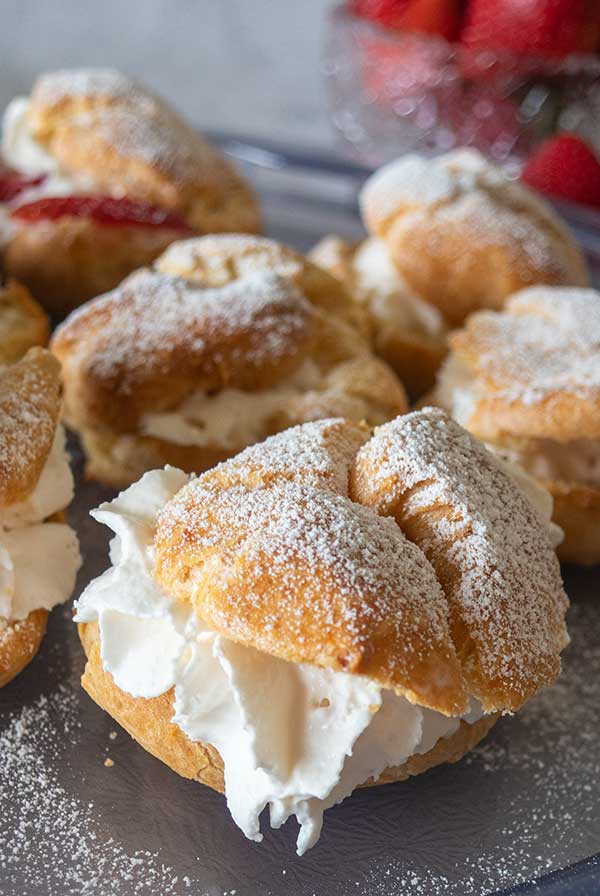 Everyone should make gluten-free cream puffs recipe at least once
Cream puffs are a lot easier to make than you may think. Everyone loves them, and you can customize them to your liking because the flavour in cream puffs comes from the filling. Once you see how easy it is to make the cream puff shells recipe, this gluten-free dessert will become one of your favourites. Enjoy!
Let's Connect!
Be sure to FOLLOW US on FACEBOOK and PINTEREST. And don't forget to sign up for our newsletter, the form is at the bottom of this page. We always have something new and exciting for you!
Many thanks!
Kristina xx
Gluten-Free Cream Puffs Recipe
Published on Aug 21, 2021
by
Kristina Stosek
Instructions
1.

Preheat oven to 400 F Line a large baking sheet with parchment paper

2.

Heat the milk, butter and sugar in a saucepan over medium heat until simmering but not boiling 

3.

Remove the saucepan from the heat and quickly stir in flour. Return to the heat and cook over medium heat for about 2 minutes until the dough is smooth and pulls away from the saucepan, forming a ball.

4.

Transfer dough to the bowl of an electric mixer, and let cool 10 minutes. Beat with the paddle attachment to cool it down

5.

Add 1 egg at a time and continue beating until each egg is completely incorporated before adding another.

6.

Transfer the dough into a piping bag fitted with a large round tip and pipe dough onto prepared baking sheet into 1 1/2-inch rounds about (1 1/2 inches high). Dip your fingers in water and smooth out each mound of dough, so there are no peaks and spikes. Gently brush tops of dough with egg white mixture. *see note below

7.

Bake at 400 F for 5 minutes, then reduce oven temperature to 375 F and continue baking for 18 - 20 minutes, until puffed and golden. Turn off the oven and crack the door open, allowing the cream puffs to cool inside the oven for 20 minutes before removing them and let them cool completely on a wire rack. Do not open the oven during baking!

8.

Note; if you don't have a piping bag, you can use a cookie scoop or 2 teaspoons to form 1 1/2-inch rounds. In the photos I used a medium size cookie scoop. By using a piping bag you will get a little more height

9.

10.

In a large bowl, whip the cream with an electric mixer until it forms stiff peaks. Add sugar and vanilla and mix to combine.

11.

Cut cooled puffs in half horizontally and fill with cream and strawberry slices if you wish and dust with confectioners sugar
Leave a Comment
Kristina
OMG, these cream puffs are soooooooo good! Thank you I love your recipes!!