Gluten-Free Cappuccino Cake
Published on Apr 06, 2016
by
Kristina Stosek
Prep Time:

15 minutes
Cook Time:

55 minutes
Serves:

12 slices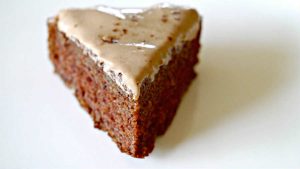 ​This post may contain affiliate links, please see our
privacy policy
for details
This Gluten-Free Cappuccino Cake is a coffee lover's dream. Cocoa and coffee are an irresistible combination – a decadent coffee flavoured moist cake and a light coffee flavoured frosting dessert for "the company's coming." This gluten-free dessert is an impressive cake for when entertaining or that special occasion.
It is all about the cappuccino frosting!
The cake itself is a simple soft sponge-like cake flavoured with cocoa and coffee, delicious enough as is. However, I wanted this cappuccino cake to shine with flavour, so I made a frosting with cream cheese, ricotta cheese, maple syrup, coffee and a hint of cocoa.
Once the cake has finished baking, spread the frosting over top and dust with more cocoa. It is so GOOD! This gluten-free coffee cake is most certainly not your average dessert, just pure coffee satisfaction. Enjoy!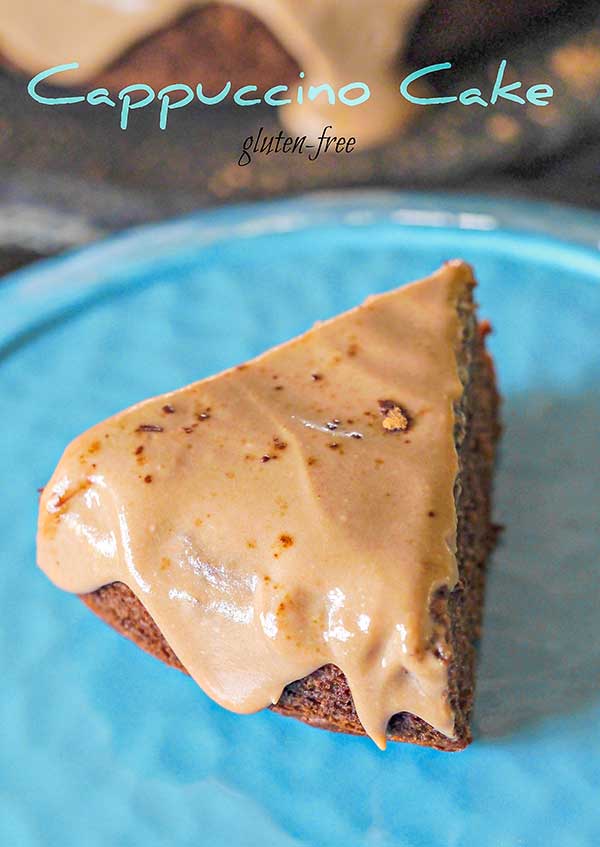 This coffee flavoured cake is not your average gluten-free dessert. Instead, the coffee flavour truly shines through this moist, decadent cappuccino cake topped with delicately coffee flavoured icing.
This cappuccino cake is a coffee lover's dream.
If you want something simpler and still keep the cappuccino flavour, try our Gluten-Free Chocolate Coffee Brownies or Gluten-Free Mocha Chocolate Chunk Sandwich Cookie.
Gluten-Free Cappuccino Cake
Published on Apr 06, 2016
by
Kristina Stosek
Instructions
1.

Preheat oven to 350 F. Line a 9-inch springform cake pan with a circle of parchment paper

2.

In a large bowl, combine dry ingredients

3.

In a separate bowl whisk together wet ingredients

4.

Add wet ingredients to dry and mix until creamy

5.

Pour batter into a prepared cake pan and bake for 50 - 55 min, or when a toothpick inserted in the middle of the cake comes out clean. Cool completely before removing from the cake pan

6.

7.

Beat cream cheese, ricotta, sweetener, coffee and cocoa, until creamy. Taste and adjust sweetness if needed

8.

Spread frosting over cooled cake and dust with cocoa powder