Gluten-Free Buffalo Chicken Biscuits
Published on Aug 28, 2021
by
Kristina Stosek
Prep Time:

20 minutes
Cook Time:

35 minutes
Serves:

20 - 24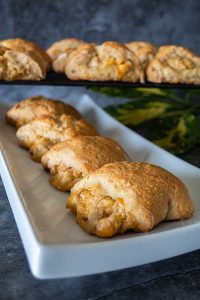 ​This post may contain affiliate links, please see our
privacy policy
for details
These Gluten-Free Buffalo Chicken Biscuits are the perfect snacks, appetizers or brunch go-to. Gluten-free pastries rolled up with saucy buffalo chicken and two kinds of cheese. Enjoy them hot straight out of the oven while the cheese is still goey. YUM!
Every bite of these buffalo chicken biscuits is flavourful, cheesy, with a kick of spiciness. Everyone is going to love them.
It's that time of year. The cooler weather is here, school is back in session, and everyone is excited about football season. Add these buffalo chicken biscuits, and you know fall is just around the corner.
These gluten-free buffalo chicken biscuits aren't fancy, but they are delicious! The buttery pastry filled with buffalo chicken in a cheese sauce will remind you of small bites of pizza or sausage rolls. And who doesn't love pizza bites?
This buffalo chicken biscuit recipe is easier than you may think. If you are looking for easy to make gluten-free snacks, check out this Gluten-Free Crispy Baked Chicken Egg Roll recipe, or the Bacon Wrapped Cauliflower with Avocado Aioli.
the buffalo chicken filling…
To make the spicy, cheesy buffalo chicken filling, you will need cooked chicken, two kinds of cheese, sour cream, Worcestershire sauce, hot sauce, green onion and garlic. A great way to use up leftover chicken from the night before.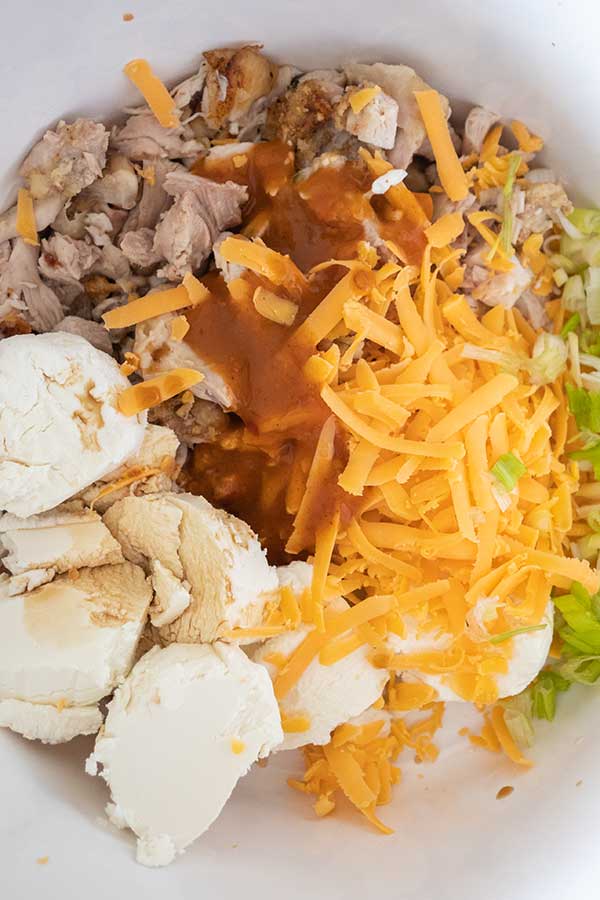 The cheeses I like to use are goat or blue cheese combined with cheddar cheese. Everything is mixed, and the filling is ready.
the gluten-free biscuit pastry…
This pastry is made with yeast, keeping the biscuits light and puffy. To keep the pastry moist and buttery, I added sour cream and butter. This gluten-free biscuit is made with a simple dough recipe.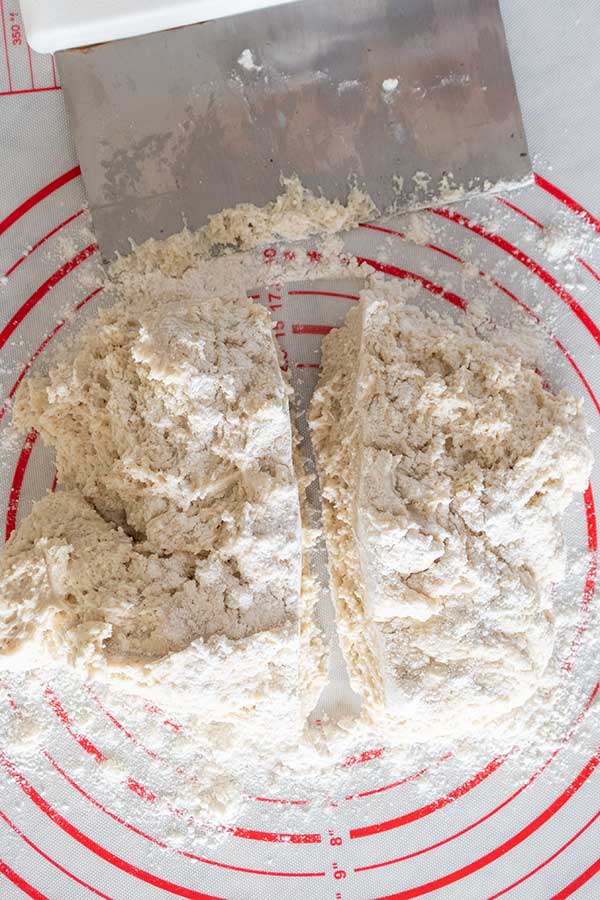 make the gluten-free biscuits step by step…
I wanted to keep this buffalo chicken biscuit recipe simple. The dough is made with a gluten-free flour blend, keeping it simple. For the wet ingredients, I used water, sour cream and a little cold butter.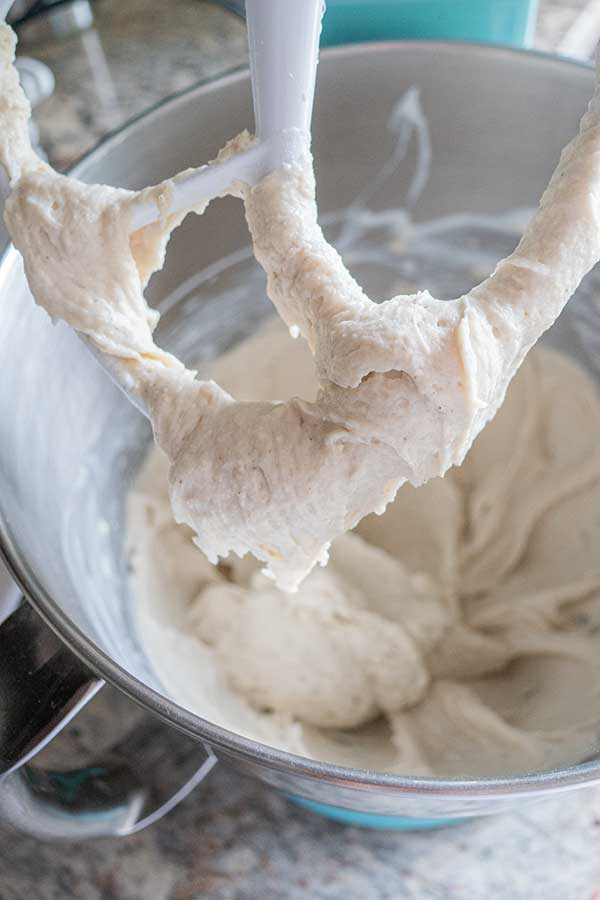 Then comes the butter and more flour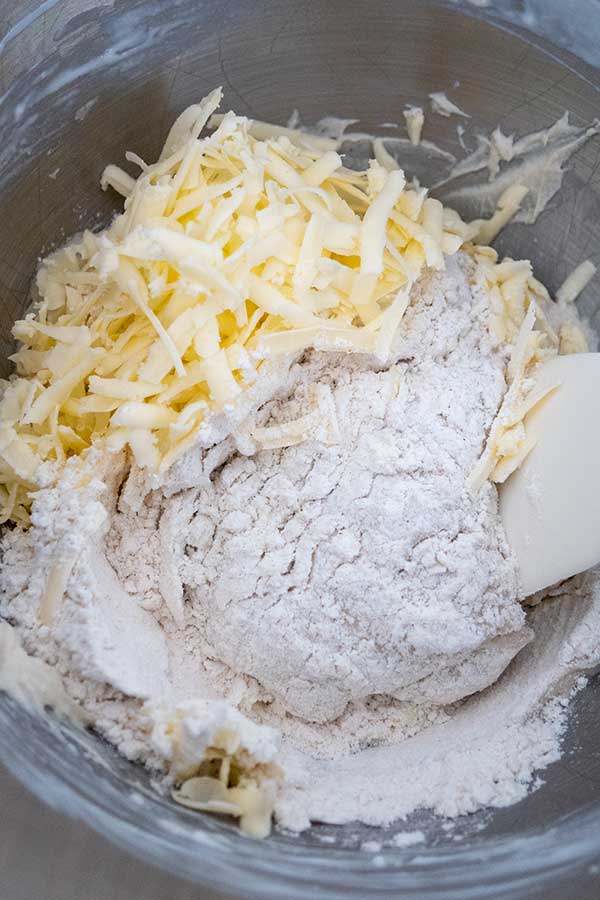 I first rolled the pastry into a rectangle.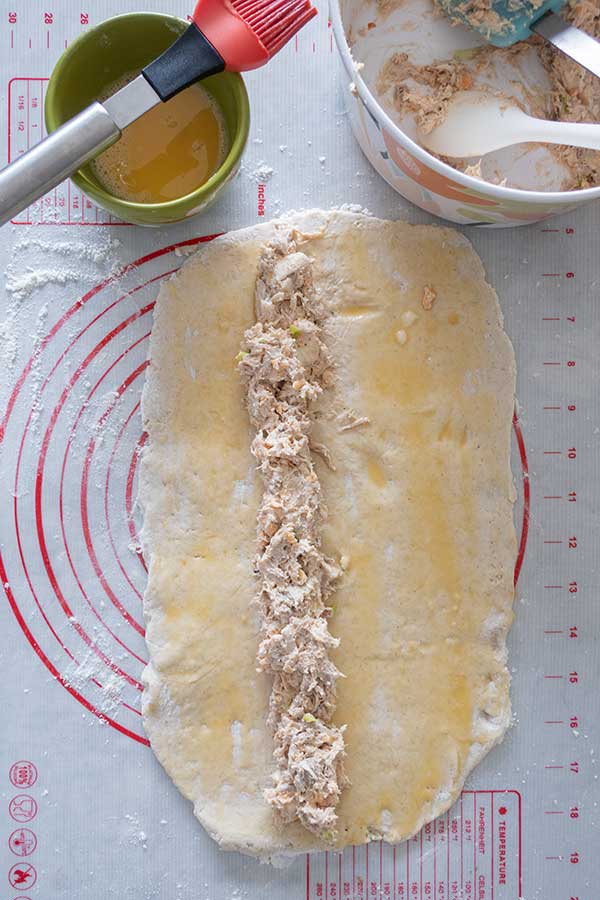 Next, I added the filling and then rolled the rectangle into a log. The dough is soft, and it rolls out easily.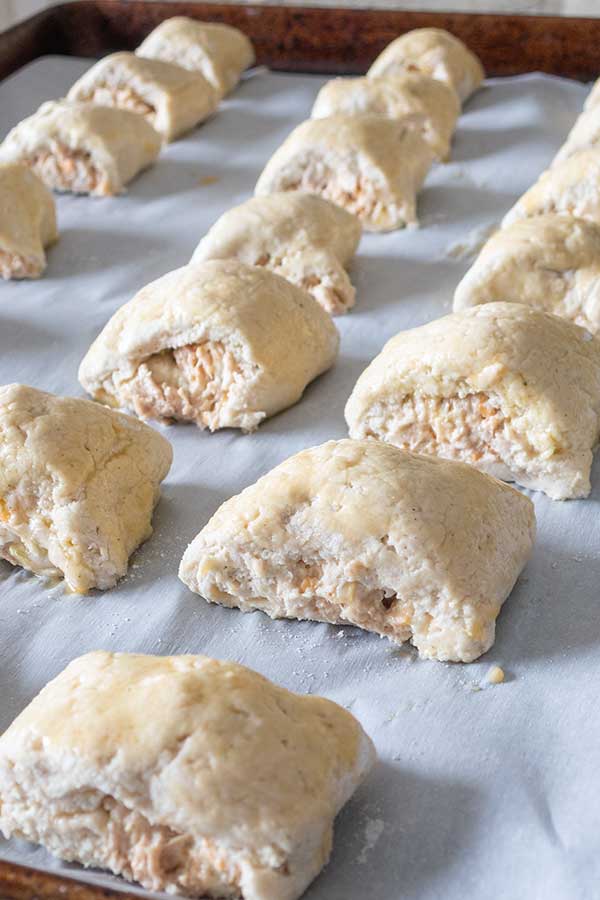 Then I sliced the log into segments and brushed each piece with an egg. Done!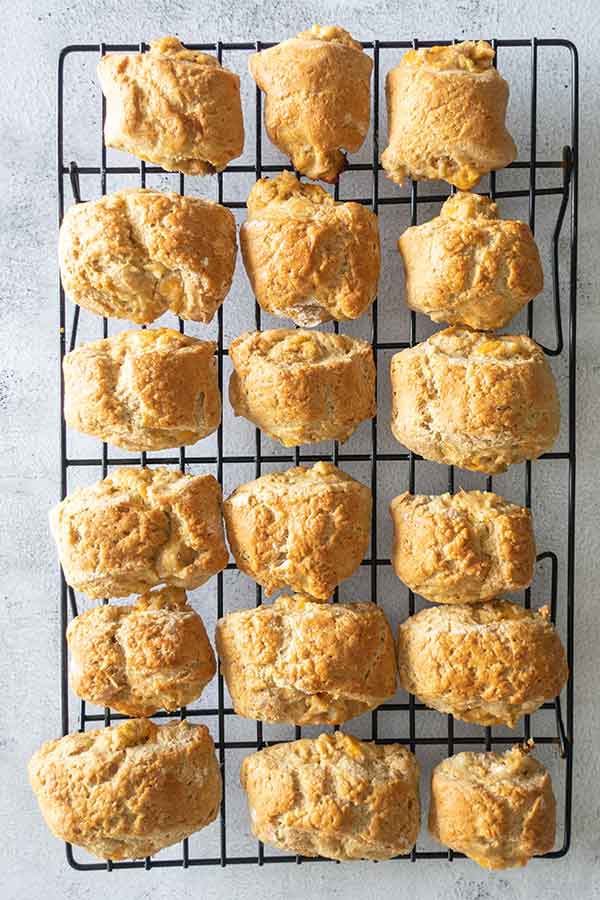 Once you bake the biscuits, the cheesy buffalo chicken filling enhances the flavour of the pastry. And, each and every bite will melt in your mouth with deliciousness. So so good!
buffalo chicken biscuits with a dip YUM!
These gluten-free buffalo chicken biscuits are perfect just as they are. However, if you like dips, you can serve them with a ranch dip.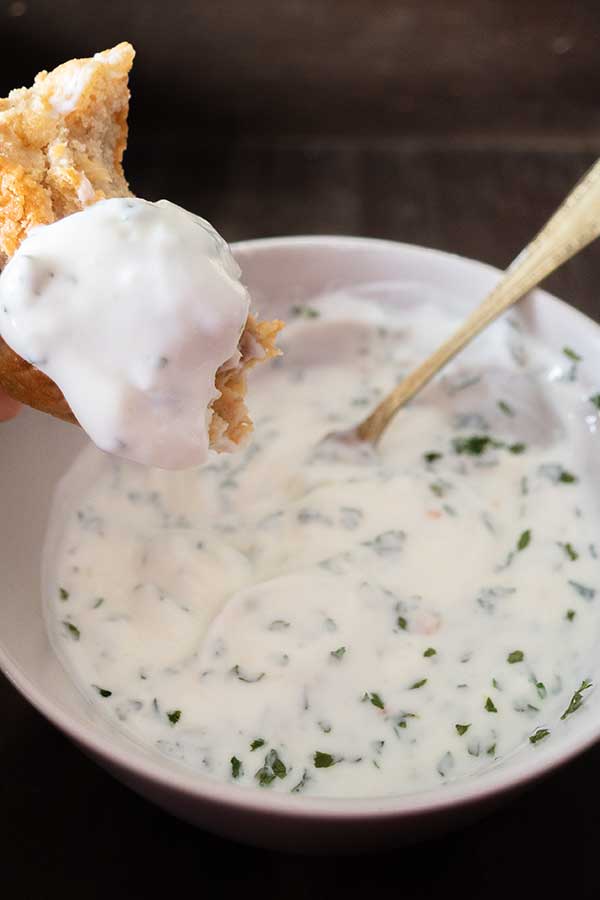 Here is my favourite gluten-free ranch dip recipe!
light ranch dip, egg-free recipe (makes 1 1/2 cups)
½ cup sour cream
¼ cup Plain thick Greek yogurt
1 garlic clove, minced
1 Tbsp. Thinly sliced chives or 2 tsp. GF Dried chives
½ tsp. GF Dried Dill (optional)
1/2 tsp. GF onion powder
¼ tsp. Sea salt
⅛ tsp. GF ground black pepper
¾ Cup Buttermilk
In a medium bowl, whisk together the sour cream, yogurt, and all of the seasonings. Whisk in the buttermilk until smooth. Chill for 1 hour, allowing for the flavours to develop.
These gluten-free pastry pockets filled with buffalo chicken are perfect for game days, snacks or yummy appetizers. For any leftovers, I recommend to heat them first.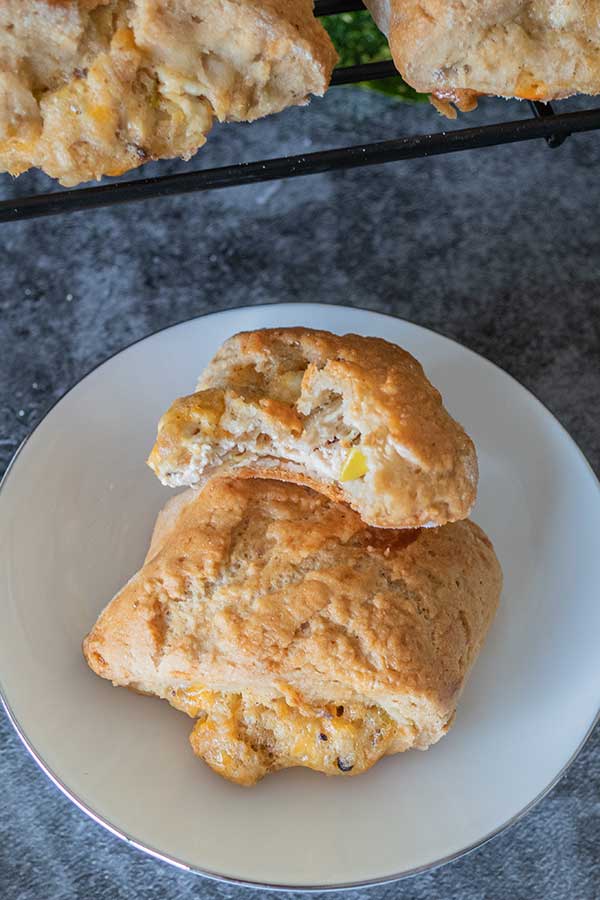 If you are making them for a younger crowd, omit the hot sauce and replace it with melted butter. Enjoy!
Gluten-Free Buffalo Chicken Biscuits
Published on Aug 28, 2021
by
Kristina Stosek
Instructions
1.

2.

In a medium bowl, combine all the ingredients. Set aside

3.

4.

Place 2 cups of flour, yeast, sugar, baking soda and salt into the bowl of a stand mixer fitted with a paddle. Mix to combine, then while the mixer is running, add warm water and mix. Add the sour cream and mix until a thick paste forms

5.

Remove the bowl and add the remaining 3/4 cups of flour and grated butter. Using a spatula, mix until just combined. Cover the bowl with a kitchen towel and set it aside to rest for 30 minutes

6.

7.

Divide the dough in half. Place a sheet of parchment paper on your working surface and lightly sprinkle with flour. Roll out each pastry into about 5 by 12-inch rectangle about 1/8-inch thick, using flour as needed to avoid sticking

8.

Working with one strip at a time, brush the pastry with whisked egg. In the center of each pastry, form the meat mixture into a long sausage the length of the pastry strip. Using the parchment paper, fold the pastry over the meat filling to form a log and pinch to seal. Dip a sharp knife into oil and slice the log into about 1 1/2-inch length pieces. Place biscuits on a large rimmed baking sheet lined with parchment paper with the seam down about 1 inch apart, and brush with whisked egg. Rest for 20 minutes

9.

Preheat oven to 350 F and bake for 35 - 40 minutes, until golden brown. Enjoy warm or at room temperature. To reheat the biscuits, pop them in a microwave for 20 seconds or in a hot oven for 8 minutes