Gluten-Free Blueberry Vanilla Tart {Vegan}
Published on Mar 24, 2019
by
Kristina Stosek
Prep Time:

15 minutes
Cook Time:

60 minutes
Serves:

6 - 8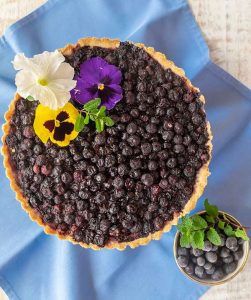 ​This post may contain affiliate links, please see our
privacy policy
for details
Bursting with blueberries, flavoured with vanilla and nestled in a buttery crust, this Gluten-Free Blueberry Vanilla Tart is truly unforgettable.
Healthy and so easy to put together, but most of all, incredibly delicious. Every bite is filled with sweet blueberries nestled in a melt in your mouth buttery crust.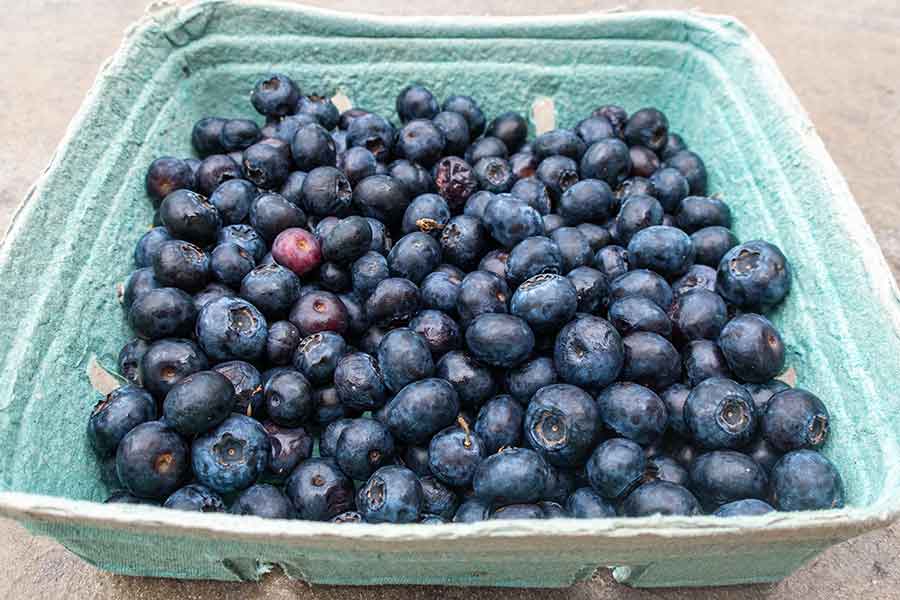 Blueberries are one of my favourite berries, especially in summer. The season for blueberry picking runs from July to the end of August, this is when they are perfectly sweet. The best time to pick blueberries is early in the morning or late in the day to keep them and you cool. And, blueberries freeze beautifully.
And as a bonus, they are packed with antioxidants, fiber and healthy nutrients and are considered one of the best superfoods for your health.
gluten-free blueberry vanilla tart…the details
To make this blueberry tart is pretty easy. The buttery crust is made in a food processor and then easily pressed in a tart pan.
The fresh blueberries are lightly tossed with cinnamon, fresh lemon juice and tapioca flour and are placed in the crust.
It is the vanilla sauce that sets this gluten-free blueberry vanilla tart apart from most.
To make the vanilla sauce is super easy. You will need maple syrup, coconut cream, vanilla and a saucepan. First, heat the maple syrup, then stir in the coconut cream and vanilla. Mix and with the blueberries, and the filling is ready.
Next, add the filling to the prepared crust and slowly bake until the blueberries start to bubble. Then, the blueberry tart is cooled to room temperature. Done 🙂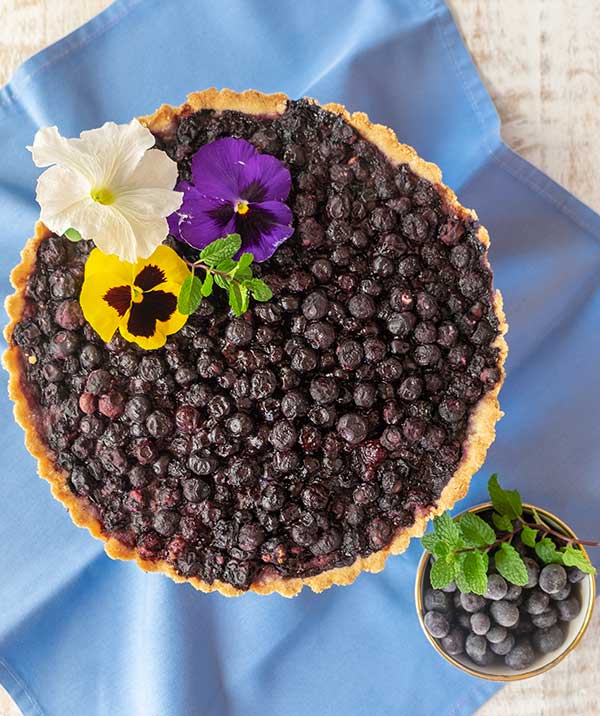 Are you lactose intolerant?
Not a problem! This gluten-free blueberry vanilla tart dessert is a dairy-free plant-based recipe.
don't stop at dessert…
A dessert made with blueberries can also be enjoyed for breakfast or a snack. Muffins made with blueberries such as this grain-free and nut-free blueberry buttermilk muffin or our popular gluten-free zesty blueberry scones are our favourites for breakfast.
I know that this blueberry vanilla tart is a dessert, but I love it with a scoop of coconut yogurt for breakfast. If you want to make it a special dessert, add whipped coconut cream. YUM!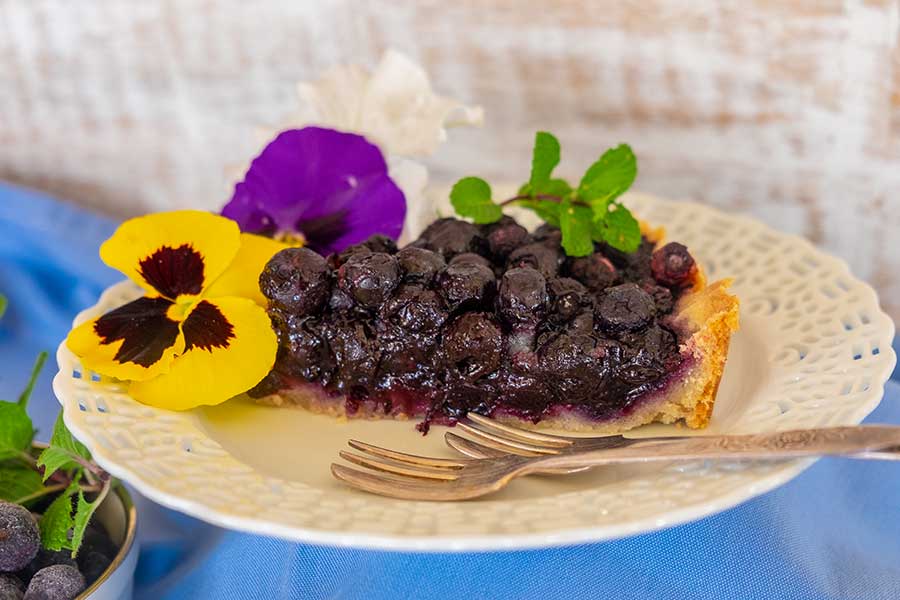 If you love blueberries, this healthy gluten-free dessert is for you!
Were you looking for recipes with blueberries? Check out our complete selection of gluten-free blueberry desserts. You will most surely find one that may become your favourite gluten-free dessert.
Gluten-Free Blueberry Vanilla Tart {Vegan}
Published on Mar 24, 2019
by
Kristina Stosek
Instructions
1.

To make the vanilla sauce, pour maple syrup in a heavy bottom saucepan. Bring to a boil over medium heat. Add coconut cream and stir to combine. Remove from the heat and stir in vanilla. Set aside

2.

3.

Using a food processor, combine almond flour, sweet sorghum flour, rice flour, and coconut sugar. Add butter and pulse until blended, and the butter is about the size of small peas. Add water one tablespoon at a time and pulse until the dough is moist and should stick together if you pinch it. I used 3 tablespoons

4.

Press dough into a 9-inch tart pan including along the sides. Refrigerate until ready to use

5.

For the filling, in a large bowl toss blueberries with tapioca flour and cinnamon. Pour lemon juice over the blueberries and toss again. Add vanilla sauce and gently stir to combine.

6.

Transfer blueberries into prepared crust and bake for 40 minutes at 350 F, then reduce heat to 325 F and loosely cover the tart with foil, and continue baking for 20 more minutes. If you are using fresh blueberries reduce the baking time from 20 minutes to 10 minutes

7.

Serve at room temperature or serve chilled with a scoop of coconut ice cream