Gluten-Free Blueberry Vanilla Tart {Vegan}
Prep Time
15 Minutes
Difficulty
Easy
Cook Time
60 Minutes
Serves
6 - 8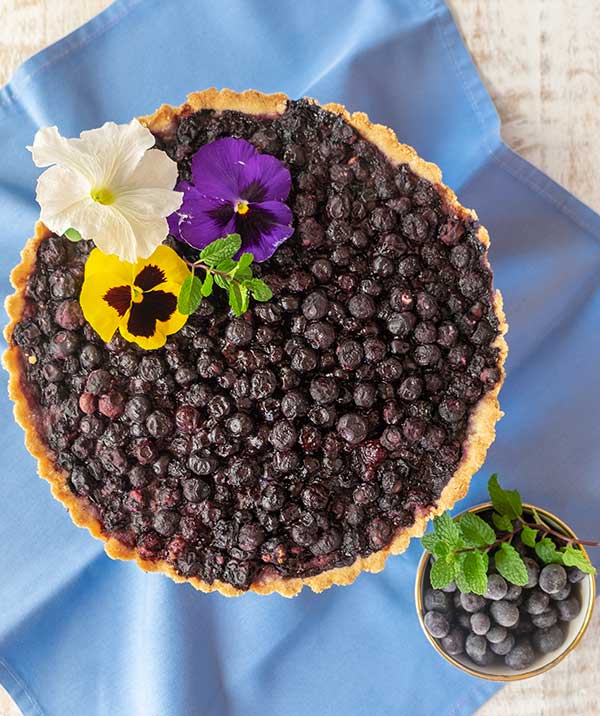 Be the first to rate this recipe.
Bursting with blueberries, flavoured with vanilla nestled in a buttery crust, this gluten-free blueberry vanilla tart is truly unforgettable. It is healthy and so easy, but most of all incredibly delicious because every bite is filled with sweet blueberries. Blueberries are one of my favourite berries, and for an added bonus they are packed with antioxidants, fiber and healthy nutrients. I know this tart is made to be a dessert, but I love it with a scoop of yogurt for breakfast. If you love blueberries, this healthy dessert is for you! Enjoy 🙂  
Ingredients
1 cup almond flour
1/2 white rice flour
1/2 cup sweet sorghum flour
2 Tbsp. coconut sugar or sweetener of choice
⅓ cup cold vegan butter (I used earth balance)
2 - 3 Tbsp. Ice water
6 cups frozen or fresh blueberries (organic if possible)
1/3 cup tapioca flour/starch
1 tsp. GF ground cinnamon
1/3 cup fresh lemon juice + zest of 1 lemon
VANILLA SAUCE
1/2 cup pure maple syrup
1/3 cup coconut cream
Instructions
To make the vanilla sauce, pour maple syrup in a heavy bottom pot. Bring to boil over medium heat add coconut cream and stir to combine. Remove from the heat and stir in vanilla. Set aside
CRUST
Using a food processor, combine almond flour, sweet sorghum flour, rice flour, and coconut sugar. Add butter and pulse until blended, and the butter is about the size of a small pea. Add water one tablespoon at a time and pulse until the dough is moist and should stick together if you pinch it. I used 3 tablespoons
Press dough into a 9-inch tart pan including along the sides. Refrigerate until ready to use
For the filling, in a large bowl toss blueberries with tapioca flour and cinnamon. Pour lemon juice over the blueberries and toss again. Add vanilla sauce and gently stir to combine.
Transfer blueberries into prepared crust and bake for 40 minutes at 350 F, then reduce heat to 325 F and loosely cover the tart with foil, bake for 20 more minutes. If you are using fresh blueberries reduce the baking time from 20 minutes to 10 minutes
Serve at room temperature or serve chilled with a scoop of coconut ice cream
Similar Recipes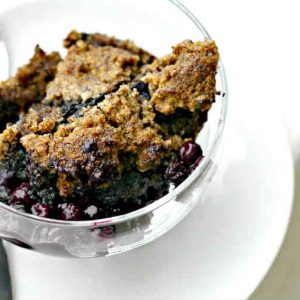 Easy Gluten-Free Blueberry Cobbler
This recipe for a gluten-free blueberry cobbler is quick and simple to make. The cobbler is packed with blueberries and topped with a crispy nutty topping. Serve for breakfast or add some whip cream and serve as a dessert Read More
Prep Time
15 Minutes
Difficulty
Easy
Cook Time
35 Minutes
Serves
6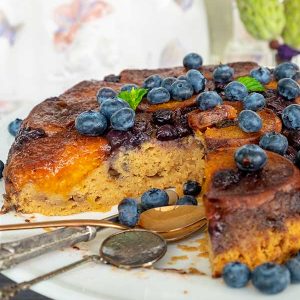 Mascarpone Apricot Blueberry Tart Tatin (Gluten-Free)
The tarte tatin, a dessert that originated in France, is an upside-down cake in which the fruit is caramelized in butter and sugar before the tart is baked. In this recipe, the fruits I used are apricots and blueberries with cinnamon. The caramelized apricots, blueberries and cinnamon enhance the soft and moist cake made with […] Read More
Prep Time
15 Minutes
Difficulty
Easy
Cook Time
35 Minutes
Serves
6-8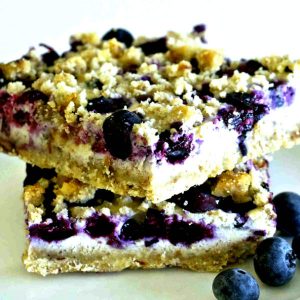 Gluten Free Blueberry Walnut Squares
Here is an easy gluten-free blueberry walnut square recipe! This healthy snack or dessert is made up with layers of walnut crumble, custard-like filling and fresh blueberries. The beauty of this recipe it is also grain-free. For me, this blueberry walnut square is a nice way to start a day. Oh, I forgot to tell you […] Read More
Prep Time
15 Minutes
Difficulty
Easy
Cook Time
30 Minutes
Serves
8