Grain-Free Blueberry Buttermilk Muffins (Nut-Free)
Published on Feb 18, 2020
by
Kristina Stosek
Prep Time:

15 minutes
Cook Time:

35 minutes
Serves:

12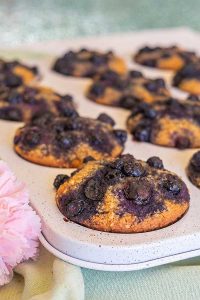 ​This post may contain affiliate links, please see our
privacy policy
for details
I am super excited about these Grain-Free Blueberry Buttermilk Muffins because they are outstanding. Not only are they gluten-free, but they are also nut-free, and are made with half the fat. The buttermilk keeps the muffin moist and adds depth. This is not your typical gluten-free blueberry muffin.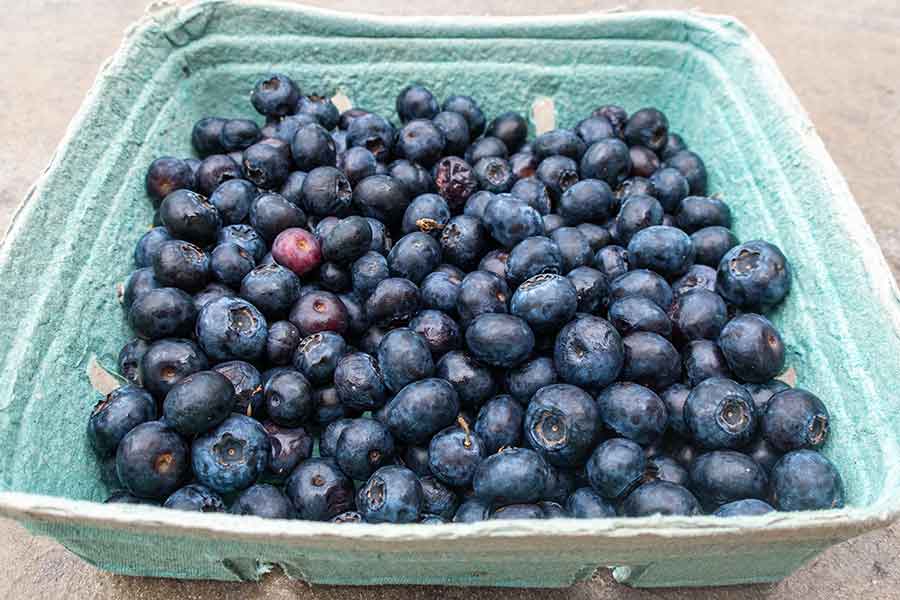 The three ingredients that make this muffin exceptional are, buttermilk, coconut flour and tapioca flour. Since the buttermilk is tangy, I added a good amount of lemon zest. Both the buttermilk and the lemon zest complement each other. For added flavour, I used vanilla extract.
But wait, as I said, this is not your typical blueberry muffin recipe. Muffin recipes with fruit, the fruit is usually mixed in the batter. I wanted to create a blueberry topping instead of changing the tangy and tasty already moist muffin. So, I created a muffin with a blueberry topping.
I added the blueberries on top of the muffin batter, and then….wait for it! I topped the blueberries with cinnamon sugar. OMG, the muffins turned out incredible. The muffin itself was moist and delicately flavoured with the buttermilk and lemon zest, then topped with cinnamon blueberries. So so good!
No nuts in this grain-free blueberry buttermilk muffin recipe 🙂
The muffin batter is super simple. First, you combine the dry ingredients. Then, in a separate bowl, whip the wet ingredients. Now, combine the two mixtures. All that is left is adding the blueberries on top of the batter with cinnamon sugar sprinkle. Bake and enjoy!
What is so great about these blueberry muffins?
First, there are only two flours, and both are grain-free. Coconut flour keeps baked goods super moist, is packed with fiber and protein and is low carb. Also, there is no Xanthan gum in this recipe. I know some of you have issues with this ingredient. Many of you have written to me and asked for grain-free recipes without the addition of nuts, such as almond flour.
One of the reasons almond flour is used in many gluten-free recipes is because it adds moisture to baked goods and is also grain-free. And let's not forget, almond flour is costly almost twice as much as coconut flour and is high in fats and calories. As a sweetener, I went all out and used coconut palm sugar.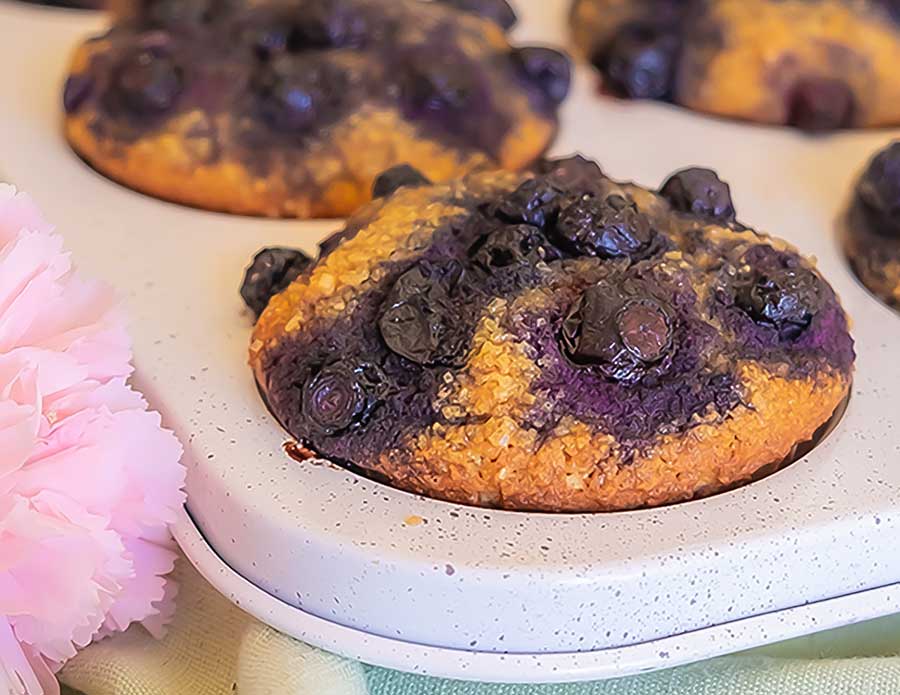 In my recipes, I use mostly pure maple syrup, but again the cost is an issue to some. If you prefer to use pure maple syrup in this recipe, please feel free to use it. However, let us keep in mind that coconut sugar has a lower glycemic index than white sugar, so it does not spike your blood glucose and insulin, like white sugar.
Add blueberries to the mix, and calcium-rich buttermilk, a splash of olive oil and we have a healthier muffin recipe. Enjoy these grain-free blueberry buttermilk muffins for breakfast, as a protein-packed snack or anytime sweet treat, especially as a kids snack for school because there are no nuts. Love muffins? Check out our most popular gluten-free muffin recipes
Grain-Free Blueberry Buttermilk Muffins (Nut-Free)
Published on Feb 18, 2020
by
Kristina Stosek
Instructions
1.

Preheat oven to 375 F and line a muffin pan with parchment paper cups

2.

In a small bowl, whisk together coconut flour, tapioca flour, coconut palm sugar, baking powder, baking soda and salt

3.

In a large bowl, add eggs, buttermilk, olive oil, lemon zest and vanilla extract. Using an electric mixer whip until smooth. Slowly add dry ingredients and mix until combined

4.

Transfer batter evenly into prepared muffin pan and top each with about 5 - 6 blueberries, depending on the size of blueberries. Using your fingers, gently press the blueberries partially into the batter. Sprinkle with cinnamon sugar

5.

Bake for 35 minutes, then transfer muffins onto a cooling rack to cool
Leave a Comment
Kristina
Debin, you can use corn starch, potato starch or arrowroot starch
I am super sensitive to tapioca, any substitute that could work?