Gluten-Free Apple Strudel Recipe
Published on Oct 02, 2020
by
Kristina Stosek
Prep Time:

20 minutes
Cook Time:

55 minutes
Serves:

6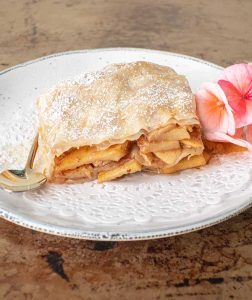 ​This post may contain affiliate links, please see our
privacy policy
for details
If you are a lover of apple desserts, this Gluten-Free Apple Strudel is a must have recipe! The filling is all about tender slices of apples, fresh lemon juice, a sprinkle of oats, coconut sugar and cinnamon.
For the thin pastry, I used rice paper and a brush of butter or light olive oil. This Apple Strudel is insanely delicious, a bite of autumn well on its way.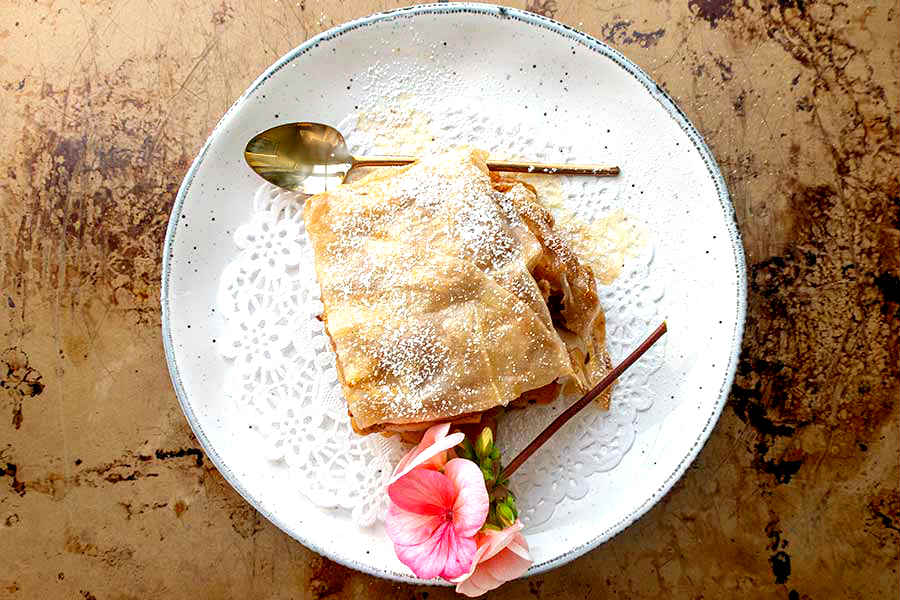 What is Apple Strudel?
Apple strudel is one of my most favourite desserts each time I visit Vienna. The authentic strudel dessert is a pastry made with delicate thin layers of dough and an apple filling made with thinly sliced apples, light oil, fine bread crumbs, cinnamon and white sugar.
The dessert is super light because all you taste is delicious apples with thin layers of dough to hold them together.
The classic strudel may seem simple to make….NOT! Before I became gluten-free, I made the apple strudel from scratch, including the Philo dough.
I can thank my grandmother for teaching me how to spread the dough over my kitchen table until it became super thin. Then the dough was filled with apples and rolled. Not an easy task, but well worth the effort.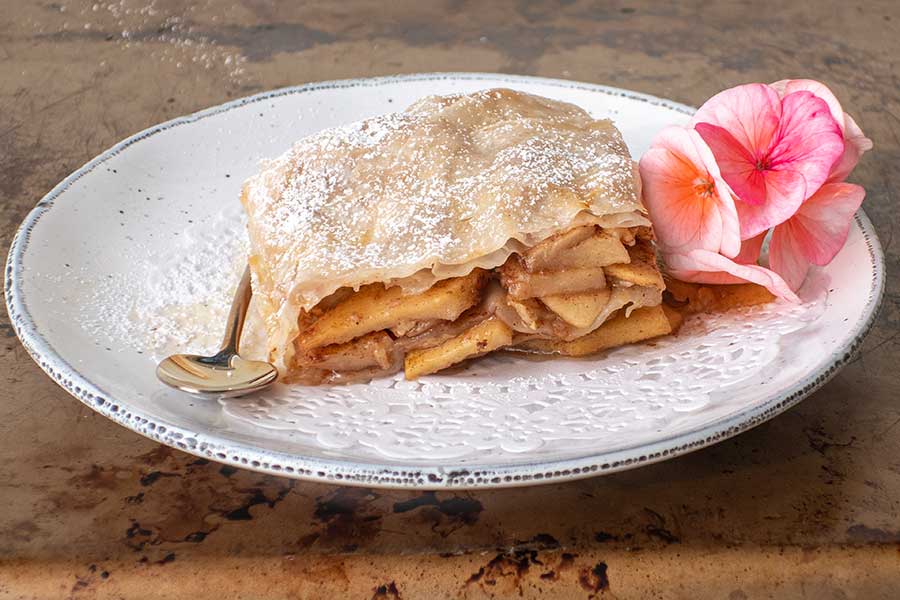 Is this gluten-free apple strudel recipe easy?
Today I will show you how to master the gluten-free apple strudel with step by step instructions. This recipe is super easy, and the results are outstanding.
I wanted to keep the recipe simple enough for even novice cooks, so instead of rolling the strudel, I made it in a baking pan with the same results.
You will love it, I promise you, and just in time for Thanksgiving…a perfect gluten-free dessert to impress your family and friends!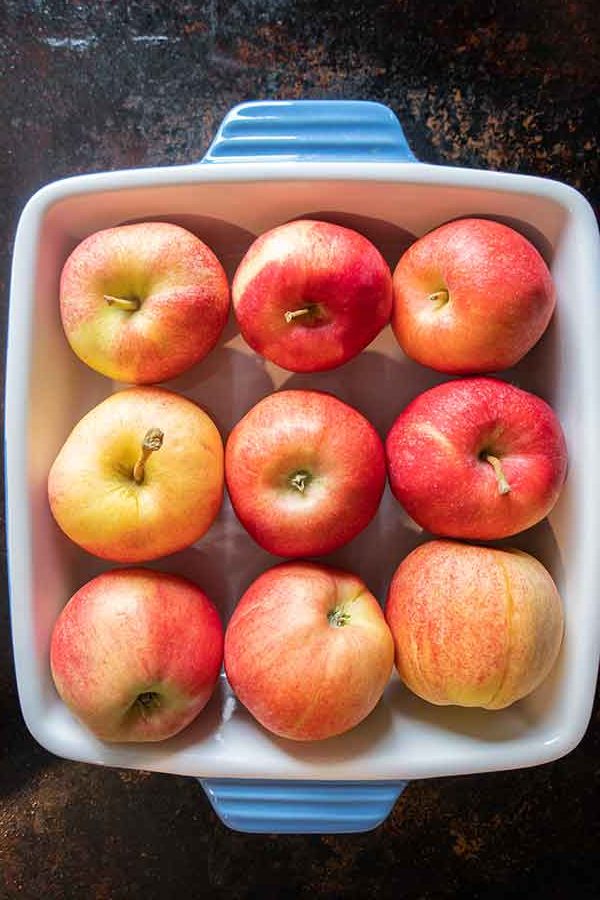 Are apples for baking all the same?
When making any dessert with apples, you want to make sure you are using the right baking apple. My three favourite apples for baking are Honeycrisp, Braeburn or Granny Smith. These apples are sweet and with enough tartness giving flavour and sweetness to apple desserts.
Although I like Red Delicious and Gala apples, however, they are not good in desserts that need baking. The apples can become mushy if overcooked, and they are overly juicy, making the filling too liquidy and the dough soggy.
How to replace philo dough and keep it gluten-free for apple strudel?
I used gluten-free rice paper wrappers for the dough, a super easy substitution for the classic Philo dough. The rice paper wrappers are made with white rice flour, tapioca flour, salt, and water.
The wrappers are super thin and are excellent to use in this gluten-free apple strudel recipe. To keep the rice paper from becoming soggy, I brushed each piece with melted butter.
Step by step instructions for Gluten-Free Apple Strudel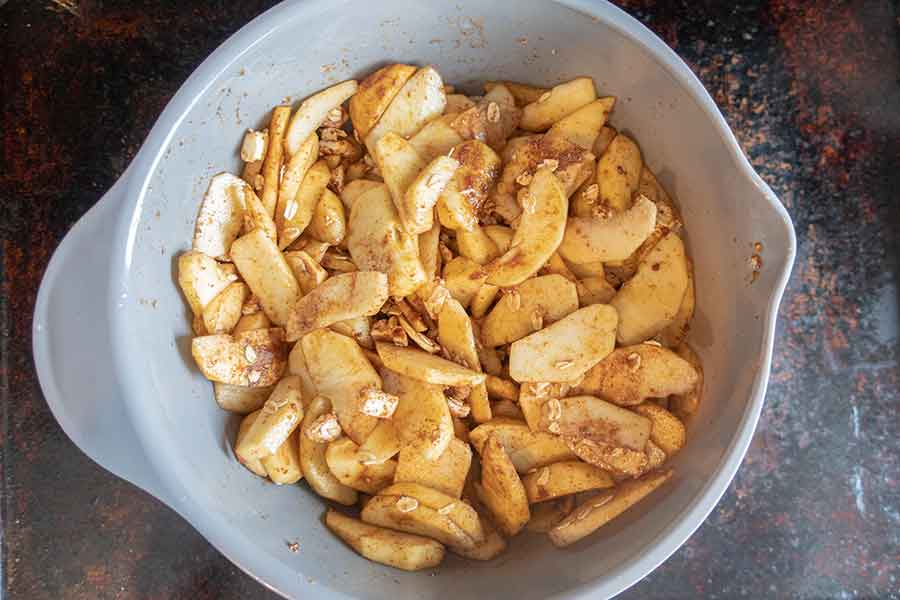 1 → make the apple
filling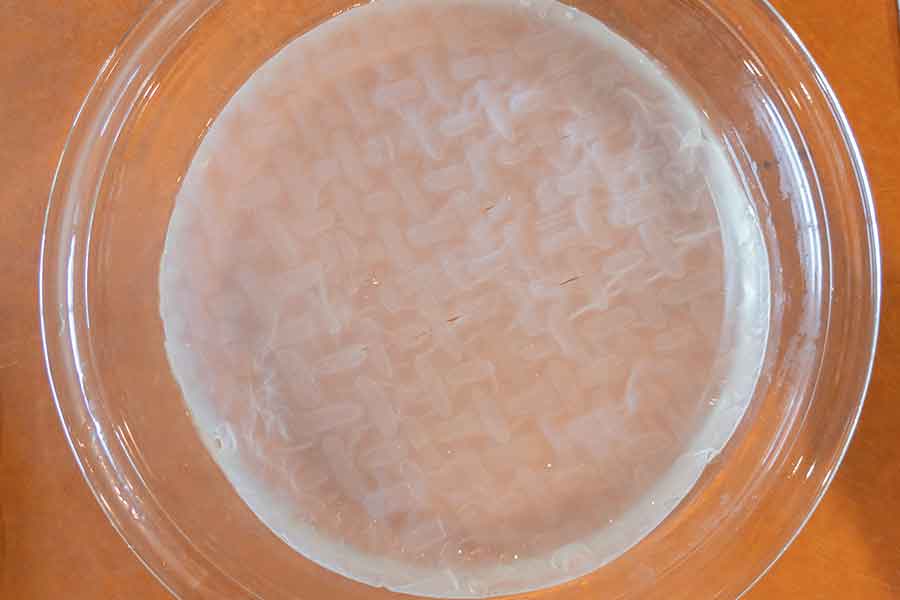 2 → soak the rice paper wrappers in warm water 1 – 2 minutes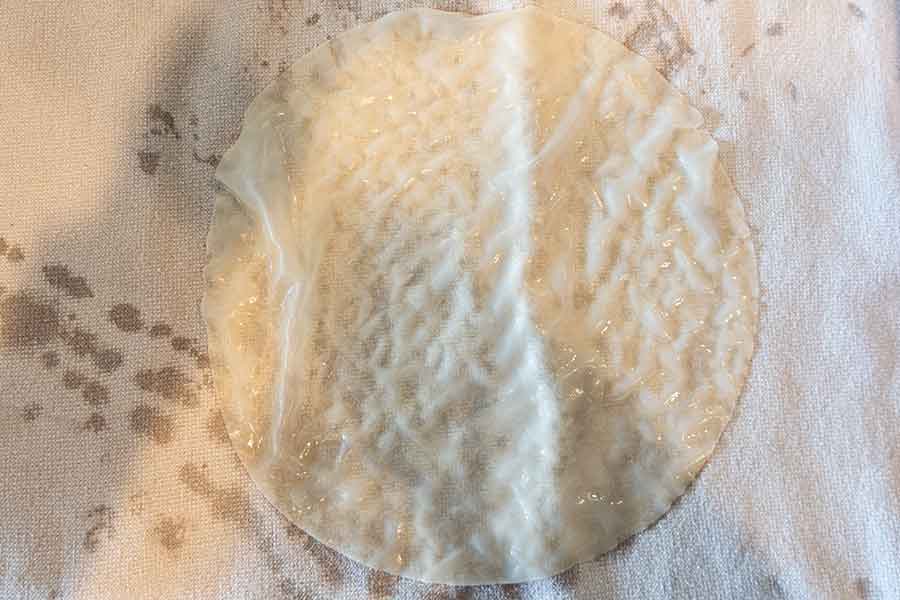 3 → place the rice paper on a clean dish cloth to remove excess water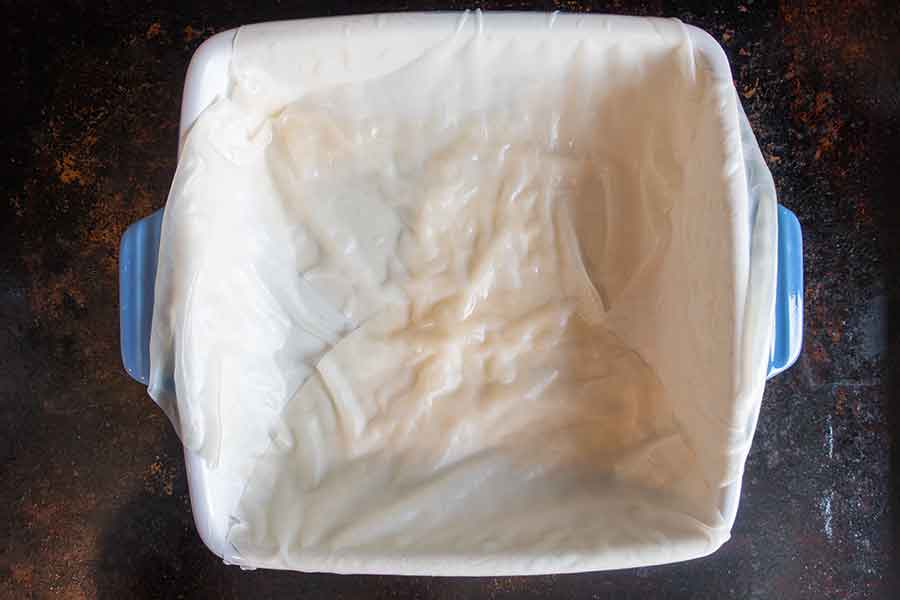 4 → layer the baking dish with 4 softened rice paper wrappers overhanging on the sides and brush with butter or for plant based diet use light olive oil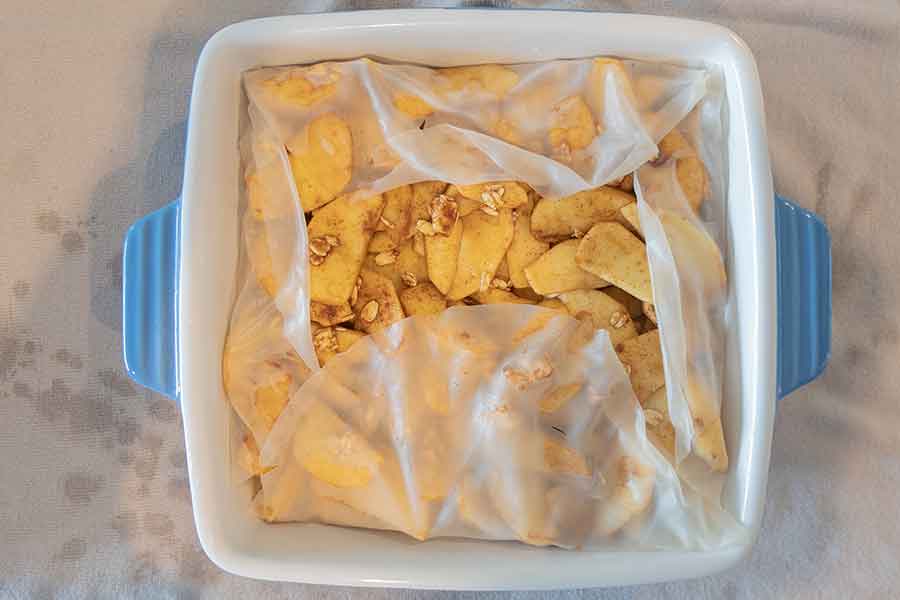 5 → spread half the apples in the pan and fold the rice paper over the apples. Brush the rice paper with butter and repeat step 4 and 5 with the remaining half of the apples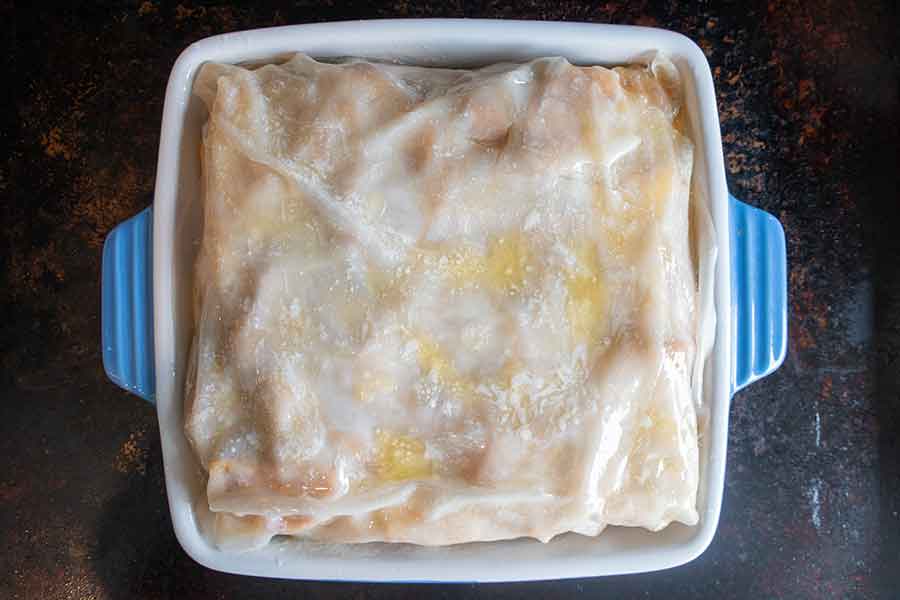 place two remaining sheets over the apples, tucking excess rice paper in the sides of the dish and brush with remaining butter and bake
With Thanksgiving just around the corner you may also enjoy the Maple Caramel Apple Tart or the Apple Cinnamon Frittata 🙂
If you make this Gluten-Free Apple Strudel recipe, please leave me a comment what you thought or if you would change anything. I always love to hear from you, and I especially love to hear if you changed anything and how the recipe turned out. You can find my latest creations on Facebook. Thank you!
Kristina xx
Gluten-Free Apple Strudel Recipe
Published on Oct 02, 2020
by
Kristina Stosek
Instructions
1.

Preheat oven to 350 F and generously butter an 8 x 8-inch baking dish

2.

Toss apple slices with lemon juice

3.

Combine sugar, oats, arrowroot powder and cinnamon. Add mixture to apples and gently combine to coat the apples. Set aside

4.

To prepare the rice paper, soak them briefly in warm water to soften. About 1 - 2 minutes. Then place them on a clean dish cloth to remove excess liquid. I usually soak 4 at a time

5.

Now that the filling and the rice paper is ready, it's time to construct the strudel. See pictures below for step by step instructions

6.

Layer the baking pan with 4 sheets. To do this, place the sheets so that they slightly overlap in the middle and hang the excess rice paper over the sides of the dish. Generously brush with melted butter

7.

Spread half the apples in the dish and fold the rice paper over the apples. Brush with melted butter. Place 4 more sheets over the apples the same way as the first sheets. Generously brush with melted butter and top with remaining apples. Fold the sheets over the apples and generously brush with butter. Place two remaining sheets over the apples, tucking excess rice paper in the sides of the dish and brush with remaining butter.

8.

Place the dish in the oven and bake for 55 - 60 minutes until the top is golden
Leave a Comment
Kristina
I would not recommend it Kimberley, the strudel may become soggy
Is it possible to freeze this before baking? Trying to reduce my baking stress. Thank you.
Kristina
it is important for the rice paper to be dry and then brushed with butter just before baking. The pan should also be generously brushed. It is the butter that makes the rice paper crispy. I made some again just the other day, and the strudel was delicious. Maybe it is the type of rice paper she used? Sorry it did not work for her
My friend just made this recipe and said the rice paper turned out to be a Michelin Tire. Any suggestions to crisp this tire up???
Kristina
Thank you Sally for your kind comment, I am always here to help.
Many thanks Kristina, Your GF recipes are giving me a new lease on life, you are a true wonder. From the Sunshine Coast. here in Australia
Kristina
Wonderful! Thank you for sharing, and the raisins sound delicious, I must try it next time.
I made this strudel recipe last night and although the pastry isn't quite what I expected it was incredibly delicious. I also added 3/4 cup of raisins to the apples. I will definitely make this recipe again. Thank you for all the delicious recipes and keep up the good work.
Kristina
Hi Samantha, when I was creating this strudel recipe I wanted the pastry to be super thin, just like they serve it in Vienna, and at the same time keeping the recipe simple enough so that anyone can make it. The secret for the rice paper to work is, after it softens place the rice paper on a kitchen towel to remove the excess water. Then brush it with butter or olive oil. Thank you for sharing your thoughts xx
Just finished baking the strudel. I didn't expect the pastry to be the way my mom use to make it, but it turned out delicious. The pastry is a bit different, but I know that some things can't be the same when following a gluten-free diet. Thank you for this recipe, I will make it again. Me and my family loved it, especially the delicious apple filling!!
Kristina
Hi Lori, unfortunately there isn't a gluten-free phyllo pastry that will replace the one with gluten. By using rice paper the pastry was thin as it should be. It is important to know that once the rice paper is softened, it should be dried on a kitchen towel and then brushed with melted butter in order to give it some crispness. Thank you for your review.
This recipe intrigued me, I just had to try to make it. It sounded easy so why not. My comments, although the pastry wasn't the same as phyllo pasty it was still delicious, especially the filling. I would make it all over again without a doubt. Thank you!